Lore Trivia Giveaway
The 7PM EST Sunday Splinterlands lore Trivia Giveaway is almost here!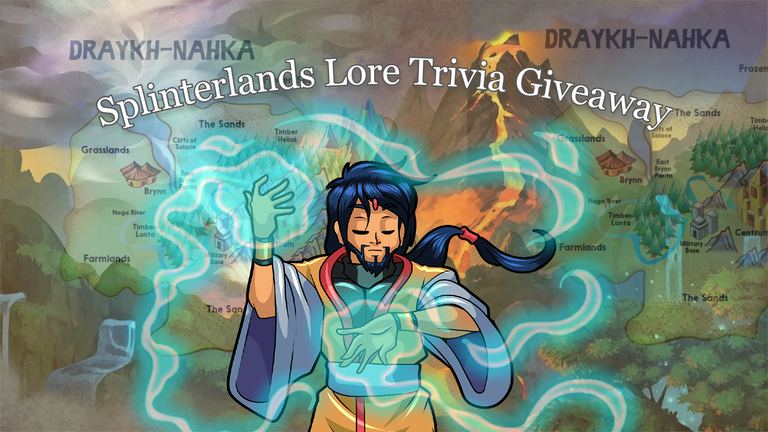 Images Courtesy of Splinterlands.io. Draykh-Nahka Map by HUGOBOSS1019
When and Where
The 7PM EST Sunday Splinterlands lore Trivia Giveaway is almost here!
Every Sunday at 7PM EST we ask lore questions and the first correct answer will recieve a prize of DEC, SPS, or a Card. We host it on the Splinterlands Lore Discord Server linked below!!! The lore server also acts as a repository of all the amazing lore sources the Devs have given us over the years. The lore is so good, and encouraging players to read it is why @Drabs587 and I started it! We've been so proud of how far everyone has come, and how well many of these players know the lore now! It's quite impressive.
Last Week Recap
All information about lore here taken from the sources listed at the bottom.
We talked about the Gargoya who were at ground zero of the Chaos Legion invasion into praetoria. The Great Castle of Gargoya was utterly destroyed by meteors resulting from the Chaos Legion advancing through the rift in the stars. The Gargoya are now split between those seeking revenge in Praetoria, and those wishing to rebuild the great castle again.
We also talked about toxic gas in the realm of silence beneath Praetoria granted the Scavo intelligence, and they now seek to do battle against the Chaos Legion and Queen Mycelia who has taken over the underground realm of Silence.
Then we talked about the Zenith Scales who believe in balance in all things and non-interventionism to the extreme. The vast majority of the Zenith Scales were able to stand on the sidelines and watch Praetorians be slaughtered wholesale by the Chaos Legion without raising a finger. This all changed when the Chaos Legion attacked the Zenith Scales before they were saved by some unknown magical energy. Was it a Djinn or was it something entirely different? We don't know.
Special Thank You
Thank you to @carrieallen @chrisroberts, and the many others who contributed to the amazing lore we can can now discuss and celebrate!!! Also special thanks to @carrieallen for providing a PDF copy of the Splinterlands Encylopedia, of which about 100 physical copies exist that were created during the Untamed Kickstarter event. I've added the PDF to the Unofficial Lore Discord Server linked below.
Thank you as always to @drabs587 for having a great time hosting with me every week! It's been a crazy couple months we've been doing this!!! I couldn't have asked for a better partner in crime in this.
I want to give special thanks to @kramlyn12 and @hyde-20 for being moderators in the lore server and for helping hand out the giveaways from time to time. These two have been such a great help on the lore server, Chanse's server, and in the community as a whole. Their availability and willingness to help out has really been appreciated. Without you all, I really couldn't do this. It's a team effort!
Hints
I will be spreading questions over more splinters instead of focusing one or two at a time. This will make it a little more difficult for those coming here for hints, and I do apologize for that. Trying to be more fair and less predictable!
There will be at least one Geography Question, so please review the beautiful maps created by the brilliant HUGOBOSS1019. As always. Wink Wink Nudge Nudge.
I'm a huge fan of Dragons, so you can expect a minimum of one Dragon question every week. As literally always. Roar.
I'm feeling like a few extra Kymeria questions this week.
Discord Servers and Resources for Lore Information:
The Official Developer Splinterlands Server:
https://discord.gg/g4b8rNKHxc
Unofficial Splinterlands Lore Server:
https://discord.gg/d4R8h45RYN
Splinterlore Website:
https://www.splinterlore.com/
Developer's Lore Blog
https://www.publish0x.com/splinterlore
If you are interested in playing splinterlands, please check out splinterlands.io and play today!
---
---