Splinterlands Lore Trivia Giveaway
The 7 PM EST Sunday Splinterlands lore Trivia Giveaway is almost here!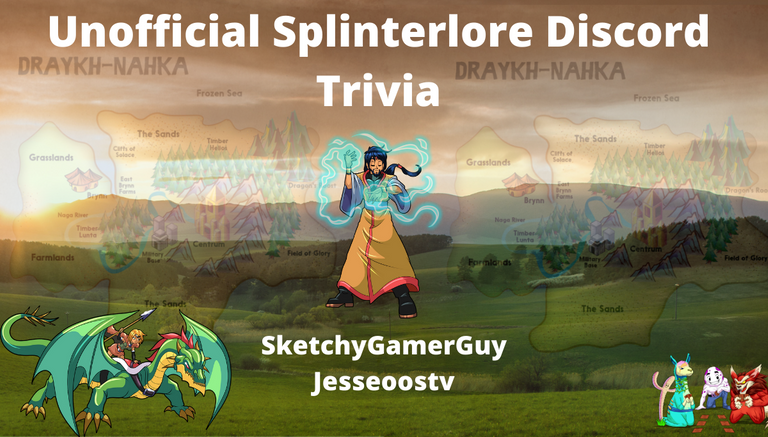 assets property of splinterlands.io
100% of This Post Goes to my Cohost Jeseeoostv
Why We Exist
The Unofficial Splinterlore server and the Sunday Lore Trivia Giveaway exists to get players excited and invested in the game's amazing lore. From discussions about whether Alric or Valamor would win in a fight to what if Alric gave into the Lord Of Darkness and became a Dark Eternal, we exist to have fun and geek out about the lore. I'm not monetizing a stream, I give away more than I make off this weekly post. This giveaway exists to get people excited and invested in the lore for the lore's sake. Anyone who knows me, knows I'm a gamer first, and before that, I'm a geek. My motivation in writing this post is to get more people to show up and enjoy the amazing lore!
When and Where
The 7 PM EST Sunday Splinterlands lore Trivia Giveaway is almost here!
Every Sunday at 7 PM EST we ask lore questions and the first correct answer will receive a prize of DEC, SPS, or a Card. We host it on the Splinterlands Lore Discord Server linked below!!! The lore server also acts as a repository of all the amazing lore sources the Devs have given us over the years. The lore is so good, and encouraging players to read it is why Drabs587 and I started it! We've been so proud of how far everyone has come, and how well many of these players know the lore now! It's quite impressive.
Special Thank You
Thank you to Carrie Allen Chris Roberts, and the many others who contributed to the amazing lore we can now discuss and celebrate!!! Also special thanks to Carrie Allen for providing a PDF copy of the Splinterlands Encylopedia, of which about 100 physical copies exist that were created during the Untamed Kickstarter event. I've added the PDF to the Unofficial Lore Discord Server linked below.
Thank you as always to drabs587 for having a great time hosting with me every week! It's been a crazy couple of months since we've been doing this!!! I couldn't have asked for a better partner in crime in this, and I will very much miss hanging out with him each Sunday. Two Sundays back was his last night with us, and we wish him all the best in his future endeavors!
I want to give special thanks to @jesseoostv, to who I will be giving 100% of this post's payout as thanks for helping me out. Last week he even did 100% of the questions while I wrote my article on Selena Sky in the hours leading up to the Lore Trivia. I am very grateful to Jesse for really taking ownership of the Lore Giveaway in my absence.
Hints
I will be spreading questions over more splinters instead of focusing one or two at a time. This will make it a little more difficult for those coming here for hints, and I do apologize for that. Trying to be fairer and less predictable!
There will be at least one Geography Question, so please review the beautiful maps created by the brilliant HUGOBOSS1019. As always. Wink Wink Nudge Nudge.
I'm a huge fan of Dragons, so you can expect a minimum of one Dragon question every week. As always. Roar.
I'm feeling like a few extra Burning Lands questions this week.
Discord Servers and Resources for Lore Information:
The Official Developer Splinterlands Server:
https://discord.gg/g4b8rNKHxc
Unofficial Splinterlands Lore Server:
https://discord.gg/d4R8h45RYN
Splinterlore Website:
https://www.splinterlore.com/
Developer's Lore Blog
https://www.publish0x.com/splinterlore
If you are interested in playing splinterlands, please feel free to check it out at splinterlands.io today!
---
---