WOO : How Wrestling Has Affected Pop Culture
Greetings to my favorite gaming community, Wrestling Organization Online, WOO. It's your wrestling fan @skyehi back again with another awesome blog post about wrestling.
I'm happy to say that my number one guy, Bookerman is doing much better than before. We're all super grateful that he's ok.
In yesterday's blog post I shared about the history of wrestling and how it has so transformed in the way it works. From straight up brutal combats to live entertainment shows.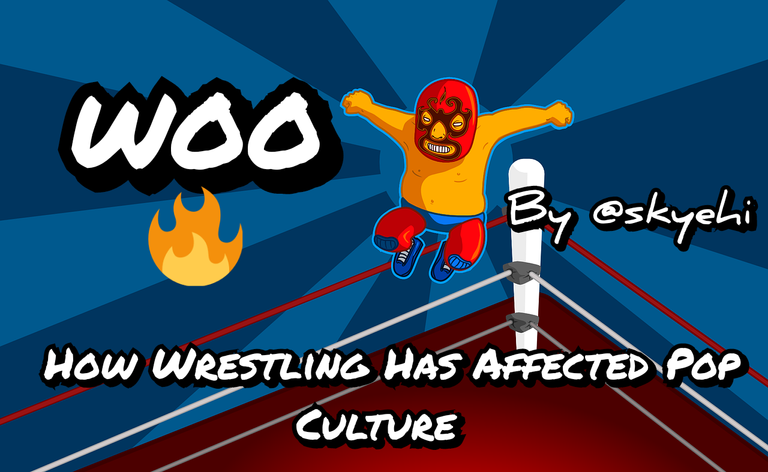 Original Image Source by OpenClipart-Vectors from Pixabay
In today's blog post I'll be discussing briefly on how wrestling has influenced modern pop culture. Like I said in my previous posts, wrestling ain't like other fight sports where we go to watch two people square of in a ring.
It goes beyond simple ring fights. It started years ago as regular fights in carnivals shows and gym rooms with a few people. Nowadays there a multi billion Dollar companies that run wrestling organizations.
We even have my personal favorite wrestling online platform for wrestling by Bookerman and His team, Wrestling Organization Online, WOO.
Before I continue I just wanted to say this so badly; Give me a WOOOOOOOO!!! 😂😂

Alright we're back from our commercial break folks.
Wrestling now goes beyond fights in a ring. It mixes the pure sport of wrestling with very captivating story lines and world class acting. Seriously these wrestlers are very good at their jobs.
Bookerman made a pretty good point on how wrestling talent should be appreciated more. These wrestlers really do put in the work.
One of the biggest ways wrestling was able to influence pop culture was by its amazing and legendary wrestlers. Apparently Bookerman has "The Ring General Gunther" as one of his favorite wrestlers.
My favorite Wrestler of all time is "The Tribal Chief Roman Reigns". From his famous catch phrase "Acknowledge Me!!! to his dress style when he's doing a promo for a main event, I fell in love with the whole thing. I basically wear a sweat Jacket because of him and it's hot out here man😂😂.
We've got wrestling legends like Perry Saturn, The Legendary Hulk Hogan, The People's champion The Rock, Mr Invisible John Cena 😂, The rattle Snake Stone Cold Steve Austin who basically drinks and never gets too drunk to fight good, and The Phenom The Undertaker. All these wrestlers have brought a big impact in pop culture of today.
The have become very popular even in Hollywood. We got memes and catch phrases and even viral videos from the performances of these wrestlers.

For example, currently when we say John Cena, everybody starts bringing out his memes about how we can't see him 😂 even though the dude is right there.
When we say Gunther, you just gotta start protecting your chest cause somebody's gonna slap you right there😂.
When we say the legend killer Randy Orton, get ready for an RKO. That RKO stunt went really viral when Vine use to still be active. It happens on TikTok too but on a low-key.
The famous Dwayne Johnson or the Rock brought phrases like "Up your Monkey Ass", "Can You smell what the Rock is Cooking" and "It Doesn't Matter What You think ".
I remember getting a lot of friends with this phrase. I would just ask them if they think something was good and wait for their response, the moment they start speaking I immediately yell ; It Doesn't Matter What you Think!!! 😂😂.

My point basically is that these wrestlers really do influence how we literally interact with each other. That's how much they have transformed pop culture.
Their phrases and the memes we created through moments they had in the ring is basically part of our daily lives.
One other thing I love about the Wrestlers is their entrance music and their entrance pyro. I literally play wrestling entrance music to workout, you should try it sometimes it can be very inspiring especially if it's your favorite wrestler.
The world of wrestling and its influence on pop culture really goes to show how it can grab our attention, entertain us, and leave memories of great moments in our lives.

Now how does all this connect with WOO?
This only shows the potential of WOO to become very impactful both online and in the real world. That being said I have a cool question that I would definitely love to ask Bookerman in the next Q and A we have on Discord when he's much better.
My Question To Bookerman
Will there be entrance music and pyro for the Wrestler NFTs before a showdown or fight starts?
I think that would be cool although I'm now considering how much animation work will have to be put into it🤔. It's certainly not going to be that simple I guess but we'll see what happens.

Thanks so much guys for taking the time to read my blog post for today. As always I'll be happy to respond to your comments or answer any question you might have regarding this blog topic. Have a lovely and wonderful WOO day. Bye❤️

If you are excited and want to join the WOO game online, I'll share the link below guys. 👇
Link to the WOO page below 👇
I also took the liberty of sharing the community discord page so you can get to interact with your new WOO family on discord. It's a pleasurable experience joining the WOO Discord community. That's were you'll get your wrestling belt as a member. Bye guys ❤️
Link to the WOO Discord Community 👇

WOO IS COOOOOOOOOOLLLL!!!! 🏆
GIVE ME A WOOOOOOOOOOO!!! 🏆

---
---