SlothBuzz MEME contest - Round 2! Pimpin Gamer Edition!
SlothBuzz MEME contest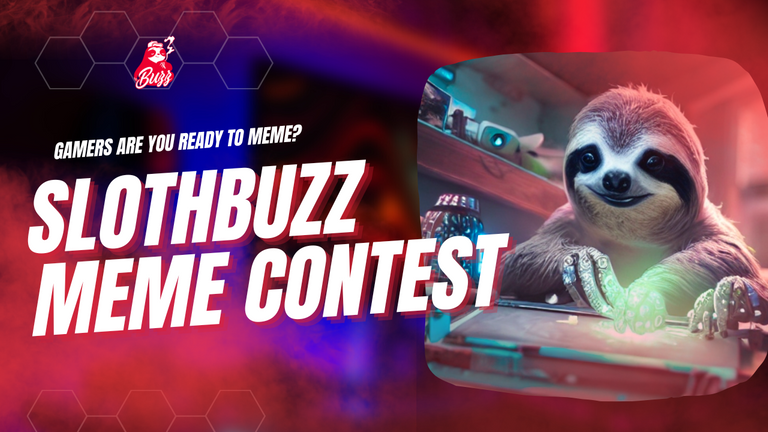 SPONSORS
This week's Daily MEME winner is sponsored by @THGaming! - More info
No excuse for you gamers not to show us your best memes!
This week's Two Weekly Raffles are sponsored by PIMP! - More info
One for Best MEME of the week
One for Voters (Leave reaction to the memes on Discord)
MEME contest
The MEME contest Starts TOMORROW!
Monday 13th March at 12:00 UTC (Midday)!
The Rules are simple,
Post a meme to Discord
If no one else posts within 24 hours, you win!
Simple.
---
The SlothBuzz MEME Contest
How the prize pool grows:
50 MEME tokens for every meme submitted!
0.1 Slothbuzz for each day the contest lasts!
1000 MEME + 500 THGaming every WEEK! (Next addition 20/3)
CURRENT PRIZE POOL!
5 SlothBuzz
5000 MEME
5 HiveSBI
---
DAILY THEME
| Week Start - Monday 13th Mar 12:00UTC | Theme |
| --- | --- |
| Mon | Splinterlands/Trading Card Games |
| Tue | P.I.M.P |
| Wed | Rising Star/Music |
| Thur | Alliance |
| Fri | Psyber-X/Cryptoshots/FPS |
| Sat | Sloth Gaming |
| Sun | WOO! Wrestling/WOOOO! |
---
Weekly Raffle x2
Raffle Prize: 100 PIMP + 0.1 SlothBuzz.
One for Best MEME of the week from the daily winners
One for Voters (Leave reactions on memes in Discord to vote!)
Daily Prize for best themed MEME
1000 THGaming!
Daily MEME selected by community vote (using reactions in Discord)
MEMEs can be about anything, but only themed MEMEs will be included in daily prize draw!
---
---
If you'd like to donate a prize to the meme pool or sponsor a week of rewards (7x Daily Reward + 2 End of Week Raffles) and get frequent shoutouts for your project talk to Slothlyd on Discord
---
Join the Discord and enter the MEME contest Today!
---
Vote for SlothBuzz as a Witness
HiveSigner
Or Peakd/ Other voting pages, just look for "SlothBuzz" in the witness section! Remember you can choose 30 witnesses! We appreciate your vote!
More info about SlothBuzz and How it'll work as a witness: Here
Curator community feed
Content Focus
Support Small Creators
Gaming
Music
Creative content
Art
Photography
Some general use for memes, blogs, contests and fun!
---

SlothBuzz is a community Outpost on the Hive Blockchain, Helping small creators grow.
$Slothbuzz token is used for the Curation of Sloth.Buzz content.
Always DYOR before investing in any cryptocurrency and remember Sloth.Buzz does not provide any financial advice.
All content is the opinion of the authors and not representative of Sloth.Buzz.



Join the discord for events, games and post-promotion!
Posted using sloth.buzz
---
---