How to maximize the amount of free passive SPS you get?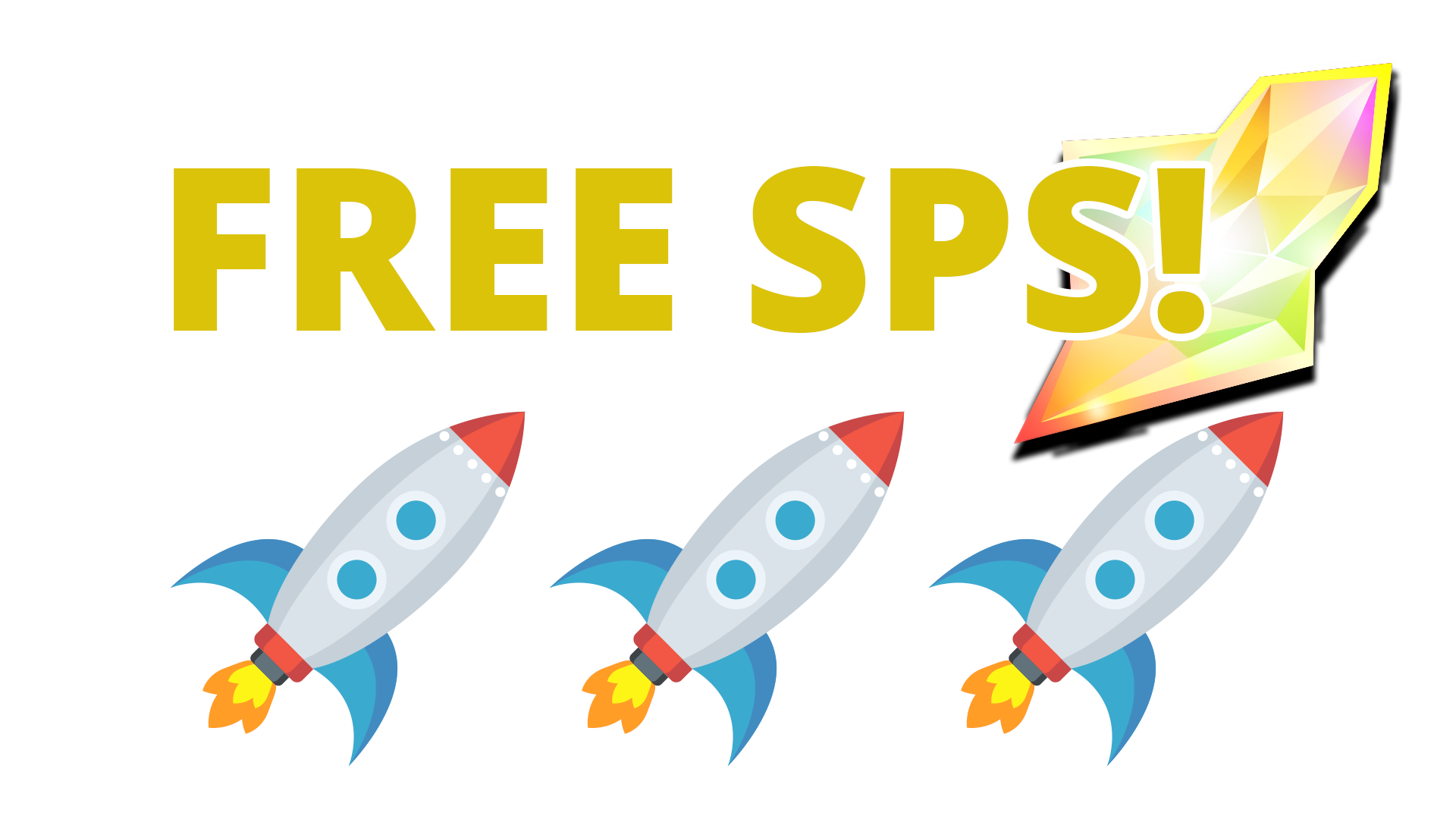 Did you know that you can get free passive SPS every day for ... doing nothing? Yes, you read that right. In this guide, I'll explain how you can maximize the amount of free SPS you can get.
What is SPS?
SPS or Splintershards is a relatively new cryptocurrency created by the team behind Splinterlands. It is set up as a governance token, meaning that people who hold SPS will have a say in the direction the game is heading.
For this, a DAO (Decentralized Autonomous Organization) will be set up on the BSC (Binance Smart Chain) platform using a series of smart contracts. Relevant information will be transmitted to this DAO by Oracles. Oracles will be a number of entities, selected by the people that hold staked SPS. The aim is that these Oracles will make decisions on behalf of the staked SPS holders that back them.
In total, 3 billion SPS tokens will be released over a period of 5 years like this: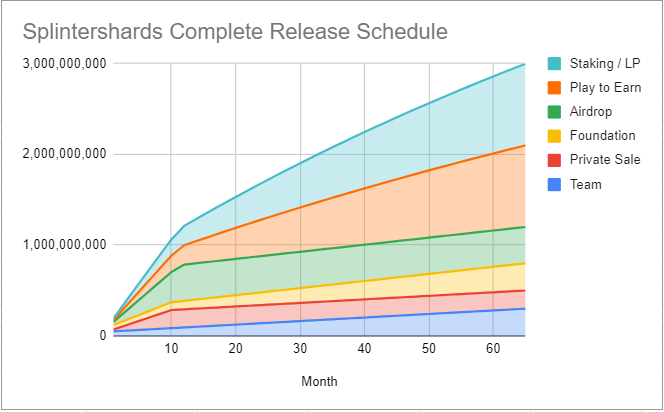 The most important parts of this chart are the Staking, Play to Earn, and Airdrop portions of this graph.
The aim is that players will be able to earn SPS through playing ranked battles just like you earn DEC now. Additionally, this SPS is also given as tournament prizes.
It is also planned that the land expansion that is coming up will be tightly integrated with the workings of SPS.
SPS Price Evolution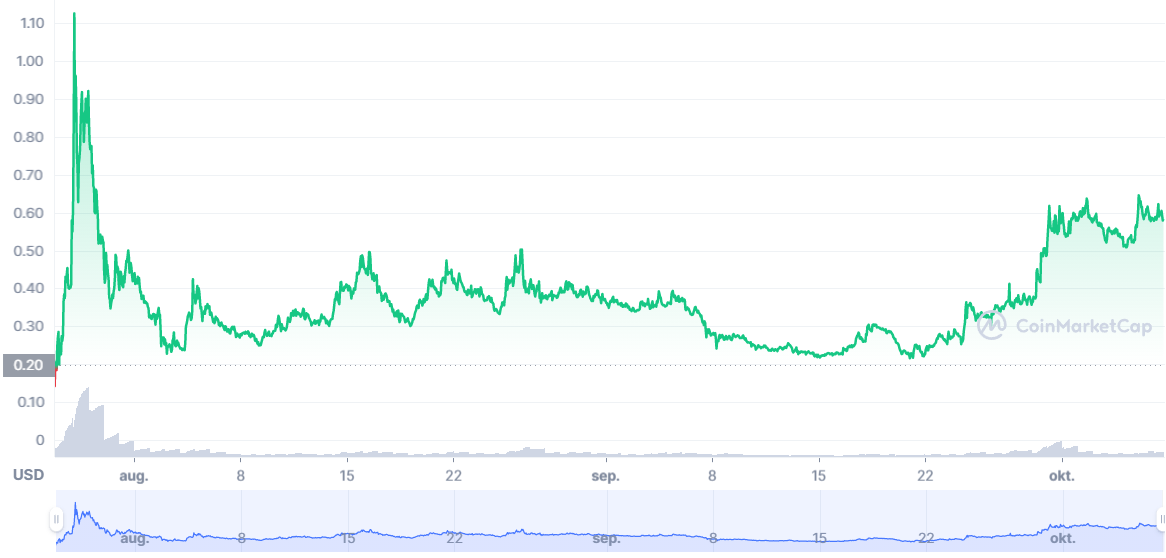 As you can see SPS spiked early on, then went into a bear market, but has since been climbing steadily. Will we once again reach the 1 SPS = $1 mark? Who knows ...
SPS Airdrop
Let's talk about how you can get this sweet SPS for free.
As shown on the graph above, a portion of the available SPS will be airdropped during the first year. Airdropping means distributed for free.
Now, how is decided who gets how much SPS? That depends on the number of airdrop points that you have in comparison to the total supply of airdrop points. Your relative percentage of airdrop points determines how much of the daily 1.1 million distributed SPS you will receive.
If each day 1.1 million SPS, means a total of 400 million SPS airdropped in total, which will be 13,33% of the total supply.
You get airdrop points for holding Splinterlands assets.
Airdrop points per asset:
Collection Power (Owned Cards): 1
DEC Tokens: 1
DEC in Liquidity Pools: 2
Untamed Booster Packs: 600
AZMARE Dice Booster Packs: 900
Essence Orb Booster Packs: 2,400
Beta Booster Packs: 2,400
Alpha Booster Packs: 4,800
Land Plots: 10,000
Champion Points: 10
Splintertalk Tokens (SPT): 0.25
Card Skins (C/R/E/L): 1,000 / 2,500 / 5,000 / 10,000
Totems (C/R/E/L): 1,000 / 5,000 / 25,000 / 100,000
Titles: 100k (Untamed / Explorer) / 1M (Praetorian / Custom)
Right now there exist a total of 7.7 billion Airdrop Points, so that should allow you to calculate your relative percentage.
Even if you hold these assets outside the game, like on Hive Engine. You will still receive the airdrop points for that.
If you want to learn more about how you can put your DEC in Liquidity Pools I recommend this post by @luizeba: https://www.splintertalk.io/@luizeba/how-to-double-your-splinterlands-sps-airdrops-with-liquidity-pools
What assets give me the most airdrop points?
If you're looking to increase the amount of free SPS you get every day, you should try to hold the asset that gives the most SPS airdrop points.
The best way to determine this is by using DEC as the baseline. For every DEC that you have, you will receive one airdrop point.
Let's look at how many airdrop points you get for every asset by investing the equivalent of 1 DEC in them:
Collection Power (Owned Cards): 0.625
DEC Tokens: 1
DEC in Liquidity Pools: 2
Untamed Booster Packs: 0.109
AZMARE Dice Booster Packs: 0.243
Essence Orb Booster Packs: 0.202
Beta Booster Packs: 0.211
Alpha Booster Packs: 0.123
Land Plots: 0.241
Splintertalk Tokens (SPT): 0.313
I made these calculations using actually prices from Hive Engine. As you can see nothing really beats holding DEC.
However, do keep in mind that many of the other assets also generate income through other means. With SPT you get curation rewards and cards you can rent out.
SPS staking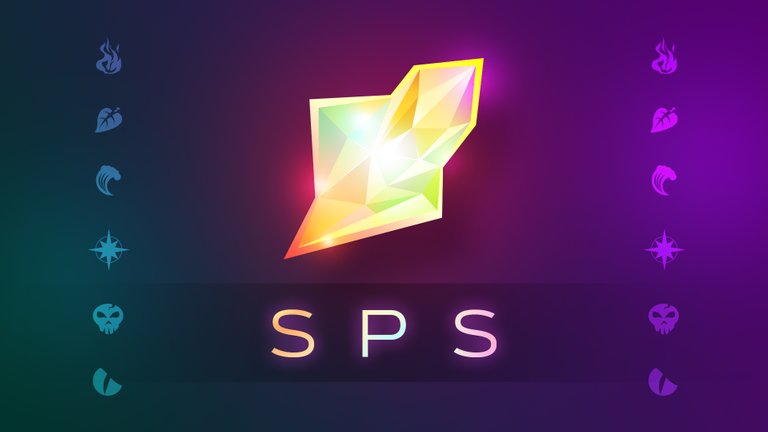 One thing that you might have noticed is that you don't get any airdrop points for holding SPS. That's because you can stake SPS and get more free SPS that way. The current APR (Annual Percentage Rate) is 72.36%. This means the total revenue you can expect to make after one year. Not too shabby.
On top of that, staked SPS will also generate vouchers when Chaos Legion releases. These vouchers will be needed to buy packs during the presale.
As we're approaching the launch of Chaos Legion, we can probably expect SPS to keep on rising in value as people will want to stake it in order to lay their hands on those vouchers.
Closing remarks
If you're just looking for the maximum amount of free airdropped SPS you want to hold DEC. However, that also means that you're subject to the volatility of DEC and that you're missing out on revenue streams through holding other Splinterlands assets.
All in all, it's hard to say what assets you should hold for maximum total revenue. Besides the income they generate, you should also keep in mind that a lot of gains can be made through price appreciation. Especially land and card packs can be impacted by this.
Do you hold a lot of SPS? What are your price predictions?
If you don't yet have a Splinterlands account and would like to try this awesome game out. You can make a free account using this link: https://splinterlands.com?ref=solaito
---
---