Land Plot giveaway Stream announcement HIVE power up day Plans for 2023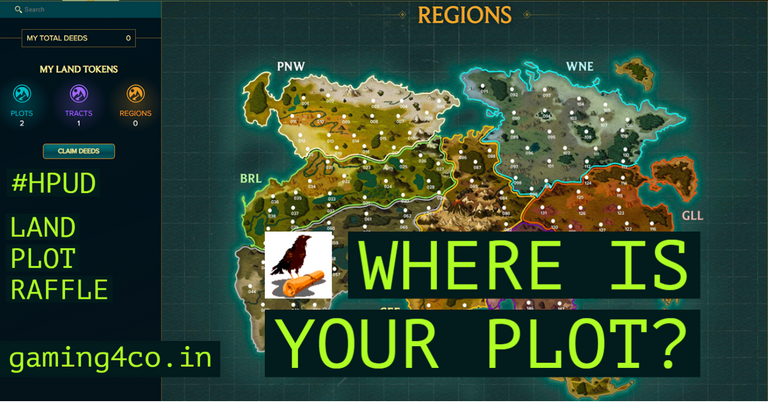 If you have missed my previous post where I announced the rules for my 1k follower stream party then check it out HERE! Land plot can only be won if you followed the rules!
So yes there is going to be a stream on Saturday in 6 days! If you want to know when it is going to be in your timezone just follow this LINK
We will have plenty of other prizes for many HIVE based games as well including all sorts of gaming assets! NFTs, in game tokens etc.
Check it out in the original announcement!
HIVE power up day or HPUD
Yesterday was the first day of the year and I started of strong by powering up 1k HIVE. I will try to grow my HP to over 10k this year and I am already on a good way to achieve this. Of course it helps that the price of HIVE is really low right now and it is the best opportunity to get more into my bags.
DISCLAIMER: Non of this posts contents are in any form investment advice. This article is for recreational purposes only. I am not a financial expert. Do not invest what you can not afford to loose! Cryptocurrencies are highly volatile assets! Trade responsibly! Always do your own research!
I am officially a dolphin now. Yay!
If you as a player of splinterlands are not using your HIVE account to the fullest you should start now! Your keychain opens up so many more possibilities than just playing Splinterlands!
Go and create on HIVE! Log in to any frontend you like! There is a community for literally anything! Find your passion and write about it! Earn HP and HBD in the process! Earn tribe tokens depending on which community you post to! Upload your Videos or just create art and share it in the according community!
You can use your rewards to purchase more splinterlands assets or just put your HBD into savings to earn 20% interest!
The more your HP grows the more your vote will be worth as well! The bigger your influence on HIVE the better you will be situated when we hit mainstream and everyone will want to have an account!
Enough of this! If you are not using your HIVE account you are the only one to blame.
GET STARTED!
Splinterlands plans
My plans for Splinterlands have not really changed. I am holding on to all my assets mostly. Trying to sell the occasional card here and there but mainly trying to build up my collection so it can compete in higher leagues.
I am currently waiting for the right moment to claim my tract on the map of Praetoria. Currently tracts can be claimed in the South West of the continent. I want to wait to claim my tract when we are in the center of the map. If transport and travelling will be a thing in the land expansion then IMO it is best to be in the middle. You can reach each Region of Praetoria in a short time and everyone crossing the continent will have to go through the middle section as well.
Again this is highly speculative and might not be of any importance. I like the fire splinter so I aim for Central Fire and within that around the regions 85-88. I might claim one single plot somewhere far away at the cost so I can go for vacations there...
I also will try to get my hands on as many CL packs as I can. I will try to invest a part of my rental income to purchase packs from Hive Engine. I will rip those packs open and try to max out as many chaos legion cards as possible. Right now they are not worth that much but I want to grow my rental account as well and for this I need levelled cards.
Some cards I will start to buy in big numbers and max them on the go. I am not sure which ones exactly and I don"t want to speculate on cards anyways.
Overall my strategy is growth. Get as many assets as possible for the best prize.
Buying DEC has gotten interesting again. BIG IF! If it returns to peg you can make a healthy 45% profit if you buy and HODL now. This is not financial advice of course but I am stacking up some DEC.
The problem is I have to sell HIVE for that. So my plan is to try to get a good balance and buy DEC when its cheap. I will try to sell some back to HIVE when price goes up. For that the price of HIVE has to be the same of course. We will see how this plays out.
Another option would be to buy the DEC for FIAT. I will explore my possibilities there as well.
Other Plans on HIVE
Setting some goals here but nothing special. I will become a lion on leofinance by the end of 2023. The challenge is doable and I have to power up about 1k LEO per month.
I have written a detailed post about my LEO goals and you can check it out if you want:
Onboarding to HIVE the best way to grow our ecosystem
People find HIVE in many different ways. Some see a tweet and want to know more. Others come through a variety of Dapps including Splinterlands.
Did you know that each of your battle links you share is a possible onboarder for the game and HIVE? If you share your battles on a regular basis on web2 social media like twitter instagram facebook bla bup blip you could be someone onboarding a whale.
You will benefit from that greatly. I have been making some efforts to onboard new users to hive. Some of them are posting some of them are not. But each time one of my referrals makes a post I will earn 3% of their posting rewards as long as they keep that activated.
Each credit purchase of your referrals on Splinterlands will give you 5% of their purchase. For a lifetime! Think big here! Onboard 100 new players and you could end up earning decent passive income from their in game purchases!
So go out there and spread the word! It is that easy!
Part of my plans is to onboard at least 1 user per day. So far this year it has worked out well. I know the year is only 2 days old...
I hope to onboard many new players and hive bloggers in 2023. The more the merrier!
Hangover
I am still abit hung over, but I wanted to post about my plans. I hope you somehow found this posts enjoyable and hope to see you all on my 1k follower party stream!
Thanks for reading and supporting my blog! Please feel free to reblog and share on web2! And if you want please leave a comment!
Happy New Year! HIVE on!
---
---