Meet Vruz, the new Splinterlands promo card.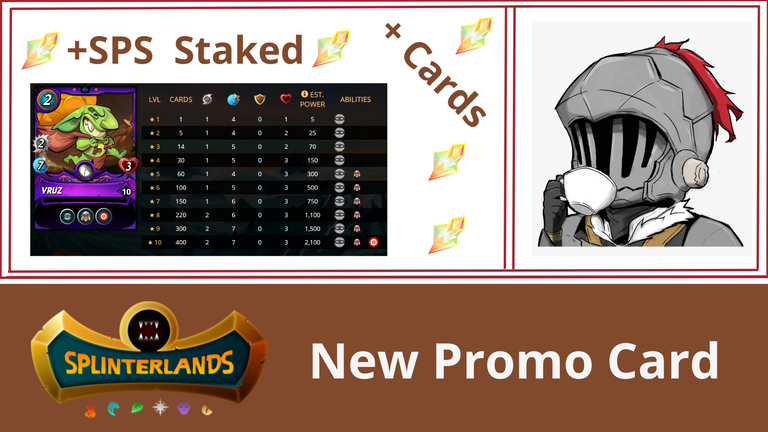 Hi, welcome to my Splinterlands post and today I'm going to talk about the new promo card that the Splinterlands team recently announced.
If you follow the game's discord or blog then you already know what I'm talking about, but if you still don't know about the new card and what conditions are necessary to get it then I'll post their official announcement: Announcing the Staked SPS Promo Card Sale! and I will also explain in this post and give my opinion on what I thought of the new card.
First let's talk about how you can get it and what are the estimates of the amount of cards that will be available, but first let's take a quick look at what the card will look like.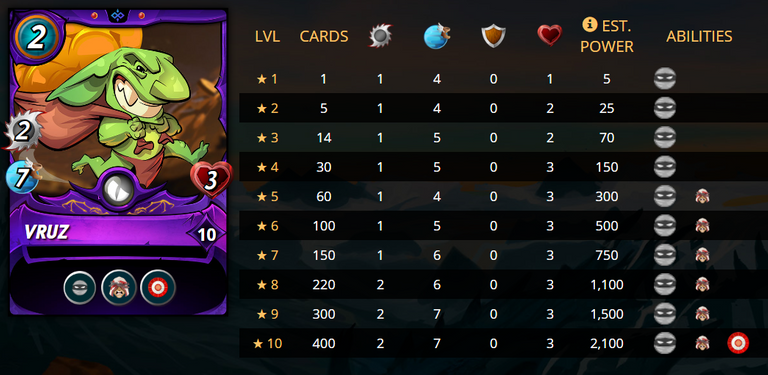 His name is Vruz and I believe you must have already seen him trying to "run away" with your SPS when you performed some transaction in the SPS management. Now finally you will have the chance to have him as your ally or as your enemy and finally get revenge for him is always trying to get his hands on your SPS.

How to get the card:
To get the Vruz card you will need to have at least 1000 SPS in staked and you will not get it for free, you will only have the right to buy it based on the amount of SPS in staked that you have.
For every 1000 SPS staked you will be able to buy 1 Vruz card (1 BCX), so if you have 2000 SPS staked you will be able to buy 2 cards, 10000 SPS staked you will be able to buy 10 cards and so on.
The sale of the card will start on March 21, 2023 after a maintenance that will take place in the game, this is also the time limit for you to have the SPS in staked to be eligible for the sale. The Splinterlands team will take a Snapshot at the time of maintenance to define the amount of cards that will be available, so any SPS you bet after maintenance will not count towards the sale, so put your SPS in staked before maintenance happen.

Each Vruz card purchased will have a 4% chance of being a Gold Foil version and you will be guaranteed to get a Gold Foil version for every 25 cards purchased in a single transaction. This is an important detail for you to know, the team said that you will be guaranteed to get a Gold Foil version for every 25 cards purchased in a SINGLE TRANSACTION, so be careful not to buy the cards individually so you don't end up losing your Gold Foil if you have 25 or more Vruz cards available to buy.

The sale will last 7 days from the end of maintenance and will end on March 28, 2023 at 15:00 UTC.

The value of the card has not yet been announced, the Splinterlands team only said that players will use 1 VOUCHER token per card, they did not mention that they would only be VOUCHERS so I believe it will also have another cost.

Estimate of available cards:
That's just an estimate I can think of based on the amount of total SPS staked in the game right now.

In the image above you can see that currently there are 526,766,664 SPS staked and this means that if the sale started today there would be a total of 526,766 Vruz cards to be sold, but probably this will not be the number of cards available because each card Vruz will be available for every 1000 SPS staked that players have and that means there will be many players who don't have 1000 SPS staked or have broken values like 1402 SPS, 3346 SPS, 6129 SPS. These are just random examples, what I mean is that excess SPS that players will have will not be eligible for sale, so if you have 1402 SPS you will only have 1 Vruz card available to buy.
Taking into account these broken numbers, the fact that there are accounts that don't have 1000 SPS staked and also the fact that some players probably won't want to buy the card or maybe will forget it. This means that the number of Vruz cards that will be in circulation after March 28th will be less than the total number of staked SPS, but it's still the first day since the announcement was made so there's still plenty of time for players to get used to it. prepare and manage to put more SPS in staked and increase the number of Vruz cards that will be in circulation.

My opinion on the card:
Particularly I really like using cards from the dragon deck, they are very useful and powerful but unfortunately most of the cards have a high mana cost so it is not always the best deck option for battles. But Vruz will be a great option because its mana cost is only 2 and most battles in Splinterlands are low mana so cards like him are always welcome to increase the options and strategies that can be used.
In the image that I showed Vruz's statistics you can see that he is a card focused on attack and mainly on speed, so it makes sense that he always tries to "steal" our SPS since he is so fast, but on the other hand he has a great weakness that is his health, it is extremely low so you may have difficulty keeping him in battle if he is targeted but his speed again will be of great help because it will increase his chances of dodging attacks.
Belonging to the dragon deck means that the possible combinations for him are huge because he can be combined with cards from other decks and the dragon deck has a wide variety of summoners that will help him a lot in battles and to put together a good strategy for the battle.
In addition to his speed, he also has great abilities that will be very useful, they are: Sneak, Martir and True Strike.
Enable Level 1 (Sneak)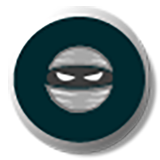 The ability Sneak allows Vruz to attack from any position and target the card positioned in the last position, this is a great ability to destroy your opponent's backline.
Enable Level 5 (Martir)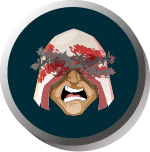 The Martyr ability is new in Splinterlands and until now it was only possible to have it on the reward cards that are linked to your account, so now you will be able to get them in your battles using the card at high levels because you will be able to buy the Vruz on the marketplace. The Martyr ability will increase the stats of cards around Vruz after it is defeated.
Enable Level 10 (True Strike)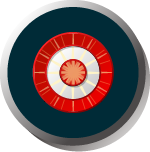 Lastly we have the ability True Strike which will make Vruz have a 100% chance to hit its target, so it will always hit your attack and this is always good news for an allied card.
I believe Vruz will be a great choice and I can't wait to use him in my battles. If you want you can also look and participate in my daily giveaway that can be found on my blog. Bye!
---
---