A Long Post with tips for HiveFest attendees traveling to Amsterdam :-)

Wh00sj! Time flies and in less than 2 months HiveFest is happening in the capital of The Netherlands: Amsterdam!
It's going to be a very easy trip for me - it's in my country and there are frequent trains to Amsterdam for me - I don't even need to book a hotel!
But for most of us this might be a different story - many will fly to the country, or fly from somewhere in Europe, and maybe some will want to save costs and go by different means of transport?
Anyway, some questions were asked (Telegram invite link) by people like @littlenewthings and @cryptospa, and after answering them @gtg suggested I write a post... So here it is!
What the post will cover:
Public transport in the Netherlands
Train transport in the Netherlands
Trains from a few European Airports I'm familiar with (Paris, Brussels, London)
How to use Park & Ride in Amsterdam to save parking costs
Flixbus, a possible cheaper option to travel within Europe
A 'European travel site' called Rome2Rio
And don't forget, @roelandp already wrote a nice post on HiveFest on a shoestring :-)
Here we go!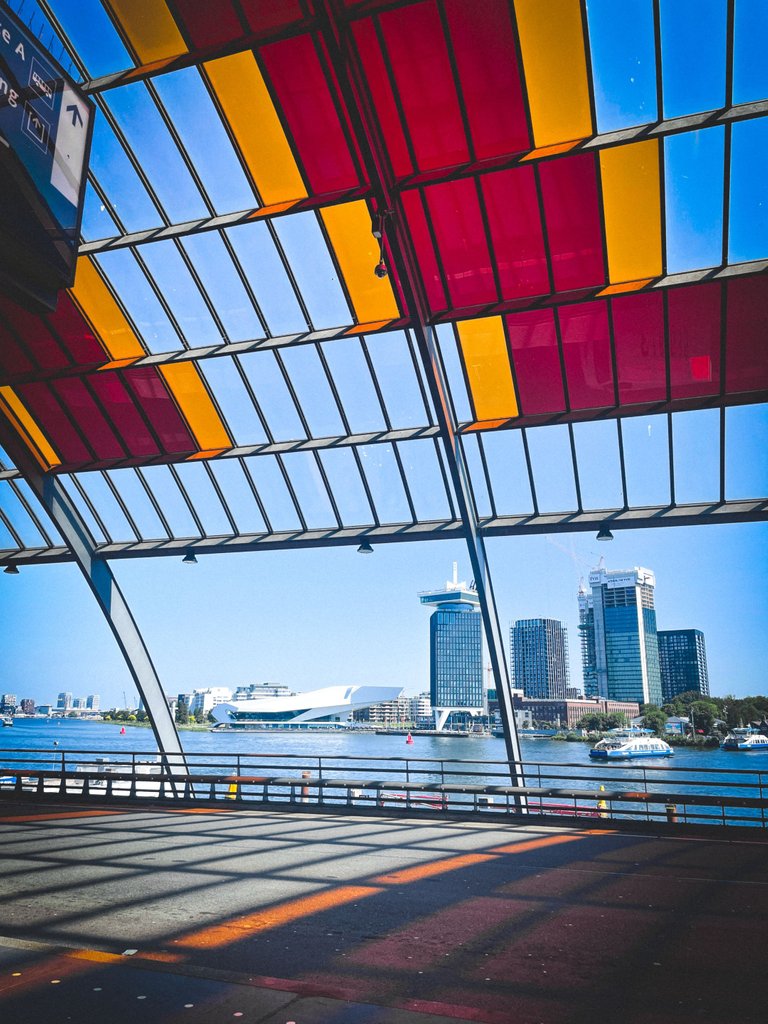 Last month I went to Amsterdam for a multi-day Metaverse Festival. Here I'm at the bus station, looking at the ferries going to EYE Museum... Back then I didn't know yet that this would be the FIRST location of HiveFest! So excited! :-) @tarazkp, we had dinner close by this museum! <3 Good memories!
---
Basic practical information while using public transport in the Netherlands:
---
If you're going to travel in the Netherlands, either by train, tram, subway, bus - it is advised to buy a 'OV Chipkaart' (OV stands for Openbaar Vervoer which means Public Transport). There's a page on 9292ov.nl where you can read more about this card. You can buy such a card at train and subway stations in machines - I think they look like how all these machines look all over the world: on Dutch train stations they are bright yellow machines, in subway stations they can appear differently depending on the city you're in. You load some money on it and will be ready to use the card to 'check in' and 'check out' of public transport.
Trains and subways aren't accessible without such a card as you check in before even being able to walk to the train platform
Trams and buses you can often still buy single trips in-person and without a chipkaart, but it's often way more expensive to travel with these single-use cards, so it's not advised.
If all you do is travel to/from Amsterdam by train you could skip the OV Chipkaart en buy single use tickets. As soon as you'll use a little more public transport during your stay it's worth buying the card to avoid further hassle.
If all you're going to do is take a train from/to Amsterdam you can go without the OV Chipkaart and just buy single tickets.
Ok, so now you have your card, how can you find travel times?
---
Public Transport 'all of them':
All Public Transport (trains, subways, trams, busses, even water taxi in some cities) departure times and stops can be found on the website 9292ov.nl. The website works fine, but you can also download the app on your smartphone for even better functionality.
The app and website are ready for you to buy your tickets on if you lost/forgot your OV Chipkaart. Again, not advised, it's often a hassle if you don't use a Dutch bank card to pay and sign up and such, but just so you know you can in case of emergency.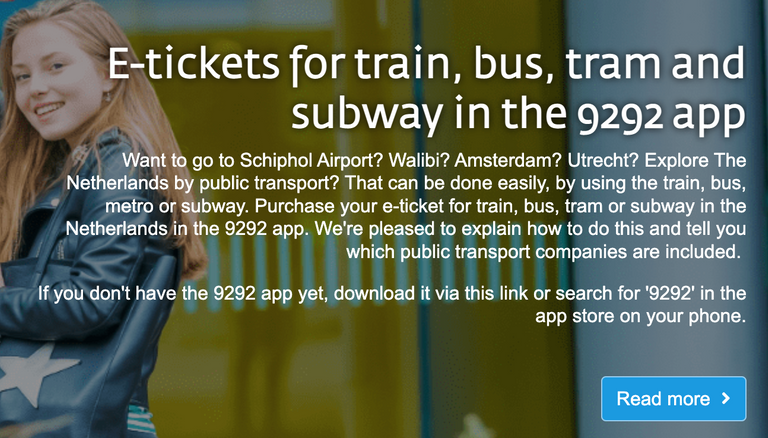 The best info on train travel
---
If you are going to use the train one or more times I would advise you use ns.nl or even better, the NS app, to find out all about your train. The app is quicker than the info even the train conductors have, and you'll find everything you need to know about your train, like how many stops until your destination, delays if there are any on the exact minute, even how busy the train is expected to be so you can decide to wait for the next train if it's very very busy (rush hour can be hell.)
You never need to book train tickets in advance, you can just check in with your OV Chipkaart and hop on the train you like.

---
Some scenarios:
You fly to Rotterdam (RTM)/The Hague Airport
If you fly to Rotterdam Airport you will be able to find a transfer shuttle van to Subway station Meijersplein (in front of the smallish airport, will show itself), where you can then take the Subway to Rotterdam Centraal, which is where all the trains to Amsterdam leave.
Use NS.nl or NS app to find the first train to Amsterdam, which should be a direct one. There's normal Intercities, and a train type called Intercity Direct, which is a little quicker but you'll need to use your OV Chipkaart for a second time on the platform from where it leaves as that's where you'll pay the small(ish, around 2-3 euro I believe) fee. If you don't you can find yourself being fined on board of the train, not a fun experience :-)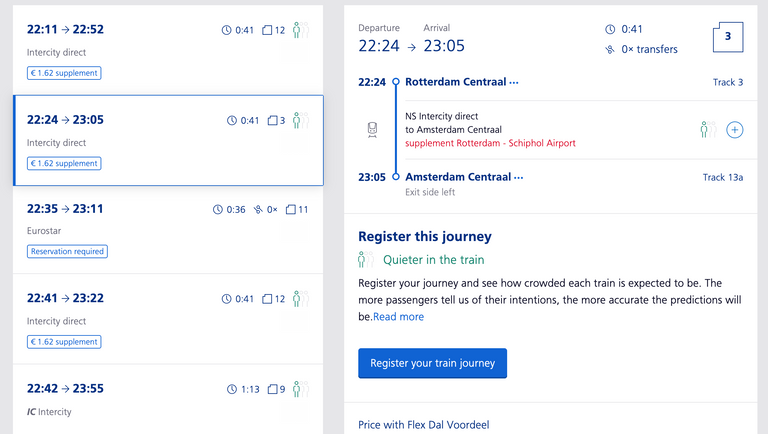 As you can see the website shows all the info: which trip needs the supplement (extra check-in on platform), which trips needs a reservation, which trip is the normal Intercity and doesn't require anything extra. So be mindful what train you take. But you'll find plenty of opportunities to reach Amsterdam in any case!
---
You fly to Eindhoven Airport
Eindhoven is a smaller airport and not as well-connected to Amsterdam as Rotterdam is, but it's still a fine travel option :-) You'll need to take a bus (400 or 401) from Eindhoven Airport to Eindhoven Central station, from where trains (with cross-over) to Amsterdam leave. You'll often travel via Rotterdam, so take the first train you see to Rotterdam, and then follow the tips I wrote earlier on traveling to Amsterdam from Rotterdam.
You fly to Schiphol (AMS) Airport
Well, you have it easy! Bought the luxury flight huh?
Schiphol Airport had a 'built-in' train station, so just follow the signs and you'll find your train to Amsterdam Central Station. Or use the 9292ov.nl website/app to find alternative transport if you want to go to a different part of Amsterdam.
If you fly to somewhere else in Europe first:
There's a few options I'm familiar with that are pretty doable if you want to come to Amsterdam:
You fly to/travel from Paris Airport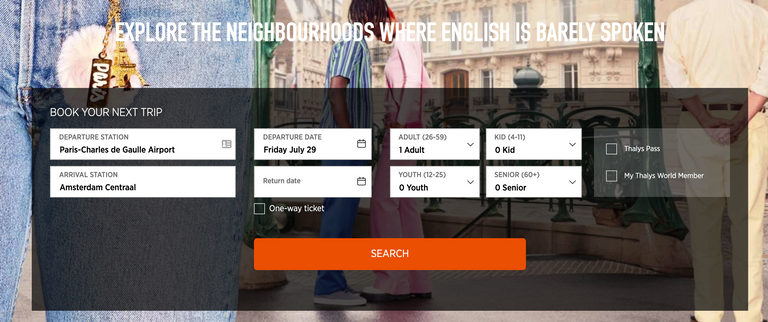 If you fly to Paris Airport you can take a Thalys train to Amsterdam Central station.
A Thalys train ticket needs to be reserved in advance.
You fly to/travel from Brussels Airport
If you fly to Brussels Airport you can find yourself a train ticket on the NS International website, from Brussels Airport (also called Zaventem), to Amsterdam. Find a direct ticket (0x cross-over, see the one I 'selected in the screenshot), and save yourself the stress of having to stop over :-) Only a 2:24 hour ride from somewhere in Belgium to Amsterdam! :-) Needs a reservation beforehand!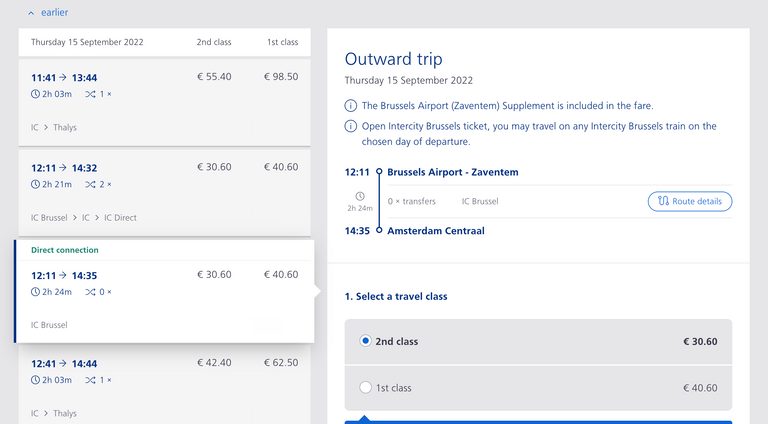 ---
You fly to/travel from London
You're in luck! Recently London got a direct train connection to Rotterdam and Amsterdam! You used to need a cross-over in Brussels, but if you select the right ticket now it's just a very relaxed 4 hour(ish) train ride from the UK, going below sea, through Belgium, via Rotterdam, to Amsterdam. Very nice experience if you ask me! :-)
Buy your ticket at Eurostar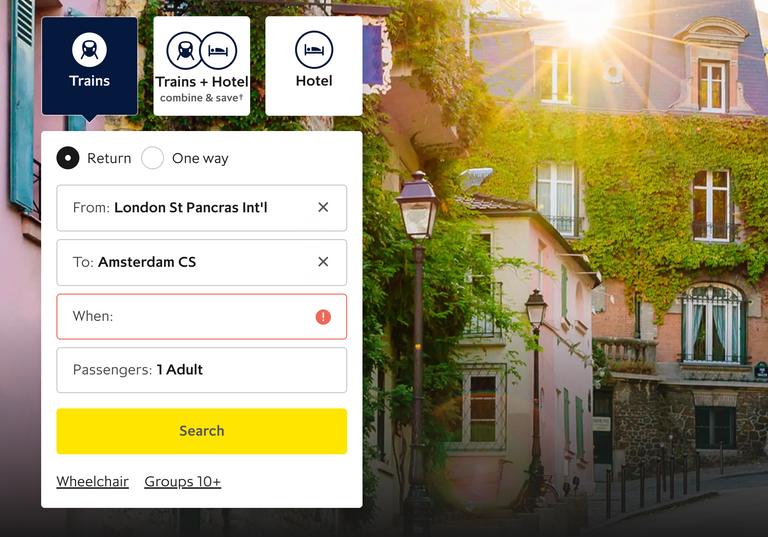 London has many airports, but if you picked this option in the first place you're already an adventurous traveler and I'll trust you to find a way to the St Pancras international train station from where your train to Amsterdam leaves.
And then there's probably some other tips...?
Maybe you travel by car... Use Park & Ride!
@gtg asked me to add this info, since he's already familiar with it he knows that it's the best tip for those of you who come to Amsterdam by car!
In short... You really really really don't want to try to find a parking space in Amsterdam, and you definitely don't want to pay for parking, as you won't have money left to buy yourself a Heineken :-)
The best way to go about doing anything by car in Amsterdam is to use the P+R / Park & Ride options available.
You find yourself your P+R, park your car, and from there you take Public Transport (see tips above) into Amsterdam.
Then, and here's where you can save the most money, when you travel back by Public Transport you can use your OV Chipkaart to prove you used Public Transport and get a discount on your parking. You'll have to pay for your parking fees within 1 hour of using Public Transport! So be mindful of that.

You can see all locations and available parking spots on this website.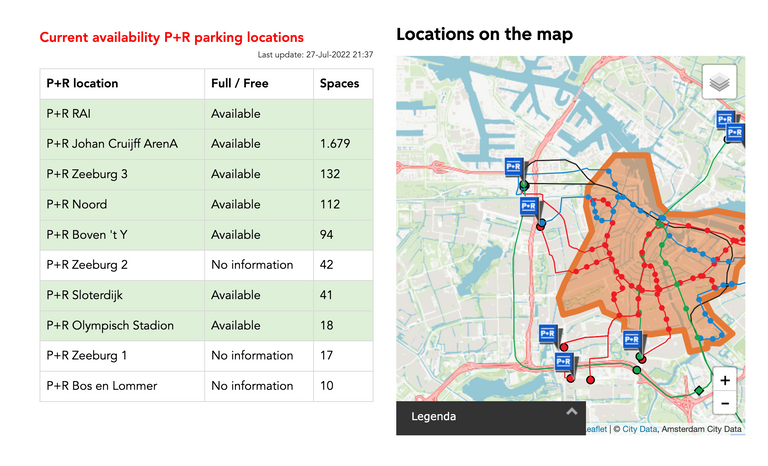 It's the most affordable way to park in Amsterdam (website says 8 euros per 24 hours), and once you're in or around the city center you'll want to use public transport, a bike, or go for a walk anyway :-)
---
Anything else?
Some last tips:
Flixbus can be a budget travel option from different European cities to Amsterdam. Just find and book your ticket - if you're not in a hurry this is a fine and wallet friendly option!
Rome2Rio is a 'Global Travel Website' suggesting different travel options from anywhere to anywhere. Sometimes there's travel options you hadn't even thought about that can save you some money :-)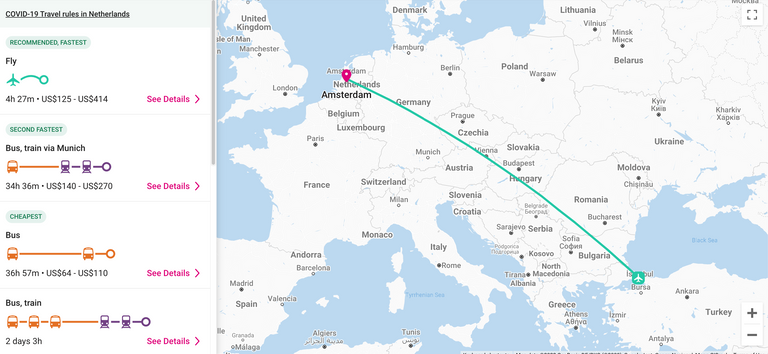 If you have any specific questions I'll try to answer them! Just know that I'm not from Amsterdam, so I can't tell you much about the city itself, I tend to go there for very specific reasons, but it's definitely not my 'home'. Which is Rotterdam, so @ me if you decide to visit that part of The Netherlands :-)
And ofcourse... See you at HiveFest!
---
(Ghees, I didn't even cover bicycling, but hey, bicycling in The Netherlands deserves its own post! So who knows. Going back to my studies now!)
---
---