REGAL PERYTON! ESP/ENG
REGAL PERYTON
Me encanta como empieza el LORE de REGAL PERYTON: Dicen que no hay nada mas hermoso que un REGAL PERYTON... Y siempre he pensado eso que es una carta muy hermosa! Y si seguimos leyendo ya se pone mas intenso aun, porque dice que viven en las montañas de Splinterlands y que es muy raro ver uno, pero cuando lo vez puedes ver que de dia el sol traspasa sus alas y se forman arcoiris debajo de ellas asi que debe ser bastante espectacular ver algo asi, no estaria nada mal una caricatura de splinterlands verdad? Algo como una serie animada, tienen material para trabajar de sobra!
I love how the REGAL PERYTON LORE begins: They say there is nothing more beautiful than a REGAL PERYTON.... And I have always thought that is a very beautiful letter! And if we keep reading it gets even more intense, because it says that they live in the mountains of Splinterlands and that it is very rare to see one, but when you see one you can see that during the day the sun goes through their wings and rainbows are formed under them so it must be quite spectacular to see something like that, it wouldn't be bad at all a splinterlands cartoon right? Something like an animated series, they have plenty of material to work with!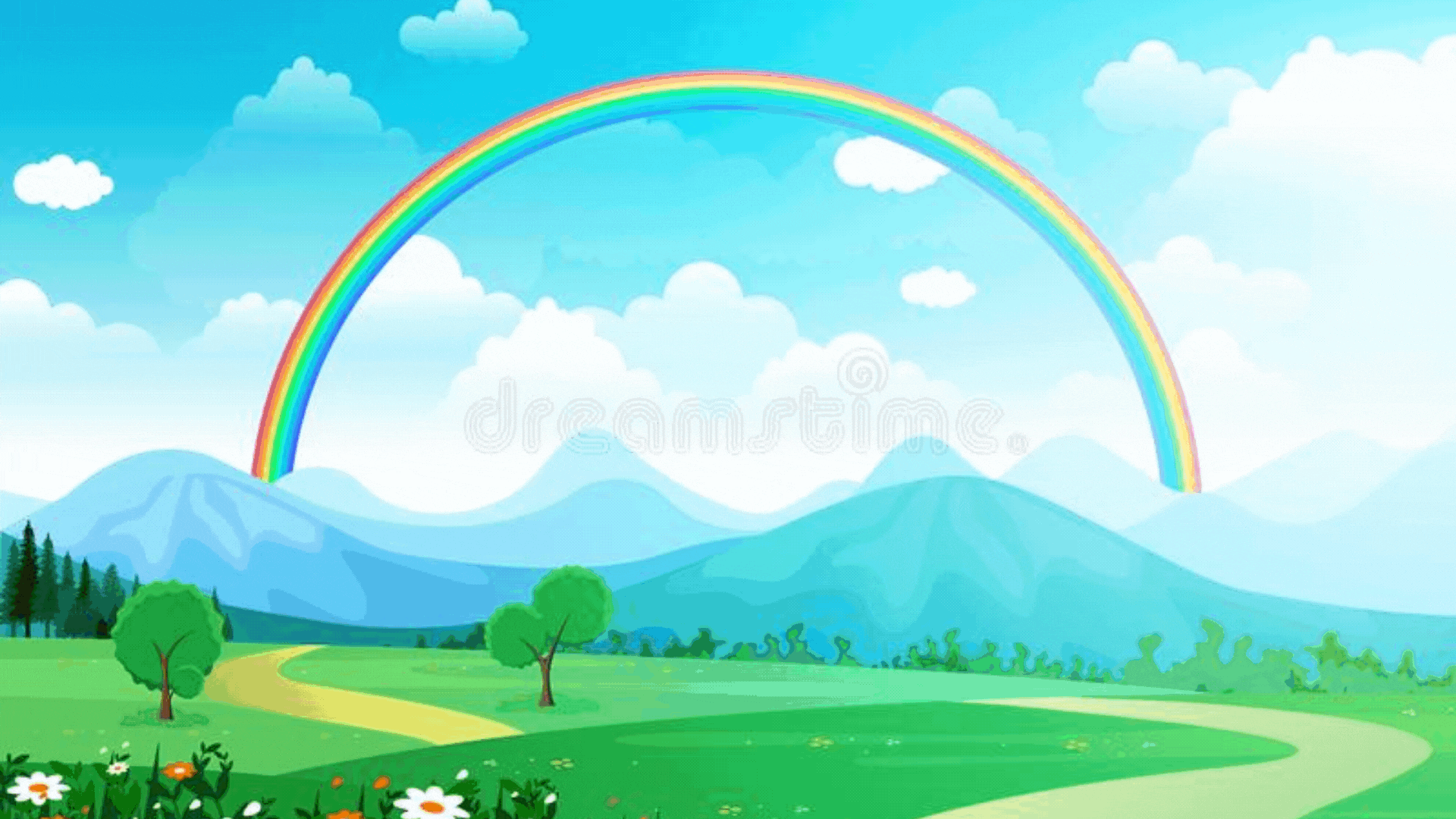 REGAL PERYTON es una da las cartas mas importantes que podemos jugar cuando usamos tierra, estoy seguro de que esta en el top 5 y que siempre se usa cuando se puede jugar, es una carta muy util y tambien muy poderosa, siempre la vamos a ver en los equipos de tierra de todo el mundo practicamente! Tierra es el splinter mas usado sin duda alguna y luego viene agua, por eso siempre vemos las rentas de tierra mucho mas altas en comparacion a todas las demas!
REGAL PERYTON is one of the most important cards we can play when using land, I'm sure it's in the top 5 and it's always used when you can play it, it's a very useful card and also very powerful, we will always see it in land teams all over the world! Land is the most used splinter without a doubt and then comes water, that's why we always see the land rentals much higher compared to all the others!

STATS
Aqui vemos los Stats de REGAL PERYTON, Es una carta Rara de tierra, lo ideal es combinarlo siempre con el invocador OBSIDIAN que le añade uno mas de daño de magia ya que REGAL PERYTON dependiendo del nivel hace daño y uno mas hace una diferencia enorme! Si estas en niveles bajos el simple hecho de usarlo ya es bueno si estas en un nivel intermedio tenerla a nivel 3 es lo ideal ya que golpea 2 de magia y eso aumentaria a 3 si lo combinas con el invocador OBSIDIAN! Y si estas en un nivel mas alto seguramente lo vas a tener al maximo, las cartas estan muy economicas asi que no es dificil comprarlas! Estan actualmente a 0.35$ cada una!
STATS
Here we see the Stats of REGAL PERYTON, It is a rare earth card, the ideal is to always combine it with the summoner OBSIDIAN that adds one more magic damage because REGAL PERYTON depending on the level does damage and one more makes a huge difference! If you are in low levels the simple fact of using it is already good if you are in an intermediate level to have it at level 3 is ideal because it hits 2 magic and that would increase to 3 if you combine it with the summoner OBSIDIAN! And if you are in a higher level surely you will have it to the maximum, the cards are very economical so it is not difficult to buy them! They are currently at 0.35$ each!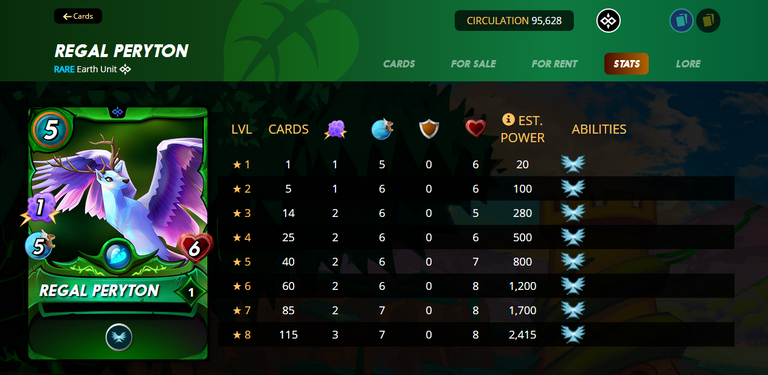 LA BATALLA
Ahora vamos con la batalla! Me toco una batalla muy interesante contra un invocador que casi nadie usa la verdad y ademas de eso utilice una carta que no mucha gente usa de la nueva edicion Riftwatchers! Esta sera una batalla de solo cartas de CHAOS LEGION y RIFTWATCHERS!
ESTRATEGIA
Mi estrategia va a ser que las cartas delanteras le ganen todo el tiempo posible a mis cartas de atras para que ataquen! Las reglas de la batalla son +2 de escudo para todos y ademas 50 de mana, es muchisimo mana! Asi que puedo darme el lujo de usar cartas que cuesten mucho mana!
THE BATTLE
Now let's go to the battle! I had a very interesting battle against a summoner that almost nobody uses and besides that I used a card that not many people use from the new Riftwatchers edition! This will be a battle of only CHAOS LEGION and RIFTWATCHERS cards!
STRATEGY
My strategy is going to be for the front cards to buy as much time as possible for my back cards to attack! The rules of the battle are +2 shield for everyone and 50 mana, that's a lot of mana! So I can afford to use cards that cost a lot of mana!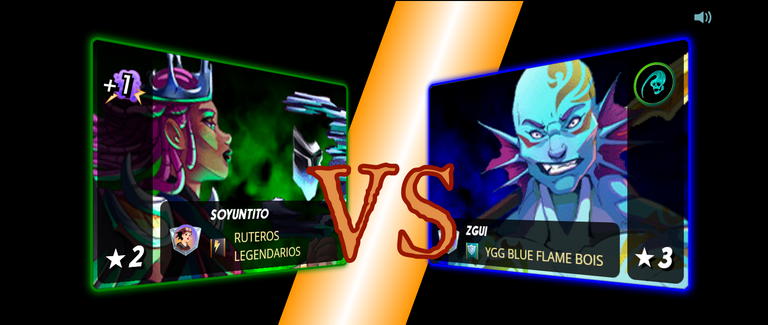 LINEUP
INVOCADOR
Como invocador voy a usar a OBSIDIAN, la uso a nivel 2 para usar cartas acorde, estoy jugando en PLATA y todos los invocadores los estoy usando en nivel 2! OBSIDIAN le da 1 mas de poder a todas mis cartas de magia!
LINEUP
SUMMONER
As a summoner I will use OBSIDIAN, I use it at level 2 to use cards accordingly, I am playing in SILVER and all the summoners I am using at level 2! OBSIDIAN gives 1 more power to all my magic cards!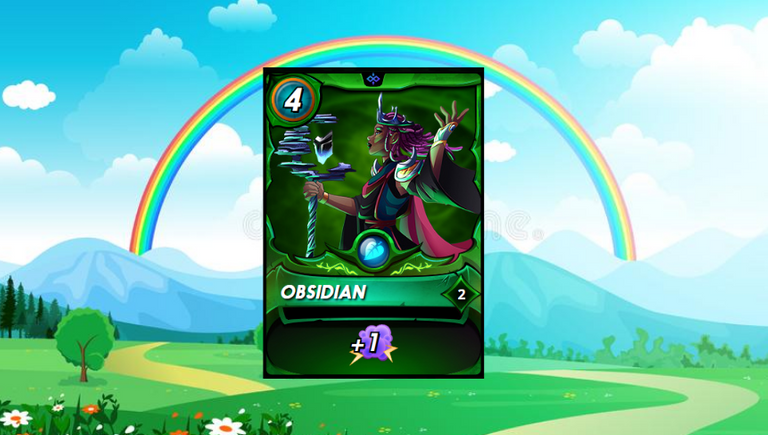 PRIMERO
En primer lugar y como tanque pongo a MYCELIC SLIPSPAWN en nivel 2, tiene 2 de ataque 2 de velocidad 11 de vida y vale 9 de mana ademas tiene la habilidad TAUNT que hace que todos los ataques se desvien hacia ella! Es un tanque que me gusta mucho y el mas usado de tierra actualmente.
SEGUNDO
En segundo lugar pongo a BRAMBLE PIXIE una carta comun de la nueva edicion RIFTWATCHERS, vale 7 de mana, tiene 2 de velocidad, 3 de ataque y 9 de vida! Ataca desde atras asi que por eso la pongo detras de mi tanque y como tiene bastante vida le va a comprar tiempo a los que vienen atacando desde atras!
TERCERO
En esta posicion pongo al protagonista de esta historia! REGAL PERYTON! Una rara en nivel 2, vale 5 de mana tiene 1 de ataque, 6 de velocidad y 6 de vida, con tanta velocidad es casi seguro que de el primer golpe siempre! Que de el primer golpe siempre va a comprar mas tiempo para el ataque que viene de atras y hace daño primero que los demas!
FIRST
First of all and as a tank I put MYCELIC SLIPSPAWN at level 2, it has 2 attack 2 speed 11 life and is worth 9 mana plus it has the TAUNT ability that makes all attacks deflect towards it! It is a tank that I like a lot and the most used ground tank at the moment.
SECOND
In second place I put BRAMBLE PIXIE a common card from the new RIFTWATCHERS edition, it is worth 7 mana, has 2 speed, 3 attack and 9 life! It attacks from behind so I put it behind my tank and as it has a lot of life it will buy time to those attacking from behind!
THIRD
In this position I put the protagonist of this story! REGAL PERYTON! A rare at level 2, worth 5 mana, has 1 attack, 6 speed and 6 life, with so much speed it's almost certain that he will always hit first! The first hit will always buy more time for the attack that comes from behind and does damage first than the others!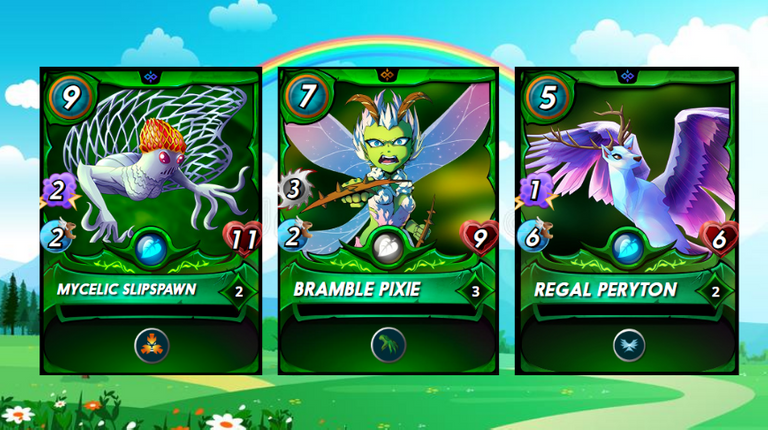 CUARTO
En esta posicion pongo a GOBLIN PSYCHIC en dorado y nivel 3 es una carta comun, la pongo en esta posicion para que cure a las cartas de atelante lo mas que pueda y esas cartas aguanten lo mas que puedan! Tiene 1 de velocidad, 5 de vida, 2 de daño y vale 9 de mana su habilidad especial es curar!
QUINTO
Aqui pongo a SUPPLY RUNNER porque es una carta rapidad y quiero que haga daño rapido! Tiene 4 de velocidad, 5 de vida y 2 de ataque, vale 6 de mana!
SEXTO
Aqui pongo una carta que he usado muy poco y vale mucho mana, unos 13! Es bastante, es una carta legendaria de la nueva edicion RIFTWATCHERS, RUNEMANCER FLORRE es muy bonita la carta y la chica es muy bonita proyecta mucho poder y nobleza con el pajarito en la mano! Pega 2 de magia y 2 de flecha! Tiene 4 de es velocidad lo cual me interesa, cartas que ataquen rapidamente y tambien tiene 13 de vida es muchisimo y es perfecto para cuidar la retaguardia!
FOURTH
In this position I put GOBLIN PSYCHIC in gold and level 3 is a common card, I put it in this position to heal the cards ahead as much as possible and those cards hold as much as possible! It has 1 speed, 5 life, 2 damage and is worth 9 mana, its special ability is to heal!
FIFTH
Here I put SUPPLY RUNNER because it is a fast card and I want it to do fast damage! It has 4 speed, 5 life and 2 attack, worth 6 mana!
SIXTH
Here I put a card that I have used very little and is worth a lot of mana, about 13! It is quite a lot, it is a legendary card of the new RIFTWATCHERS edition, RUNEMANCER FLORRE is a very nice card and the girl is very pretty, she projects a lot of power and nobility with the little bird in her hand! She hits 2 of magic and 2 of arrow! It has 4 speed which interests me, cards that attack quickly and also has 13 life is a lot and is perfect for guarding the rear!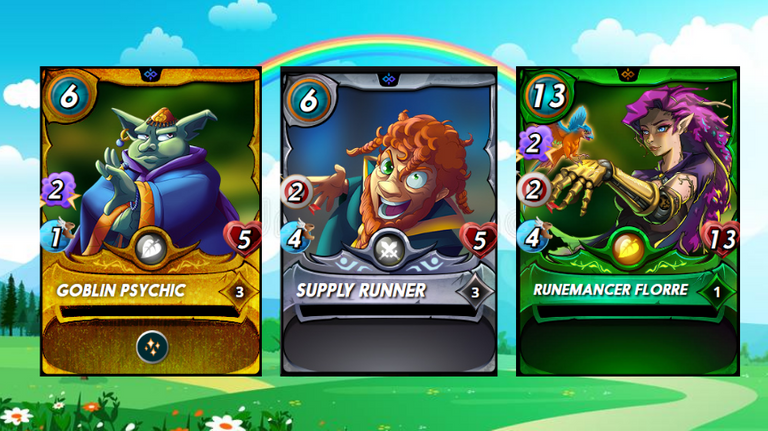 CONCLUSION
La estrategia funciono tal y como queria excepto por mi tanque que no aguanto mucho pero igual habia mucha vida acumulada en las primeras 2 cartas! REGAL PERYTON hizo lo que esperaba y todas las demas cartas igual, no veo nada que cambiar la estrategia funciono y estoy feliz con ella y con el resultado!
👀 Mira la batalla AQUI
CONCLUSION
The strategy worked just as I wanted it to except for my tank that didn't hold much but there was still a lot of life accumulated in the first 2 cards! REGAL PERYTON did what I expected and all the other cards the same, I don't see anything to change the strategy worked and I'm happy with it and the result!
👀 Watch the battle HERE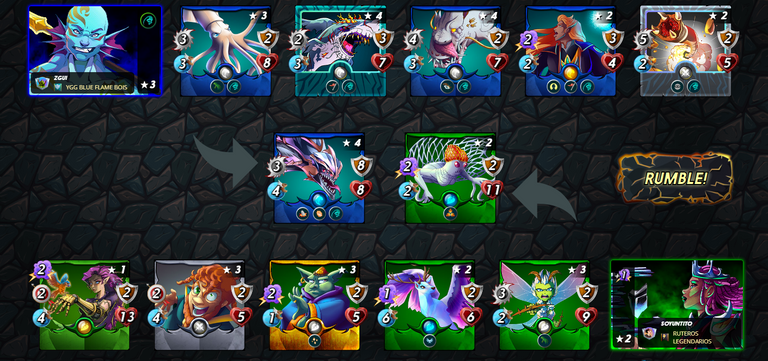 FINANZAS
Las ultimas 24 horas el Market ha movido 53.000$ dolares una cantidad increible y es la cantidad usual diaria, la economia de splinterlands a pesar de que hemos visto una caida en el precio de las cartas parece seguir estando sana! El volumen del DEC las ultimas 24 horas es de 39.000$ dolares y el de SPS de 17.000$ dolares, esto solo en Hive-engine!
FINANCE
The last 24 hours the Market has moved $53.000 an incredible amount and this is the usual daily amount, the splinterlands economy even though we have seen a drop in the price of cards seems to be still healthy! The DEC volume in the last 24 hours is $39,000 and the SPS volume is $17,000 in Hive-engine alone!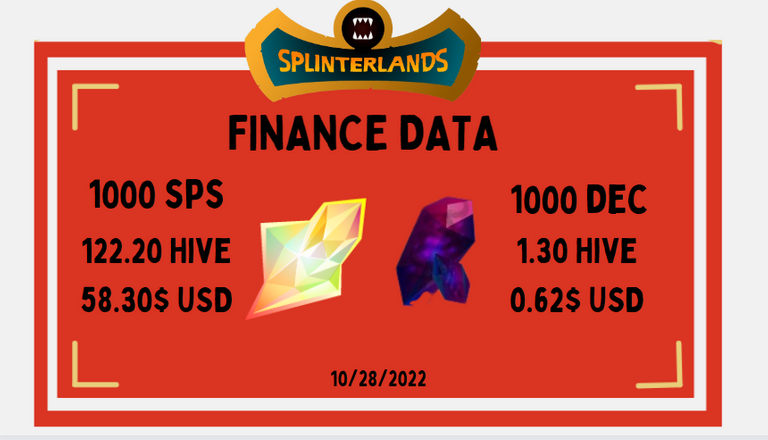 Gracias por tomarte el tiempo de pasar por mi post y leerlo!
Nunca es tarde para empezar a jugar el mejor juego play to earn que hay en el espacio crypto! Si te llama la atencion el jugar splinterlands puedas registrarte AQUI Si lo pruebas y lo aprendes estoy seguro que te haras fanatico del juego asi otros miles que hemos descubierto esta gema!
Todas las imagenes fueron creadas con canva por mi y utilice screenshots de la pagina de Splinterlands.
Hasta la proxima!
Thanks for taking the time to stop by my post and read it!
It's never too late to start playing the best play to earn game in crypto space! If you are interested in playing splinterlands you can register HERE If you try it and learn it I'm sure you will become a fan of the game as well as thousands of others who have discovered this gem!
All images were created with canva by me and I used screenshots from the Splinterlands website.
See you next time!
Posted using Neoxian City
---
---