My Splinter lands Journey (Started: November, Gold Rank with Nature) Part 1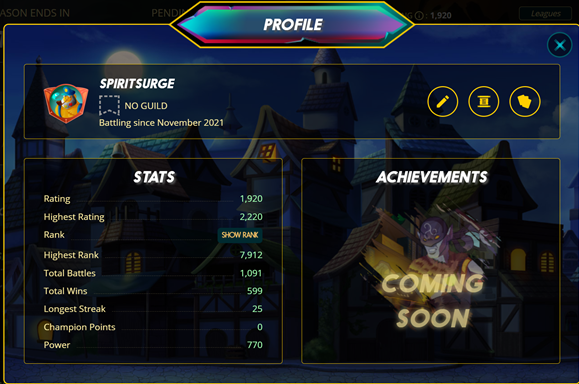 Hello!! Merry Christmas and a Happy New year...New Kid on the block here and I am a new player who started playing in Mid November 2021. I have seen 2 seasons so far and have ended in Gold 3 in both of them.
I am by no means an F2P player, but regardless I would like to share the strategy I used to finish gold 3 every season.
So I made a lot of poor decisions in the beginning and bought a lot of wrong stuff (thankfully they could be rented)...so on a daily basis I earn.

So as you can see that I make 28.67 Dec in rental every day which frankly is just enough for me to get enough rentals to get to gold...
Basically I run 2 splinters (light and Nature) and I believe it is a must to get these 2 summoners even at level 1..
For this post I am going to look at only nature
Mylor Crawford

This guy will smash all melee lineups..and teamed up with mustang and 2 healers you are not going to lose a lot until silver 2...It is a must 2 run 2 healers with Mustang...Remember to throw in 2 1 mana fodder units to absorb opportunity and sneak attacks (and thorn them)...
Unicorn Mustang

This is one of the best early game tanks in the game..high health, good speed, 3 attack and void shield...Melee team no problem....magic team no problem...he is great with 2 healers and destroys magic comps.
Goblin Psychic

Excellent healer gets 5 health at level 3...which is amazing...oh and has a good magic attack...only con is low speed

Wood Nymph

Remember I told you to run 2 healers...this is why she has that one extra speed that will be a lifesaver in your silver matchups...ideally you want her at level 3 for the extra health but this is only useful if you can afford to rent a level 2 mylor...
All in all if you suck like I do....you would be better off grinding in bronze 3 until you learn the ruleset and then after getting high enough rating you can rent increase your power and start grinding that sweet DEC rewards in gold 3 and silver 1...let me know in comments if this helped...and let me know what splinters you play.
---
---