Automate Splinterlands Rentals with XBOT + Peakmonsters Decks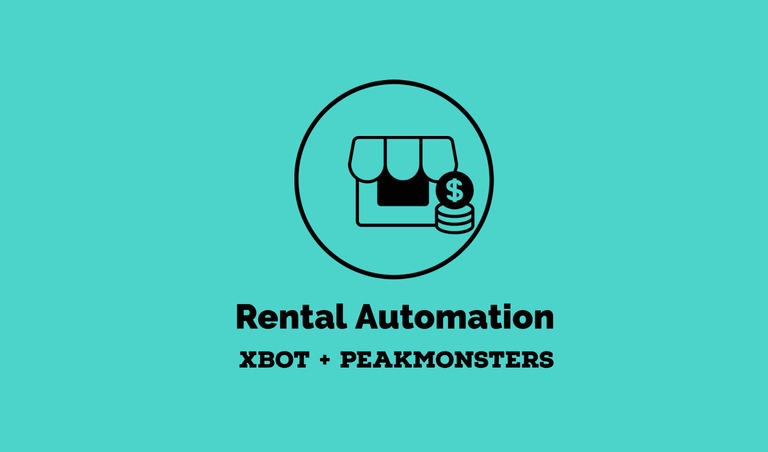 ---
The Splinterlands card rental market is a powerful system that provides some of the best investment opportunities in the game. With the addition of Peakmonsters Decks it has become even easier to manage rentals, but we wanted to take it a step further and integrated Peakmonsters Decks into XBOT to provide a fully automated, turnkey solution to rentals.
✅ | Save time on rentals - XBOT takes care of finding the cheapest cards and rents them
✅ | Set & forget - No maintenance needed after setup
✅ | Experiment & improve - Access dozens of public decks for inspiration
✅ | Subsidized gas fees (RC) - Don't worry about gas fees since XBOT covers them
---
Getting Started with Peakmonsters Decks
Peakmonsters Decks allow users to build, save and share Decks (collections of cards).
You can build your own or use one of the many public decks available, including in the XBOT Discord server (#pkm-decks channel).
Each Deck has a unique ID that identifies it

---
Setting up XBOT to Automate Rentals
Note that we require Rental Authority to rent cards on your behalf. This authority only permits our system to rent cards, and no other type of transaction.
Simply copy-paste the Deck ID into XBOT's Rental Config, as shown below: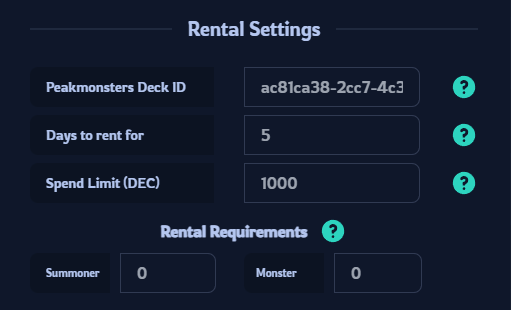 Set the number of days to rent for - Minimum is 2

Set the Spend Limit in DEC. This is the daily rent price of all cards multiplied by the number of days. For example, if the daily DEC cost of the Deck is 200 DEC, and you're renting for 5 days, set the Spend Limit to 1000. (An extra 10% buffer is recommended in case of price fluctuations)

(Optional) Setup Rental Requirements. Set how many cards must be rented for a session to start, as a percentage of the total. For example: If you choose 90%, and the Peakmonsters deck has 30 cards, then 27 cards must be rented for the bot session to start
---

---
---