Introducing The First SPS Rental Market. SPS Just Got More Utility!
---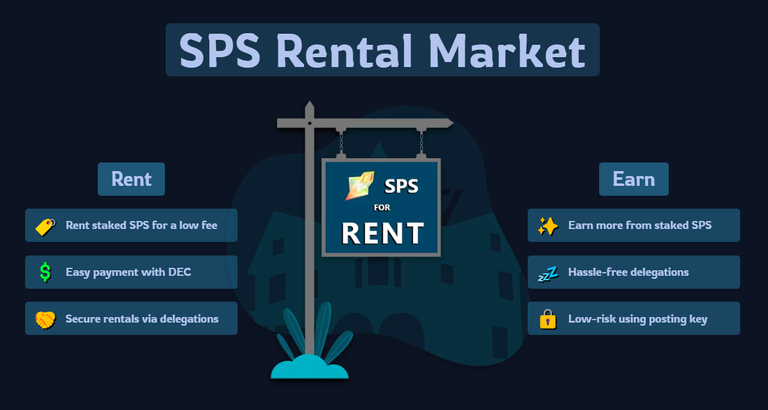 ---
SPS Rental Market is a new service that allows you to rent out staked SPS to players who want to use them in tournaments. SPS is the governance token of Splinterlands that gives you governance voting power and staking rewards.
Staked SPS tokens are also useful for tournament players, as they give them access to higher prize pools and more tournaments. The SPS rental market makes it possible for SPS holders and tournament players to setup SPS rentals in a trustless way.
---
Participate in more tournaments with less upfront cost
Have you ever tried to participate in a tournament where you didn't meet the staked SPS requirements?
The SPS market solves a major pain point of tournament players.
You can rent staked SPS for a fraction of the price, and not have any of the downside risk of the token price.
---
Earn more from staked SPS
SPS rentals boost your staking rewards with no downside.
As the lender, you keep the ~20% staking rewards and governance voting power.
On top of that, you remain in custody of the tokens throughout the rental process.
We require posting keys of the lender account to automate delegations. Note that posting keys can't be used to transfer tokens or any other sensitive action.
---
How do I get started?
Both lenders and borrowers need to have an XBOT account and at least 1 Splinterlands account connected to the platform.
Lenders (SPS holders)
Lenders need to submit their posting keys on the Accounts page. This is needed to delegate the staked SPS on your behalf
Borrowers (Tournament players)
Borrowers don't need to submit posting keys.
To pay for an SPS rental, you need XCredits, which are worth 1 DEC each. You receive XCredits by sending DEC in-game to our account: XBOT-DEPOSIT
---
What about fees?
Our fees are super simple.
Borrowers don't pay fees
Lenders pay a 10% fee which is deducted from rental income
---

---
---