Splinterlands BATTLE MAGE SECRETS Weekly Challenge: EQUALIZER!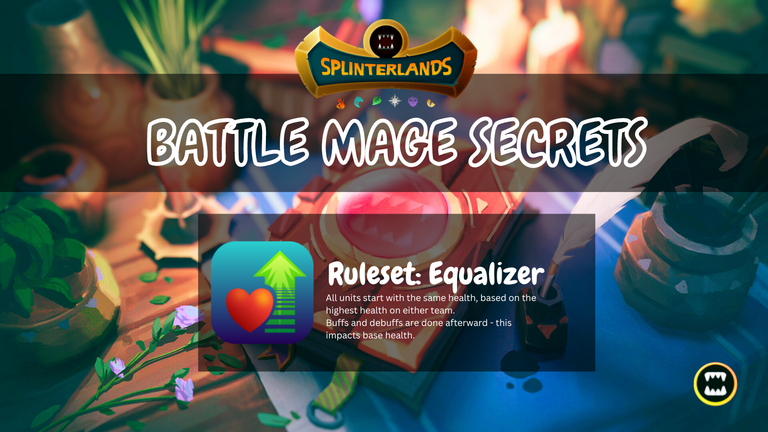 Good day, everyone! It's time again for another battle challenge from Splinterlands. This time, the battle challenge is
Equalizer
Ruleset. If you would also like to participate, please make sure to check their post here -
BATTLE MAGE SECRETS Weekly Challenge!
For this post, I am going to share a battle with Equalizer Ruleset in Modern Ranked Gold League. If this piques your interest, please continue reading this post.
---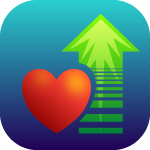 RULESET: Equalizer
Description:
All units start with the same health, based on the highest health on either team. Buffs and de-buffs are done afterward - this impacts base health.
In this ruleset, you do not need to worry about monsters with Opportunity ability because all monsters will start with the same health. So, you can happily use those cards with high damage output but low HP. You may also want to use monsters with Heal or Tank Heal or Triage ability because the amount of heal is dependent to the max health of the monster.

Battle Configuration

Here are the rulesets and mana cap to consider for this battle. "Equalizer: The initial Health of all Monsters is equal to that of the Monster on either team with the highest base Health." and "Explosive Weaponry: All Monsters have the Blast ability." are two of the ruleset in effect here. The mana cap is 58, and this allow me and my opponent to use those monsters with high mana cost and has high HP. My first choice of summoner here was Kelya Frendul which will give allied monsters with +1 Armor. This +1 Armor is vital for Explosive Weaponry ruleset because this will block the first damage from Blast. Below was my lineup.
Kelya Frendul (Summoner): This will increase my monster's speed and armor by +1. Because all monsters will have the same HP, having an advantage in terms of Speed is advantageous. Additionally, the +1 Armor will protect nearby monsters from the Blast effect.
Diemonshark (Pos 1): Diemonshark is one of my monsters with the most attack power and the fastest movement speed. Because all monsters have the same HP, it will be a race to see who can deal the most damage.
Flying Squid (Pos 2): Because of the Flying Squid's Reach ability, position #2 is the best position for it. Also, Flying Squid's Blind ability works well with Kelya Frendul's +1 Speed because it increases the likelihood that the enemy will miss its melee and ranged attacks.
Deeplurker (Pos 3): Deeplurker is one of the main attackers, and aside from the Blast effect, its Poison ensures that the opponent's thick HP steadily melts down.
Swamp Spitter (Pos 4): My first support in this lineup, Swamp Spitter, greatly benefits from the Equalizer ruleset. Its HP was only 4 without the ruleset, making it a straightforward target for monsters with the Opportunity ability. Besides that, it will heal the armor of monsters that have received the most damage and possesses a powerful ranged attack of 4.
Angelic Mandarin (Pos 5): My second support in this battle is Angelic Mandarin, and its Triage ability has a benefit in the Equalizer Ruleset because the Heal is calculated as max health divided by 3, rounded down. 2 is the minimum. Swamp Spitter will receive a 2 HP healing from Triage if his starting HP was 4. However, as Swamp Spitter now has 10 health, the heal will be 3.
Nerissa Tridawn (Pos 6): In the last position, I have a monster with a magic attack, and I'm hoping it won't miss. In my lineup, this is the only monster with a magic attack.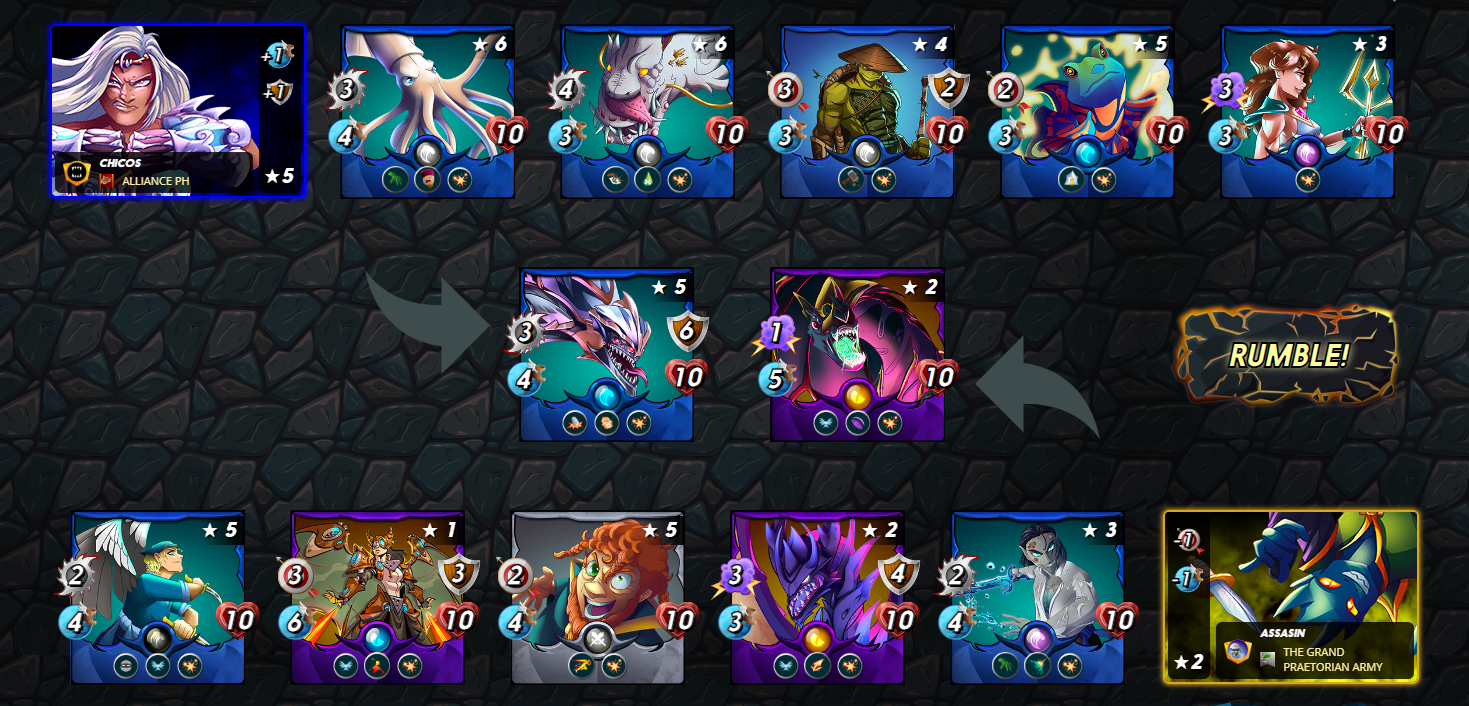 Battle Summary and Analysis
The opponent used the Summoner Quix the Devious which will de-buff my allied monsters' Ranged Attack and Speed. This will greatly affect my Swamp Spitter and Angelic Mandarin. The opponent also used Tider Biter with Reflection Shield ability. This will stop the effect of Blast if my monster attack Void Dragon and Chaos Dragon. The opponent also has Chaos Dragon with Scattershot ability and can maximize the damage of Blast effect and a Sniper also which was Runic Skyclaw. For this line-up, I just hoped that Angelic Mandarin's Triage will sustain the HP of my monsters with also the help of Swamp Spitter's Repair ability. Please see the replay below to see how my line-up managed to win this battle.
---
Battle Replay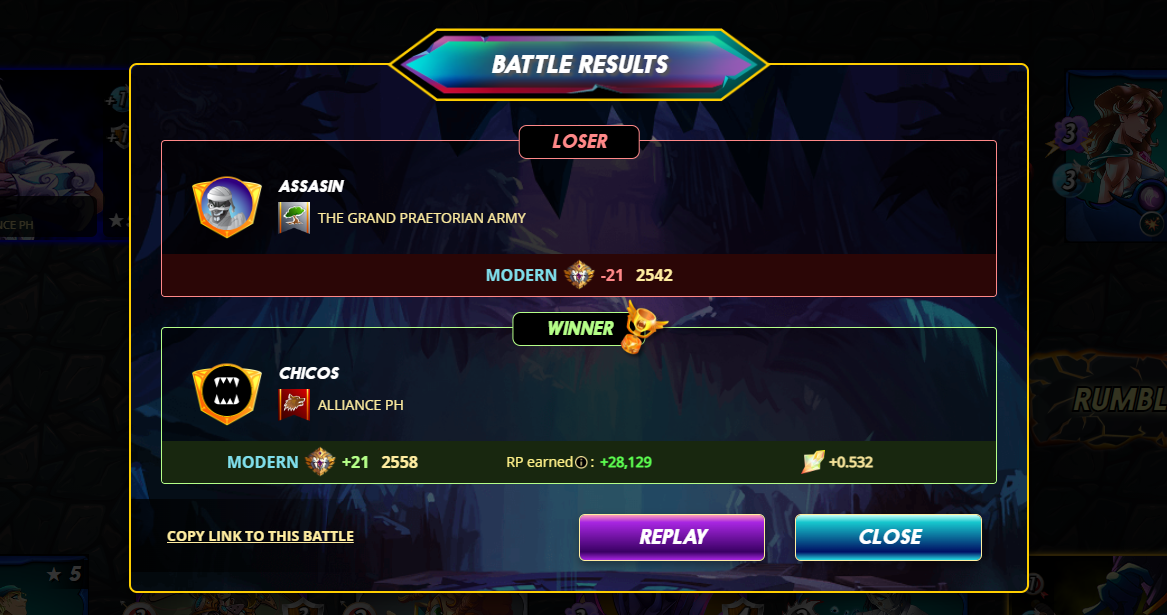 Due to the opponent's Supply Runner's Swiftness ability, the opponent had the advantage in speed, which caused my monsters' attacks to miss frequently. The enemy was however defeated by the attack strength of my monsters, led by Diemonshark. Additionally, because to their durability throughout the fight, the allied monsters received extra support from Angelic Mandarin and Swamp Spitter.
---

That's it, and thanks for reading. If you're interested in playing Splinterlands, here is my game link - splintercell-01.
Visit @Splinterlands to view more amazing posts! And always keep on battling!!!
*Images used are from Splinterlands and Peakmonsters and edited in Canva.
---
---