Splinterlands Battle: Nerissa Tridawn in Action!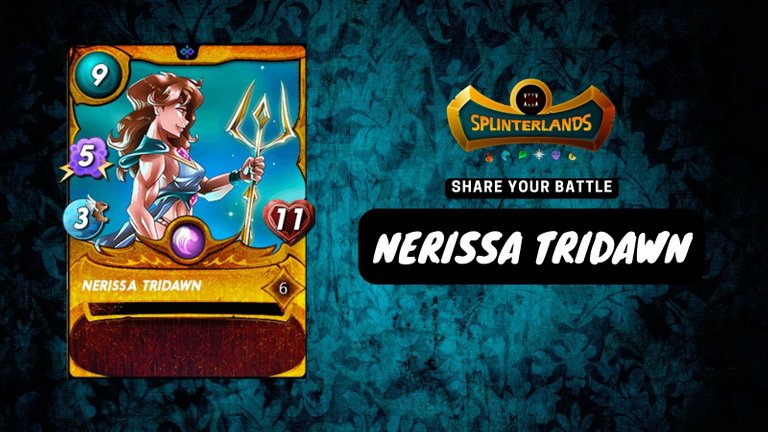 Introduction
Good day, Splinterlands! It's time again for Splinterlands'
SHARE YOUR BATTLE Weekly Challenge! NERISSA TRIDAWN
. For this post, I would like to share one of my battles using NERISSA TRIDAWN. Nerissa Tridawn is one of the beauty and brawn of Splinterlands. This card also is one of the few cards that has no ability at all. Even though it has no ability, its thick HP surely can tank incoming damage while dealing heavy damage to the opponent. And in my opinion, the only downside of this card is its high mana cost. This battle happened in Darastrix Modern Bronze Gladiator Arena Tournament hosted by Splinterlands and created by SPS.Tournaments. How did I survive this challenge and won a battle using Nerissa Tridawn? Let's take a look at it.
---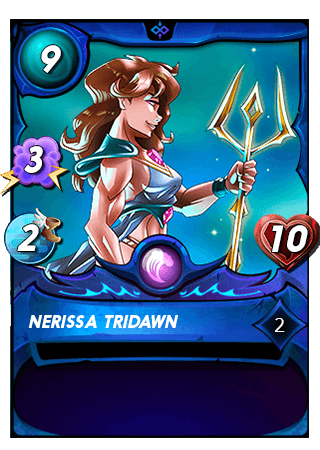 Here is a quick rundown of NERISSA TRIDAWN stats.
NERISSA TRIDAWN
Edition: CHAOS LEGION
Rarity: EPIC
Element: WATER
Attack: MAGIC
Abilities: NONE
Nerissa is a proud warrior of the water. Armed with her enchanted trident, she defends the seas, the rivers, and the lakes. She is well known across coastal villages, and they often call on her for help. She has slain great sea beasts that would otherwise kill everyone in their path. She has rescued sailors from hurricanes, and even warned villages of incoming tsunamis to save lives. Her bravery and brilliance in battle have led to her being called Nerissa the Hurricane...
| Level | Regular BCX | Gold BCX | Attack | Speed | Armor | Health | Abilities |
| --- | --- | --- | --- | --- | --- | --- | --- |
| 1 | 1 | - | 3 | 2 | 0 | 9 | None |
| 2 | 4 | 1 | 3 | 2 | 0 | 10 | None |
| 3 | 10 | 2 | 3 | 3 | 0 | 10 | None |
| 4 | 20 | 4 | 4 | 3 | 0 | 10 | Noner |
| 5 | 32 | 7 | 4 | 3 | 0 | 11 | None |
| 6 | 46 | 10 | 5 | 3 | 0 | 11 | None |

Battle Configuration
---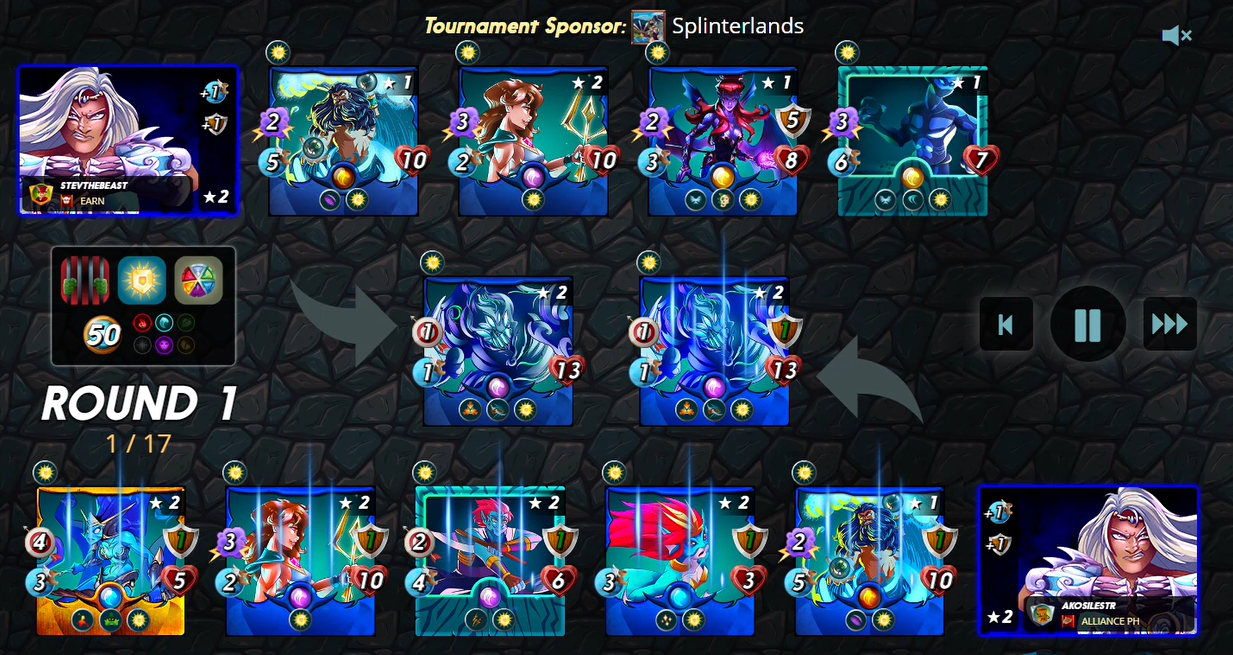 The Modern Format ruleset for this fight are Keep Your Distance, Holy Protection and Taking Sides. The maximum amount of mana allowed is 50. This is a good opportunity to use Nerissa Tridawn because of the high mana cap. For my tank in Position 1, I used Wavebrood with its Taunt ability. Melee monsters are not allowed in this battle and it is important that my tank in Pos 1 can also attack. My monster in Position 2 is Djinn Oshannus with its Void ability. Since my opponent will probably use magic attack monsters, it's ok to put this card in Position 2 as my secondary tank. My monster in Position 3 is Merdaali Guardian that heals my tank in Position 1. My monster in Position 4 is Axemaster and one my damager. Nerissa Tridawn is at Position 5 to act as shield for my last monster which is Sea Stalker with Snipe and Camouflage abilities. I used Kelya Frendul to summon these monsters and to provide +1 Armore and Speed.
Rulesets
Keep Your Distance: Monsters with Melee attack may not be used in battles.
Holy Protection: All Monsters have the Divine Shield ability.
Taking Sides: Neutral Monsters may not be used in battles.

Let's Battle!
---
Both sides used Kelya Frendul as the summoner and the battle started by each tank attracting all incoming attacks. My opponent and I have 3 monsters in common but I have a support monster and the opponent has none. In Round 1, my Nerrisa Tridawn inflicted 3 damage to enemy Wave Brood.
---
In Round 2, enemy Wave Brood was eliminated and the enemy Djinn Oshannus became the tank. My Nerissa Tridawn inflicted 2 damage only because the enemy Djinn Oshannus has the Void ability. In Round 3, my Nerissa Tridawn inflicted another 2 damage to enemy Djinn Oshannus.
---
In Round 4, enemy Djinn Oshannus got defeated and my Nerissa Tridawn Inflicted 3 damage to enemy Nerissa Tridawn. In Round 5, my Nerissa defeated the opponent Nerissa Tridawn.
---
In Round 6, enemy Runemancer Kyed moved to Position 1 and I still have 4 monsters. Moving to Round 9, my monsters physical attacked against enemy Phantom of the Abyss missed. Good thing that I still have my Nerissa Tridawn and its magic attack always inflicted directed damage to enemy Phantom of the Abyss.
---
In Round 10, my Sea Stalker continued to missed its attack against Phantom of the Abyss. And in Round 11, Nerissa Tridawn's attack ended the battle.
Here is the full replay in Splinterlands.

My Takeaway in using Nerissa Tridawn
Having Nerissa Tridawn will surely help your deck win battles. Even though this card has no ability at all, its stats at Level 1 is already an asset. It can serve as tank and attacker. And I think I will continuously use this card. Currently, I have a level 2 card and planning to upgrade it to level 3 for my Silver Deck.


That's it, and thanks for reading. If you're interested in playing Splinterlands, here is my game link - splintercell-01.
Visit @Splinterlands to view more amazing posts! And always keep on battling!!!
*Images used are from Splinterlands and Peakmonsters and edited in Canva.
---
---