Splinterlands Battle: The Tenacity of Legionnaire Alvar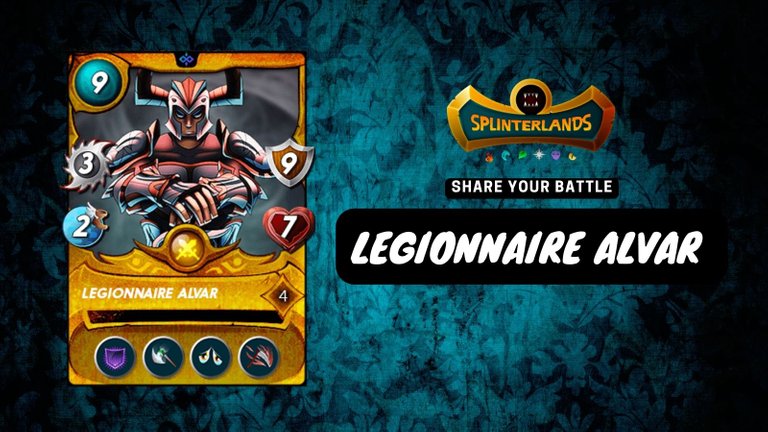 Introduction
---
Good day, Splinterlands! It's time again for Splinterlands'
SHARE YOUR BATTLE Weekly Challenge! LEGIONNAIRE ALVAR
. For this post, I would like to share one of my battles using Legionnaier Alvar versus one of the nastiest combo in Silver/Bronze League - Scarred Llama Mage + Kron The Undying. How did I survive this challenge and won a battle using Legionnaire Alvar? Let's take a look at it.
---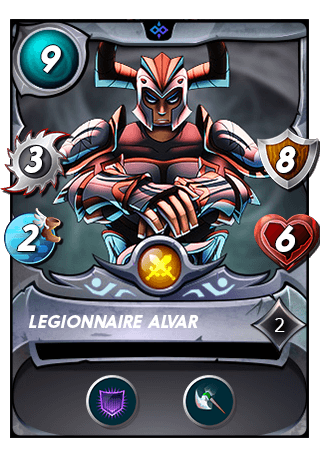 Here is a quick rundown of Legionnaire Alvar stats.
DJINN INFERNI
Edition: CHAOS LEGION
Rarity: LEGENDARY
Element: NEUTRAL
Attack: MELEE
Abilities: VOID ARMOR AT LEVEL 1, GIANT KILLER AT LEVEL 2, DEMORALIZE AT LEVEL 3, DEATHBLOW AT LEVEL 4
The Chaos Legionnaires are ruthless warriors and the Chaos Legion's elite fighting force. Alvar Veralyn was conscripted into their ranks at a young age after his family was slain and his world conquered by the Chaos Legion. The harsh conditioning that all conscripts receive nearly broke the child, but in the end, his old, easy way of life was subsumed by the desire for battle and conquest. Alvar dedicated himself to his training, intent on reshaping his mind and his body until he had no equal on the battlefield. Eventually, he rose to the rank of General and now stands as leader of the Chaos Legionnaires...
| Level | Regular BCX | Gold BCX | Attack | Speed | Armor | Health | Abilities |
| --- | --- | --- | --- | --- | --- | --- | --- |
| 1 | 1 | - | 2 | 2 | 8 | 6 | Void Armor |
| 2 | 3 | 1 | 3 | 2 | 8 | 6 | Void Armor, Giant Killer |
| 3 | 6 | 2 | 3 | 2 | 9 | 7 | Void Armor, Giant Killer, Demoralize |
| 4 | 11 | 4 | 3 | 2 | 9 | 7 | Void Armor, Giant Killer, Demoralizer, Deathblow |

Let's Battle!
---
The Modern Format ruleset for this fight is Standard and the maximum amount of mana allowed is 28. The available elements that are allowed to be used are Fire, Water and Earth
Standard Ruleset: No modifications to the standard gameplay rules and mechanics. There are no special tricks for this ruleset, but make a balanced team. Splintercards Standard Ruleset.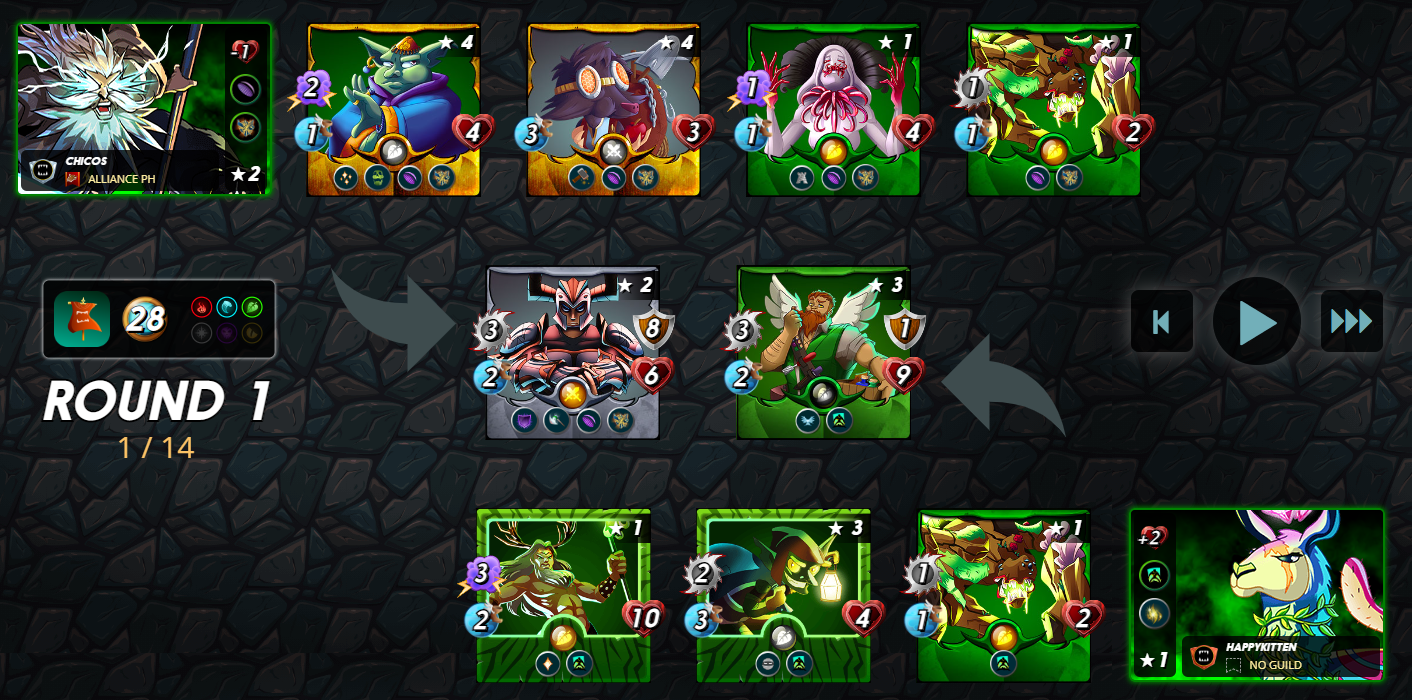 ---
The battle started by applying buffs and de-buffs on both sides. I used Immortalis as my summoner and reduced the health of enemy monsters by 1 and gave allied monsters Shatter and Void abilities.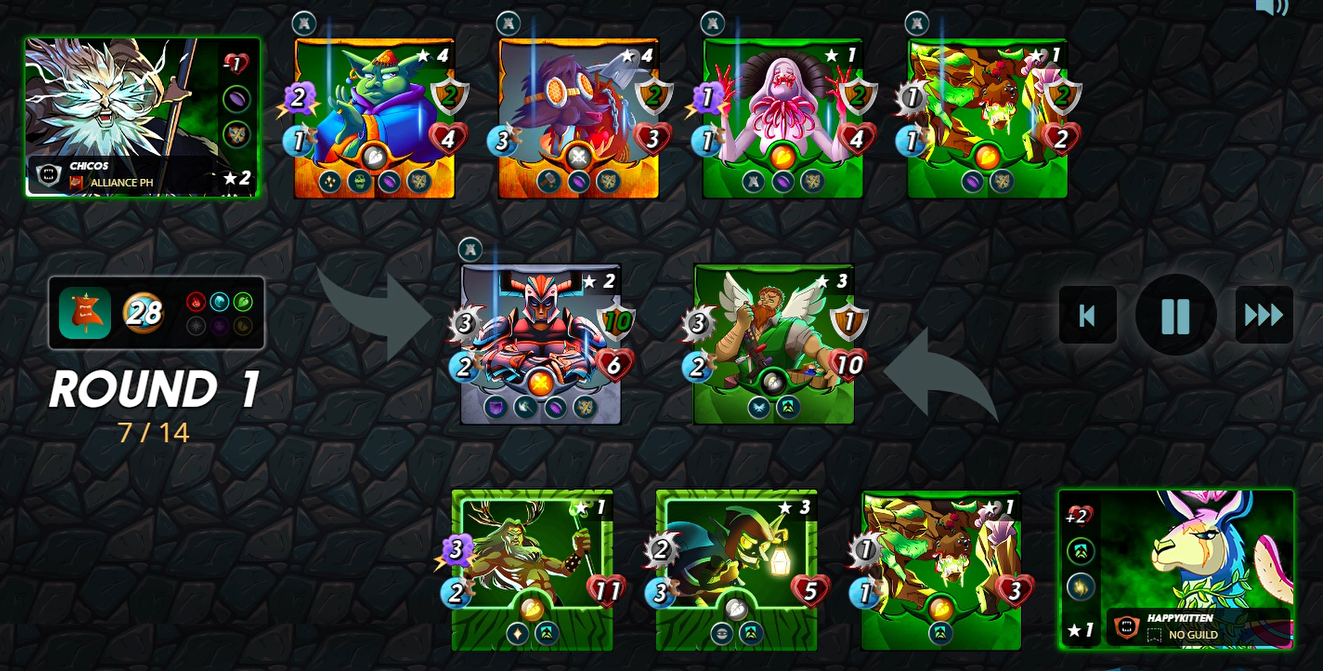 ---
In Round 1, Legionnaire Alvar's attack missed. However, its ability to tank damage are quite awesome. I am using a Level 2 Legionnaire Alvar and it has Void Armor and Giant Killer abilities. Additionally, it has a thick armor so all the damage in Round 1 did not affect its HP.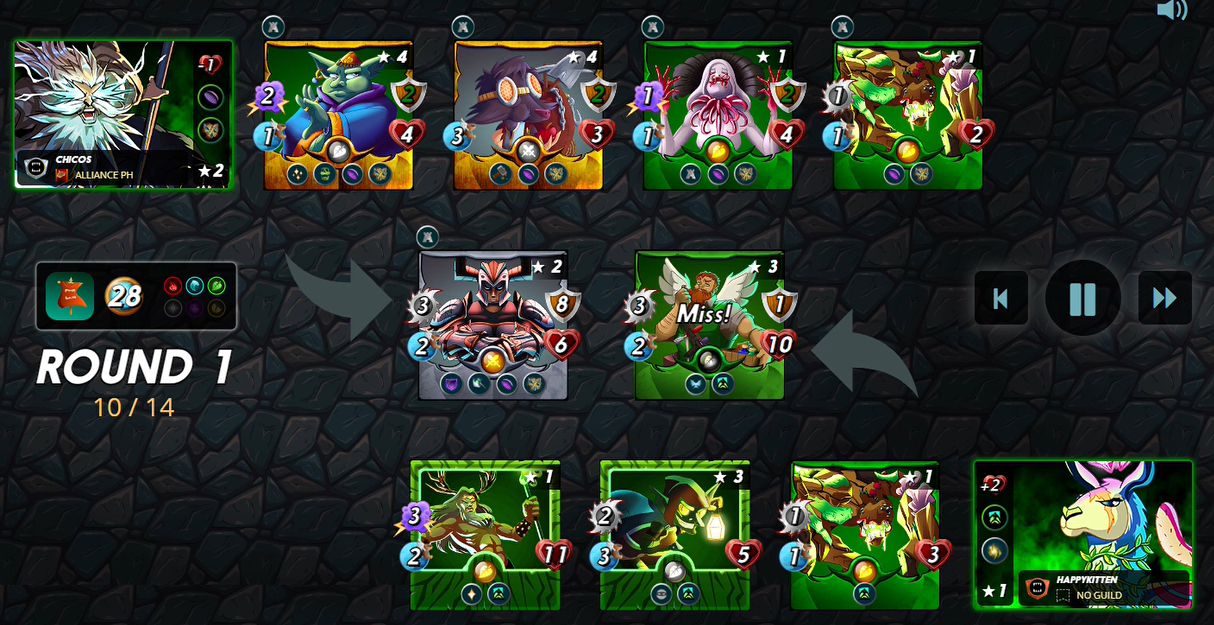 ---
In Round 2, Legionnaire Alvar was able to kill enemy Pelacor Mercenary. In the previous round, my Queen Mycelia shattered its armor giving way for Legionnaire Alvar to inflict direct damage to its HP.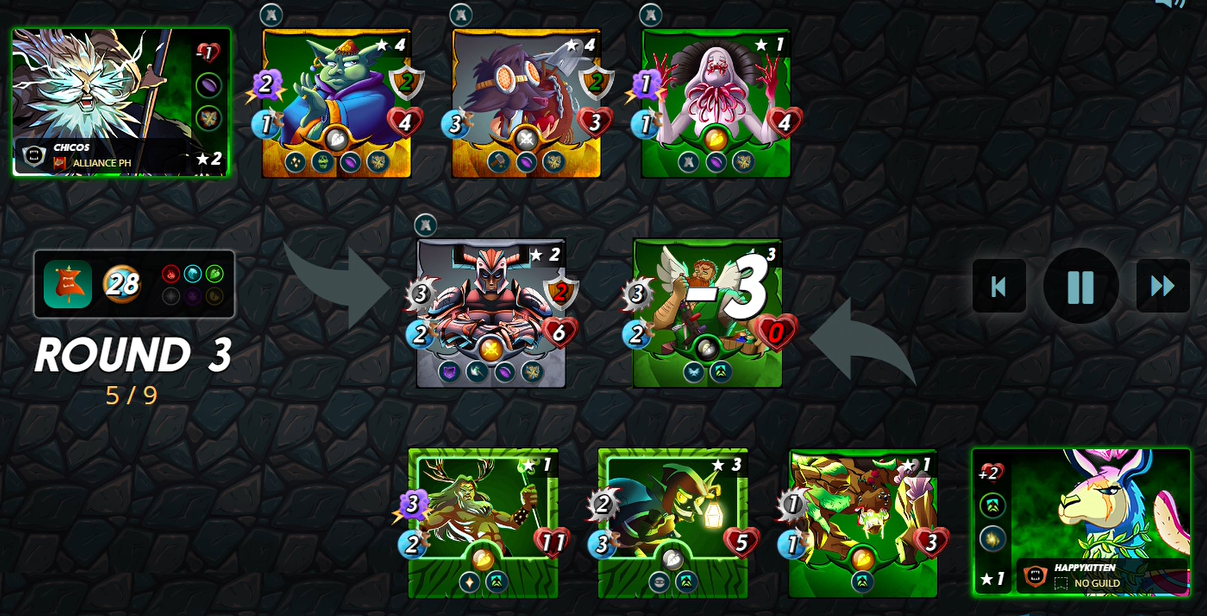 ---
In Round 4, my team was able to defeat enemy Goblin Thief and the only monster left on the enemy side was Kron the Undying.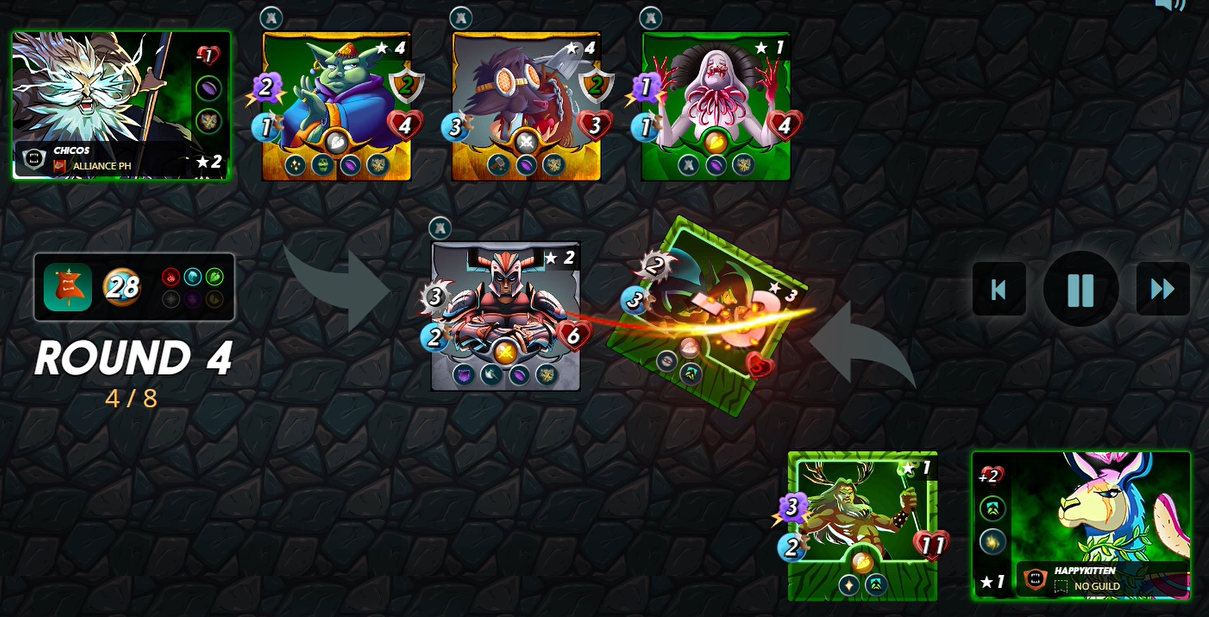 ---
Kron the Undying activated the Last Stand ability and drastically increased its Magic Damage, Speed and HP.
---
Legionnaire Alvar took only 3 damage from Kron the Undying because it has Void ability from Immortalis and Kron the Undying's Magic Attack only destroyed Legionnaire Alvar's Armor.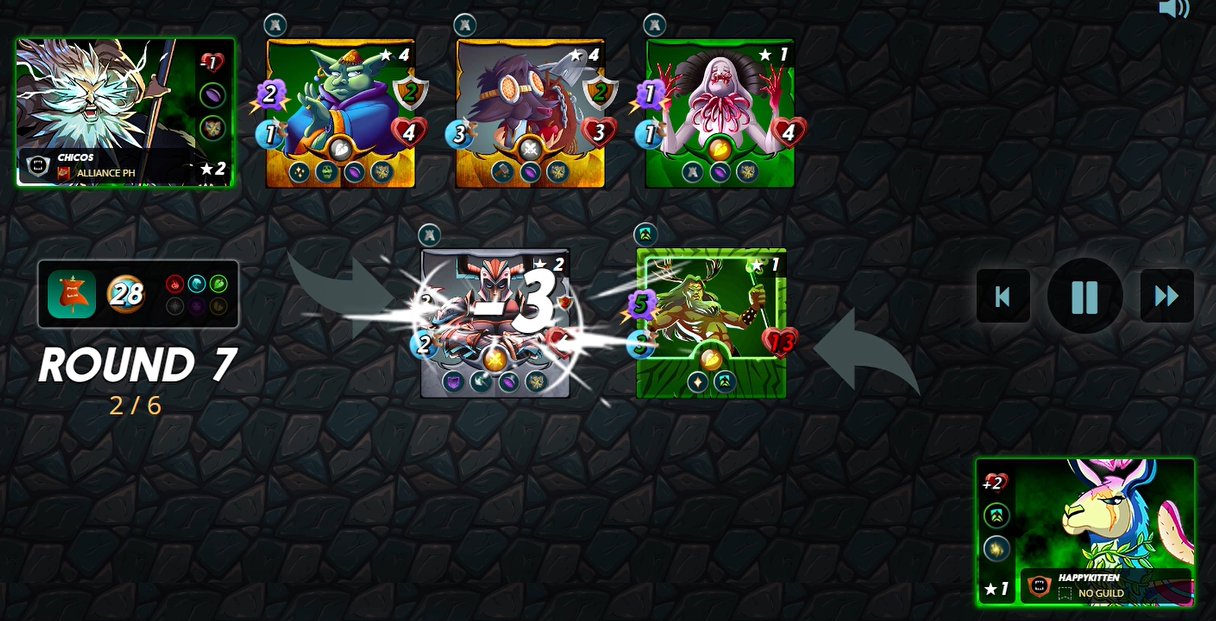 ---
While Kron the Undying was inflicting damage to Legionnaire Alvar's Armor, my Scavo Hireling kept on restoring its Armor. Also, my Goblin Psychic's Tank Heal kept Legionnaire Alvar's HP from going to zero.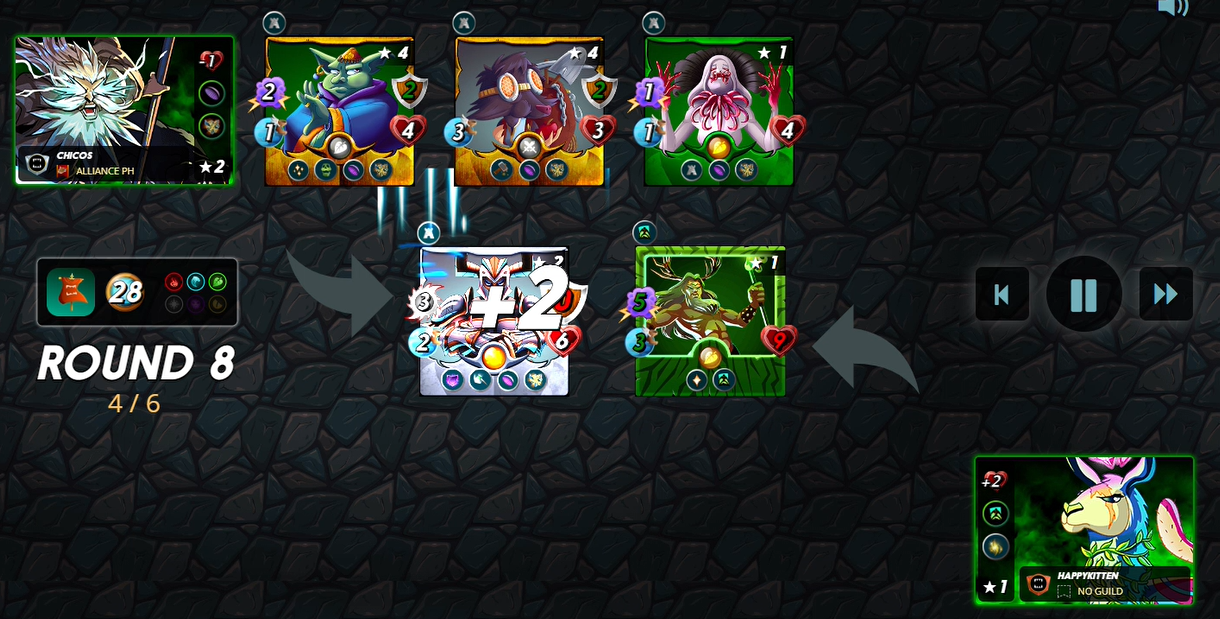 ---
This routine kept on going until Round 10 and my line up defeated Kron the Undying.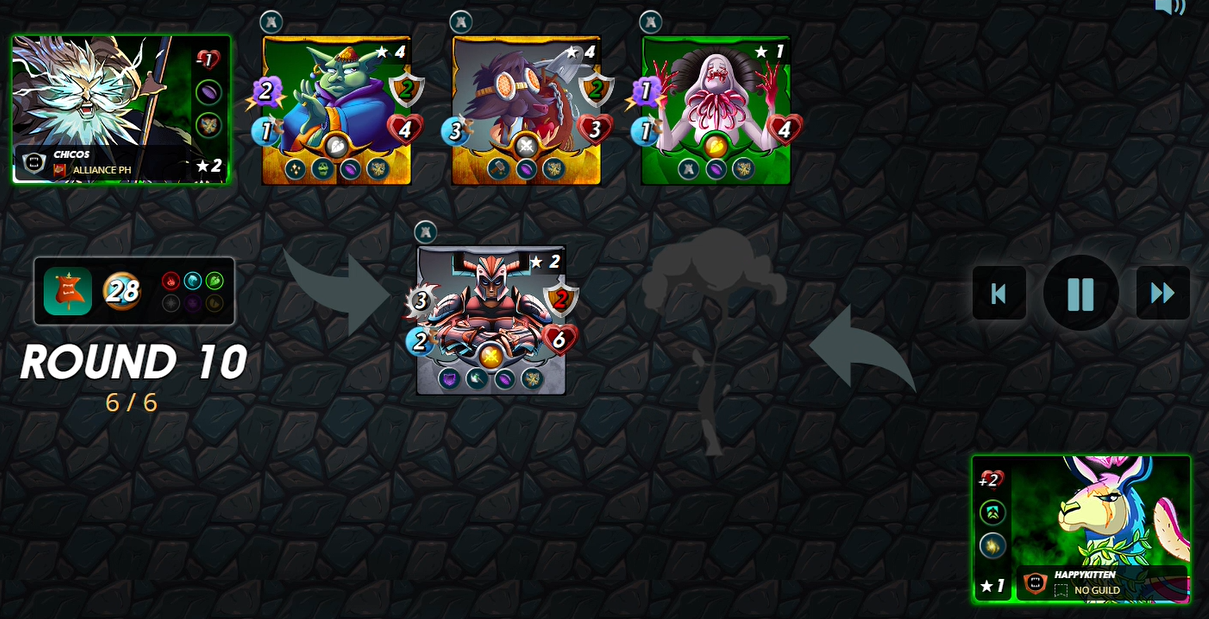 Here is the full replay in Splinterlands

Battle Configuration
---
In this battle, my lineup was quite formidable against the Scarred Llama Mage + Kron The Undying combo. I noticed that the enemy has this combo and that it is very likely that the enemy will use it. I used Immortalis to give Legionnaire Alvar the tank ability Void. As a result, Legionnaire Alvar takes less magical damage. Legionnaire Alvar was my main card in this lineup, and he was supported by Goblin Psychic, Scavo Hireling, and Quenn Mycelia. Goblin Psychic will heal its HP if its armor is depleted. Scavo Hireling will continue to repair Legionnaire Alvar's armor whenever it is attacked by an enemy. In addition, Queen Mycelia increased Legionnaire Armor's armor by 2 armor. Despite Kron the Undying activating its Last Stand ability, Legionnaire Alvar inflicted 6 direct damage to Kron the Undying due to Legionnaire Alvar's Giant Killer ability, which doubled its damage against monsters that cost 10 or more mana.

My Takeaway in using Legionnaire Alvar
---
Because of its thick armor, Legionnaire Alvar is very effective against monsters with magical attacks as well as melee and ranged attacks. And I believe it is beneficial to have this card in your deck because of its Neutral Element, which can be used in conjunction with other elements.


That's it, and thanks for reading. If you're interested in playing Splinterlands, here is my game link - splintercell-01.
Visit @Splinterlands to view more amazing posts! And always keep on battling!!!
*Images used are from Splinterlands and Peakmonsters and edited in Canva.
---
---