Splinterlands Fan Art Week 237 - KRA'AR XOC

Splinterlands Fan Art Week 237 - KRA'AR XOC

Good day, everyone! I am back at making Splinterlands Art again. It's so freaking hot outside our place today and I am dreaming of a cool, peaceful place like the dessert at night. How's the weather in your town? Back to Splinterlands, while checking my battles, I stumbled to this quite cute snake which reminds me of the snakes in the dessert. So for this post, I would like to share to you guys my fan art of KRA'AR XOC. I actually don't know how to pronounce its name, is it "RAWRRR" or just "KRAR". LOL. If you would like to read the complete Lore, here is the link -
KRA'AR XOC LORE
.
---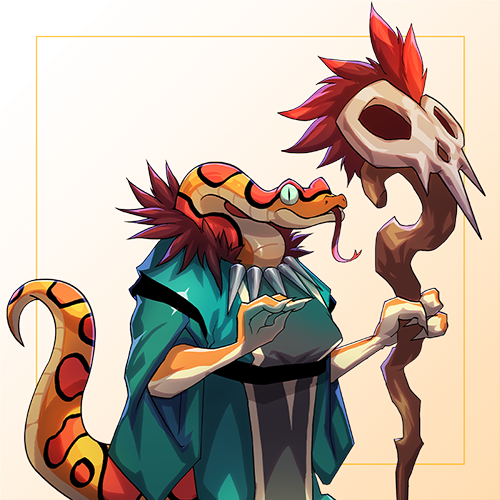 ---
I used Clip Studio Paint to create this fan art and I am quite enjoying this application compared to what I am using before which is the Autodesk Mobile. Kra'ar Xoc is a Shaman and have travelled from his homeland Burning Lands' Sskah City to the frontiers of Praetoria. He became a master shaman while travelling and this is what I pictured him on one of his adventures. For the line art, I concentrated on detailing the scales all over its body. I added more details to its scales to reflect his fierce look compared to what he actually is in the card.
---
His stance looked like he is intimidating a foe or a creature which he encountered in his journey. He lowered his staff and focusing his energy on his left hand to cast a spell. For the base color, I made his scales yellow and highlighted with black ink the outside of the line art and also the black patches on his body.
---
I added details firs on his staff and made it look like an old one. I enjoyed adding those black line on the staff after I completed the shading. It reminded me my elementary school days where I would always add those circling lines to my sketches. What I did next is to add the red patches on its body. At first, I just thought of just spraying red color on its body, but it messed up the whole work, so instead, I painted each scale with red.
---
My fan art is almost finished after adding shade colors to its lower body and clothes. I really need to have more practice on shading. He he he. For the background, as I mentioned earlier, I am imagining a cool and peaceful dessert at night. I mixed several colors for the night sky and added little stars. For the sand, I used a stone pen and scattered it all over the floor.
---
Final Art
Here is the finished product. I really enjoyed making this fan art, especially making those scales and the staff. I am still not familiar with all the tools of Clip Studio Paint, but I guess, practice makes perfect. :)



That's it, and thanks for reading. If you're interested in playing Splinterlands, here is my game link - splintercell-01.
Visit @Splinterlands to view more amazing posts! And always keep on battling!!!
---
---