Splinterlands Fan Art Week 240 - RULER OF THE SEAS 🌊
Splinterlands Fan Art Week 240 - RULER OF THE SEAS

Good day, everyone! I'm back to making Splinterlands fan art. This one is from the idea of making arts about mermaid in which my first time knowing about MerMay. I came across one of
@jijisaurart
's posts and read about MerMay 2023 | ArtPark Weekly posted by
@artpark
, so I thought I'd give it a shot. You can check the hive post
here
. For this fan art, I drew Ruler Of The Seas.
---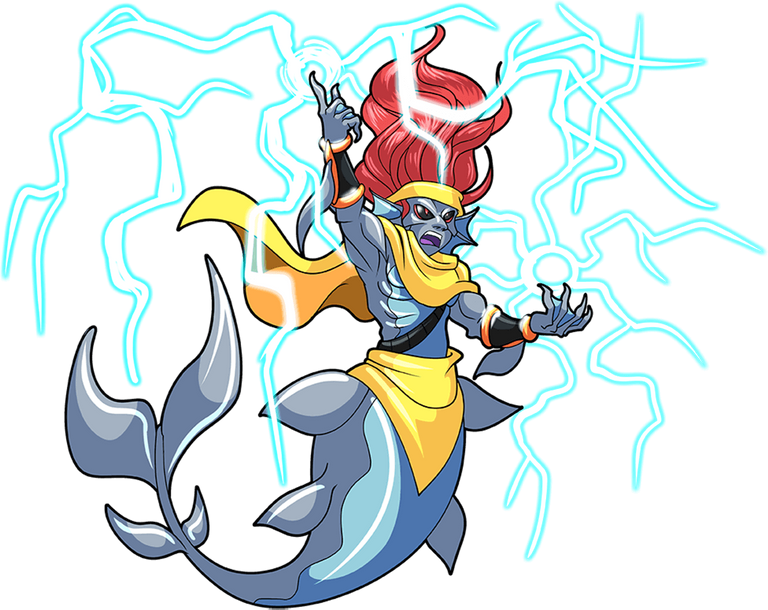 Here is the card reference image of RULER OF THE SEAS in Splinterlands.
RULER OF THE SEAS LORE

The Ruler of the Seas may be as old as the seas. He is also known as the Ocean Oracle, and is said to have knowledge greater than time and space. Getting him to answer a question, however, may be one of the most difficult quests in all the Splinterlands.
---
Because Ruler of the Seas is portrayed as elderly and grumpy, I created a baby version of it. I used Clip Studio Art to make this fan art, beginning with the line art. I attempted to make the line art as crisp as possible while also making some lines thicker and others thinner. Because I wanted to imagine this card as a happy creature, I made the face smile. Can you imagine him dancing? (Ah, ha, ha, ha, staying alive, staying alive.) I then applied the flat colors in whic I attempted to replicate the character's original color.
| | |
| --- | --- |
During the process of applying shadows, I used a soft airbrush to apply dark to light tones of the color and then blended them together with a blend tool. To add more details, I painted some scales to his face using a turnip pen. The headband now resembled those used by those doing aerobics and/or zumba dance, which I believe is ideal for his pose. For the background, I used the grass patch tool to add some grass and painted a rock-like formation for the base. To emphasize that he is at the bottom of the sea, I made the background black. In the background, I also put some corrals.
I then used the lightning pen I downloaded to add lightning effects. For the lightning, I used a light blue hue and set the blending mode to add (glow). I then added another layer, changed the blending mode to glow dodge, and applied a lighter blue color. I used a soft airbrush and sprayed white color on his finger to add more glow, then adjusted the blending mode to add (glow).
I used various tones of blue and purple and blended them together to add more elements to the background. Additionally, I added bubble and sparkle effects and motion blur to them to make them appear to be sizzling as a result of the lightning.
Here is the outcome after some adjustments. I hope you like this character that I had pleasure singing, er, sketching.


That's it, and thanks for reading. If you're interested in playing Splinterlands, here is my game link - splintercell-01.
Visit @Splinterlands to view more amazing posts! And always keep on battling!!!
---
---