Modern & Wild Ranked Formats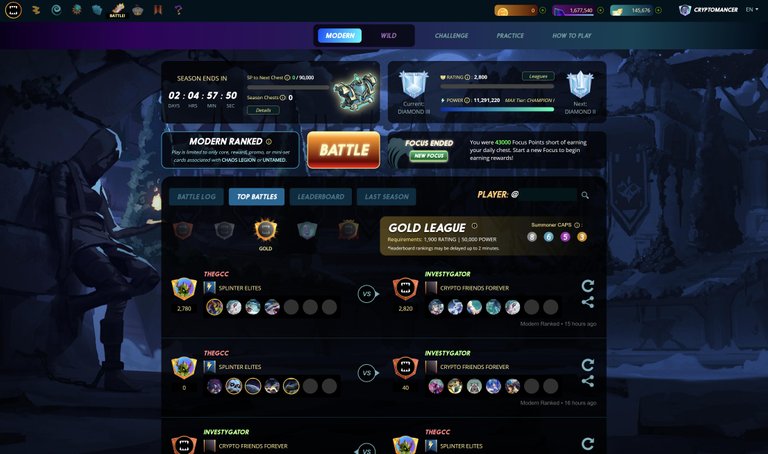 This is shaping up to be an exciting summer for Splinterlands players! Following hard on the heels of the new ranked rewards system, we have another massive update planned for the near future! The long awaited Modern & Wild rollout will be coming in July and is currently undergoing internal testing. We expect it to be available in QA for the Mavericks this week, so stay tuned to the mavericks-house channel of our Discord if you are interested in getting a sneak peek.
What is Modern & Wild, and how does it affect me?
Simply put, we are splitting Ranked battles into two distinct formats: Modern Ranked and Wild Ranked, each with their own separate leaderboards and leaderboard prizes.
| Format | Cards Allowed |
| --- | --- |
| Wild | This format allows the use of all cards from all editions. Every battle that you are playing right now is a Wild battle. |
| Modern | This format only allows the use of cards from newer editions: Chaos Legion, Dice, Untamed, Reward & Promo cards with an Untamed or Chaos Legion style frame are all considered Modern cards. |
As a general rule of thumb, Modern cards will always be those with card frames associated with the two most recent core editions.
This means some Reward cards and a scattering of Promo cards (like Mighty Dricken, Halfling Alchemist, and Waka Spiritblade) count as Modern, and the cards allowed in Modern Ranked play will change gradually as new editions continue to be introduced. Right now Chaos Legion and Untamed are the two most recent core editions.
---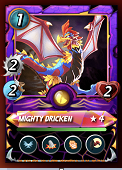 (Mighty Dricken is in the Promo edition, but has an Untamed style frame; that makes him a Modern card)
---
We expect newer players will benefit from playing in the Modern format, as they won't have to compete against older cards which may be difficult to acquire due to their scarcity. Thus they may find a fairer, more level playing field, where truly skilled players have better chances of rising to the top.
Veteran players who have been here a couple years and built up solid collections of Alpha & Beta cards, on the other hand, may enjoy playing in the Wild format (and potentially earning more rewards if fewer people are playing competitively in this format).
Of course you are free to choose whichever format best fits your card collection & play style, and you can switch between one format and the other whenever you feel like it.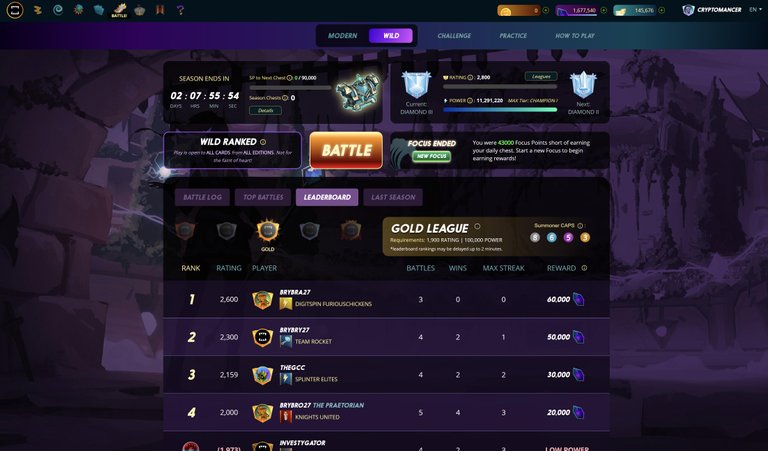 Sounds intriguing. Now hit me with all the gory details!
Here's a full list of all the changes contained in the upcoming Modern & Wild release:
Collection Power thresholds for Modern leagues are half of the current Collection Power requirements, which will remain unchanged for Wild leagues.
Your account will still have only a single Collection Power score, which is the sum of the Power of all individual cards in your collection. There will not be a separate Collection Power score for the two formats as far as league advancement is concerned (though as mentioned above, the thresholds for advancing will be different for each format).
There will be 2 DEC reward pools, of roughly equal size. One pool for Modern battles, and one pool for Wild battles, which operate independently of each other.
The same ECR is used for both Modern and Wild battles (so playing a battle in either format will drain your ECR as usual, there is no change to how this mechanic works).
A player's season reward chest tier will be based on the maximum league achieved in the previous season between the Modern & Wild formats. Example: If a player reached Bronze II in Modern last season, but Silver III in Wild, then they will be able to earn Silver level chests in the current season.
A player's Daily Focus chest tier will be based on the current best league between the Modern & Wild formats at the time the Daily Focus is started. Example: If a player is in Bronze II in Modern, and Silver III in Wild, and they start (or refresh) a Daily Focus, then the chest tier for the new Daily Focus will be Silver.
Reward Points earned in both Modern and Wild formats contribute to a player's Daily Focus and Season Rewards (you just sum together the RP earned in each format).
In order to earn Reward Points, you must be at least Bronze III in either the Modern or Wild format. For example, you can be Novice in Wild and Bronze III in Modern, and then you will be able to earn rewards from Modern battles but not Wild battles.
There are separate leaderboard prizes for Modern and for Wild. Thus it is possible for a player to get high up the leaderboards for each and get two season prizes as a result (one for Modern and one for Wild).
Champion points earned at end-of-season will be the sum of champion points earned for Wild (if any) + champion points earned for Modern (if any).
The end-of-season rating reset will continue to work as it does now, with the reset applied separately to your Modern & Wild leagues.
Doctor Blight and Chain Golem will be moved to the Promo Edition. They count as Modern cards, and will give the standard +10% Promo reward bonus when used in battle. However their Collection Power values will remain the same.
Challenge and Practice battles will not support the Modern format at launch (we may add an option for this later). Thus all Challenge and Practice matches will be considered Wild battles.
Likewise all Brawl matches will be considered Wild battles, at least initially, and no changes to Brawl functionality will be made as part of this launch. Support for the Modern format may be added to Brawl Frays at some later date, but plans for that are still TBD.
On all game screens that show player avatars, the avatar frame will be colored depending on the player's highest current league between the Modern & Wild formats. Example: If a player is Bronze II in Modern but Silver III in Wild, then they will have the Silver avatar frame:

The one exception to this rule is the Battle History screen, which shows avatar frames based on whether the screen is toggled to look at Modern data or Wild data:

One more thing...
Tournaments! Yes, this launch will bring support for true Modern & Wild style tournament play!
Tournament creators will have a new Game Mode option to specify if a tournament should be Modern or Wild (it must be one or the other). All other tournament options apply as normal, including the usual edition restrictions, gold foil or not, etc:

On the Tournaments List screen you will be able to filter by the tournament mode: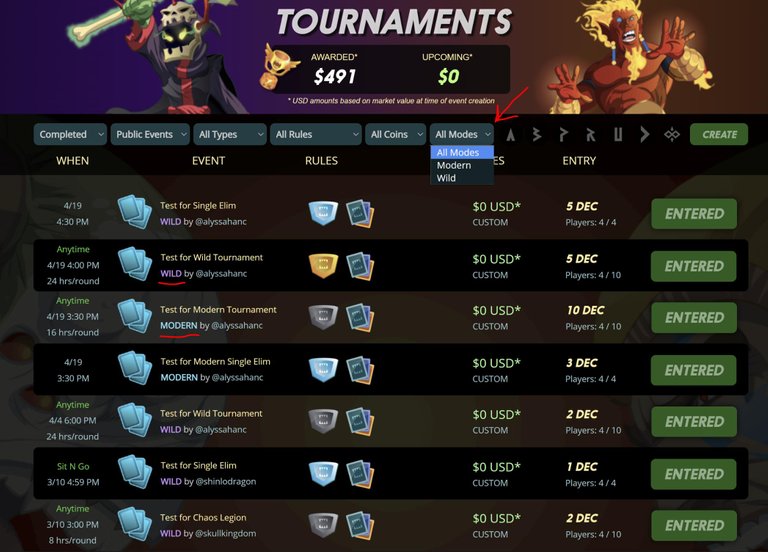 Some important points to keep in mind:
As with Ranked play, Wild tournaments allow you to use all cards (subject to edition restrictions, etc placed on any given tournament of course), and Modern tournaments only allow the use of Modern cards (an additional constraint in addition to any specific edition restrictions).
Collection Power entry requirements also take Modern or Wild into account (i.e. for Modern tournaments, only Modern cards will contribute to the Collection Power entry requirement).
Gladiator cards are special, they will count towards Collection Power entry requirements for both Modern and Wild tournaments that don't have specific edition restrictions, even though they are not allowed for tournament play (as they do now, so no real change here). Call it a perk of being good at Brawling.
Discounted entry fees take into account whether a tournament is Modern or Wild (i.e. for Modern tournaments the discounted fee is based on a player's Modern league, and for Wild tournaments the discounted fee is based on a player's Wild league).
So how exactly will we transition into this?
The exact launch date will be revealed a little later on, once we are satisfied that no major showstopper issues have been found during QA testing. But we will aim to launch near the beginning of an upcoming Ranked Season.
Your current battle stats & league standings before release will become your Wild league records upon launch. Your initial Modern league & rating will be copied from your Wild league & rating. This means you start both formats on an equal footing, free to choose if you want to concentrate on Modern, Wild, or chase the leaderboards in both.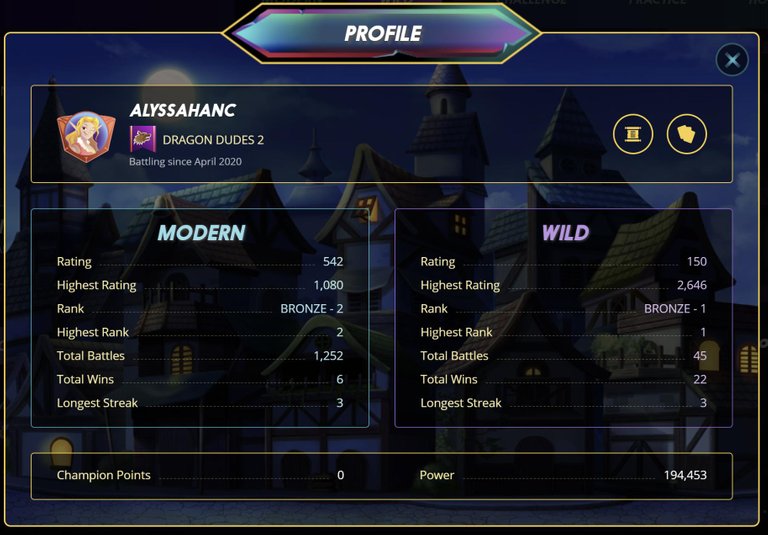 In addition, any remaining old style quests that pre-date the new ranked rewards system will be closed out (canceled) upon launch. All such stragglers will be automatically migrated to the Daily Focus system.
Finally, all existing tournaments at the time of launch will be considered to be Wild tournaments and will be marked as such (current so-called "Modern" tournaments are not truly Modern; until now these tournaments have only been a rough approximation of the real thing, waiting for the launch of Modern & Wild to blossom into their full glory).
---
We hope this epic, sprawling post has answered all the questions you may have, but as usual if something needs clarifying please feel free to ask around in our game Discord, or ask a question in one of our upcoming weekly Town Halls. Our friendly community is always there to extend a welcoming & helping hand!
Now go forth, brave Battle Mage, and prepare to prove your mastery of the Modern & Wild arts! We'll see you on the battlefield!
Addendum for third party developers
If you are a developer who has written scripts or applications that use the Splinterlands API, be aware that Modern & Wild makes many small API changes. Your applications may need updating to fully work with Modern & Wild.
Note that all APIs remain backwards compatible (in theory), so if you don't update in time your application should continue to work, but with Wild battles only.
We strongly urge all developers to skim through this API documentation and test your scripts & apps against our QA environment prior to release:

Stay tuned for more updates from the Splinterlands!
Website | Blog | Discord | Telegram | Shop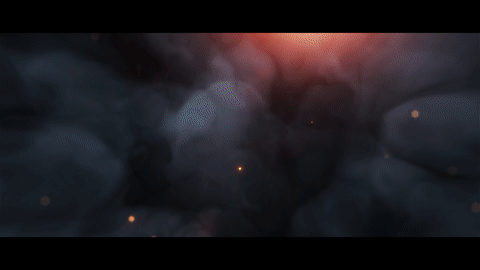 NOTE: All rewards from this post will be burned.
---
---