Splinterfest Highlight: Land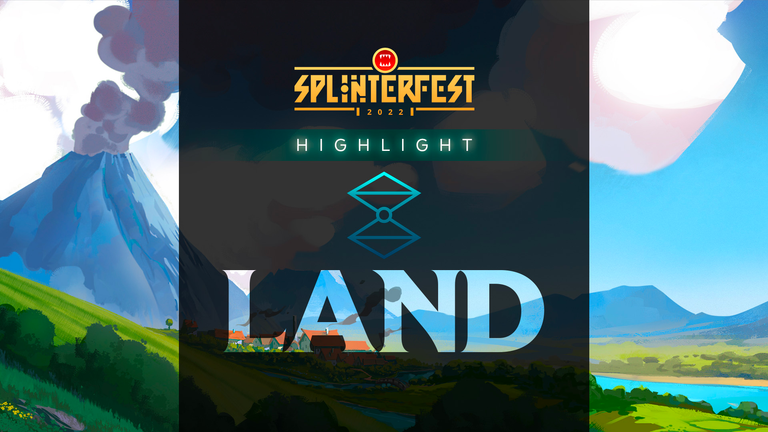 One of the most anticipated and exciting parts of Splinterfest 2022 was the creative department's sneak peak at the upcoming Land expansion. The presentation occurred during the "Entering Praetoria" panel, in which creative team members explored what it could mean to be a Battle Mage in the world of Splinterlands.
We thought it would be fun to look back and celebrate some of these "Splinterfest Highlights" and perhaps even ponder over the possibilities of what comes next…
The Splinterlands VP of Creative, Nate Aguila, made it clear throughout the event that all the previews were concepts and subject to change. However, it was clear that they had been busy at work setting the foundation for what was to come. Let's dig into what they shared!
The continent "Map View" in the Market section showcased not only a high level view of Praetoria, but it also implied a robust sort and filter system that would allow players to navigate a variety of search methods.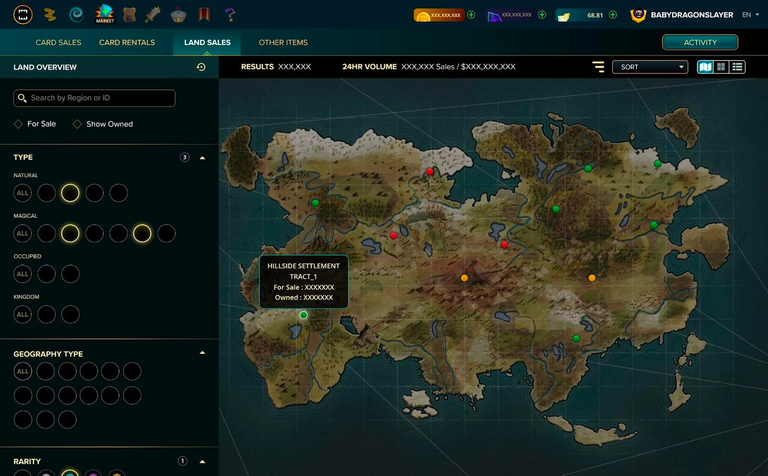 Zooming into a Region in the Collection screen seems to reveal a wide variety of data and information for both the Region and the player's assets within this part of the world.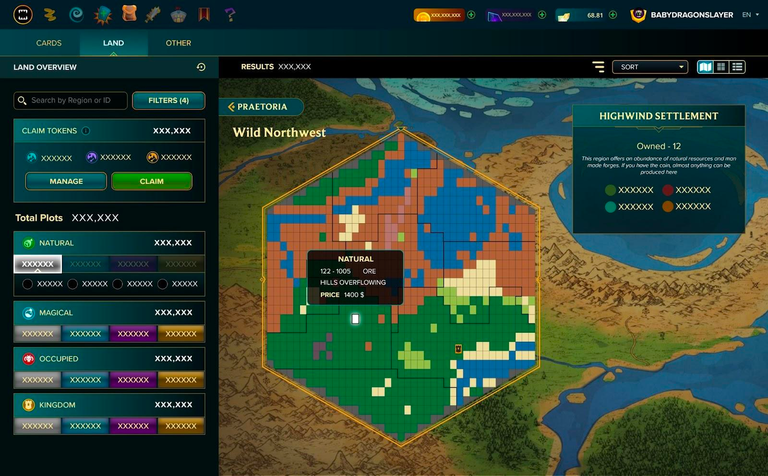 To further address the needs for different types of players and situations, a toggle in the upper right area of screen seems to allow for the switch to "List View". This subtle feature will prove a huge benefit for those looking to review and analyze their assets in a more condensed (and readable) fashion.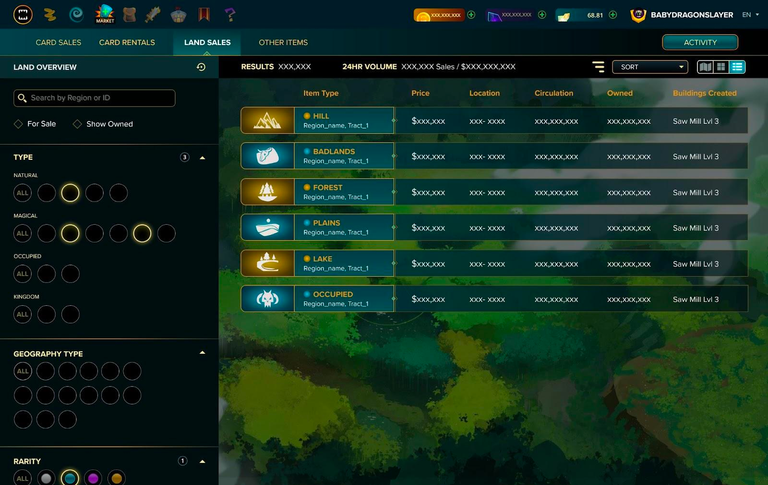 As if that wasn't enough, it looks like we may be getting a THIRD viewing option: the "Grid View". And here's where we finally get to see what Land Deeds look like!
Apparently, the creative team has not only been designing the front-end, but they also decided to revamp the design of the Deed NFTs. Instead of a portrait-oriented "card", it looks like Deeds have a unique aspect ratio and will be displayed in landscape orientation (which probably makes sense, since they ARE landscapes).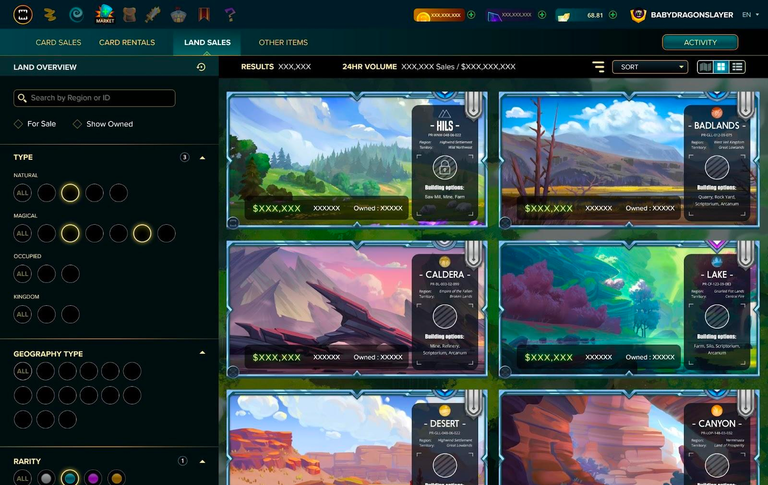 Navigating to the individual plot details allows us a "ground level" experience that provides players with a closer look at the beautiful environment and constructed building. Lots of location and resource information are displayed without feeling cluttered.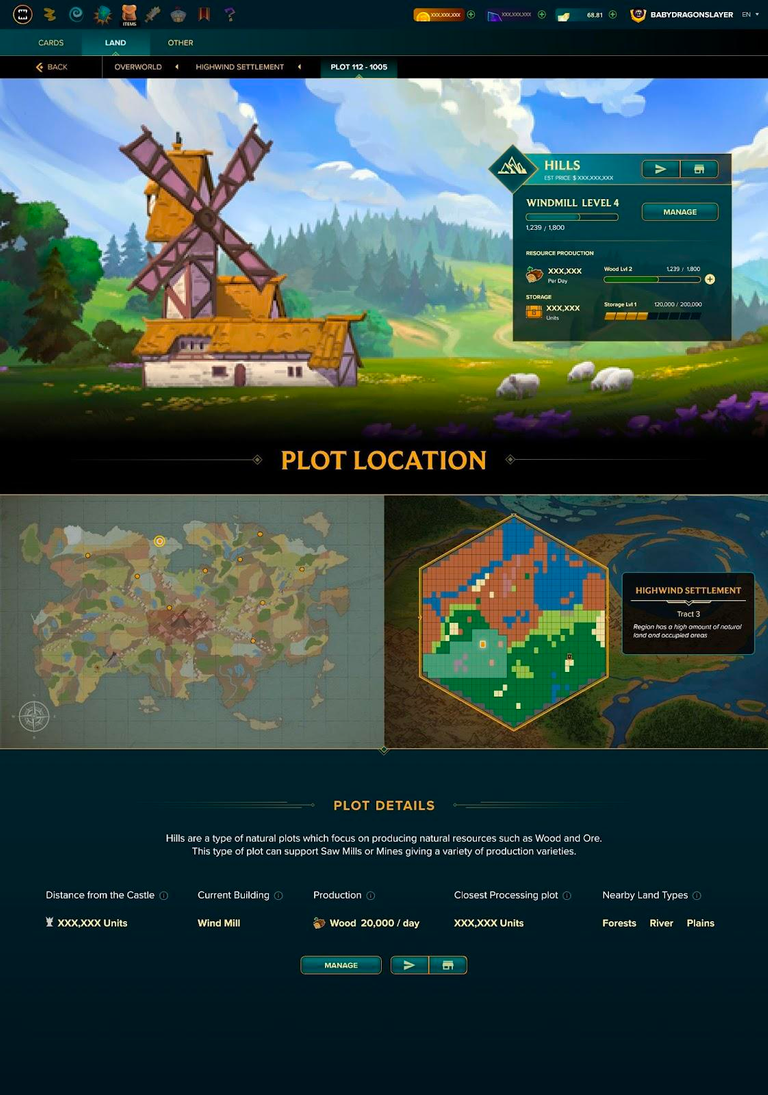 We hope you enjoyed the "Highlight" recap. The Splinterlands Land expansion represents the most ambitious update in our game's history.
As we get closer to launching the first phase of Land, we hope to share our progress in both Town Halls and blog posts. Keep an eye out for further updates. We can't wait for you to see all the new and exciting things we have planned!

Stay tuned for more updates from the Splinterlands!
Website | Blog | Discord | Telegram | Shop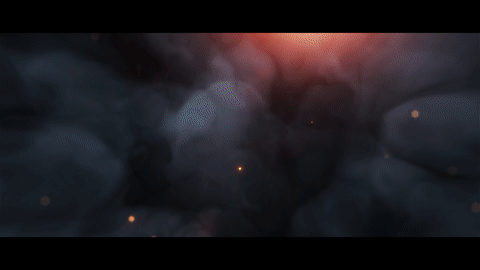 NOTE: All rewards from this post will be burned.
---
---