Splinterlands Town Hall Summary - December 10th, 2021 - 8PM Eastern!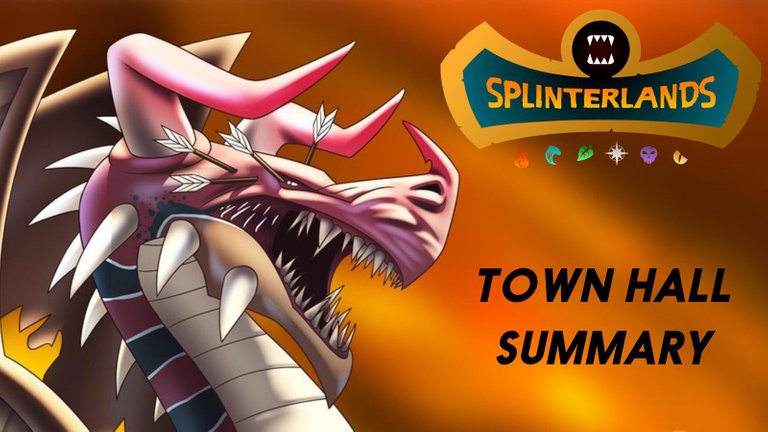 Town Hall Summary
Speakers:

Aggroed (Co-Founder)
Yabapmatt (Co-Founder)
Hardpoint (VP of Engineering)
Nateaguila (Creative Director)
BreakingBenjamin (Narrative Designor)
Kbux (Developer)
Chatter (Director Of Growth)
Cryptomancer (Main Developer Of Chaos Legion)
LibertyLass (Executive Administrative Assistant)

Main Topics:

Dev Updates 👀
Creative Updates💥
Q&A ⚡️

Recording:
Timestamps:

1:50 - Intro
11:52 - Nateaguila Updates (Creative Team)

20:50 - BreakingBenjamin Introduction

28:50 - Hardpoint Updates (Dev Team)

35:35 - Kbux Introduction

46:30 - Land Update From Yabapmatt
50:40 - Chatter Updates (Marketing Team)
53:50 - Crytomancer Quick Update
1:02:15 - Q&A
1:53:15 - Closing Remarks

1:53:35 - LibertyLass Introduction

💥 Company Updates 💥
Chaos Legion:
Bulk purchases are getting up to 1M packs
Affiliate program should count towards the bulk purchases
---
Dev Updates:
SPS governance is still being worked on by Yabapmatt

Goal is to have first version of software released by end of year or early January

Team's goal is to heavily focus on land expansion Q1 2022
Team is up to 13 total developers right now
Devs are releasing platform updates about once or twice times a week
Main focus is preparing for Chaos Legion general sale
Cryptomancer's main focus is working on the Modern/Wild ranked formats

Timeframe is most likely Q1 of 2022
---
Marketing Updates:
Splinterfest is officially being planned for Q2 or Q3
Partnering with ZenSports to kick-off a year-long tournament

Monthly tournaments with prize pools
Ladder system that takes results from monthly tournaments
Huge prize pool for the end-of-year tournament!

ZenSports is hosting a Chaos Legion only tournament in January
Marketing is currently hiring an ESports Manager and Events Manager
---
Creative Updates:
Creative team is currently interviewing for more team members
Building out the lore of all of Praetoria that will intertwine with land expansion
Splinterlands is not just a card game anymore

When land is released, Splinterlands will be well beyond a card game
Battles 2.0 - Player becomes more immensed in battles

Storyline will affect player's decisions with land and battling
First Chaos Legion story
---
General Team Updates:
Whole team has 3-4x more resources to build out everything on their agenda
Hardpoint & Chatter want to get a stream going for new players

Both are playing in Bronze currently
Want to stream to record their journey as they climb to higher leagues

⚡️ AMA Summary ⚡️
SPS:
Validators ==> Oracle

Validators will be voted by SPS holders
Top voted validators will be signatories on multisig wallets
Validators purpose:

Read transactions from Hive blockchain
Maintain state of SPS balances, staking, rewards, ect..
Validate all transactions
Track SPS proposals, sign & broadcast transactions from proposals

All this operates independently from the Splinterlands team
---
Land:
Land will introduce a new round when battling

Once you submit your team, you will then be able to equip items or cast spells
Based on how you review the battlefield and want to counter

End goal of land is to mint additional value for players
---
Chaos Legion Airdrops:
Airdrop cards and droprates won't be known until announced
General math for airdrops will be similar to Untamed

Droprates increase after every airdrop
Will be higher depending on the rarity of the airdropped card

Majority of the cards will be Legendary cards
Will most likely introduce a guaranteed droprate for gold foils too
---
DEC:
Going forward, team will probably change to use market value for DEC

Will make buying potions and upgrading future land buildings more realistic

May honor market price until it falls below the soft peg price of 1000 DEC = $1
---
Feedback For Splinterlands:
Any recommendations/suggestions can be submitted and voted
Will eventually be implemented in-game

Your vote will be based on the amount of SPS you have staked

Recent Updates
Back-end updates for Chaos Legion Launch preparation.
Added warnings & notifications to the Mana Well page for when block processing is running behind.
Added filters on card stats to the Collection, Market, Rental, and Team Selection screens. (Community Feedback #2)
Added a proper 0 mana filter to the Team Selection screen.
Added a user setting to skip battle intro animations. (Community Feedback #13)
Updated graphics & minor text adjustments to the About page.

Past AMA Summaries
Friday, December 3rd, 2021

Chaos Legion Launch (5 Days Away!) 👀
Creative Updates - More Lore/Stories! 💥
Land Expansion & SPS Validators ⚡️
---
---

Next AMA - TBD
---
---