Huge Congrats to XVAXZ! Winner of land PLOT! -Watchtoearn payouts for the past streams!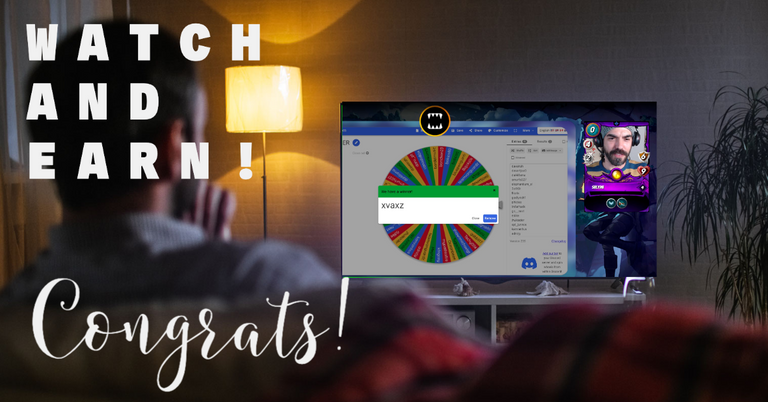 It happened! We did it! Congratulations to @xvaxz you are the lucky winner of 1 PLOT! Amazing! I hope it will bring you good fortune in the game! Enjoy the SPS it yields you every day!
The moment when Xvaxz won can be watched in this clip:
It was an amazing Stream! We gave away a ton of prizes for the Rising Star Game as well and of course, we had #watchtoearn features on as always. This means that viewers could exchange their otherwise worthless channel points for real HIVE-engine tokens.
After the Land plot stream, we had 2-3 more streams since then. Let's check out what and how many tokens got claimed by the viewers.
First of all thanks to all the new subscribers! They get the amount they claimed 3x!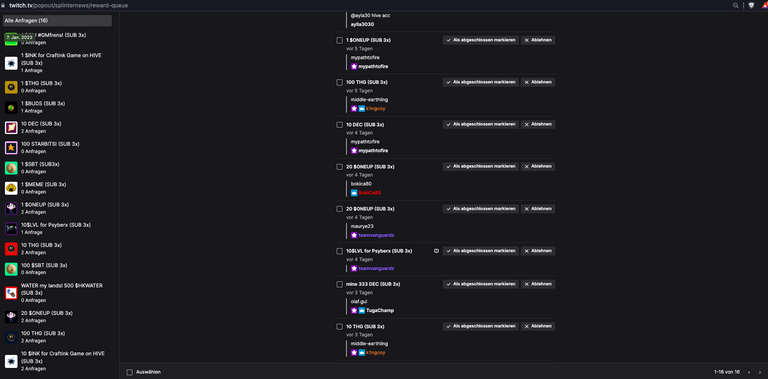 Your tokens will be sent by @snvault as soon as this post has been published. (Takes a bit of time... patience ;) )
That's it!
No more claims? Why? IDK! Players should claim more! @snvault has a big treasury and I hope I can keep it up and fill more and more tokens for you to claim! There will be a full treasury report online in the next days published by snvault.
LEO engagement thread winner
@solymi or splinternews publishes one engagement thread every time before a stream starts! Players who want to participate can get to the thread by typing !LEO in the chat.
This time nobody did that! So no prices to be won!
It is quite easy to join the watchtoearn program! Viewers of my channel can exchange their channel points by clicking on the channel point menu in the stream chat. They will get to a menu where they see different options to claim HIVE engine tokens. The prices of different perks vary, but you can claim many for as little as 420 points.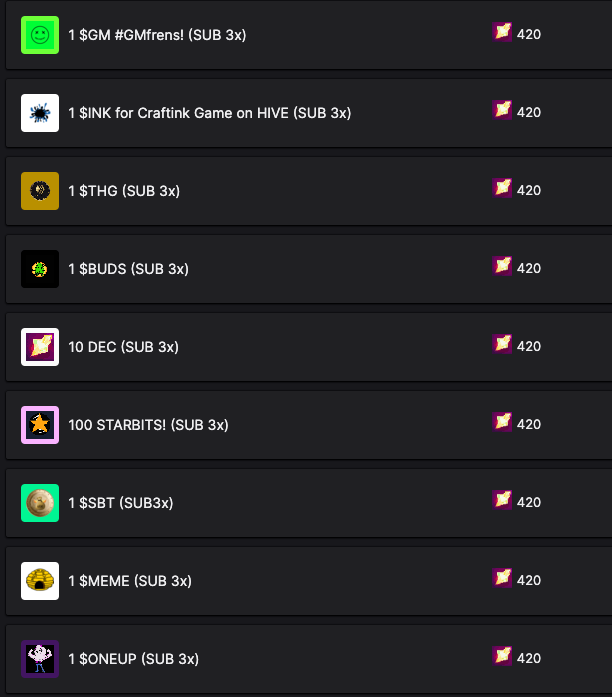 Thanks to the sponsors
Thanks to all the cool projects that sponsored tokens for the #watchtoearn program!
Thanks to: @craftink @jim-crypto @sbtofficial @psyber-x @risingstargame
If you want your token to be enlisted in the watchtoearn program feel free to send them to @snvault with the memo: donation
Thank you for reading my blog! If you enjoyed the content feel free to share and vote!
Thanks for reading! Cheers @solymi
---
---