Winner of my Rising Star giveaway announced! –NEW GIVEAWAY!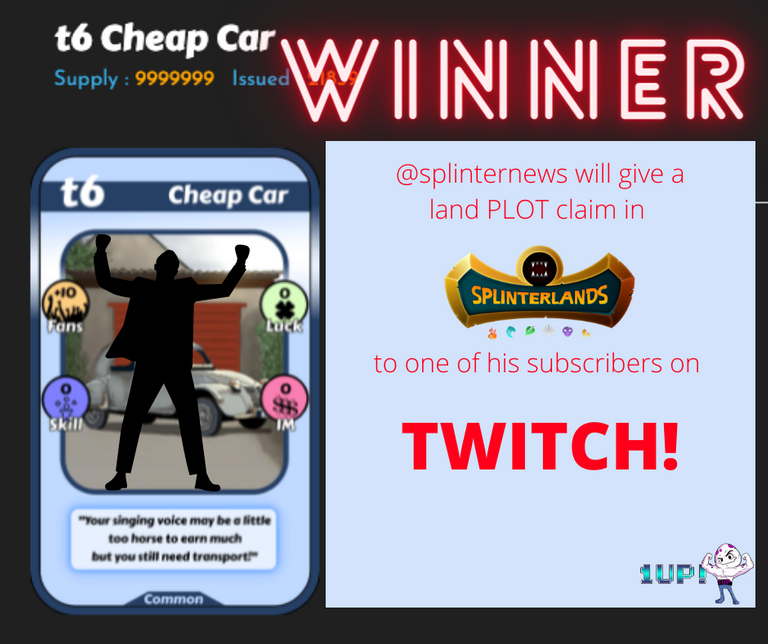 image made in Canva using assets by @risingstargame and @splinterlands
Yes the PLOT of Land will still be given to one of my subscribers! If you want to win a plot of land you have to follow me here and on twitch! Just scroll to the next link and click on it!
Follow SplinterNews on TWITCH

Since I am in a hurry I just will announce the winner of my cheap car giveaway.
All you had to do was comment why you like the @risingstargame
In total we had only a few players commenting an answer to this question, in fact it was only one person who got it right!

Congrats to @whickey who is obviously the only person who understands basic instructions! you did real #proofofbrain! I bow before your intellect and hereby send you a cheap car!
NEW CHEAP CAR GIVEAWAY
Lets try this again! Comment why you like to play rising star! Thats all you gotta do! Of course an upvote and a reblog is appreciated, but I will never force you to do that!
Winner announced after the post has paid out! I am a lazy sonomabeach so it could take a bit longer 😎
If you want to find out more about how to win a plot of land in Splinterlands check out my blog! Do your research!
Follow SplinterNews on TWITCH
Play RisingSTARgame

Farm Dcrops

Play Splinterlands

Play EXODE



---
---