Disintegrator Mania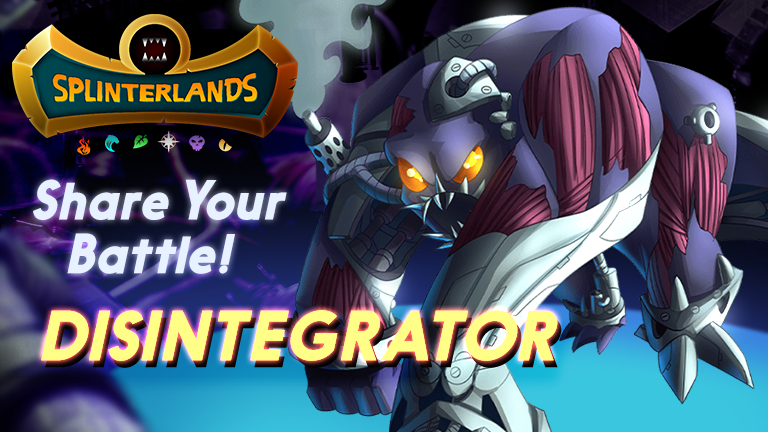 Where It All Starts
The mountain village of Squall's End was quiet as night fell. Nestled in the foothills of two peaks, it guarded the pass and was a refuge for the many travellers that came through that way bringing trade inland from Northern Bay. Lights from the houses twinkled in the darkness, and thin strands of smoke spiralled into the night sky from fires burning within the many hearths. The call of a young shepherd broke the silence, herding his small flock of sheep back into their pen where they'd be safe from wild animals. It was a picture of perfect serenity, of a happy community at peace with the world. It was the perfect place for Morloth to release his new creation and test how effective it truly was.
The beast grumbled beside him, the heart of its engine humming gently, chugging puffs of green smoke from an exhaust cylinder. Morloth reached across and turned the dial up, causing the engine to bark and the beast to shudder, its eyes glowing with intense, unprocessed energy.
"There is the town, my child. That is why we have come here. Destroy them! Stampede through their homes, and drink their blood until your appetite is sated, my beautiful Disintegrator."
The monster turned to look at him for a moment and then it was gone. Charging towards the village and bellowing its rage until the angry roars echoed back from the very mountains themselves.
An odd mix of mountain gorilla, crocodile, leech and strand of metals make up this monstrosity designed to trample on the poor inhabitants of Praetoria. And did you catch the feast on their blood part? How sick can this get?

The Stats
So what does this Disintegrator has to offer?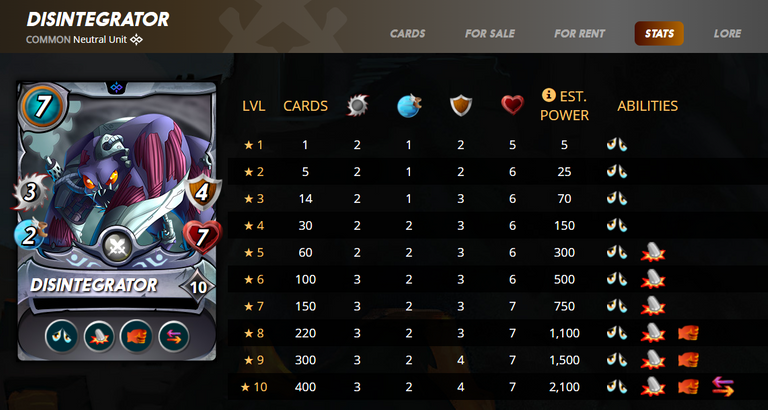 The Disintegrator is only one of two monsters who have the Demoralize skill at level 1. It gains Trample at level 5 and Knock Out at level 8 which are both usable in Gold League. It gains Retaliate at level 10 for the Diamond and Champion Leagues.
Being a common card, you'd think this is loaded with abilities but the stats are so-so. To be honest, I haven't really been able to make use of the Knock Out ability since there aren't a lot of cards with stun ability. Don't get me wrong.. I am not undermining this card since this certainly has its uses.
The 3 Attack from levels 6-10 is decent. The 3 Armor from levels 3-8 is enough to take 1-2 hits in the Silver and Gold league.
How do you make the Disintegrator shine? Here are my top pick summoners for this:
| Summoner | Comment |
| --- | --- |
| | Since its speed is a bit mediocre at 2, Kelya can definitely boost this monster in the speed department increasing its chances of hitting faster opponents. The +1 armor also helps the Disintegrator take more damage. |
| | My favorite classic summoner. Zintar's -1 melee attack damage stacks nicely with demoralize for a -2 melee attack on your opponents. Throw in an Octopider then it will be a demoralize party at -3. Camila Sungazer fits nicely here too! |
| | If you do not want to use Zintar's or Camila's -1 ability, why not buff it's attach and HP instead? Though Tarsa doesn't improve the Disintegrator's speed, the increase in damage will shine in Reverse Speed rule set. |
And which rule sets best suit the Disintegrator?
| Rules of Combat | Description | Why? |
| --- | --- | --- |
| | Reverse Speed: Monsters with the lowest speed attack first and has the highest chance of evading attacks | With its low speed, this can easily shine in this rule set. Note to self: don't use Creeping Ooze. |
| | Up Close and Personal: Only monsters with melee attacks may be used in battles | With magic gone, melee attacks will have a hard time bringing down this tank. |
| | Super Sneak: All the melee attack monsters have the sneak ability | Even with magic present, I can just simply move this somewhere in the middle reducing the opponents' damage. |

The Battle
Rules of Combat
Modifications: Target Practice, Odd Ones Out
Mana Cap: 27
Playable Splinters: Fire, Water and Life
My lineup
| Position | Card | Mana Cost | Comment |
| --- | --- | --- | --- |
| Summoner | | 4 | As explained above, Kelya boosts the Disintegrator's speed which is kinda its weak spot. You'll see in the match replay why Kelya is the best for the Disintegrator. |
| Position 1 - Tank | | 7 | With the even cost monsters out (Sea Giant, Diemonshark), I am left with the Disintegrator. Time to shine! At first position and with Kelya's buff, I was hoping my backline monsters will do their job. |
| Position 2 - Pseudo Tank | | 7 | The Flying Squid offers additional damage to the opponent's tank. More Importantly, at level 6, it gets the Blind ability. You can see how important this is in the battle below. |
| Position 3 - Sweeper | | 3 | Cheap card that can easily deal damage from the opponent's back line. |
| Position 4 - Meat Shield | | 1 | Unpopular opinion - Level 1 Creeping Ooze and Furious Chicken are fine for higher leagues. Since the rule set gives range monsters snipe, I placed this here to protect my Water Elemental. |
| Position 5 - Range Attacker | | 5 | High damage and able to sustain itself with its Heal and Dodge abilities. |
Rounds Breakdown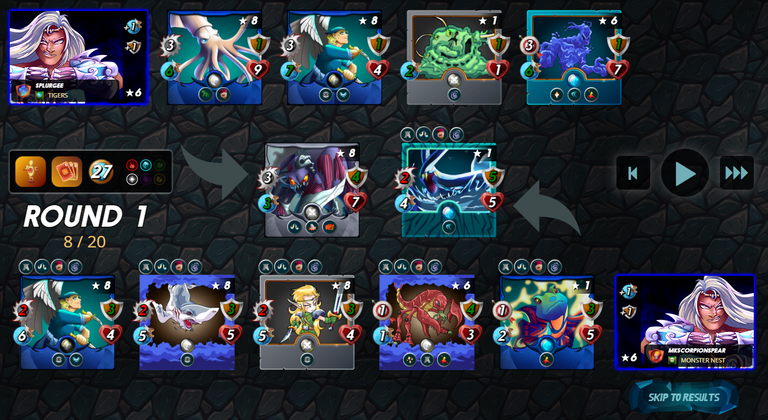 This is a game of misses. 1 blind, 2 dodges, +1 Speed from the Kelyas, -1 Speed from the Creeping Ooze. My ooze goes down on the first round, protecting my Water Elemental perfectly from the sneak attacks. The disintegrator also mellowed down the damages from the opponents three sneak attackers!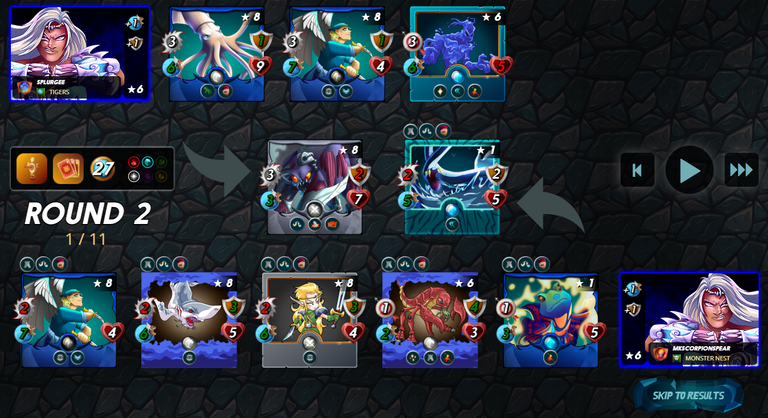 I was nervous watching the opponent's sneak attackers target the Water Elemental but the Dodge + Blind combo is working perfectly. Looks like nothing happened this round but the opponent's pelacor bandit is about to go down and the Serpent is already exposed without its armor.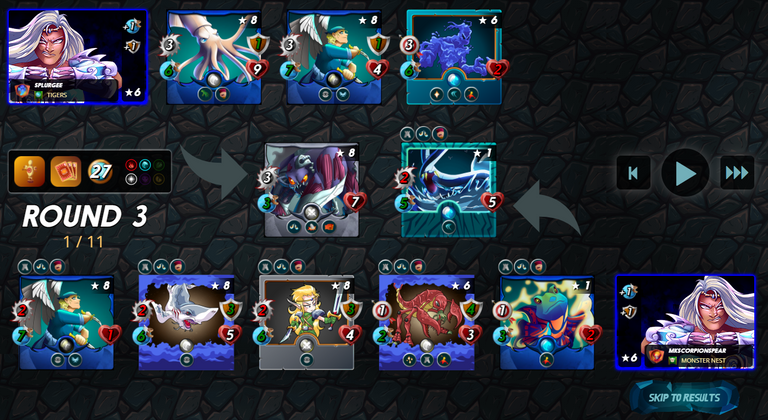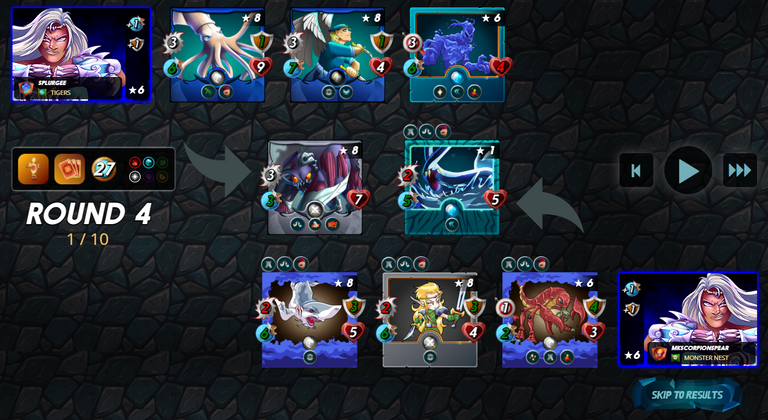 The Opponent's Angelic Mandarin and Pelacor bandit both goes down while the misses were piling until Round 4.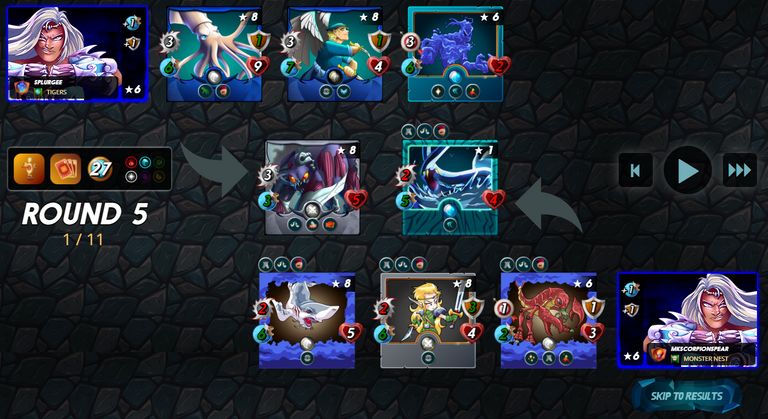 My Water Elemental finally goes down. Persistent shark and elf. But this time, my Disintegrator's odds were on its side. It finally hit the much quicker Serpent!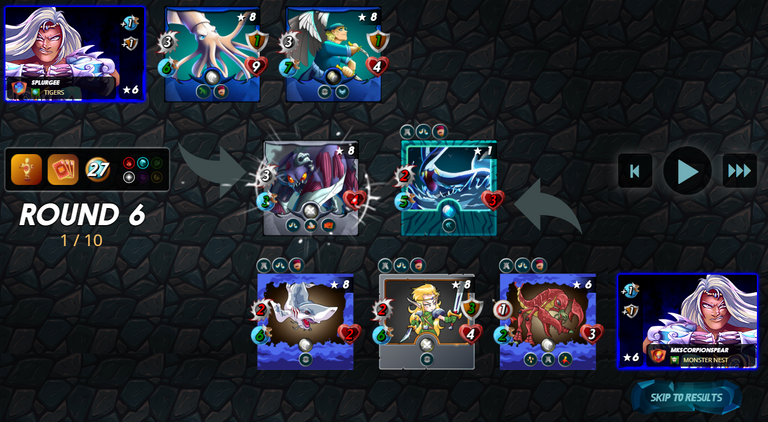 This round, the Disintegrator got rid of the Serpent and its trample kicked in! Bam! the Crustacean King goes down as well.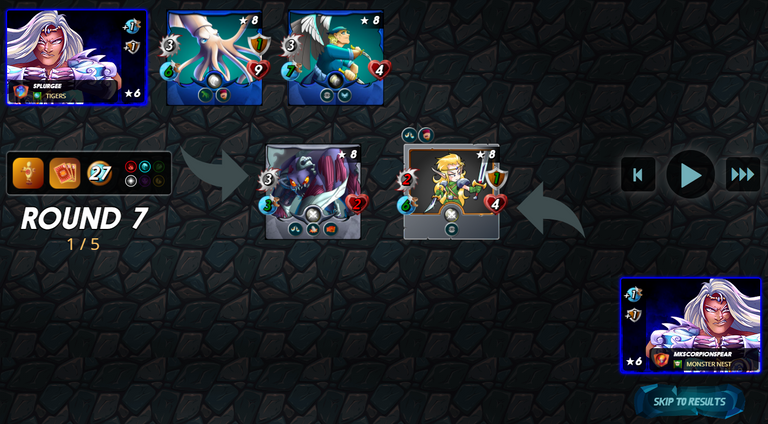 It took 7 rounds to finish this match. High Speed + Dodge + Blind = Crazy match.
Battle Result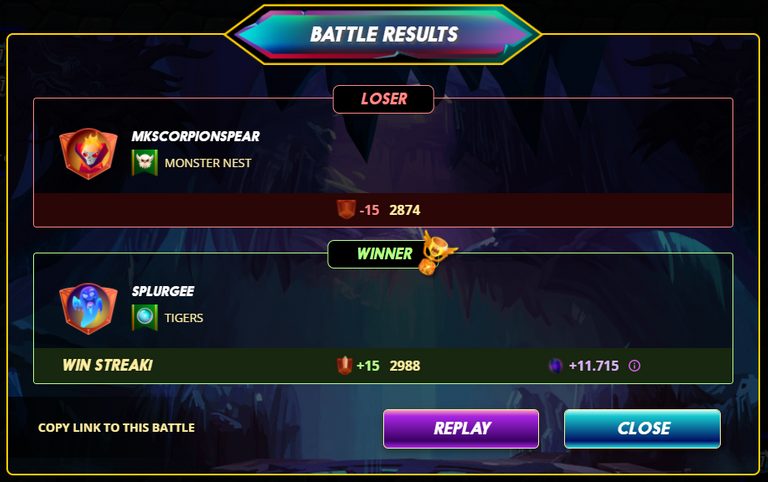 Fancy another Disintegrator battle? Click here.

Final Words
The Disintegrator is one of those monsters that can shine if you let it shine. In the match above, it was able to land a few hits due to its increased speed. But do not discount its abilities. The Trample and Demoralize were on full display in the match above. Had it not been for the Demoralize, the Disintegrator and Water Elemental would have gone down quicker. Had it not been for the Trample, the Elven Cutthroat would have had the opportunity to attack again from the back.
Hope you guys picked up few tricks from the battle above with Disintegrator.
This card is one of the cards I always rent. It's cheap so it wouldn't hurt your budget. You'll be surprised on the times this card will find its way to your line-up.
Til next time folks!

Want to start having fun while earning in the @hive network? Signup to @splinterlands using my referral code.

---
---