Red Hulk on a Rampage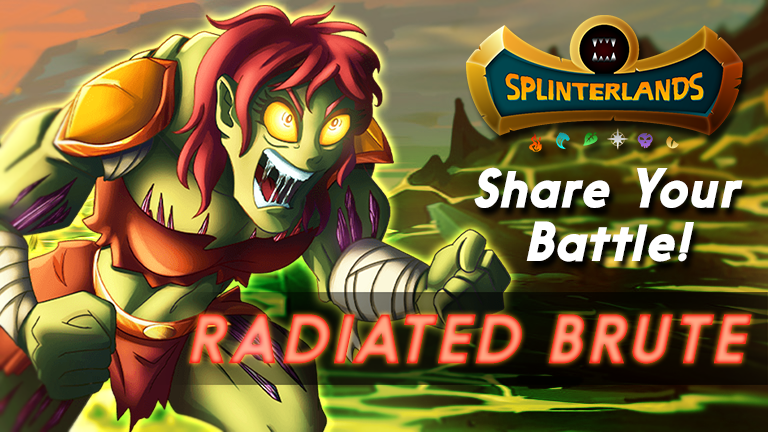 Where It All Starts
Whatever it was, those who survived the sickness were changed. They mutated, grew stronger, and were filled with an uncontrollable rage. Some were unable to control that rage and went on murderous rampages. Others fought to maintain their sanity long enough to protect their family, friends, and neighbors from themselves. They fled into the Jade Thicket, where they became as feral as the wild animals of the continent.
The people of Praetoria referred to them as Radiated Brutes.
Jax no longer cared for cooked meat or clean water. He preferred his meals to be raw and wriggling.

The Stats
So what does this Radiated Brute has to offer?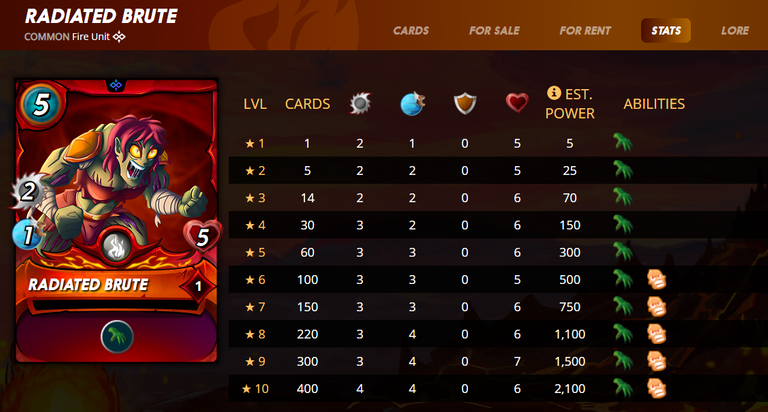 The Radiated Brute has a decent base stats of 2 Attack, 1 Speed and 5 HP with Reach ability so it's perfect in the second position. It has max attack of 3 (level 5) for the silver league. Unfortunately, it only gains the Enrage ability at level 6 for Gold League and up. This is what I love the most about this card. At 5 mana, this has the same attack damage as Fineas Rage, albeit slower. However, when it receives damage, it will have more damage than Fineas Rage. This is the very first card I collected and levelled up in the Chaos Legion set.
For budget players, here are my top pick summoners for the Radiated Brute
| Summoner | Comment |
| --- | --- |
| | The 1+ attack from Tarsa boosts the damage of the Radiated Brute especially when damaged. The +1 HP is a welcome bonus. |
| | A summoner I don't personally use but I think perfectly fits the Radiated Brute. Especially when enraged, watch how it tears through your opponent's shield. |
And which rule sets best suit the Radiated Brute?
| Rules of Combat | Description | Why? |
| --- | --- | --- |
| | Up Close and Personal: Only monsters with melee attacks may be used in battles | Being limited to melee monsters, those with reach abilities are invaluable to provide additional damage to the opponent's tank. |
| | Super Sneak: All the melee attack monsters have the sneak ability | Well yeah, you now have an option to attack the opponent's tank or the opponent's rear depending on your placement. |

The Battle
Rules of Combat
Modifications: Close Range, Taking Sides
Mana Cap: 27
Playable Splinters: All except Death
My lineup
| Position | Card | Mana Cost | Comment |
| --- | --- | --- | --- |
| Summoner | | 3 | I would prefer Tarsa over Malric for it's +1 HP to all monsters but Malric is all I can afford to rent. 😂 The +1 attack on melee monsters is all that matters anyways since I normally focus on strategies revolving around melee monsters. |
| Position 1 - Tank | | 7 | I thought the opponent will be fielding monsters with armours so I went with the Living Lava. It has the disintegrate ability which removes the opponents armours. It has shield too that softens the damages received. |
| Position 2 - Reach | | 5 | Good alternative to Fineas Rage at 2 mana less. This is sure to deal more damage when the enrage ability is activated. And did I say cheap to rent? |
| Position 3 - Sustain Magic | | 4 | I wanted to sustain my Living Lava so that my Radiated Brute can keep on dealing damage from a safe position. This also allowed me to diversify my damage. |
| Position 4 - Sneak | | 2 | Favorite sneak minion in the Fire Splinter. Low cost, big damage, great speed and HP. Especially when its attack is buffed, the opposing team should pay attention. |
| Position 5 - Opportunist | | 3 | Hey hey! I rented a gold card. LOL. I only managed to nab a level 7 since the level 8 prices (normal and gold) are crazzzzzzzy. Low cost and can easily elimated opposint low HP monsters. |
| Position 6 - Range Attacker | | 3 | Great range damage that comes with snipe. Cheap too! |
Rounds Breakdown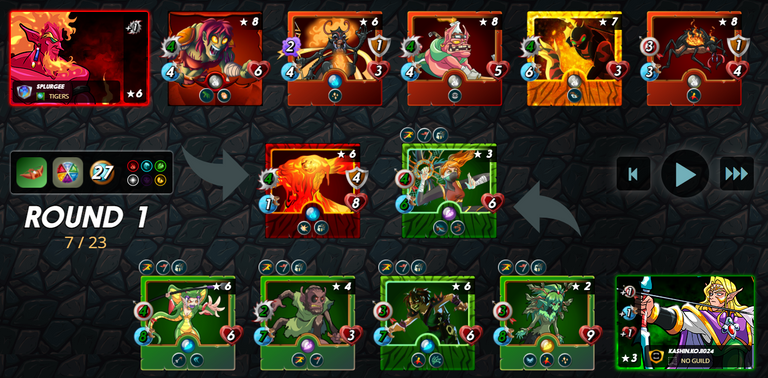 I didn't expect the opponent to field a Prince Rennyn and a range attack line-up at that. He didn't bother playing a tank. However, the speeds were crazy from Browny and the Prince's buff. I was worried that my attacks will not connect but luck was on my side.
In the first round, my Fire Queen was easily eliminated without being able to do anything. The Serpentine spy was able to elimate Browny as well. With luck on my side, my Radiated Brute and Living Lava (1 SPEED) successfully tagged and eliminated Beatrix.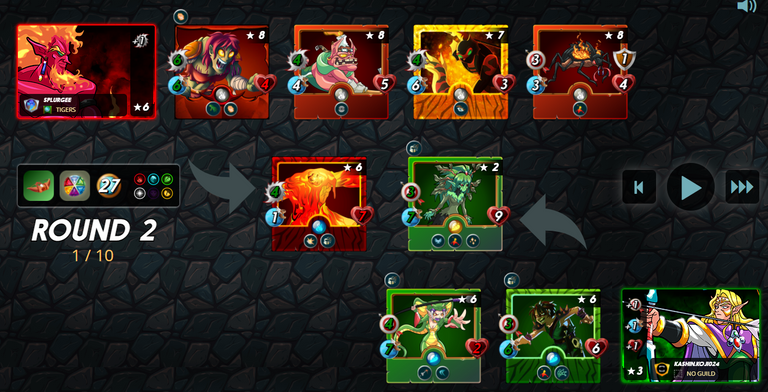 The Spirit of the Forest was now in the front line. In my opinion, my opponent should have played the Spirit as tank to begin with the intention was to field an all range line-up. It's high speed and flying ability would have enabled it to dodge a lot while preserving Beatrix at the back for more damage.
In the second round, the opponents backlines were decimated but attacks on the Spirit were missing.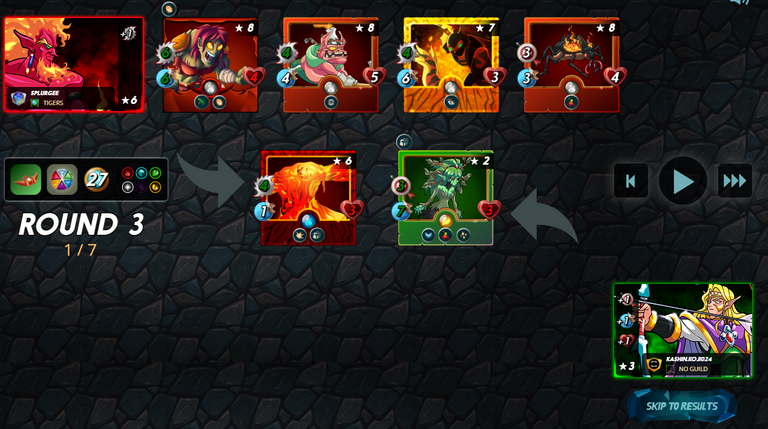 In the third round, the Spirit was able to dodge all attacks except from the Fire Beetle and was able to heal itself back to 6 HP. See? This is the reason it should have been played as a tank to begin with. Pay attention, dear Splitermates.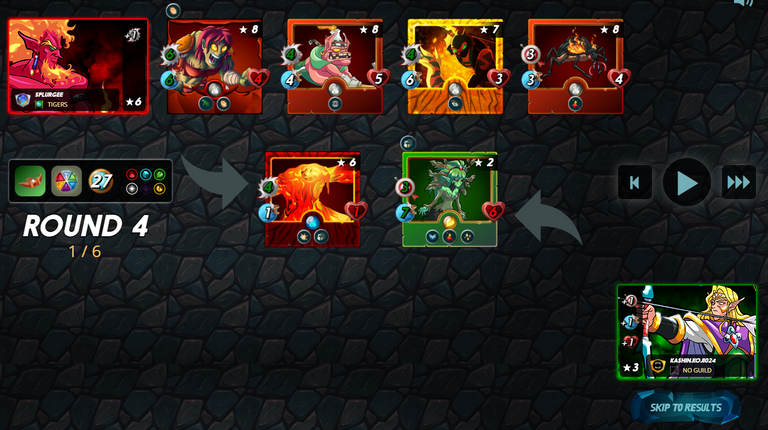 The spirit then eliminates my Living Lava. Befitting of its role as the star, the Radiated Brute with now 6 damage successfully eliminates the Spirit to end the match.
Battle Result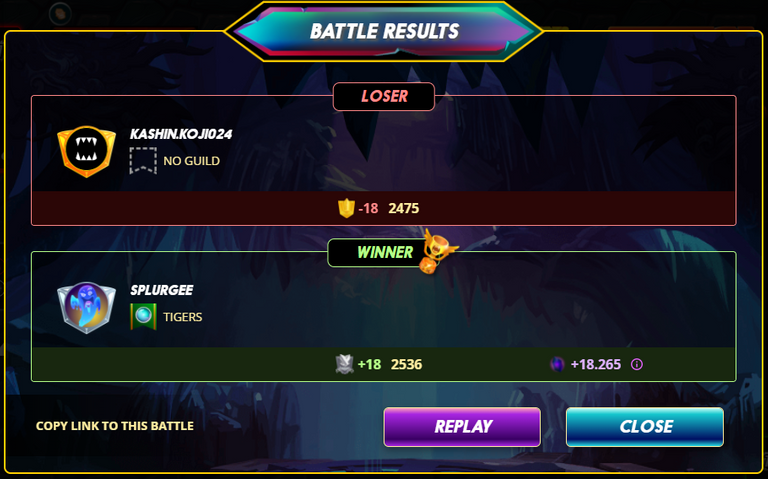 Fancy more Radiated Brute battles?

Final Words
Hope you guys picked up few tricks from the battle above with Radiated Brute. As shown, the damage it deals is brilliant against the opponent's tank. You can rotate this in the second position with Fineas Rage and the Magma Troll depending on the situation.
This card is a welcome addition to the Fire Splinter. It's significantly cheaper to rent so you can even opt for a Golf Foil to increase your DEC earnings. You can also nab this card in the market for only $0.09 so you can easily collect and level this up.
Til next time folks!

Want to start having fun while earning in the @hive network? Signup to @splinterlands using my referral code.

---
---