Rise of Earth + Magic ⚡️⚡️⚡️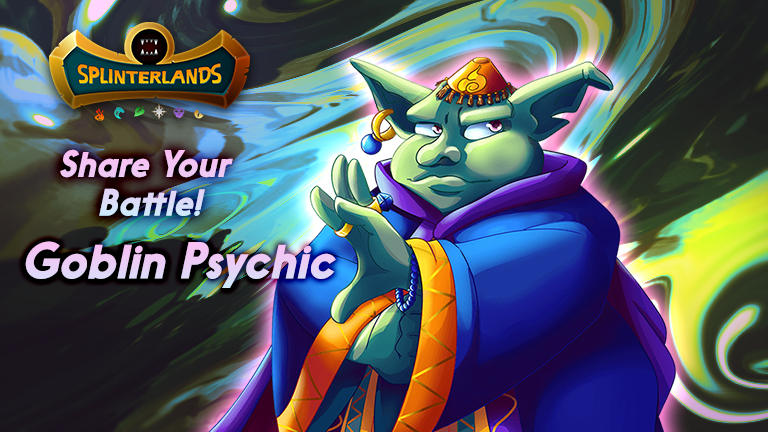 Shami concentrated his mind on moving the paintbrush. It sat on an easel in front of a large canvas, paints of various colors lay before it. The paintbrush sat still.
"You need to focus. Just breath. Relax. Picture the brush as if it were in your hand. Then imagine yourself painting the canvas."
If only conjuring magic is this easy. Pretty sure I'm not the only one who tried conjuring magic when we were younger. Or casted some spells like Harry Potter did. Or summon flame dragons or a razengan like Recca and Naruto did.
With the phasing out of the Water + Magic out of the starter cards, came the rise of the Earth Magic.

The Stats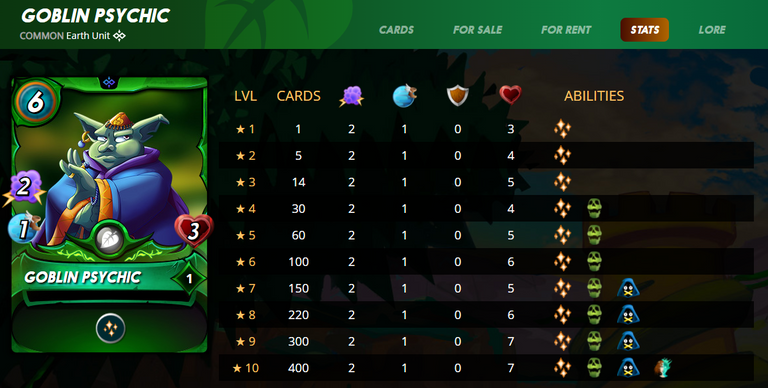 At first glance, the stats may be a bit underwhelming specially at level 1. 6 mana, 1 speed? How slow can you get?! Mana, speed and HP aside, this Goblin will make sure to heal your tank and will ensure it survives longer in the battlefield. This is a good replacement for the Wood Nymph.
At higher level, the Goblin Psychic provides more utility. Affliction at level 4, Silence at level 7 and Dispel at level 10. Affliction provides counter to tanks that heal and the Silence reduces the damage inflicted by the opponent magic team.
Below, I'll be showcasing the Goblin Psychic in Bronze.

The Battle
Rules of Combat
Modifications: Standard
Mana Cap: 26
Playable Splinters: All Splinters
Link to full battle
My lineup
| Position | Card | Mana Cost | Comment |
| --- | --- | --- | --- |
| Summoner | | 4 | I selected obsidian since I'm after a full magic lineup. Obsidian grants +1 magic damage for a higher burst output. |
| Position 1 - Tank | | 9 | With a high mana cap, I opted to use Mycelic for its taunt ability and high HP. The high HP ensures that when it's the Goblin Psychic's turn to heal, there's still a tank standing. All other minions are also low HP so the taunt ability works well in protecting the backline. |
| Position 2 - Pseudo Tank | | 5 | High speed, decent health. If ever my tank dies, my opponent will have a hard time targeting this especially with its flying ability increasing its dodging ability. |
| Position 3 - Backline/Healer | | 6 | The star of the show. This minion's primary role is to heal and sustain our high health tank. |
| Position 4 | | 2 | A little buffer at the back to protect the healer. The sacrifice for sneak attacks. |
Why choose a magic lineup? Because I always preach unpredicatability. I haven't used an Earth + Magic before this so the enemy will least suspect this lineup. This is pretty obvious from what he came up with. LOL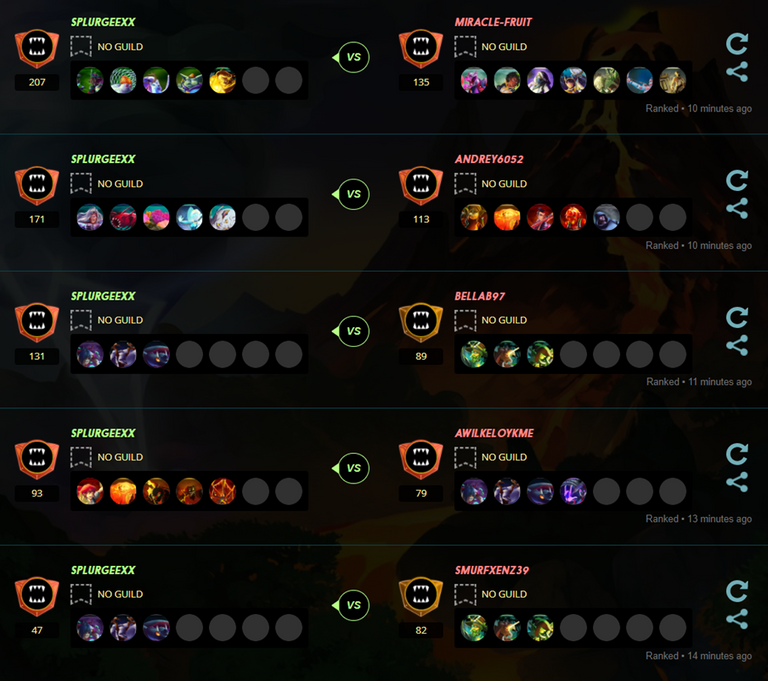 Rounds Breakdown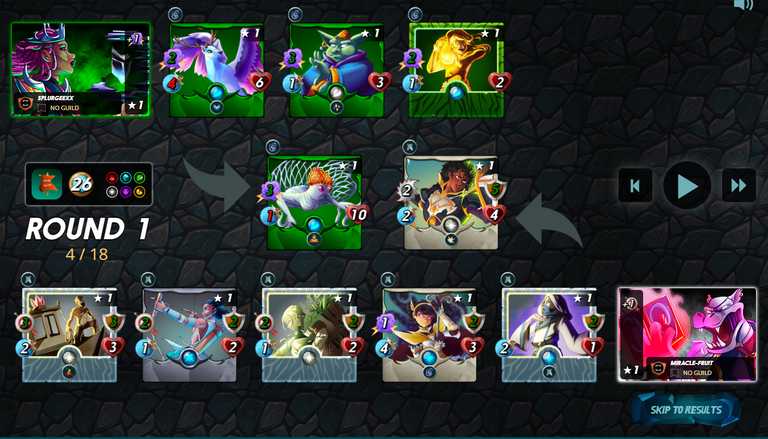 Looking at my opponent's lineup, I'm pretty confident that may magic will tore through those low HP minions. The Truthspeaker is rendered useless. The damage from the Lone Boatman will be soaked as well by my tank.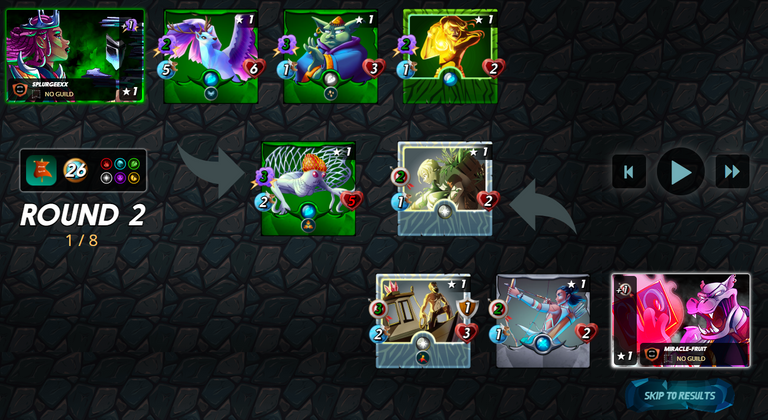 The Chaos Knight and Truth Speaker both fall in the first round. My Mycelic Slipspawn is back to 5 HP thanks to the Goblin Psychic. This should be over very soon.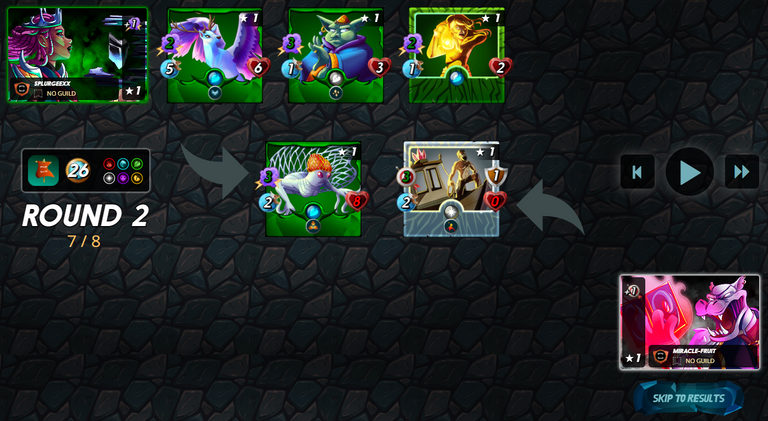 Done and gone in two rounds.
This lineup could easily be improved especially when you throw in some epics and legendary cards like Magi of the Forest who has 2 magic base damage or Queen Mycelia who provides extra armor to all.
The battle I showcased is from my alt-account in the Bronze league. This just goes to show you do not need fancy cards to compete there. And that the Goblic Psychic definitely doesn't disappoint. Even if the opponent had a higher HP tank, I'm pretty confident that my Goblin Psychic can easily out-sustain em.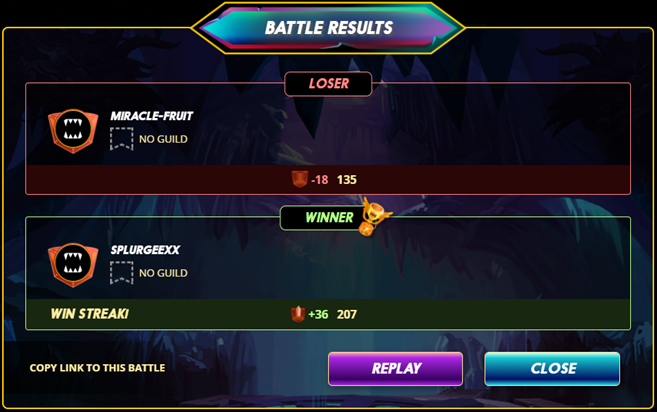 The Earth + Magic has got to be the easiest line-up you could use in lower leagues. This doesn't mean though that it's invincible since it could easily be countered by Thadiuss Brood or Bortus. But still, with a little bit of unpredictability and timing, your magic lineup can easily tear through your opponents. ⚡️

Want to start having fun while earning in the @hive network? Signup to @splinterlands using my referral code.

---
---