What is it like to play blockchain games on a fixed income?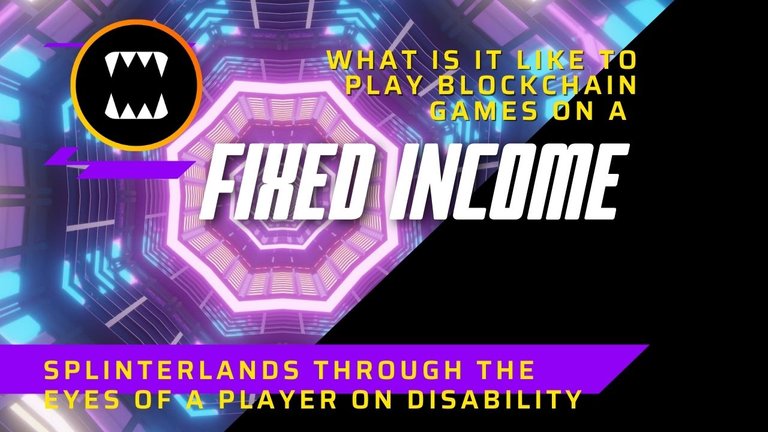 Good afternoon everyone I hope you are having an amazing day and you are winning all your battles and crushing you daily rewards. In this post I wanted to tackle what it is like to love gaming and blockchain gaming but not being able to start some games due to being disabled and on a fixed income due to social security. I am posting in the splinterlands channel as I have grown to love the game and I do understand if you want to earn you have to invest. But for some people they are on a fixed income and may not have the money to invest. I love that you only need to be in bronze 2 and you can start earning but even then the earnings are very small. And I do not think you should be able to earn a ton of money just paying for the spell book. However as a person on a fixed income my grind is a much longer one then maybe others. And I know some will say if you can not afford to invest perhaps blockchain gaming is not for you. But to that I say isn't blockchain in itself to buck the norms of traditional finance. And shouldn't everyone have the opportunity to play what they like and earn a little back for their time spent.
Now thankfully there are games that are F2P but they are extremely grindy but at least you might be able to take those earnings and put them into a different game that you prefer. And the splinterlands community is simply amazing and their are streamers out there like @clove71 and others far to many to list she is just at the top of most folks list for people who give back to their viewers every stream. There are also discords that run contests giving various splinterlands assets away. And of course I am sitting here blogging to you and if I am lucky enough to get some upvotes I can earn a small amount of hive to reinvest into the game.
So more then anything I would like to say to the folks out there that may be in a similar situation as me that there are opportunities out there to earn and grow your collections. And even thought it might seem like a huge mountain to climb that with some effort and time we can get to our goals. It may take us longer then others but we must remember that everyone in crypto and blockchain gaming are very early. And with some smart moves and some luck perhaps our assets whichever game or blockchain they are on will grow. So to all of those who have stuck around and viewed this post in its entirety thank you and I hope you are doing well.
The thumbnail was made with canva.com and the splinterlands logo was downloaded from bithub.com.
---
---