SHIELD OF GLORY: BRAWLS OF STEEL

BRAWLS OF STEEL
Welcome back to another Brawls of Steel report. @star-shroud here from the @shield-of-glory guild, reporting to you from the premiere play2earn metaverse game #Splinterlands. As always, this is the place for your latest rundown on the top Splinterlands guilds, brawls, brawl results and individual brawl performances.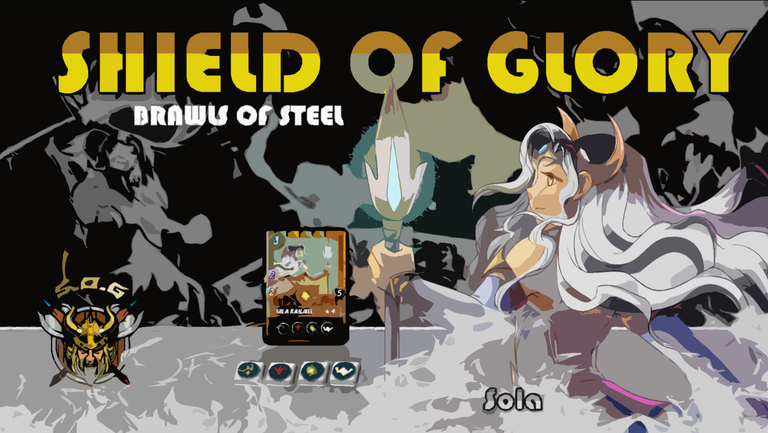 WHAT ARE BRAWLS?
If you play Splinterlands but aren't part of a guild, you might not even know what brawls are. You've almost definitely never seen a GLADIUS card, and that's a real shame cause they're awesome. First of all, if that's you---you are missing out big time! Stop reading this right now and go request to join a guild (or start your own). It's easy to do and I promise you won't regret it. Seriously my friends, the benefits are numerous, both tangible and intangible. Tangible in terms of shop discounts, DEC rewards, GLADIUS cards and the like. Intangible, in terms of the friends you will make and the comradery you'll create within the community. It is definitely one of the most rewarding parts of the game. Don't miss out.
So anyway though, in case you're not sure what a Splinterlands brawl is, it's basically a tournament-style, one-on-one series of battles between the members of roughly 8-10 guilds at once---each competing for prizes in the form of CROWNS and MERITS (not to mention glory, bragging rights and street cred). Each participating player chooses a FRAY spot, where each Fray has its own different summoner levels and types of cards that can be played. If you've ever played in a Splinterlands tournament, it's similar in a lot of ways. During the brawl, you'll fight a series of one-on-one battles against the members of other guilds who are in the same Fray spot as you.
Another thing to know is that brawls take place in guild ARENAS. Sometimes you fight in your home arena, and sometimes in your opponent's arena. There are certain advantages to fighting in your own arena, such as the ability to ban opponents from using certain cards (think Yodin or Lama Mage) and other advantages as well. By upgrading the arena, the home team gains more and more advantages. Below is an illustration of our current arena. It kind of looks like a quidditch pitch.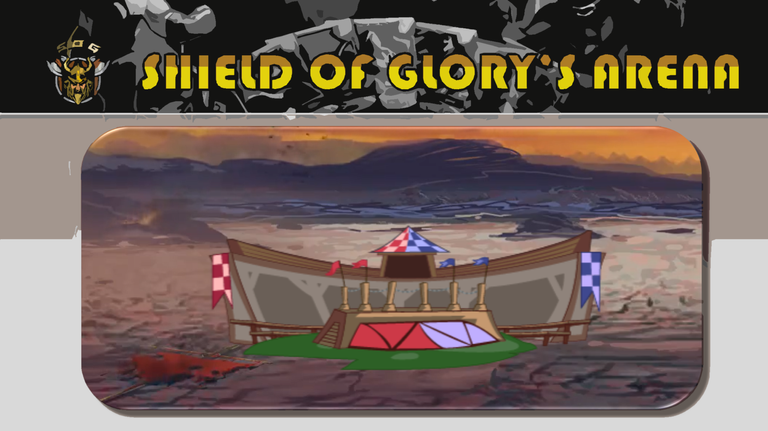 BRAWL REWARDS
As mentioned above, Crowns and Merits are the rewards for winning brawls. Crowns are awarded to the guild as a whole and can be used by the guild for various purposes, most often to upgrade guild buildings. Merits are awarded to individual members and can be spent in the guild store on things like GLADIUS CASE booster packs, BLOOD STONES and POWER STONES.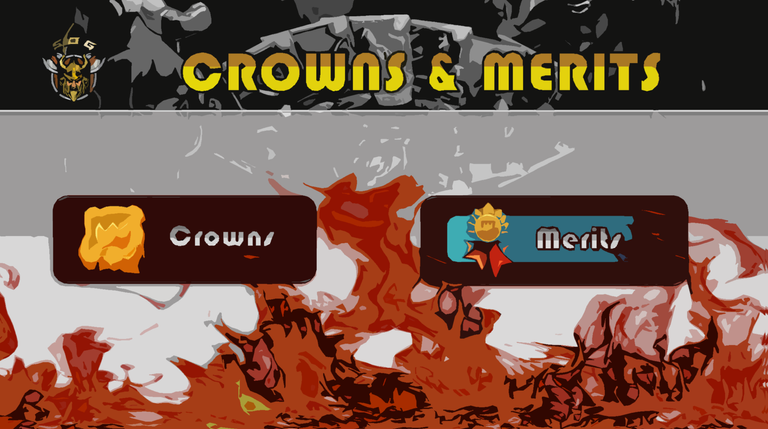 GLADIUS CASE boosters have five cards per pack, with at least one guaranteed to be a rare card or higher. This is similar to the typical Splinterlands booster packs from the main game. BLOOD STONES are akin to LEGENDARY POTIONS from the main game, increasing the chance of pulling a Legendary card for each stone used (1 stone needed per card, i.e., 5 stones per pack). Similarly, POWER STONES are akin to ALCHEMY POTIONS from the main game, increasing the chance of pulling a GOLD FOIL card.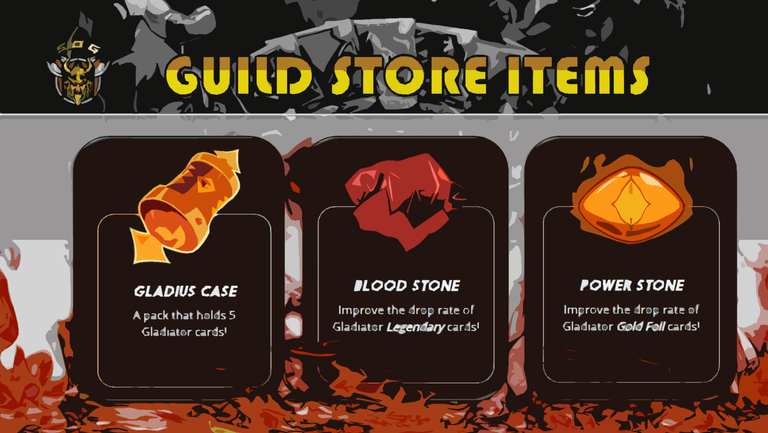 TIER 2 GUILDS
Another interesting aspect of brawls is that the participating guilds are broken into leagues known as "Tiers." Currently, there are two leagues. The lowest-level league is referred to as "Tier 1" and the higher-level league is known as "Tier 2." In the BRAWLS OF STEEL report, we cover only the top "Tier 2" league. An even higher-level league ("Tier 3") is on the horizon (and was even recently tested out), however the ecosystem of ultra-top level guilds is not quite robust enough yet to support it.
THE LATEST BRAWL RESULTS
SHIELD OF GLORY
Turning now to this week's brawl results, let's first take a look at SHIELD OF GLORY or SoG. Despite a string of recent first place finishes, SoG only managed to take 4th place this week. It was an especially tough loss considering all our Fray 3 battles went unsubmitted due to technical difficulties. In the end PEAKMOSTERS [PREMIERE] turned in an oustanding performance to take 1st place just ahead of IMMORTAL GODS 4 and IMMORTAL ARMY.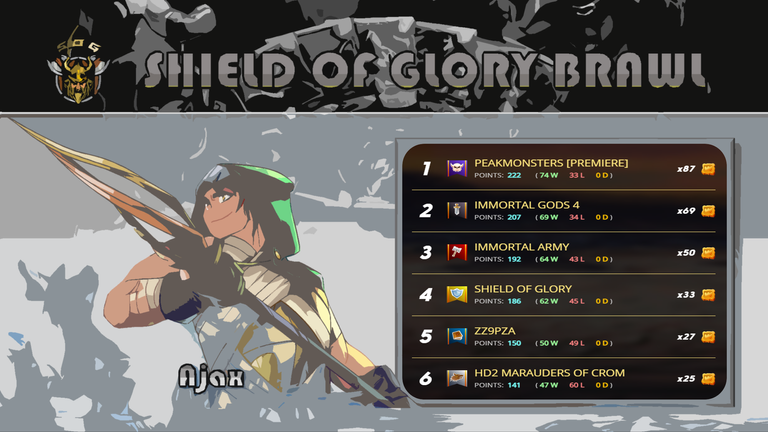 Despite that, SoG had some solid performances overall, including from Fray 2 (@Petroni, 6-1), Fray 4 (@Star-Shroud, 6-1), Fray 5 (@Champion-Slayer, 5-2), Fray 6 (@Heroldius, 6-2), Fray 11 (@Vugtis, 6-2) and Fray 15 (SoG guild-leader @Zagorlord, 5-2).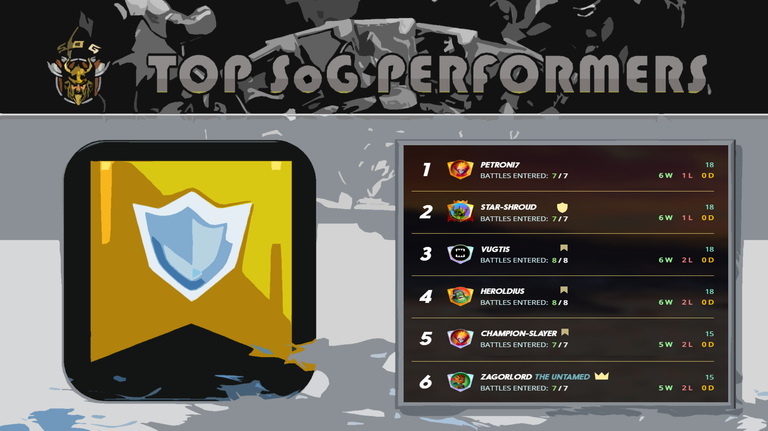 IMMORTAL GODS
Perennial top-performers IMMORTAL GODS or IG dominated their brawl yet again, topping the next closest competitor (HD HYBORIAN DREAM) by more than 30 points.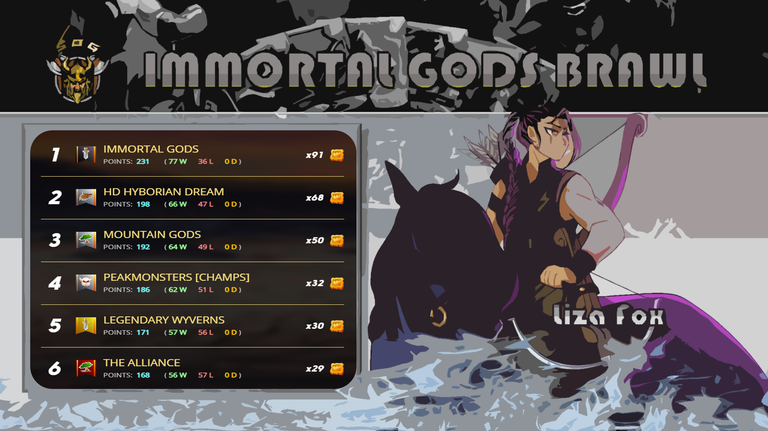 IG saw some dominating brawls from Fray 1 (@Schwarszchild, 7-1), Fray 4 (@Pladozero, 7-1) and Fray 7 (@Nateaguilla, 7-1), as well as dual shutouts in the GOLD FOIL Fray 14 and Fray 15 spots by @Cyguy (6-0) and repeated gold league champion @Ula.Ocean (6-0), respectively.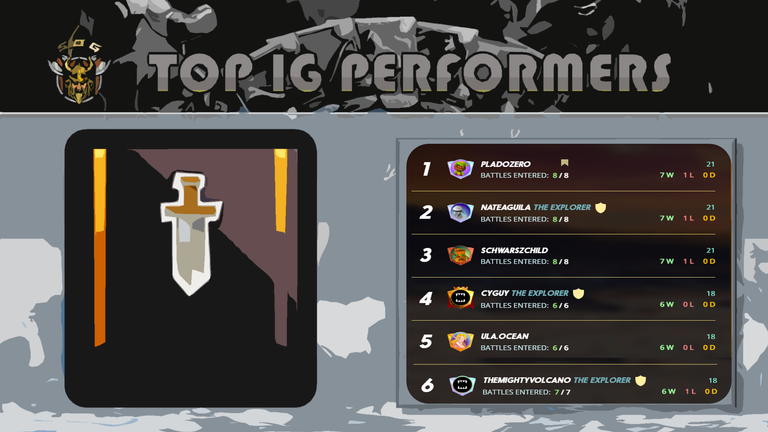 TEAM POSSIBLE
Currently ranked #1 guild in the entire game, TEAM POSSIBLE found it impossible to show their dominance in this week's brawl. In a decisive performance, THE GUILD OF NEOXIAN blew the rest of the competition away, besting TEAM POSSIBLE by a solid 75 points.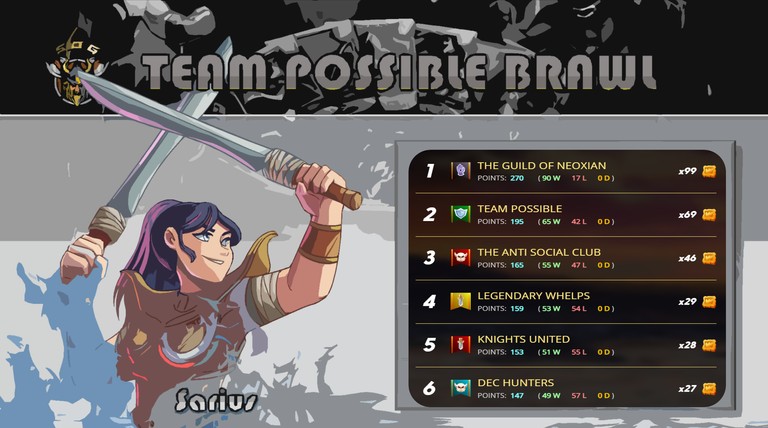 Despite being upended by THE GUILD OF NEOXIAN, still TEAM POSSIBLE got some of the strong dominating individual performance that it's used to seeing. In Fray 6 and Fray 11, @Fatjimmy and @Mellofello turned in brilliant 7-0 shutouts, respectively. @Notaboutme (6-1) also made a strong showing in the GOLD FOIL Fray 13 spot.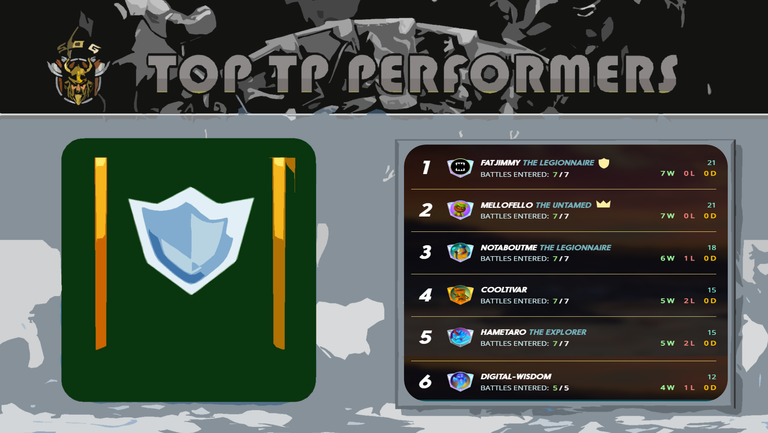 OTHER TOP BRAWLS
Other top Tier 2 brawls saw PEAKMOSTERS [VIKINGS] and SUMMONER'S TRIBE each taking home 1st place victories.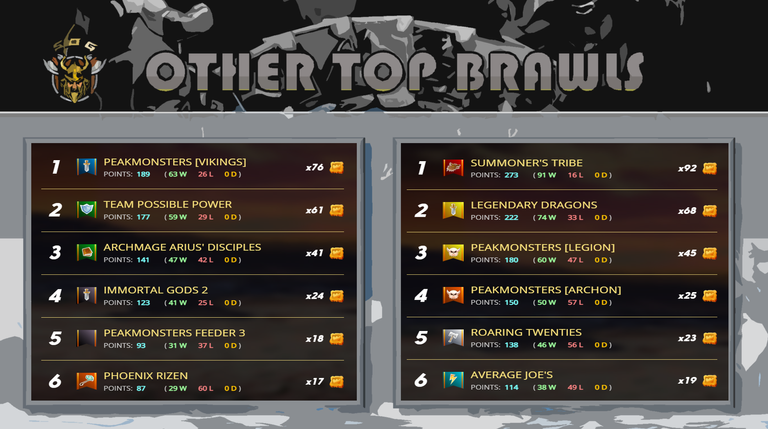 BRAWL STATS
SoG uses a flexible system for Fray selection that we're still refining week-to-week. It involves a guaranteed spot in the next brawl for the TOP 5 performers (by W/L%), whereas the BOTTOM 5 sit out the next brawl. When there is a tie for a Top 5 or Bottom 5 spot, overall W/L% from all recorded brawls will break the tie. Players competing in a Gold Foil Fray are immune from being benched regardless of their W/L%. Player with a W/L% of 65% or more are also immune from being benched.
The Top 5 performers for SoG by W/L% this week were Petroni (85.71%), Star-Shroud (85.71%), Vugtis (75.00%), Heroldius (75.00%) and Zagorlord (71.43%). This last spot was decided by tie-breaker with Champion-Slayer (71.43%) according to overall W/L% across all brawls recorded to-date.
These TOP 5 are guaranteed a spot in the next brawl. Please post you preferred fray spot on the TAVERN CHAT before sign-ups begin for the next brawl to avoid confusion.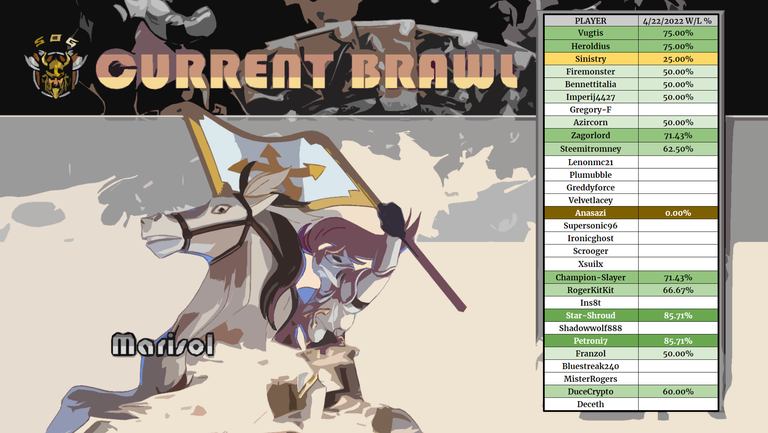 The BOTTOM 5 performers were Anasazi (00.00%), Sinistry (25.00%), Firemonster (50.00%), Franzol (50.00%) and Bennettitalia (50.00%). The last three spots were determined by tie-breaker with Azircon (50.00%) and Imperij4427 (50.00%) according to overall W/L% across all brawls recorded to-date.
These players will sit out the next brawl, heal their wounds, analyze their strategies and cards, and come back stronger than ever the next time around. For Anasazi, who failed to submit his battles due to technical issues, unfortunately the rules call for sitting out the next two brawls in a row.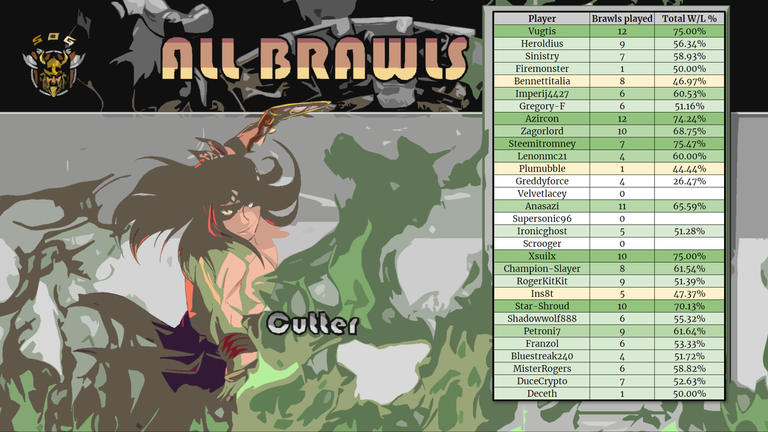 In overall performances across all brawls reported to-date, @Steemitromney held onto his top spot again this week, with an overall W/L% of 75.47%. Right on his heels though are Vugtis and @Xsuilx, who are currently tied with each other for second place, with an overall W/L% of 75.00%. @Azircon comes in a close fourth with an overall W/L% of 74.24%.
THANK YOU
As always, thanks for reading and stay tuned for the next installment. This series is committed to providing the best coverage anywhere for Splinterlands guilds and brawls. We're always looking to keep improving so please leave comments below and please upvote if you enjoyed reading 🙂 In the meantime, keep brawling!
---
---