Increase your wallet with passive income. Splinterlands, Binance and more. 🇬🇧 - 🇮🇹
Good evening dear friends of Hive. Today it is not easy to invest, for most people, the daily expenses commit all the income from work, so it is for me too, the expenses are many, I am setting aside to buy a house in a few years and at the end of the month there is little or nothing left to to be able to invest. Apart from the Hive, where I use the rewards only to increase my Hp and buy tokens that run on the same blockchain, I needed a passive income, which could guarantee me liquidity for new investments in my long-term project.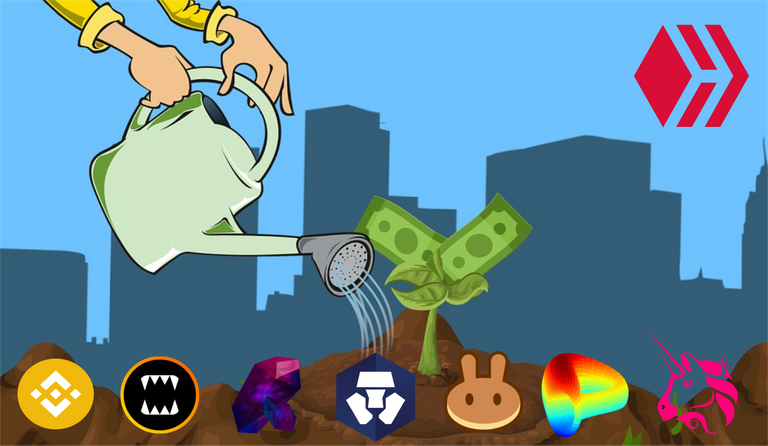 CCO Image source, reworked , pixabay.com

The importance of a passive entry was fundamental, because another very important thing that was missing was time, the precious time that never seems to be enough. Writing a good post, curating and publishing it, reading friends' posts, commenting and interacting takes several hours. Having no other time available to create additional income, it was essential to find a passive way, which could guarantee me constant investment liquidity, without taking up additional time, which I did not have.
The most efficient method right now is staking. There are various ways to stake our coins, although many prefer not to, because it means that at that moment you do not own your cryptocurrencies directly, many prefer to keep most or all of them in a hardware wallet, such as Ledger . I own one too, to keep a slice of it safe, but I think it's important to diversify so that our investments can generate value in more ways than just their own exchange value.
My goal is to quickly generate a passive income of at least $ 5 a day, so that I can increase my investment by $ 150 a month. Which I use to invest without touching my bank account, but it can also be used very well to have a return in my pocket every month.

Splinterlands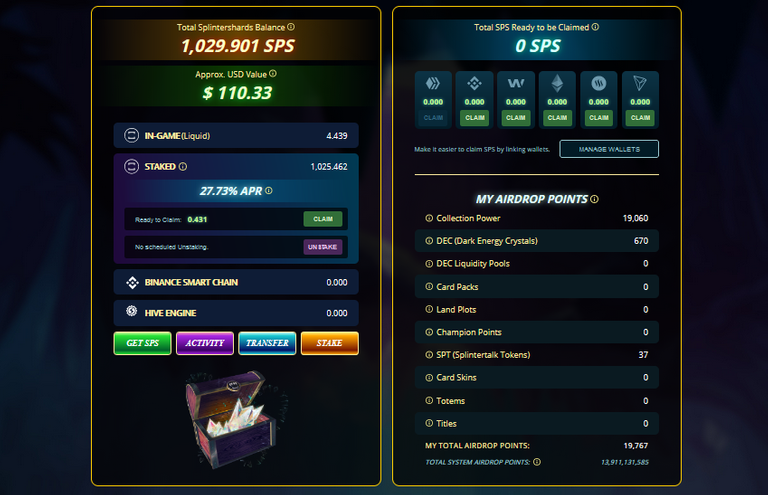 Many of you know @splinterlands, so I start talking about him. Its passive return function is very interesting, thanks to the daily airdrops that distribute SPS (Splintershards), the token governance of the game, based on the DEC (Dark Energy Crystals) owned and on the Power generated by the value of the cards we own. But it doesn't stop there, if you have @splinterlands or DEC NFTs in other platforms that support the game, such as Binance, we can connect the wallet and they will also be eligible for airdrops and SPS distribution.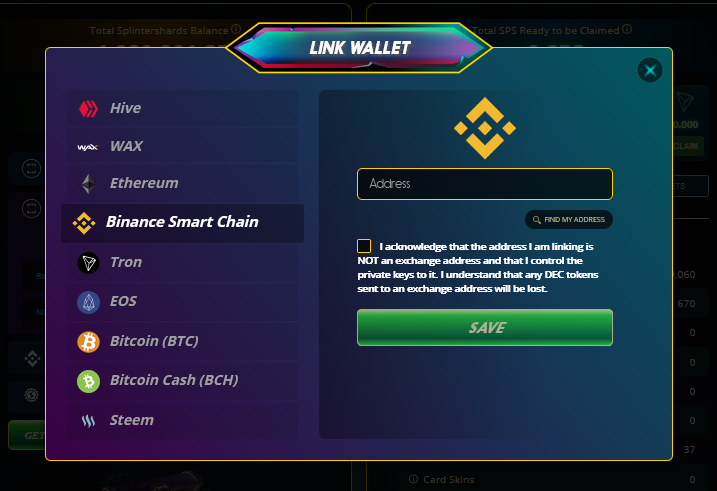 In addition, the SPS can also be staking on https://splinterlands.com or https://hive-engine.com, generating an APR that is currently around 27%.

Binance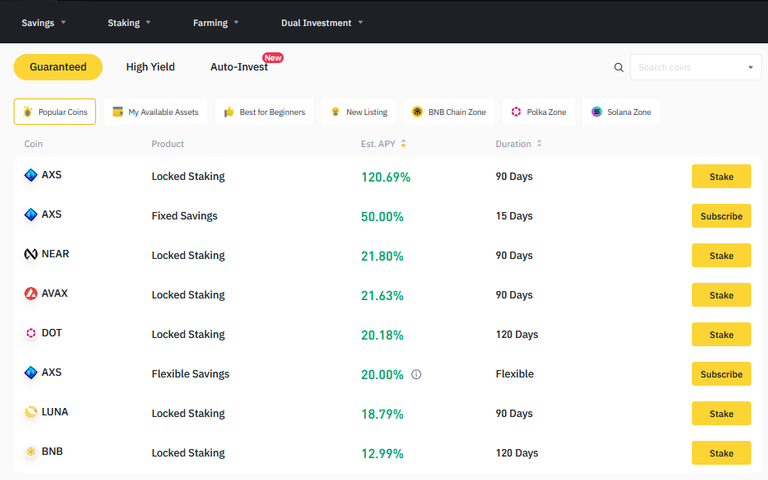 Binance is the largest decentralized exchange in the world, which also makes this the huge number of services it offers, such as the countless ways of staking, including fixed, flexible, liquid-pool, de-fi and others ... It offers various methods , for all needs. I am currently using only fixed and flexible stacking. Fixed returns are blocked from 10 to 120 days, with APR and APY ranging from 1 to 120% for some coins, for the higher values, the quantities that can be blocked are obviously small, to allow everyone to participate.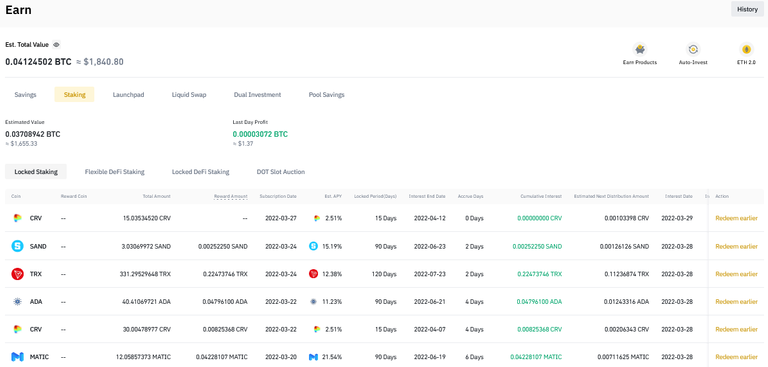 I didn't buy certain coins just to stake them, but I took advantage of the projects that interested me and that I already owned to create additional value.

Various platforms

Today I wanted to talk to you about my two main sources, but the possibilities, projects and platforms that offer similar services are many. However, we must always be very careful about scams, which are more and more frequent, and only rely on well-established and recognized systems. Some of the major platforms offering similar services are CRO, CRV, UNISWAP, PUNCAKESWAP, and many more.
In addition, for many coins and tokens, official sites and their platforms offer the possibility of staking, receiving rewards and other privileges, such as governance. Just think of Hive, the functionality that our Hive Power has.
To conclude, at this moment my passive income, between @splinterlands, Binance, Hive itself, with upvote and APR of my HP, even if the latter I cannot use it for other investments, because it auto invest, it is around little above $ 2, but I'm working to get it up to $ 5. If you also use these tools to create a passive income, write it down in the comments, what are your favorites, it will be nice and useful to exchange opinions about it.

All images in this post, unless otherwise noted, are from splinterlands.com and binance.com.
Dear friends this is all, I hope you found this post interesting. Stay tuned for the next news, Thanks for your attention.

🇮🇹
Buona sera cari amici di Hive. Oggi giorno non è facile investire, per la maggior parte delle persone, le spese quotidiane impegnano tutte le entrate lavorative, così è anche per me, le spese sono molte, sto accantonando per acquistare casa tra qualche anno e a fine mese rimane poco o niente da poter investire. Hive a parte, dove uso le rewards solo per aumentare il mio Hp e comprare token che girano sulla stessa blockchain, avevo bisogno di un'entrata passiva, che mi potesse garantire liquidità per nuovi investimenti nel mio progetto a lungo termine.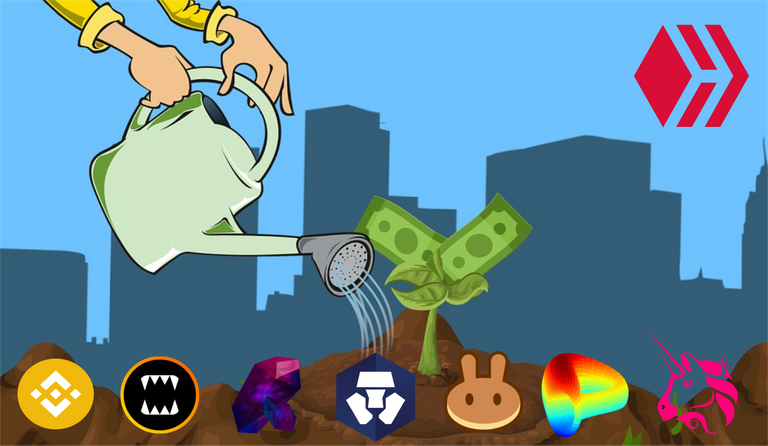 CCO Image source, reworked , pixabay.com

L'importanza di un'entrata passiva era fondamentale, perché un'altra cosa importantissima che mancava, era il tempo, il prezioso tempo che sembra non bastare mai. Già per scrivere un buon post, curarlo e pubblicarlo, leggere quelli degli amici, commentare e interagire occupa diverse ore. Non avendo altro tempo a disposizione per creare un'entrata ulteriore, era fondamentale trovare una via passiva, che mi potesse garantire una liquidità costante d'investimento, senza occupare ulteriore tempo, che non avevo.
Il metodo più efficiente in questo momento è sicuramente lo staking. Ci sono vari modi per mettere in staking le nostre coin, anche se molti preferiscono non farlo, perché fa sì, che in quel momento tu non possieda direttamente le tue cryptovalute, molti preferiscono tenere la maggior parte o tutto in un hardware wallet, come Ledger. Anch'io ne possiedo uno, per mantenere una fetta al sicuro, ma penso che sia importante diversificare, per far si che i nostri investimenti possano generare valore in più modi e non solo dal loro stesso valore di scambio.
Il mio obiettivo è di arrivare a breve a generare un'entrata passiva di almeno 5 dollari al giorno, così da poter incrementare il mio investimento di 150 dollari al mese. Che io uso per investire senza toccare il mio conto in banca, ma può essere anche utilizzato benissimo per avere un ritorno in tasca ogni mese.

Splinterlands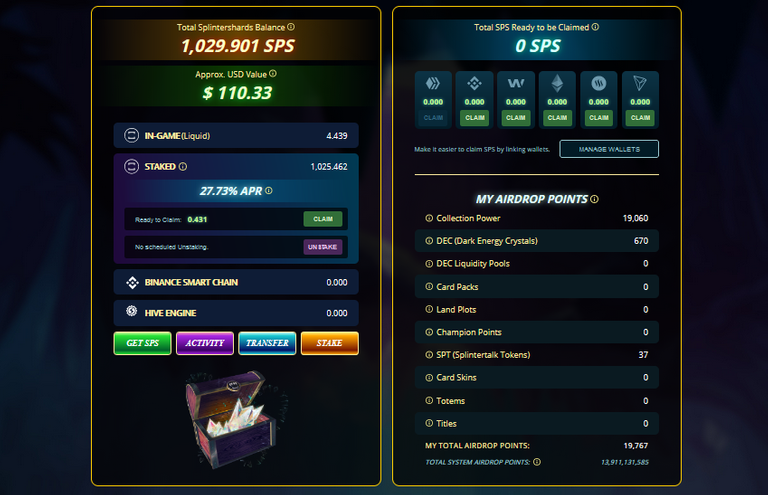 Molti di voi conoscono @splinterlands, per questo inizio a parlarvi proprio di lui. La sua funzione di rendimento passivo è molto interessante, grazie ai giornalieri airdrop che distribuiscono SPS (Splintershards), il token governance del gioco, in base ai DEC (Dark Energy Crystals) posseduti e sul Power generato dal valore delle carte che possediamo. Ma non finisce qui, se si possiedono NFT di @splinterlands o DEC in altre piattaforme che supportano il gioco, come Binance, possiamo collegare il wallet e saranno anche loro eleggibili per gli airdrop e la distribuzione di SPS.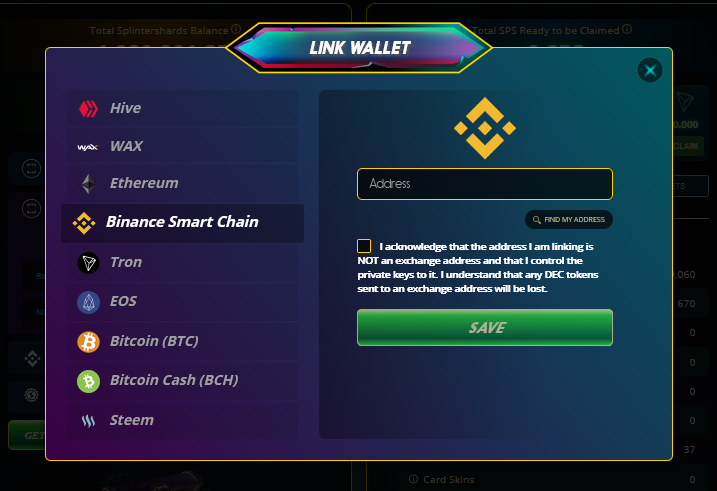 Inoltre gli SPS si possono anch'essi mettere in staking su https://splinterlands.com o https://hive-engine.com, generando un apr che in questo momento sta attorno al 27%.

Binance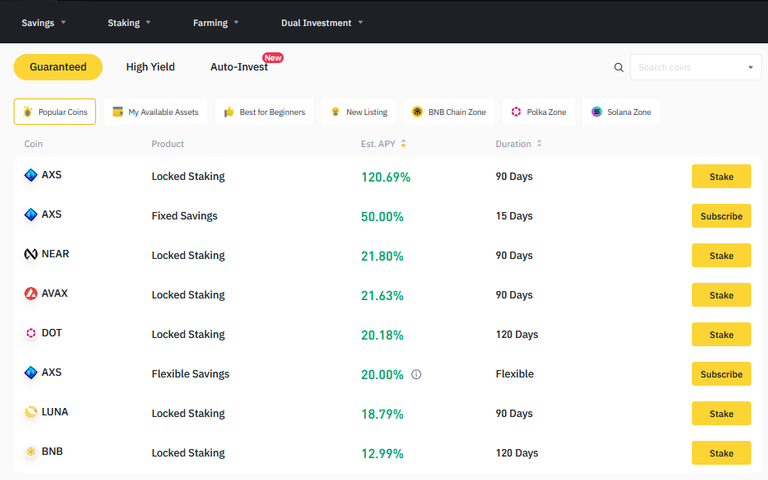 Binance è l'exchage decentralizzato più grande al mondo, ne fa questo anche i grandissimo numero di servizi che offre, come le innumerevoli vie di staking, tra fisso, flessibile, liquid-pool, de-fi e altri... Offre vari metodi, per tutte le esigenze. Io in questi momento sto usando solo stacking fisso e quello flessibile. I rendimenti fissi sono bloccati dai 10 ai 120 giorni, con APR e APY che variano dal 1 fino al 120% per alcune coin, per i valori più alti, le quantità che si possono bloccare sono ovviamente esigue, per permettere a tutti di partecipare.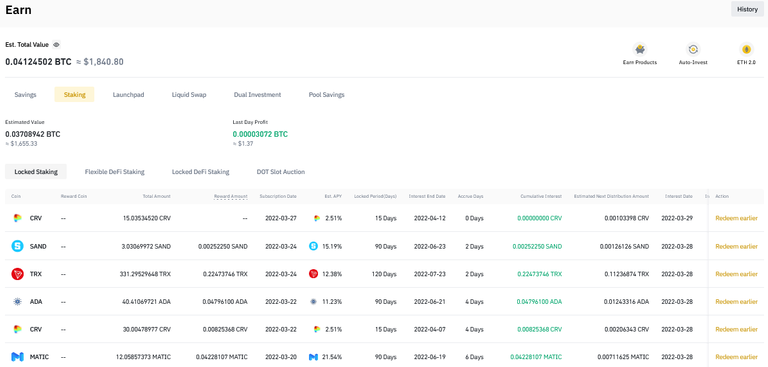 Non ho acquistato determinate monete solo per metterle in staking, ho sfruttato però i progetti che mi interessavano e che già possedevo per creare un ulteriore valore.

Piattaforme varie

Io oggi vi ho voluto parlare delle mie due fonti principali, ma le possibilità, i progetti e le piattaforme che offrono servizi simili sono moltissime. Dobbiamo sempre stare però, molto attenti alle truffe, che sono sempre più frequenti ed affidarci solo a sistemi ben consolidati e riconosciuti. Alcune delle piattaforme principali che offrono servizi simili sono CRO, CRV, UNISWAP, PUNCAKESWAP e molte altre.
Inoltre per molte coin e token, i siti e le loro piattaforma ufficiali offrono la possibilità di fare staking, ricevendo ricompense e altri privilegi, come la governance. Vi basta pensare ad Hive, la funzionalità che ha il nostro Hive Power.
Per concludere, in questo momento le mie entrate passive, tra @splinterlands, Binance, Hive stesso, con upvote e APR del mio HP, anche se quest'ultima non la posso usare per altri investimenti, perché si auto investe, si aggira attorno poco sopra i 2 dollari, ma sto lavorando per farlo salire fino a 5. Se anche voi utilizzate questi strumenti per creare un'entrata passiva, scrivetelo nei commenti, quali sono i vostri preferiti, sarà bello è utile scambiare opinioni al riguardo.

Tutte le immagini presenti in questo post, salvo diversamente indicato, provengono da splinterlands.com e binance.com.
Cari amici con questo è tutto, spero che abbiate trovato interessante questo post. Rimanete connessi per le prossime novità, Grazie per la vostra attenzione.
---
---