Splinterlands and Peakmonsters - Keep safe your cards - Guide to secure and lock your investment. 🇬🇧 / Splinterlands e Peakmonsters - Tieni al sicuro le tue carte - Guida per proteggere e bloccare il tuo investimento. 🇮🇹
Good evening dear Hive friends, today I want to talk to you about a very important topic regarding @splinterlands, how to keep our cards safe.
This fantastic game is gradually gaining ground, inside and outside Hive, this involves an increase in its value, which is reflected in the cards themselves. Nowadays to compete in leagues from Silver upwards, the set of cards is starting to take on consistent values, which is why it is important that we keep our cards safe.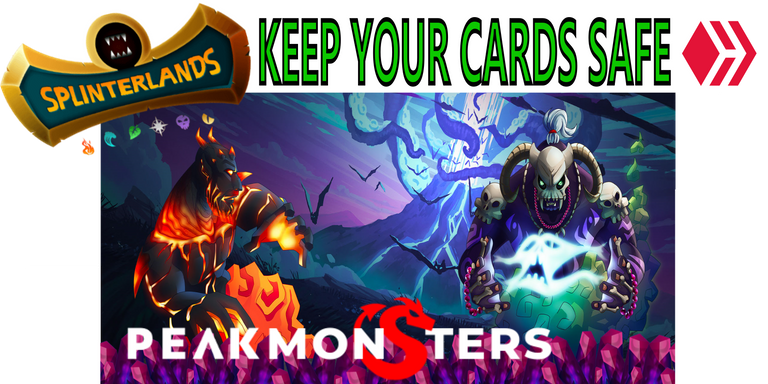 You have single cards, or enhanced cards that can be worth tens, if not hundreds of dollars, some have real treasures. This also attracts malicious people, scum of people, who, with scams and deceptions, try to steal Hive keys or passwords to gain access to our cards. Speaking with a friend @mad-runner, he advised me to keep the cards blocked, so as not to run into danger, a very important piece of advice, which I want to share with all of you, in the hope that it will be of help to you.
How to keep your cards safe.
@Splinterlands, offers us an excellent tool to guarantee the security of the cards, we can in fact block them, deciding the unlocking period in a time that varies from 1 to 30 days. Thanks to this, in the unfortunate event that our account is compromised, they will not be able to have direct access to our cards.
The blocked cards do not lose any game function, as the message that appears before requesting it reminds us. They can be used in battle, delegated or rented.
While they cannot be sold, burned or transferred, until the release is requested and the fixed days have passed.
This can be done either on https://splinterlands.com or on @peakmonsters at https://peakmonsters.com. It is a very simple operation, which we are going to see together in both cases.
From the main dashboard screen, go to CARDS, click and open the card you want to block, select it and click on the lock icon on the right.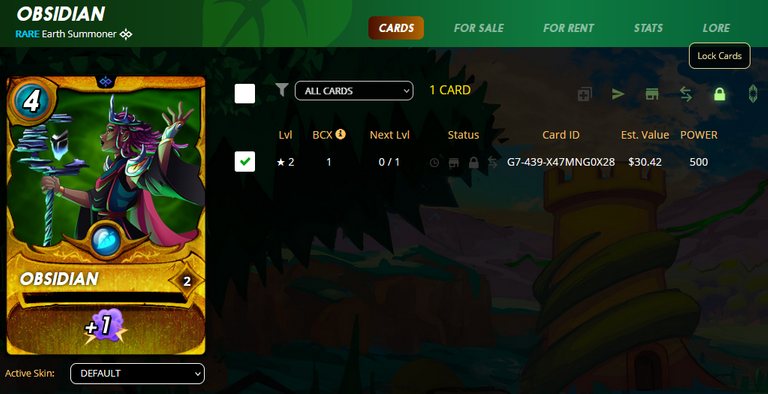 Once this is done, this screen will appear, where @splinterlands reminds you, what can and cannot be done with a blocked card. Then, enter the number of days you wish to block the card and click on LOCK.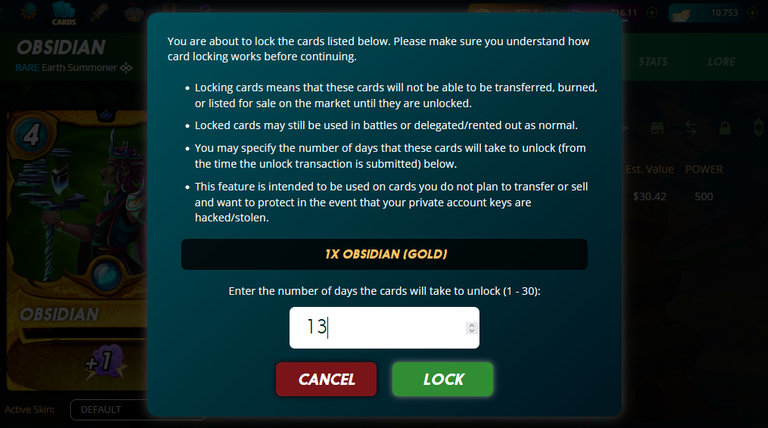 Now, a new message will appear, asking if you are sure you want to block the card, click OK and your card will now be blocked, for the number of days you have set, like 13 for my case, my number favorite.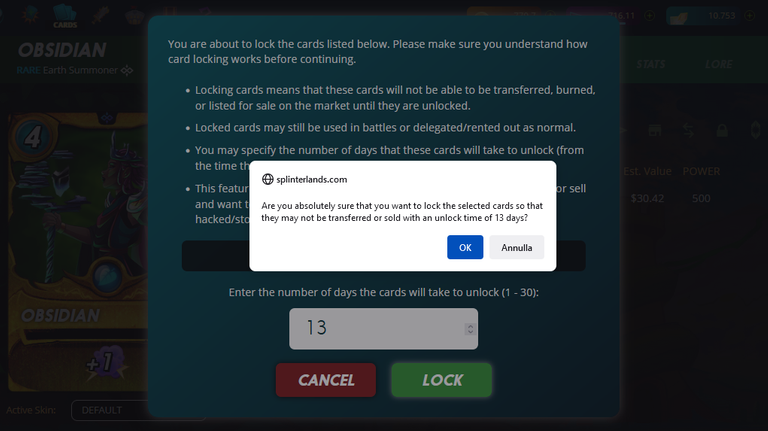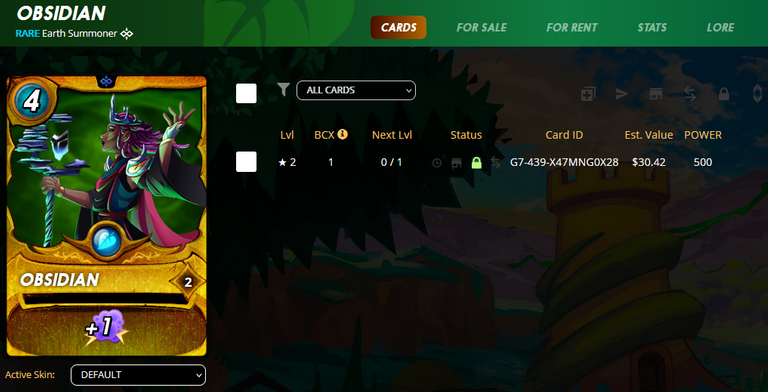 As you can see in the image, the padlock icon is now illuminated and indicates the card is correctly locked.

On @peakmosters it's even easier, plus, you can do it much faster, thanks to the ability to block multiple cards at the same time.



Go to My Cards, select the card or cards you want to block.
After that, click on the icon at the top right that indicates the number of cards selected, the one next to the cart, open the item OTHERS, as in the image and click on the Lock.



It will also open here, a screen that reminds you of the functions allowed to a blocked card, set the days you want and click on CONFIRM. Your card is now safe.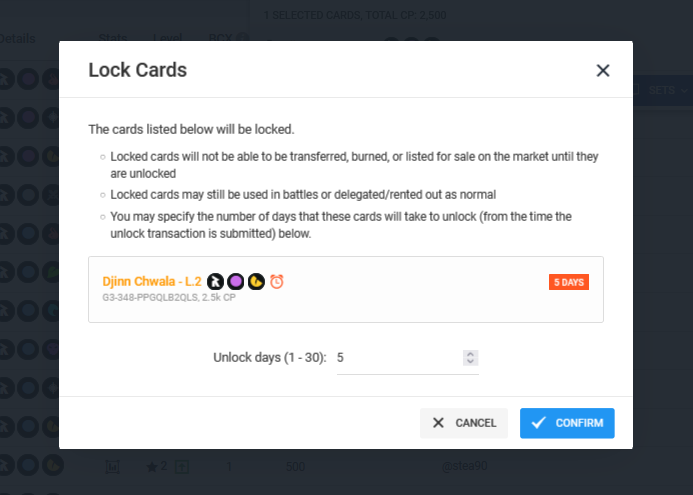 To conclude, I wanted to create this simple guide, also because the process itself is very simple, but fundamental, however, because I imagine that many, including myself up to a few days ago, do not know this very important and useful function, which guarantees us to keep the secure our cards. Having increased my set, in order to be able to access Silver 2, I start owning some cards of interesting value, for this reason I found it crucial, to secure my investment.
Thanks again @mad-runner, for suggesting this feature to me, hoping that this post will help you to sleep peaceful dreams too, knowing that your cards rest safe too.

All images in this post are taken from https://splinterlands.com, https://peakmonsters.com or were created personally using CCO images from https://pixabay.com.
Dear friends this is all, I hope you found this post interesting. Stay tuned for the next news, Thanks for your attention.

🇮🇹
Buona sera cari amici di Hive, oggi voglio parlarvi di un tema molto importante riguardo @splinterlands, come tenere al sicuro le nostre carte.
Questo gioco fantastico, sta man mano prendendo sempre più piede, dentro e fuori Hive, questo comporta un crescere del suo valore, che si rispecchia nelle carte stesse. Oggi giorno per competere nelle leghe da Argento in su, il set di carte inizia ad assumere valori consistenti, per questo è importante che preserviamo in sicurezza le nostre carte.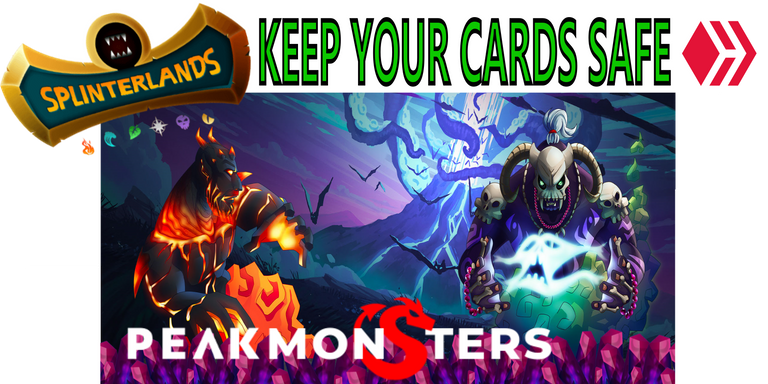 Si posseggono singole carte, o carte potenziate che possono valere anche decine, se non centinai di dollari, alcuni possiedo dei veri e propri tesoretti. Questo attrae anche malintenzionati, feccia di persone, che con truffe e inganni, tentano di rubare chiavi di Hive o passwords per ottenere l'accesso alle nostre carte. Parlando con un amico @mad-runner, mi consigliò di tenere le carte bloccate, per non correre pericoli, un consiglio molto importante, che voglio condividere con tutti voi, nella speranza che possa esservi d'aiuto.
Come tenere le carte al sicuro.
@Splinterlands, ci offre un ottimo strumento per garantire la sicurezza delle carte, possiamo infatti bloccarle, decidendo il periodo di sblocco in un tempo che varia da 1 a 30 giorni. Grazie a questo, nel malaugurato caso che il nostro account venisse compromesso, non potrebbero avere accesso diretto alle nostre carte.
Le carte bloccate, non perdono nessuna funzione di gioco, come ricorda il messaggio che ci appare prima di richiederlo. Possono essere utilizzate in battaglia, delegate o affittate.
Mentre non si possono vendute, bruciate o trasferite, finché non verrà richiesto lo sblocco e saranno passati i giorni prestabiliti.
Questa operazione si può effettuare sia su https://splinterlands.com, sia su @peakmonsters al sito https://peakmonsters.com. Si tratta di una semplicissima operazione, che andiamo a vedere insieme in entrambi i casi.
Dalla schermata principale della dashboard, andate su CARDS, cliccate e aprite la carta che desiderate bloccare, selezionatela e cliccate sull'icona a destra a forma di lucchetto.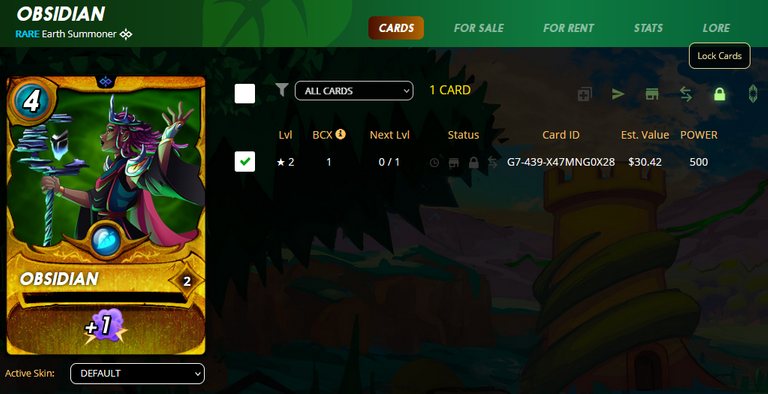 Fatto questo, vi apparirà questa schermata, dove @splinterlands vi ricorda, cosa si può e non si può fare con un carta bloccata. Quindi, inserite il numero di giorni che desiderate bloccare la carta e cliccate su LOCK.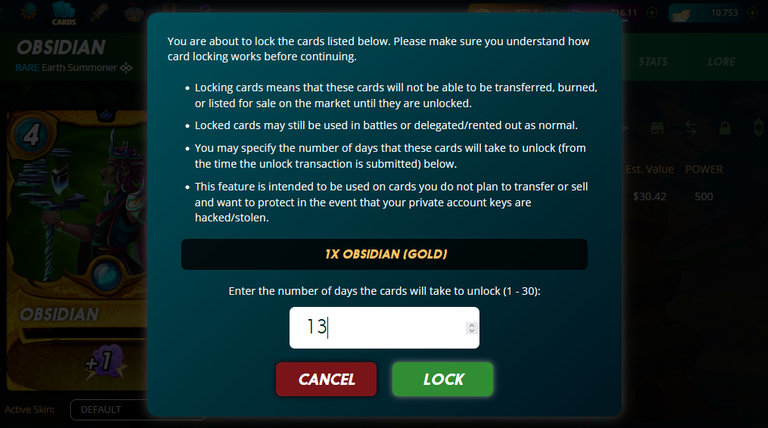 Ora, vi apparirà un nuovo messaggio, che vi chiede se siete sicuri di voler bloccare la carta, cliccate su OK e la vostra carta ora sarà bloccata, per il numero di giorni che avete impostato, come 13 per il mio caso, il mio numero preferito.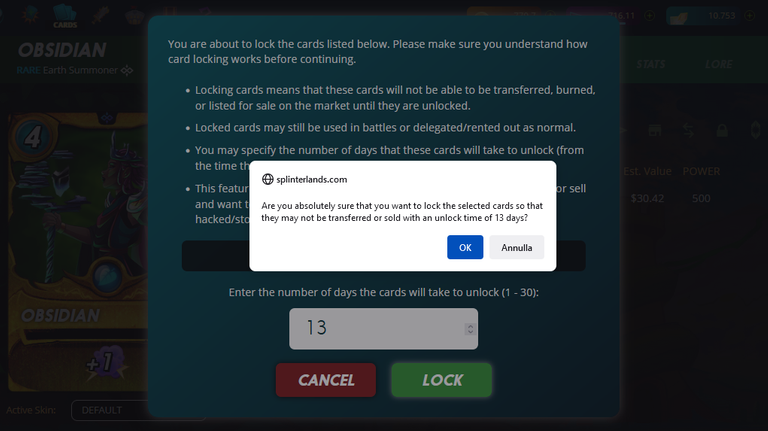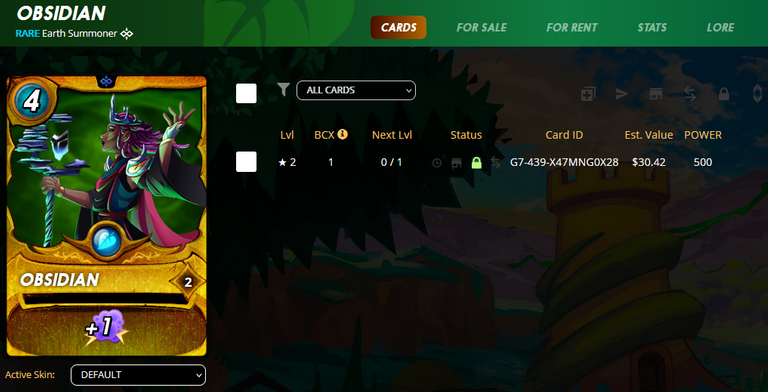 Come potete vedere nell'immagine, l'icona a forma di lucchetto, ora è illuminata e segnala la carta correttamente bloccata.

Su @peakmosters è ancora più semplice, in più, potete fare molto più veloce, grazie alla possiblità di bloccare più carte contemporaneamente.



Andate su My Cards, selezionate la carta o le carte che volete bloccare.
Dopo di che, cliccate sull'icona in alto a destra che indica il numero di carte selezionate, quella vicino al carrello, aprite la voce OTHERS, come nell'immagine e cliccate sul lucetto, Lock.



Si aprirà anche qui, una schermata che vi ricorda le funzioni consentite a una carta bloccate, impostate i giorni che desiderate e cliccate su CONFIRM. Ora la vostra carta è al sicuro.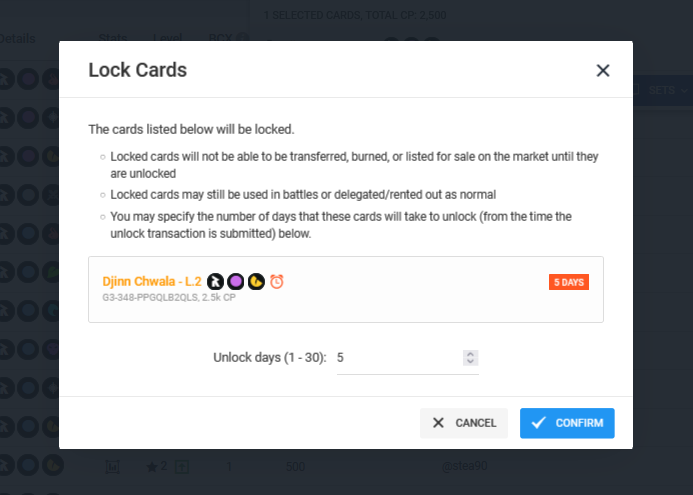 Per concludere, ho voluto creare questa semplice guida, anche perchè il processo stesso è molto semplice, quanto fondamentale però, perchè immagino che molti, me compreso fino pochi giorni fa, non conoscono questa funzione molto importante e utile, che ci garantisce di mantenere al sicuro le nostre carte. Avendo incrementato il mio set, per poter accedere ad Argento 2, inizio possedere alcune carte dal valore interessante, per questo ho trovato cruciale, mettere in sicurezza il mio investimento.
Ringrazio ancora @mad-runner, per avermi suggerito questa funzione, sperando che questo post, possa aiutare anche voi a dormire sogni tanquilli, sapendo che anche le vostre carte riposano al sicuro.

Tutte le immagini di questo post sono prese da https://splinterlands.com, https://peakmonsters.com o sono state create personalmente usando immagini CCO di https://pixabay.com.
Cari amici con questo è tutto, spero che abbiate trovato interessante questo post. Rimanete connessi per le prossime novità, Grazie per la vostra attenzione.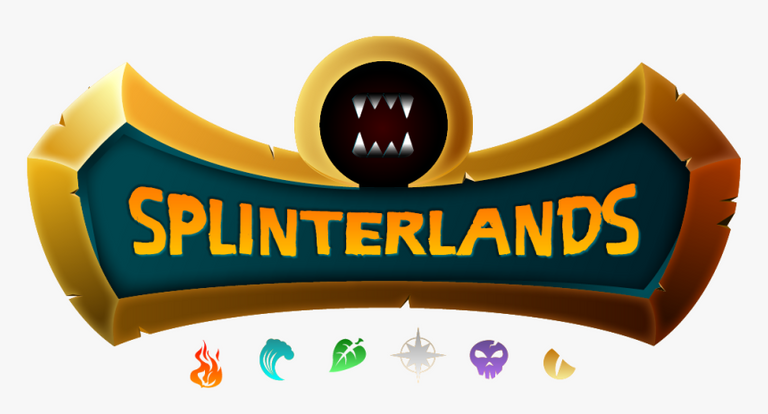 Se non conoscete il fantastico gioco P2E di @splinterlands potete trovarlo al sito https://splinterlands.com o scaricarlo per smartphone Android e iOS.
Se avete Hive, molto utile può esservi il servizio offerto da @peakd - @peakmonsters, dove potete gestire le vostre carte/NFTs in modo più pratico e approfondito.
Inoltre vi lascio i link ai post giuda sul gioco e funzioni varie ad esso dedicate:
Sicurezza Carte
https://ecency.com/hive-146620/@stea90/splinterlands-and-peakmonsters-keep-safe
Sicurezza Chiavi
https://ecency.com/hive-146620/@stea90/attention-of-your-hive-keys
Entrate Passive
https://ecency.com/hive-146620/@stea90/increase-your-wallet-with-passive
---
---