Splinterlands Growth Project - 300 Hives invested - + 20K Power - Gold 3 General Sloan. 🇬🇧
Dear friends of Hive, good evening. I don't know if this can be said, but if there is an artist block, can there also be a player block? Maybe yes, maybe not, it will be just a coincidence, but after making a big investment on @splinterlands, for 2/3 days I have not been able to level up in the leagues, on the contrary, I am slowly going down.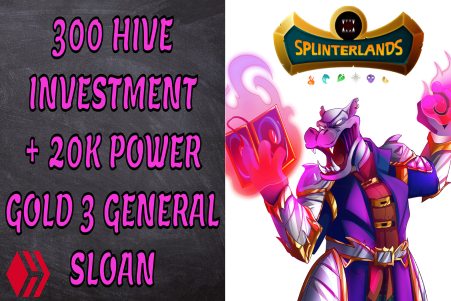 The fact that these last two weeks have been exhausting, first a strong influence and with the work that are literally making us die, the tiredness makes you feel will certainly prove. It will affect my concentration, leading me not to choose the most appropriate combinations for the situation of each match.
Having said that, as I mentioned before, a few days ago, I decided to make a fairly large investment, aimed solely at increasing the strength of my set of cards. I am speaking of investment, because it is an operation that can bring multiple economic benefits. I say can, because we cannot predict the future, but the potential of @splinterlands is very high and could lead to a substantial increase in the value of the cards in the future, as well as of its tokens. Secondly, it should allow me to be more competitive, leading me to win more frequently, earning more rewards.
I invested about 250 dollars, going to sell some cryptocurrencies that I owned, obviously in low percentages, drawing from different tokens, this is because when you invest or divest, it is essential to always do it in stages, to avoid nasty surprises or having to regret having sold a coin. For this reason, any movement into or out of a cryptocurrency, it would be advisable to execute it fractionally.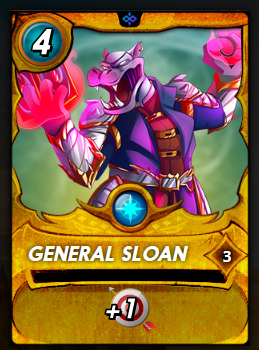 I made purchases aimed only at upgrading the set in battle, starting with the gold life summoner card, GENERAL SLOAN, which I already owned, to be able to combine them and have a level 3 summoner. With the aim of also bringing earth and fire summoners, OBSIDIAN and TARSA at level 3, currently at level 2.
As for the cards, I mainly upgraded to level 2 and 3, common and rare cards, to increase the stats in a balanced way on each element. Subsequently, I chose some cards of significant impact, to be included in my strategies, hoping they can make a difference, in all those matches where you fight to the last breath. The cards in question are about twenty, but I will show you the main ones, the ones of greatest value, that I wanted to include in my ranks.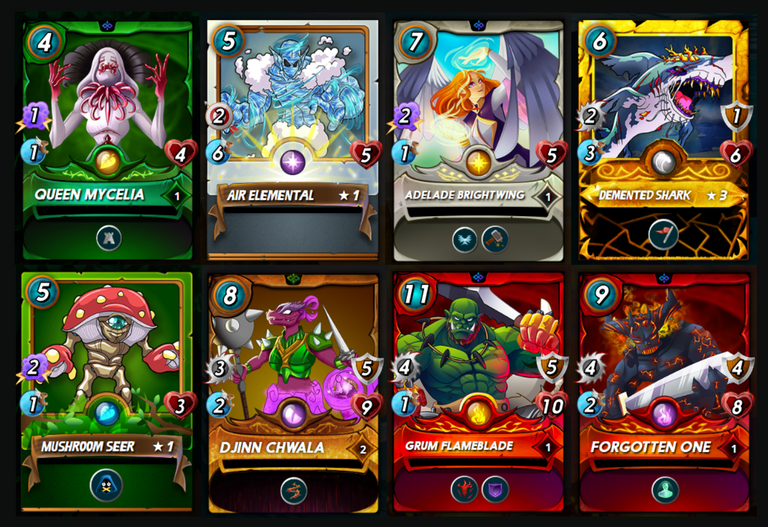 After all these purchases, my Power has gone up from 41K to 61K, but despite everything, I can't level up. From Silver 3 I have been demoted to Bronze 1 and I cannot go back up, so much so that I have stopped, the rewards for 2 days, because I do not want to recall them in Bronze, where they are worth nothing. I don't understand where I'm wrong, maybe I got carried away, too sure of myself and I don't calculate the details. I don't know, I've never played today, I only opened the game to collect the screenshots, to take a break and think about this block. Because I have learned that when something does not want to go the right way, it is better to take a step back, observe the issue from a less involved point of view and evaluate the correct solutions.

All images in this post are taken from https://splinterlands.com, or were created personally using images from https://splinterlands.com.
Dear friends this is all, I hope you found this post interesting. Stay tuned for the next news, Thanks for your attention.
---
---