Splinterlands vs. Axie Infinity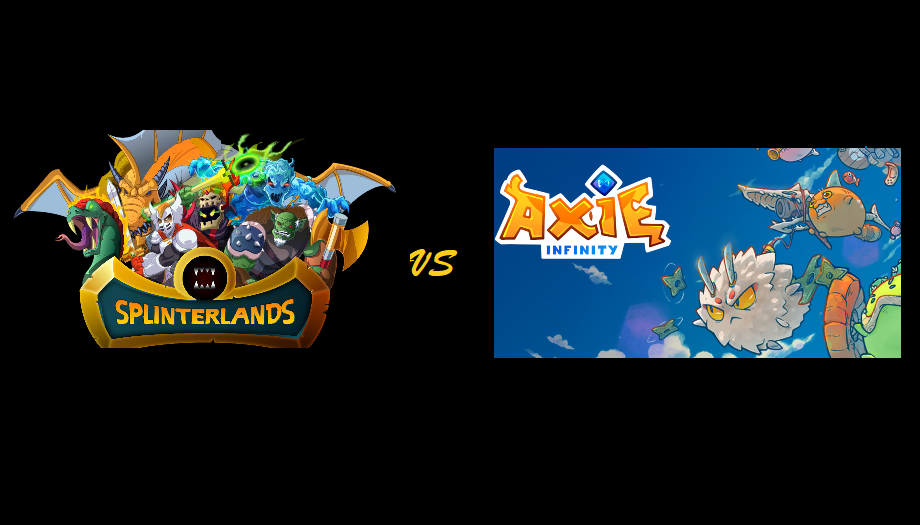 Splinterlands vs. Axie Infinity
Today I want to do a full comparison of Splinterlands vs Axie Infinity!
Both of these are top NFT blockchain games right now, and both are similar in the fact that you can use your NFTs to battle opponents, and win crypto just for playing!
New Player Experience
The most important thing with games like this is bringing in new players! This is where both of these differ tremendously.
If someone new wanted to try out Axie Infinity, the cost to play will require you to purchase at least 3 Axies, and currently the cheapest Axie is going for over $185!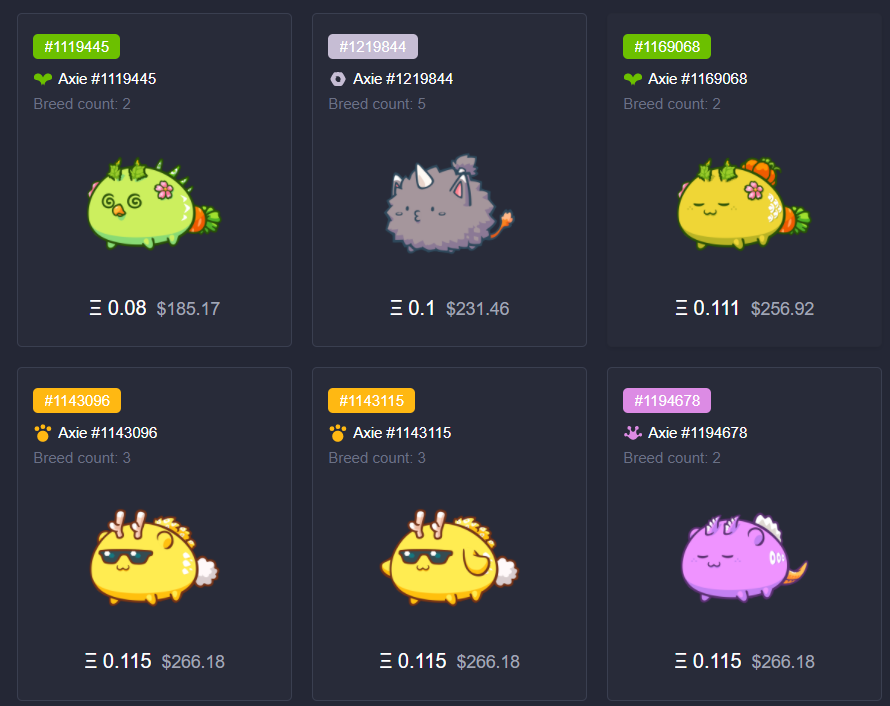 However, if someone wanted to try out Splinterlands they could sign up and play for free, which also comes with free Starter cards to play with as well!
Also you can purchase the Spellbook for $10 if you wanted to unlock earnings like Daily Quests, Season Rewards, Tournaments, and the crypto (DEC) you earn just from winning normal ranked battles.
And if we take a look at the Splinterlands Marketplace you can purchase NFT cards for far cheaper than what Axie prices are currently.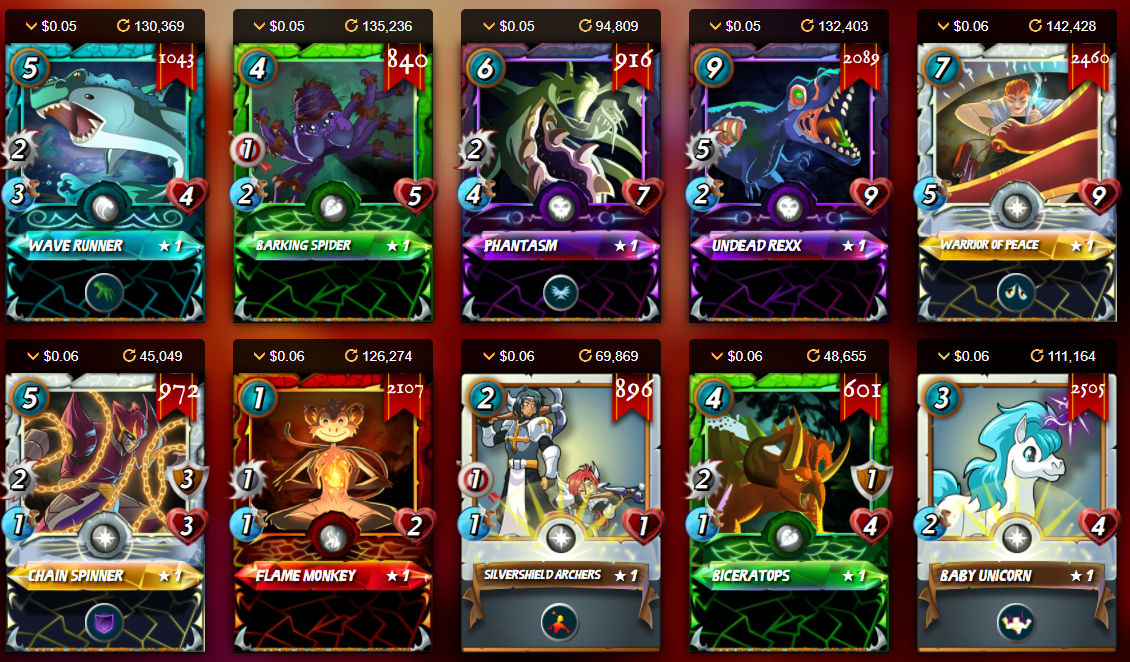 Another thing I noticed is that there was no New Player Tutorial on the Axie website, but Splinterlands does offer one on their site.
So when it comes to someone new trying out the game (like myself) I find that it is difficult to check out Axie just for fun (with or without earnings), and on Splinterlands it is very easy and fun for anyone to start playing!
Marketplace
The marketplace on both of these games looks amazing, and they also have great options & graphics!
Splinterlands Marketplace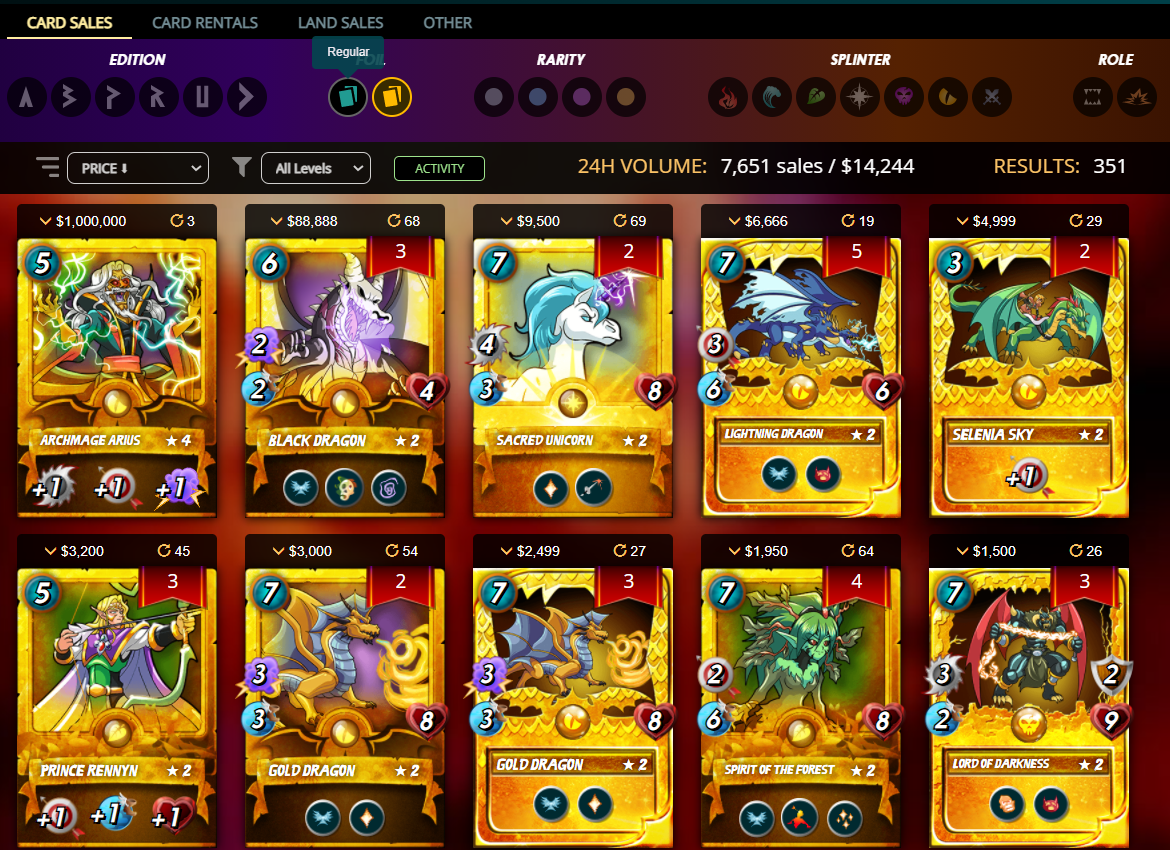 Axie Infinity Marketplace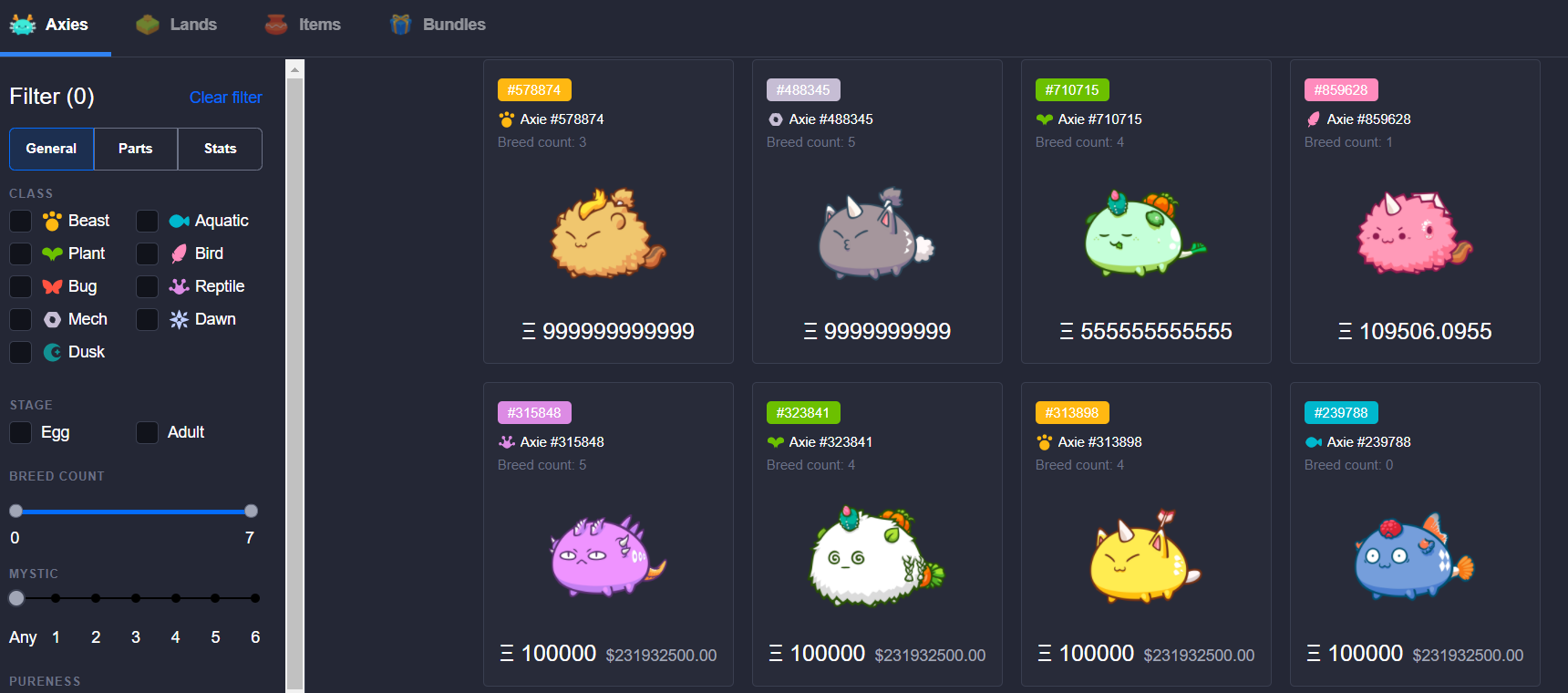 They both offer p2p sales, land sales, and even other items as well.
One huge difference though is that Splinterlands offers a rental market, but I did not see any option for rentals on Axie's marketplace.
Artwork & Lore
With any game it is always each person's opinion and personal preference, and by saying that I would have to say that I really do like the idea of Axie wanting to be like Pokémon but on the blockchain.
However, I grew up with Pokémon, and Splinterlands' variation in characters seems a lot more like Pokémon to me.
Here are just some of the characters in Pokémon.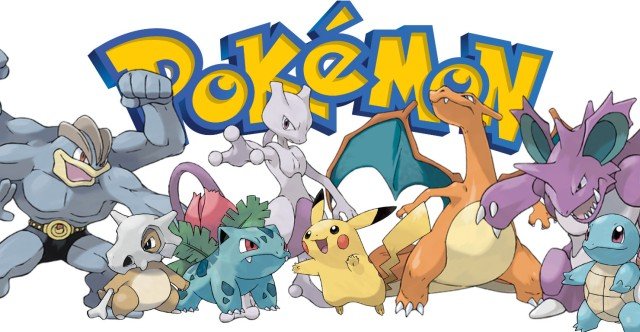 Image Source
Now let's take a look at both Splinterlands and Axie characters.
Axies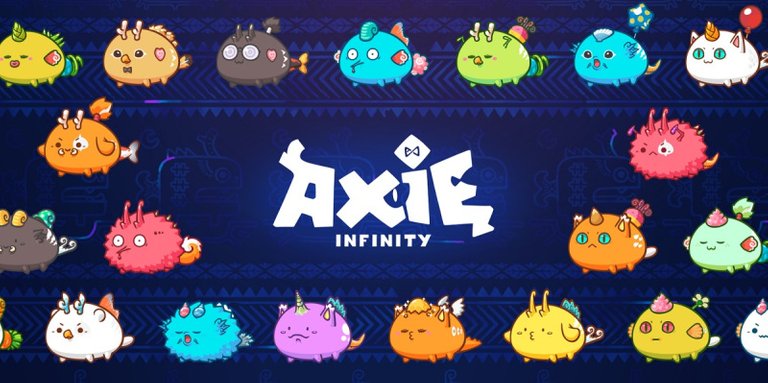 Image Source
Splinterlands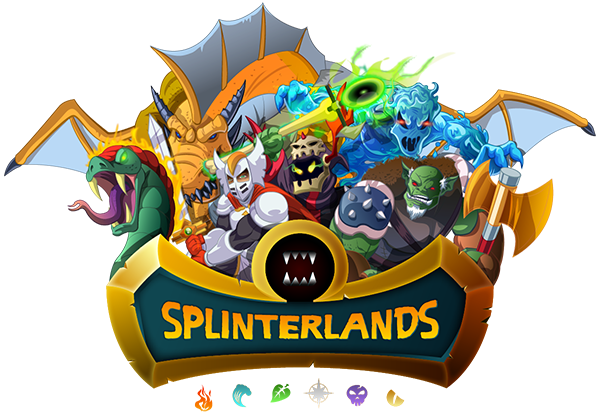 Image Source
So it does seem like to me that Splinterlands has a lot more variety of characters, and even though my daughters think Axies are "cuter" I still think they all have that puffer fish look, which is still cool if you like that!
Also as far as information about each of these... I was only able to find Abilities and history for Axies.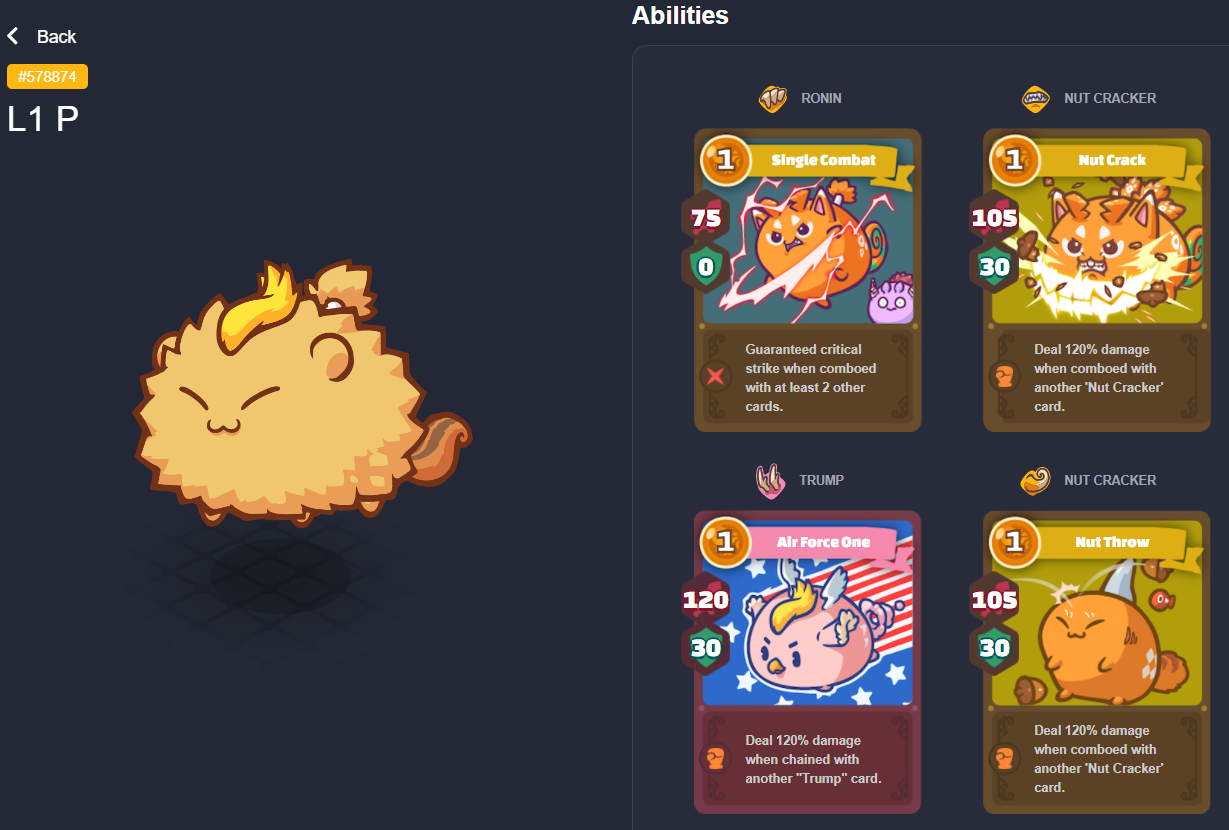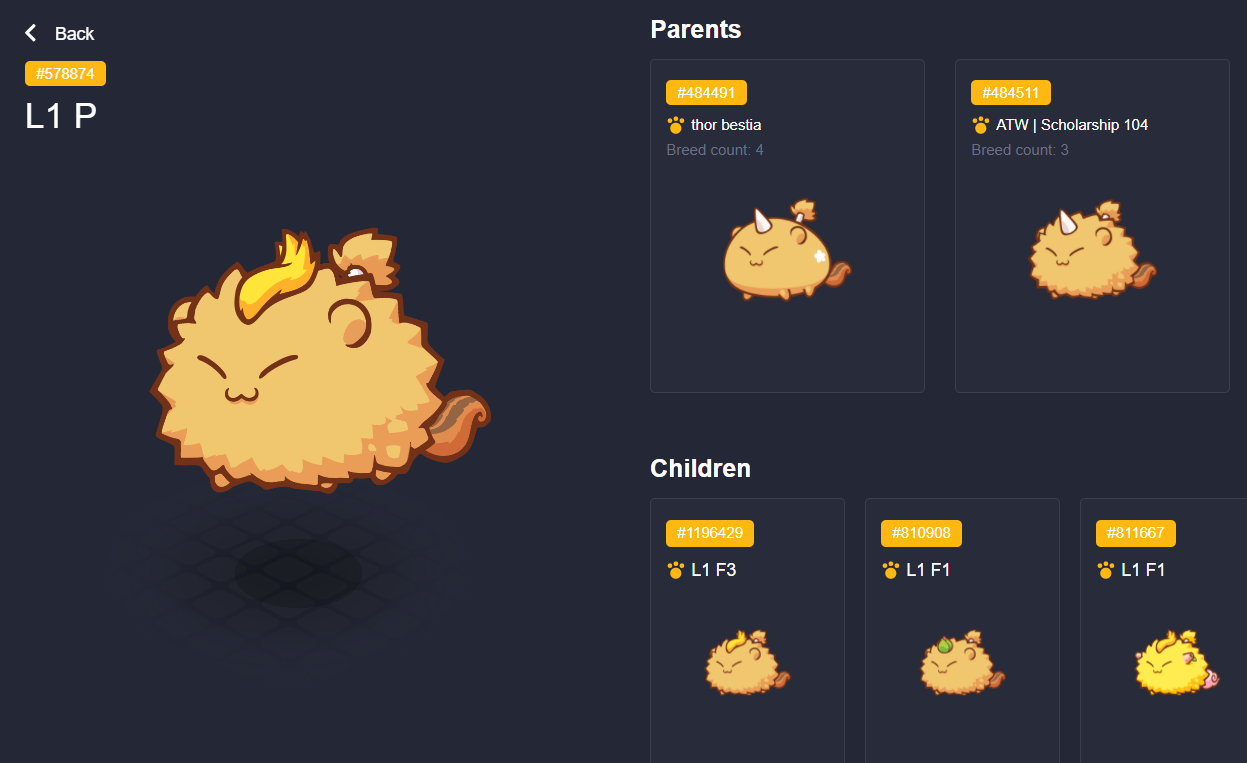 With Splinterlands you will see all abilities, and also each character has a Lore as well. (The Lore is amazing on all characters and created by team member @ChrisRoberts)
Daily Quests
Both of these games offer Daily Quests!
On Axie Infinity you do things like Check In, win Arena matches, and play Adventure mode to win SLP. On Splinterlands your Daily Quests are usually just winning 5 matches of a certain Splinter, but you win a lot more variety of prizes.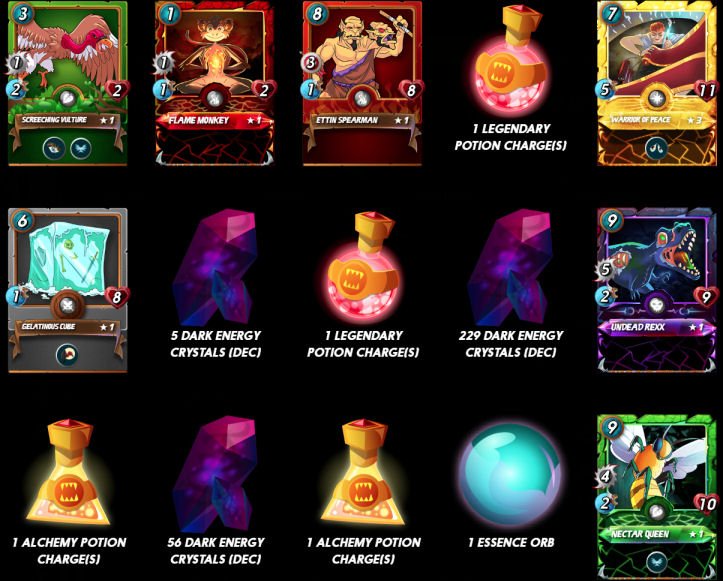 Tournaments
Tournaments are essential when it comes to eSports and blockchain games!
Both of these games seem to have Tournaments, but I could not find any official tournament page or total awarded prizes for Axie.
With Splinterlands anyone can easily click on Events and see all of the Tournaments available, and also see the total prizes that have been paid out! (Currently over a quarter of a million dollars in tournament prizes!!)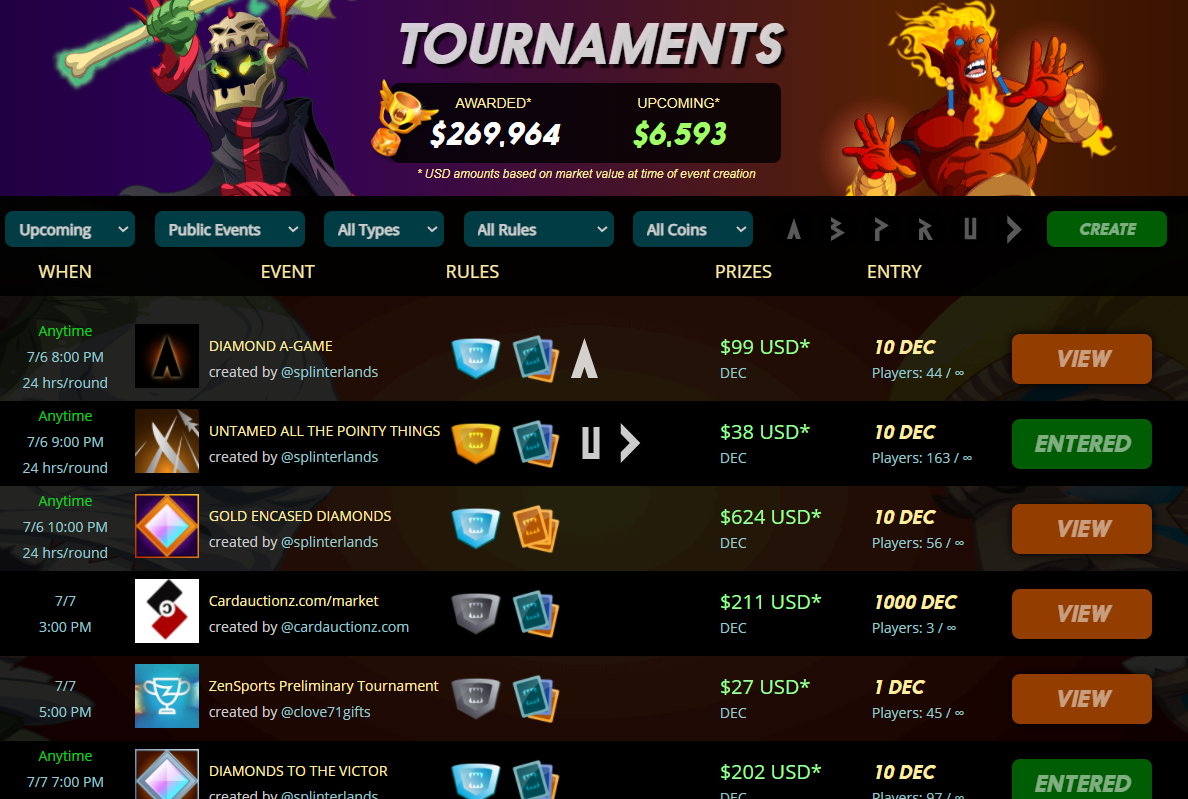 Also anyone can create events, and there are different leagues to allow fairness and variety for all level of players!
Daily Active Players
According to DappRadar.com Splinterlands has over 8k daily active players, and Axie Infinity has around 11.5k.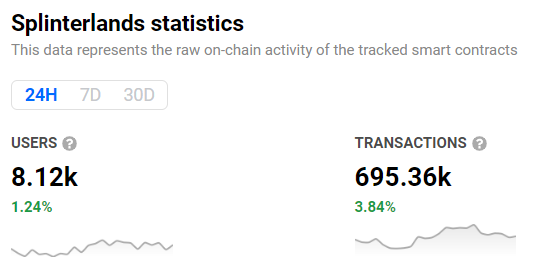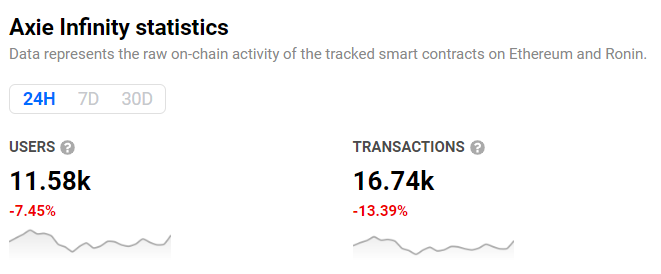 I have heard a lot higher numbers like 200k - 1 million users on Axie, and even 100k total users on Splinterlands, but I wanted to list what it showed for the past 24 hours.
Digital Land
Digital Land is the new BIG thing in the NFT/blockchain space, and that is probably because you can use this land to earn passive income and also it helps you grow in the game as well!
Axie land has already been released, but Splinterlands plots have sold out and will be released later this year.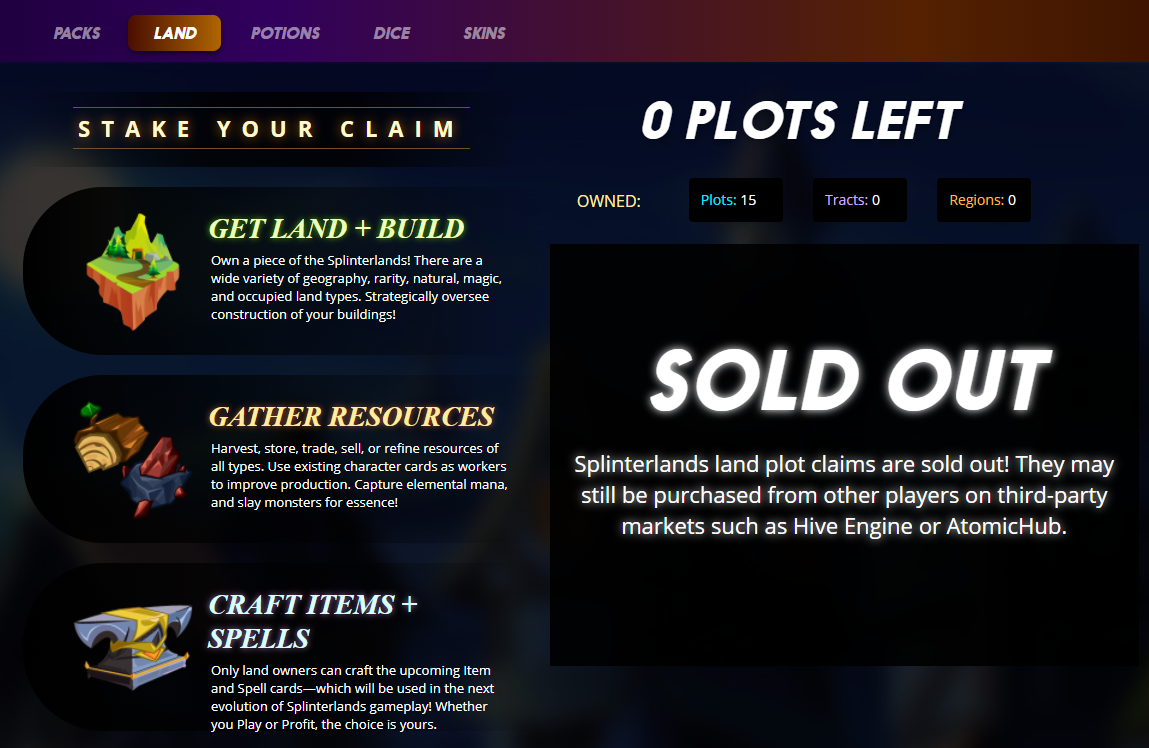 150,000 Land Plots Total
Here is Axie's version of land.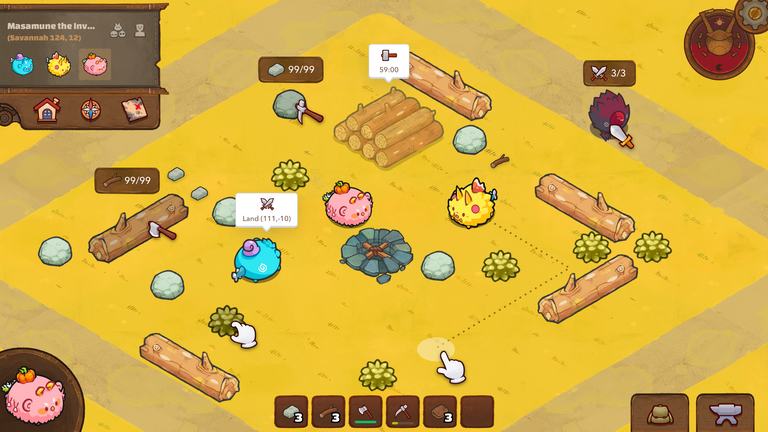 With Axie land you can harvest items that you can sell on the market.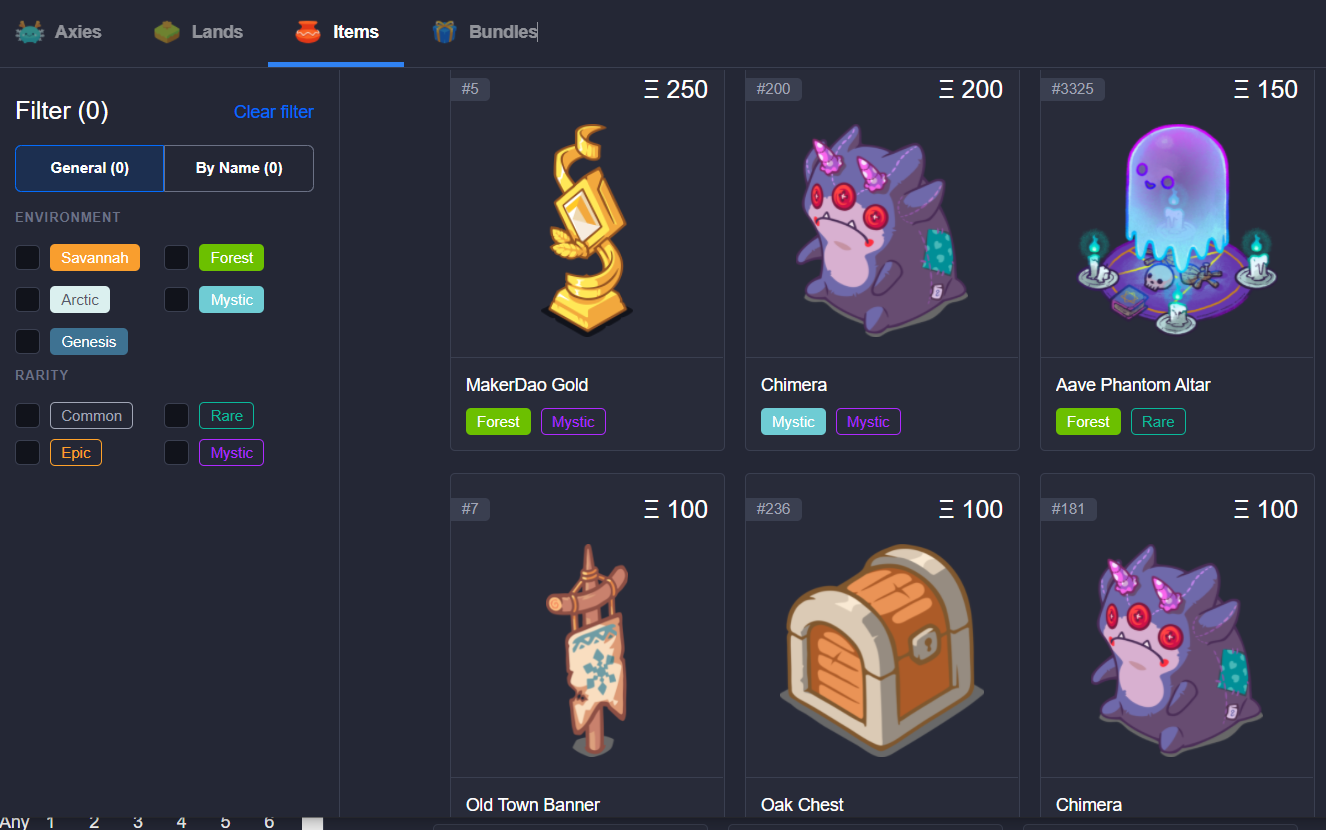 Splinterlands also has NFT land!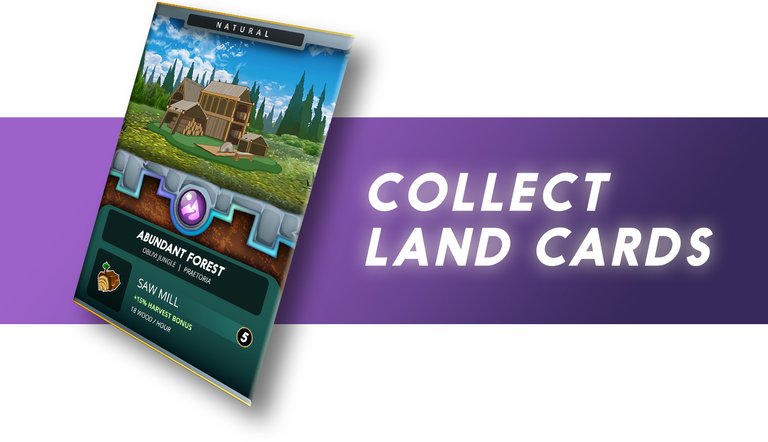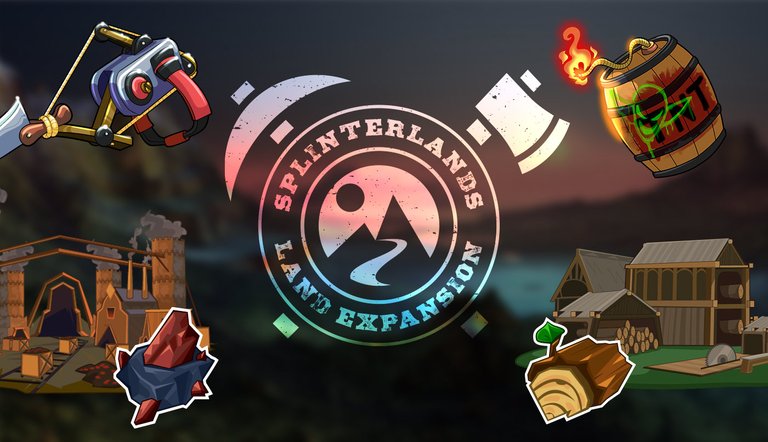 With Splinterlands you will be able to harvest all types of resources and build different structures. You will also be able mint new types of NFT cards called Items and Spells!

These will not be sold in booster packs or by the Splinterlands team, and will give benefits to those who do have them!
These and other assets will be able to be sold on the Splinterlands Marketplace as well!

Renting
As I already mentioned above... I did not see any option directly on the Axie Infinity website, but I a sure it is still possible if not now then in the future.
Today Splinterlands released their new Rental market directly on the website, and when lands are released you will be able to rent land from here as well!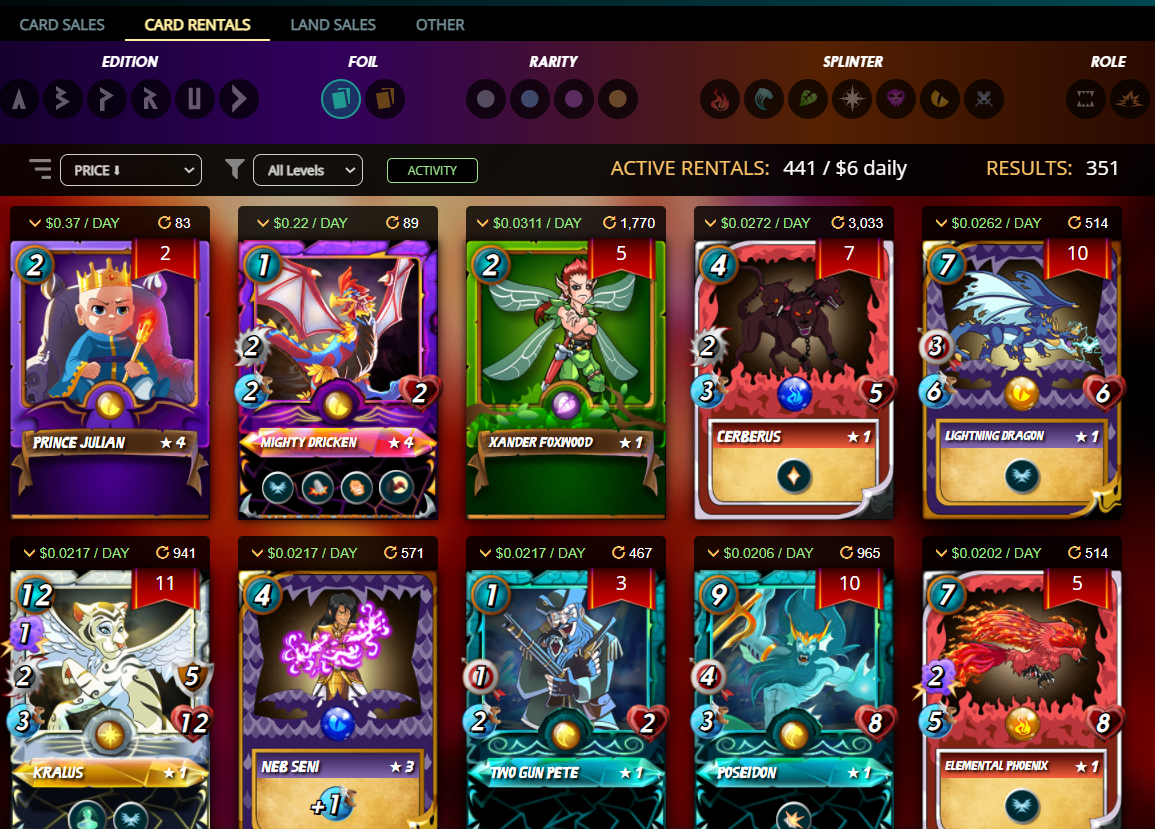 Governance Token
One of the most exciting things in the crypto space are NFT governance tokens!
Both of these games offer a governance token!
Axie's is called AXS (Axie Infinity Shards) and offers more rewards and the option for voting to make the game more decentralized.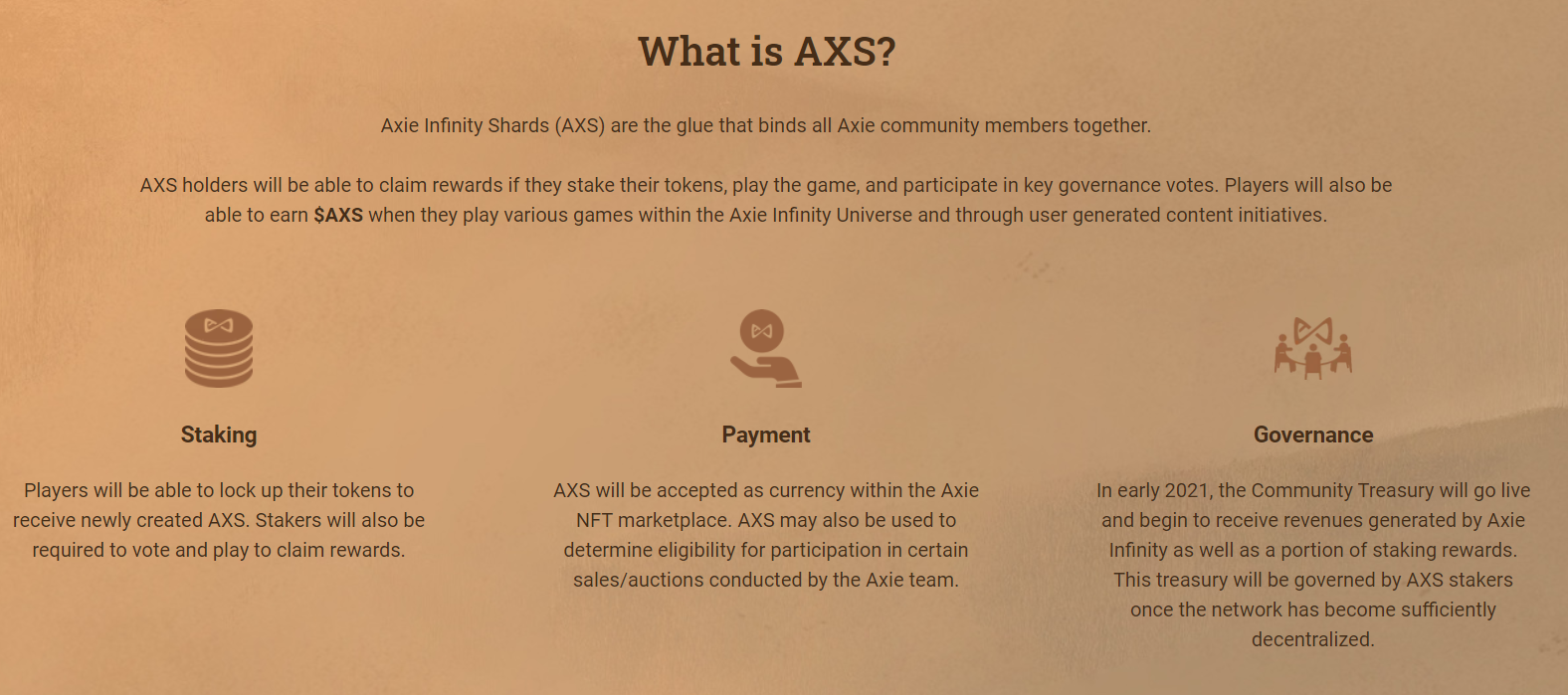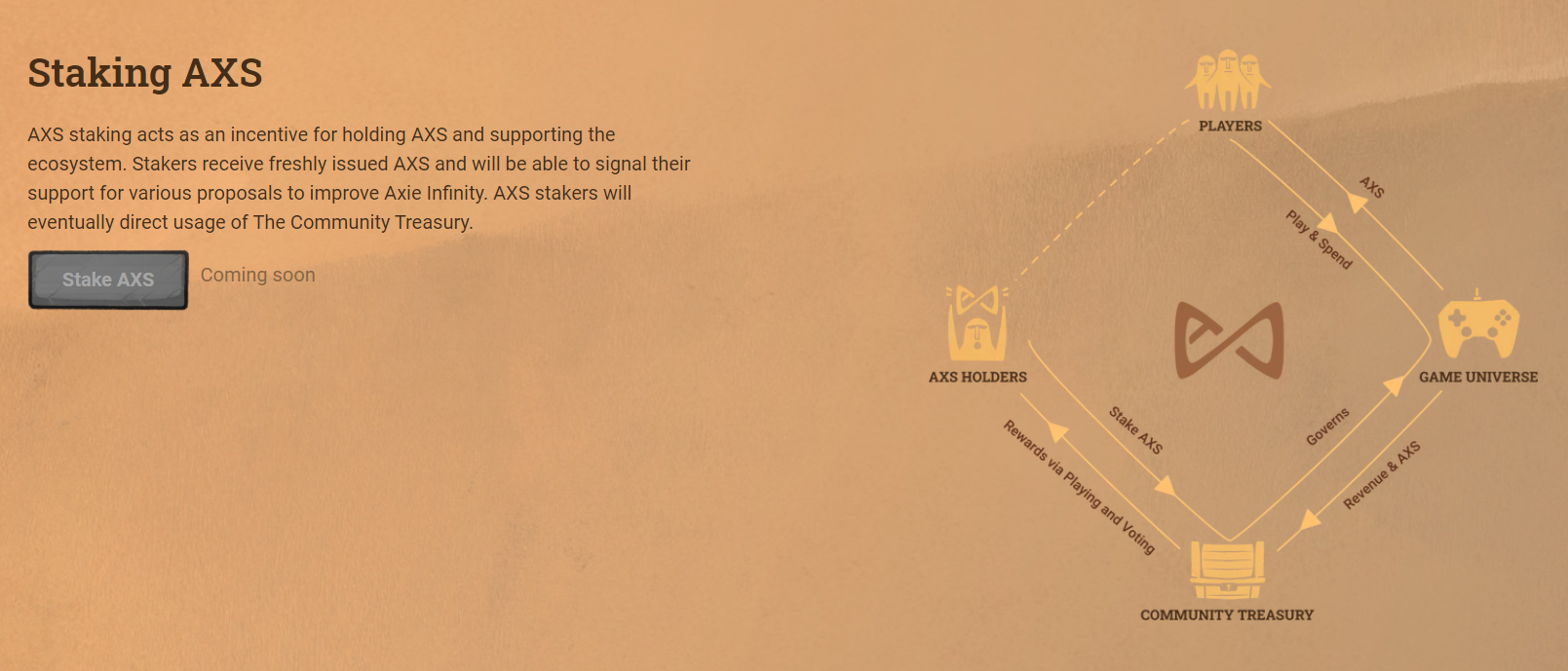 Splinterlands' token is called SPS (Splintershards) and offers all of the same things as Axie's AXS, but SPS is introducing something completely never before seen called "Player Staking" which was created by co-founder @Yabapmatt.

With Player Staking not only can you stake yourself and earn more rewards from playing, but you can stake other players and earn from their rewards.
SPS should be launching later this month with limited function, but more functions added over the next 6 months, and I am super excited to see how much better the game gets when all of this is live!
Future Growth & Scalability
Axie is based on the Ethereum blockchain, which everyone knows has high fees and slow transactions, but they have released Ronin that is a second layer (L2) that allows transactions with no fees.
Splinterlands is on the Hive blockchain and allows instant transactions with no fees always, and has ran smoothly for 3 years with almost no problems while continuing to grow and scale!
In a recent AMA it was stated that Axie Infinity is still in "Alpha stage" and new players should expect hiccups and delays while they work to build and grow.
Splinterlands has already planned for this years ago! They built the platform to be able to scale easily, and are prepared for a mass influx of new users.
Conclusion
I was not too familiar with Axie Infinity before today. I have followed it for awhile, but I was more drawn to Splinterlands.
Saying that I would have to admit that Axie Infinity is far more ahead than I thought it was, and I am very impressed with what they have accomplished so far!
It is undeniable that Axie Infinity has brought NFT and Blockchain gaming to the World stage, and opened up doors for the rest of these types of games to really shine!
I didn't necessarily want to compare these two games as if one was better than the other, but more of what they offer and even more how similar they are!
Like I mentioned in the beginning... It is more about preference and which game each person feels drawn to individually.
I think there is a bright future for both games, and I am excited to see where they are in the next few years!
Play Splinterlands: Splinterlands.com
Play Axie Infinity: AxieInfinity.com
---
(Disclaimer: I am not an investment adviser, and this is not investment advice.)
---
---