Splinterlands Phase 2 Pack Sale Airdrop Lesson Learned RE: vOUCHers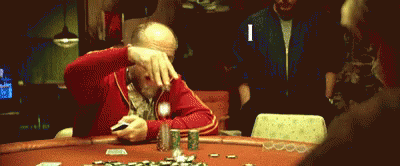 Well this was an expensive way to educate myself on buying packs before the public sale.
I have no complaints since making mistakes is part of the process and I'll know for next time. I'm still in my rookie year here.
In sum, I wasn't fully in tune with how the card airdrop process was until I'd already gotten myself hyped up to buy packs. As it'd turn out, I naturally found out the correct dynamics after I'd bought them.
Since I had virtually no cards, DEC or SPS to start when I started playing on 8/30 last year, I got not a single full voucher from the airdrop. This was off-putting at first because the voucher system seemed to heavily favor those who were already entrenched in the game. The red tape was designed to protect early adopters from being cut off by venture capitalists and large guilds, but it really made it difficult for new players. I'm not sure if there was a better solution, but having to pay a premium to have the right to buy packs didn't feel right.
As a result, I sat back and didn't buy any vouchers/packs for the pre-sale phase. No biggie. I had my sights set on the public sale, despite the fomo being spread that packs could sell out right away from large guild purchases. I guess you never know, but some scarcity/sense of urgency marketing may have been involved there.
I had my sights on land first anyway and paid up for 2 plots at around $612 and $575. Not pretty, but funds were from fresh defi interest, and this was a goal I wasn't going to miss. The thought of them being overpriced crossed my mind, but I wasn't going too deep. I since learned that these are claimable tokens for a lottery of land types once issues, but I have to start somewhere and rely on luck a bit. I probably should've been more patient to track the price action of the land, but I almost was relieved to get any, grabbing them shortly after my funds made it into Hive Engine (set bids). I felt like I was late in the game, but didn't project the crypto market tumbling so much to bring the land USD cost down so much.
---
To the packs:
To get myself introduced to Chaos Legion, I bought ~11 packs on Hive-Engine. I still didn't expect to get into the voucher game, but this got me started on researching the cards. Given that I wanted my gameplay to be easier versus buying older cards, I thought that waiting until 1/17 was quite a long time to stall out again (about 3 weeks from that point). I decided get ~8 packs with vouchers bought on Hive-Engine just to get a taste of the process. These funds came from blog payouts, so no harm done. It was still an experiment to me since I'd never bought a pack before on Splinterlands itself. Heck, I'd never bought a pack at all until my first 11 above on Hive-Engine.
Regardless, my goal was to get more land, so when defi interest pooled up again, while land prices fell hard, I went into action.
The problem was that this thought came into my head... "get some packs, Matt... c'mon get some packs!!"
Since I'd learned that there were airdrop cards for those who bought cards in Phase 2, I thought it'd be wise to get a slightly larger stack of packs to put my hat in the ring. The annoying part was that I'd need to buy all of the vouchers. More money for the luxury to buy cards to potentially get airdropped cards, but again, just an experiment...
So I did it. I put funds for roughly 1 plot of land into vouchers at $2.25, and the packs and potions to match. I rationalized the premium as the price I'd have to pay for not having DEC or high collection power to earn them. I was late to the game. I'd leave the rest to buy a plot and be diversified. I also convinced myself that I might get a rare card that I could sell to cover the bulk of the original land plot I meant to get anyway, so there was a slight incentive to roll the dice.
Now this is where I tripped up.
I still had funds for another plot (and a surplus), but realized that there was a 10 pack bonus if I bought 100 packs. I was well under that, but as vouchers weren't needed for those bonus packs, it seemed like some decent value to offset things. Since I'd just felt the out-of-pocket pain of buying vouchers, I was tilted to value this bonus way too much.
I proceeded to pony up another plot of land worth of funds to grab more vouchers and packs to hit the bonus and more. I also put an extra $100 into credits because I'd probably want to buy some extra loose cards. I thought that the eligibility for the two legendary cards would also be a nice perk, but because I thought they were exclusive to Phase 2 pack buys. I didn't realize that they were also available in future pack purchases. Stupid, stupid me. I should've clicked around to research more. I either misunderstood or assumed, both my fault.
So... I bought up a notch and had fun opening all my packs at once. I did ok, but then started fixating on getting up to 150 packs for a 50/50 shot at the airdrop prize. Over the next week or so, I scooped up some more vouchers/packs, but was still a little shy. I then made one final push to hit 150 on the head and felt happy that I gave myself a coin flip's chance for the 2 legendary cards I thought were exclusive. Blergh.
If I only had the awareness to research more to know the reality of them being in all future public packs, I'd have certainly waited and saved a few hundred bucks on the vouchers. Instead, I found out just a few days before the airdrop rewards were distributed. I was confused, but realized that I was wrong all along.
While I knew that getting a gold legendary was near impossible, I started accepting the fact that my naivety cost me a plot of land. Even if I landed one or two of these cards, I'd still be way in the hole. If I landed none, well, I didn't want to put those thoughts out into the universe. I'd have been pretty annoyed at myself.
Accepting reality, I felt it was best to focus on how I gained experience in the game and have some nice cards ahead of schedule, and will be primed to buy regular packs/loose cards as needed from older editions while they're discounted. If I'd waited until the 17th, I'd be behind on that progress, but was it worth the cost of those vouchers/the chance to buy land at a low?
Well, this was my outcome...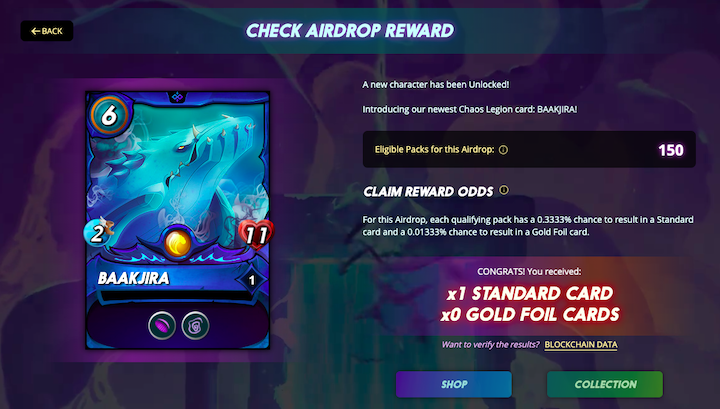 As I play Water often, this was the one I wanted if I had to just get one at best.
I whiffed on the second one, but that's ok. I got something to show for the sunk cost at least, on top of the lessons of course.
At this time, Baakjira is listed for $27. At least I can subtract something from my $310-$320 voucher expense premium to soften the blow.
I tried the card out a few times and am still figuring out how to add it to my normal Water rosters. I'm not sure that I'll use it too often, but it'll be a good option for specific matchups. Leveling this card up will be important for the two other abilities, although there's no rush since I can't play a L2 legendary quite yet. I have a L2 River Hellondale and L2 Djinn Oshannus ready to rumble, but need to get more summoners to combine.
So that's my tale. Nothing fancy, but it does pay to fully research all of the dynamics before succumbing to the excitement of getting new cards. In the short term, I'll need to get 150 more at rack rate to at least have full airdrop eligibility going forward to recoup voucher expenses. I really don't need to have a full deck of max cards to have fun.
While I'd definitely have 2 more plots at a lower cost basis to add to my first 2, I've gained that valuable game experience and familiarity with the CL cards to be cruising in Silver 3. I'd be comfortable in Silver 2 as I'm around 2,200 rating with ease, but I'm held back by my collection power for now.
Once I can get those plots, and maybe a 5th, then I'll start diving into the pack game again. I'm hoping to get a few hundred to stash for the upcoming years as that seems to be quite an easy profit.
Overall, I didn't lose my shirt on this, but definitely didn't. play. my. cards. right.
(gif above... cough)
Thanks for following along,
@steemmatt
---
---