Why didn't you join a guild yet?

Why didn't you join a Guild Yet?
I sometimes hear:
It's not worth it to join a guild as a beginner.
I can't contribute that much dec.
The advantages aren't that big.


In this guide about guilds, I'll try to counter those arguments, since it's definitly worth it to join a guild!
Similar to many other games, Splinterlands offers players the opportunity to create and join guilds in order to work together for a common goal. As with many other games, Splinterlands incentivizes players to join guilds with a good number of different benefits. In this article I will cover some of these benefits.
Increased reward points and shop discount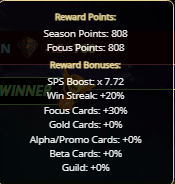 Whenever a guild's Lodge is upgraded all players in the guild receive a bonus to Reward Points gained in every ranked matches. The bonus starts out pretty small, but grows to be very substantial in time. Even the smallest bonus earnings add up in time. Besides this Reward Points bonus, you'll get a shop discount as well for items you would purchase with dec in the shop. Although some items are excluded, as could be seen on the picture below: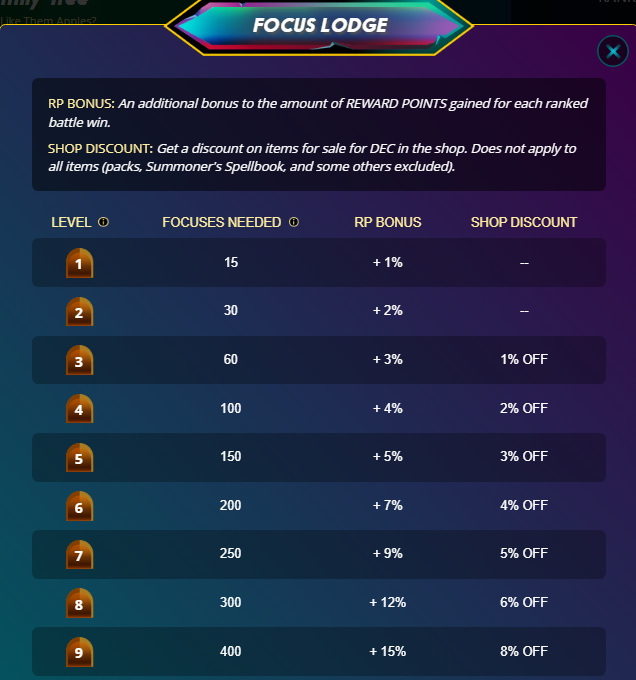 The Opportunity to Brawl
Once a guild has a level 1 Arena its members will be able to participate in Brawls. Brawls are basically just battles between guilds where additional rules or modifiers are added before the match. These rules included things such as different league caps, Specific card sets only (Such as Untamed), and/or only gold foil cards may be used.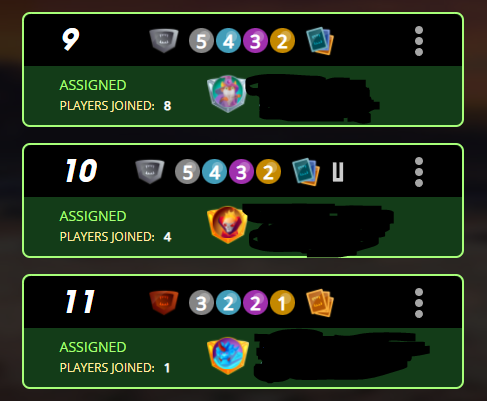 Brawls allow players who participate to earn merits, which may be used in the guild store to purchase things such as Gladius Cases. Merits are the only way to get gladiator cards, a powerful asset when it comes to brawls. Gladiator cards consist of an entire set of cards that can only be used in Brawl battles, and they appear quite fun.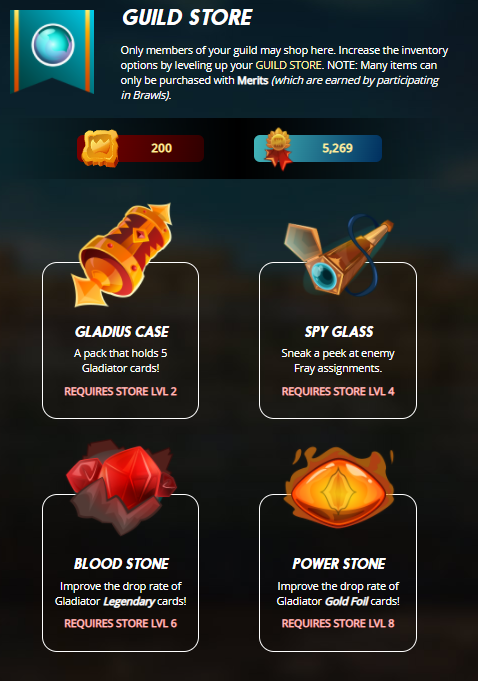 Besides merits, participating guild members gain some staked SPS as well. Here again, it starts small but in the end a lot of small amounts could become something big!
Socialization
One of the core functions of guilds is the socialization that they enable and promote. Guilds have a tavern tab that allows guild members to directly communicate with each other and even show who is currently online.
There are numerous ranks that the Guild Leader may bestow upon guild members, if they choose. These ranks range from standard member all the way to Co-leader. There are different permissions allowed to each rank such as inviting, promoting, demoting, moving members out of brawls, and likely more. I am not super familiar with all the permissions of each Rank as I am not a guild owner/leader, but I believe they can be dictated by the Guild Leader.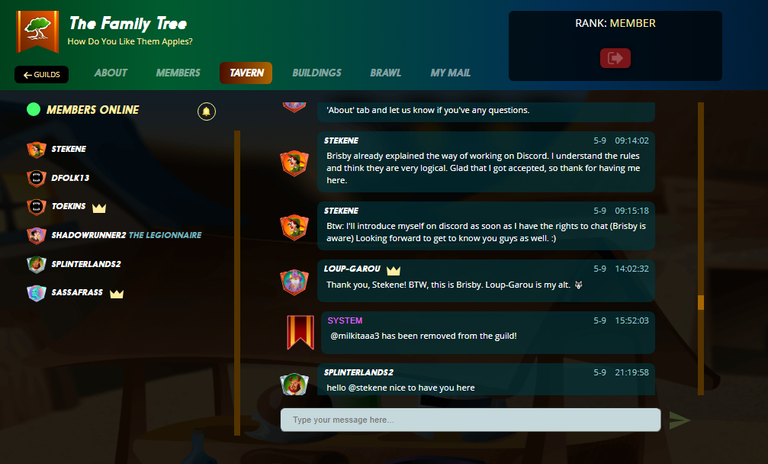 Many guilds have their own Discord servers where members are able to communicate outside of Splinterlands and the socialization opportunities skyrocket. When I joined my current guild, I had a truely warm welcome in their discord. So if you're hesitating to join a guild, try to contact one of their members through discord. Or even if you're already a member of a guild, try to join their discord or set one up if it doesn't exist yet.
Finding a Guild
Finding a guild can be a bit of a hassle at times. Due to the relatively high cost to establish and upgrade buildings, as well as the additional benefits gained, the demand to join a guild is high.

If you go to the guilds tab you can filter guilds by type or search the name of a specific guild. When filtering by type your options are:
Open: Anyone can join if a spot is open. You rarely see any guilds with an open spot, but it never hurts to look.
By Request: You can request to join the guild, kinda like an application. A high rank in the guild will accept/decline based on how they feel about you. Never hurts to apply, but keep in mind possibly 100's of others have applied as well.
Invite Only: You must be invited by a high enough ranking member in the guild.
Guilds often have requirements in order to join. This may include things such as: A minimum rank, a set Collection Power total, Guild Power donations to buildings, or whatever the leadership decides. This information can generally be seen on the "About" page of the guild before you would request to join. Because the maximum number of guild members is 30, many guilds are connected and fall under the same umbrella. Even the 30 is the amount for fully build out guild. Usually it will be a lower amount of maximum members.
Some guilds will require minimum contributions each week, season, or other interval. These will vary greatly between guilds. These contributions are to ensure growth and development of guild buildings. If you are a newer player with little or no DEC you may have to work your way up through "Feeder" guilds to prove yourself. These generally don't require (high) contributions, but reward those who do well in brawls and excel at Splinterlands. Keep in mind, demand for these spots is high and the supply low.

My Guild
To wrap this post up, I figure I would include a little bit of information about my guild and my experience. I am in "The Family Tree", we are a part of the "The Alliance guild".
As my previous guild was kind of inactive and I wanted to try to join a new guild which would have more active members, I started to look around and found out about The Family Tree guild. I joined the discord of The Alliance and looked around a bit. Managed to contact someone of the Family Tree guild, introduced myself a bit and asked if I could join. I was very glad that they asked only reasonable stuff of their guild members and that they allowed me to join.
As I already wrote, they gave me a warm welcome, so thanks guildmembers for doing so! Besides the kind words, I also got some presents of which I was really surprised. Like I just joined the guild and although I had just introduced myself, I already got a present :D

One could think, this is just a message of some words, but so far I really experienced these words. So I would congratulate my guild as well for being so open and warm, they really are about the people.
If you are interested in joining the Discord to learn more about The Alliance, feel free to join: https://discord.gg/HqYG3KeR
Thanks for reading! I wish you all the best of luck in your search for a guild!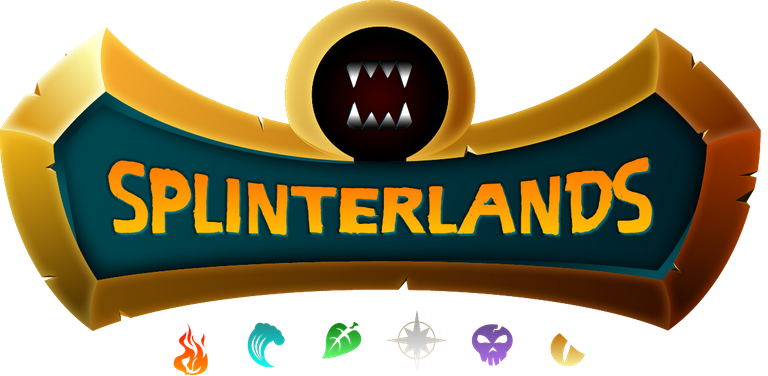 Source
How did I begin to play Splinterlands?

It all began in December 2021, I was a bit bored and was looking for a new game to play on my laptop. After googling a bit, I saw the term play2earn in my google results. I didn't know it at that time but it seemed awesome, earning money while playing games instead of spending money on those games. Soon I learned that play2earn means that you can indeed earn some money to play the games. How does it work? While playing those games, you can earn NFT's of those games. These NFT's can be traded and sold for cryptocurrencies which could be swapped for fiat if you would like to. That's how I started.
Do you want to try out Splinterlands aswell?
Here is my referal link: https://splinterlands.com?ref=stekene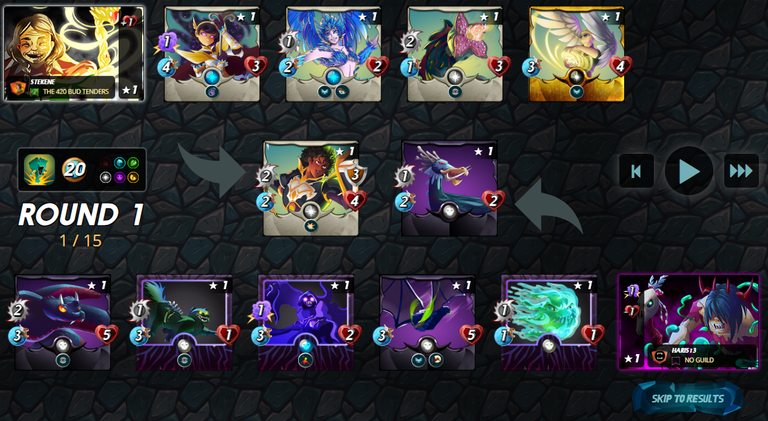 Source
---
---