Kaisen Don @ Sushi Kappo Miyasaka in Penang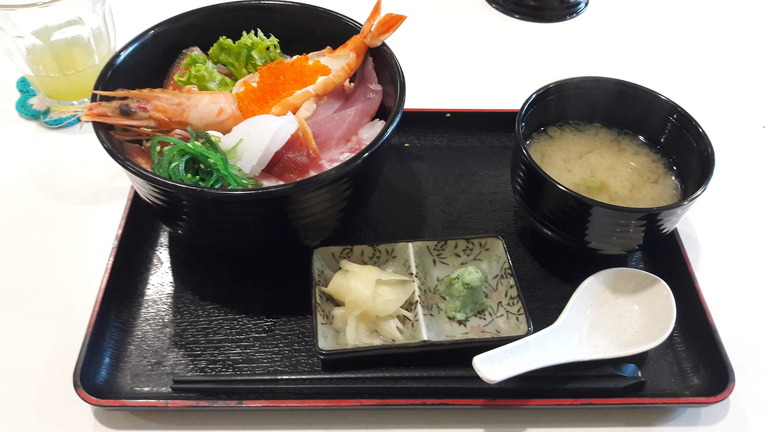 Kaisen don, also known as seafood rice bowl, is a popular dish in Japan that features a variety of seafood on top of a bed of steamed white rice. The dish is typically garnished with green onions and served with soy sauce or ponzu for dipping.
The name "kaisen" translates to "seafood," and the dish originated in the port city of Yokohama as a way for fishermen to use up their daily catch. It quickly gained popularity in Japan and has since spread to other parts of the world.
The seafood used in kaisen don can vary depending on the season and region, but it typically includes a combination of raw and cooked fish, such as tuna, salmon, shrimp, and squid. Some variations also include shellfish, such as scallops and clams. The seafood is usually sliced and arranged on top of the rice, making for a colorful and visually appealing dish.
One of the key elements of kaisen don is the use of high-quality, fresh seafood. The fish should be firm and have a shiny appearance, with a pleasant, clean smell. The rice should also be freshly steamed and of good quality.
In addition to being a delicious meal, kaisen don is also a healthy option, as seafood is a great source of protein and omega-3 fatty acids. It can be enjoyed as a main dish or as a side dish to complement other Japanese dishes, such as tempura or sushi.
Overall, kaisen don is a delicious and versatile dish that showcases the best of Japanese seafood. Whether you're looking for a quick lunch or a hearty dinner, a kaisen don bowl is sure to satisfy.
Sushi Kappo Miyasaka
Address
397 Jalan Burma 10350 George Town, Penang, Malaysia
---
---