Speculating on Splinterlands - Bought My First Pack of Chaos-Legion
Today I got my first pack of Chaos Legion cards! And I did it in the most classical, straight forward way: by waiting for the Vouchers to drop, and making use of the 10% discount by paying with my freshly dropped SPS. With my currently staked 2,164 SPS, I get just over half a voucher a voucher a day, and in relation to the 18+ SPS I get airdropped every day, the price of 4.5 SPS for a pack is certainly reasonable. Sure, I checked the market prices for both VOUCHER and CHAOS on LeoDEX, and unlike yesterday, selling the former and buying the latter would have been less favorable.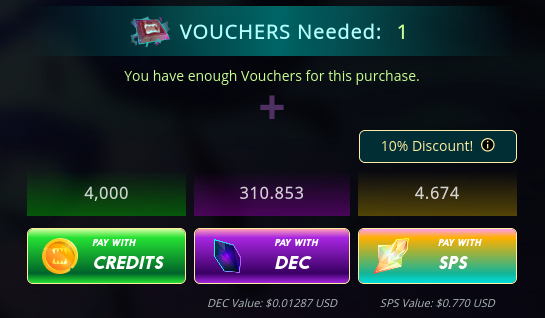 And yes, that's about it for now, just sharing the happy news. So far this little addition has only a modest effect on my overall holdings. After all, I can't open my pack until the official release of Chaos Legion, so I can't even get an idea on what cards I ended up with, let alone renting them out or even playing them. However, my total airdrop points have gone up, and more importantly, I became eligible for the airdrop of the new Chaos Legion card.

Strategies For the Next 36 Days
Unlike in my last Speculating post, by now I have gotten a pretty good idea of what is to be expected. I could continue using my vouchers, and together with the airdropeed SPS get myself a new pack every other day. I won't even have to power down any SPS, since what I get each day could buy me close to five packs, if only I had the vouchers. At this rate, I would have about 20 new packs by the time the Chaos Legion is officially released. This would still leave me 3/5 short of the 50 packs, which would qualify me for the limited edition promo card I am guaranteed.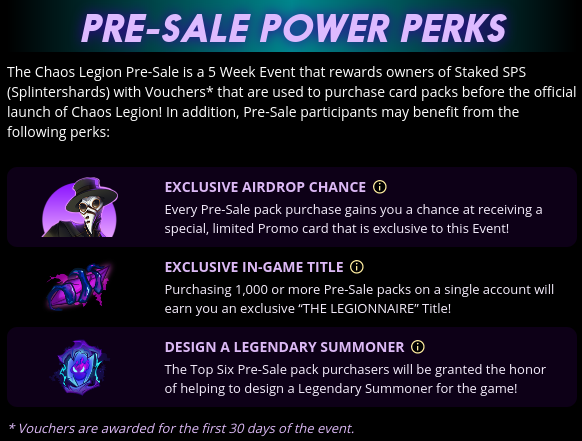 So let's say that is what I want to pursue, as this promo card is within the realm of reason. All the other perks, such as the in-game Legionnaire title, or the privilege to design a summoner, would require buying at least a thousand packs, or be in the top six purchasers. Yeah right! I'm sure others may be ready for such a challenge, but for me it would require digging much deeper into my pockets. I don't think I'm ready to do that, in spite of the phenomenal performance of Splinterlands so far.
But for the sake of argument, let's say I want to build myself a decent deck of Chaos Legion cards. Fifty packs of five cards each equals 250 cards, many of which are bound to appear several times, which is important for leveling them up. In comparison, my set of beta cards, mostly at levels 3-5 are made up of more than that, so 250 is really not that much, even if I don't think I'll be playing them myself as much as renting them out. So to get those additional 30 packs, I would have to buy that many Vouchers. The current price is somewhere around 25 Hive, or just about $20 USD. In total that would be $600 USD. Interestingly, that is only a third of what my staked SPS is worth right now... but otherwise I'd have to bring in the money from somewhere else.
Banking on Speculation
The other option would be letting go of the idea of building a Chaos Legion deck, entirely. After all, my own deck is a modest Beta one, having missed out even on the Untamed cards. Instead I could speculate with both my VOUCHER tokens and with CHAOS packs. That would constitute a risk in and of itself, but if played right, it could end me up with sufficient funds to get my hands on a plot of land, once they are released.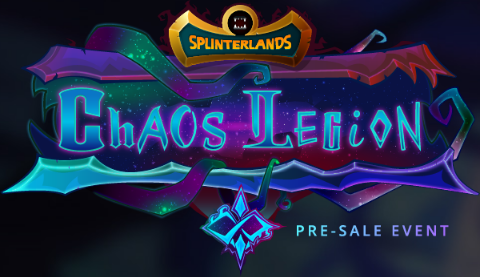 Also, holding on to the unopened packs increases my airdrop points, which will keep on dropping every day for the better part of the year. Holding on to Vouchers is a less certain bet, as we have no idea what those things are good for once the pre-sale ends. Supposedly they will have some other use at a later time (maybe to by land?), but exactly when, and for what, is yet to be revealed. It may thus be a good idea to get rid of them, preferably around the time when it is the most coveted... possibly just before the end of the pre-sale event.
In any case, now that things have gotten less frantic, I think I'll just lean back, continue watching the price charts, and mull over my options on how to make the most out of Splinterlands.
---
---