A Month in Ranked Rewards - Gold Crew
Hey SPL Fam,
Today I wanted to share my experience so far with the changes to ranked battle rewards a little over a month behind us now.
As someone who started in late October right as the bull market was ending, I definitely understand some of the hardships players have faced recently. That said, I couldn't be more encouraged by what I'm seeing so far in how the rewards have evolved.
A lot of this will be pretty anecdotal and not applicable to everyone, but I'm sure I can speak for at least a few others when I say the change from DEC to SPS rewards has been truly winsome.
I don't recall exactly when the SPS airdrop ended, but I do know I achieved my goal of staking 6,000 SPS at that time. Fast forward, and today I'm sitting on just over 7,000 staked SPS. I had to ask myself, did I really just earn ~$70 in a little over a month from playing and collecting my daily rewards? Turns out, that is exactly what happened. That, and my 1 validator node license doing work as well, but that didn't start paying out until middle of this month!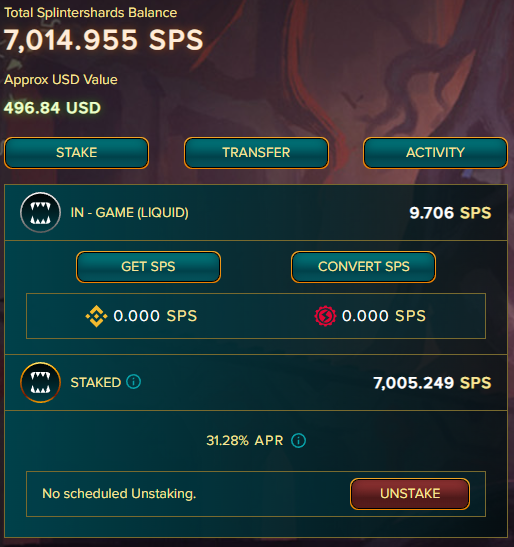 Now, I understand not everyone is sharing the same excitement as me, and there's definitely some things I think need tweaking...looking at you RNG chests...but a lot of the flaming of devs, og players, whales, bronze grinders, etc. is unwarranted (unless proposed constructively, but that's a little more rare to see in discord). I have to believe the devs and even og players want to see the game succeed and grow even more so than the players complaining the loudest.
Enough on the drama though, I just wanted to say thanks to the dev team for these recent changes and leaving stuff up for community votes. I've never played a video game that netted me any profit, let alone potentially $100s/month. Stay true to your values, stay true to creating a fun game, and everyone can see some version of success here.
Comment with your thoughts and how the ranked rewards have changed your outlook for better or worse! I know I don't miss DEC rewards in Gold league :)
---
---