BATTLE MAGE SECRETS Weekly Challenge!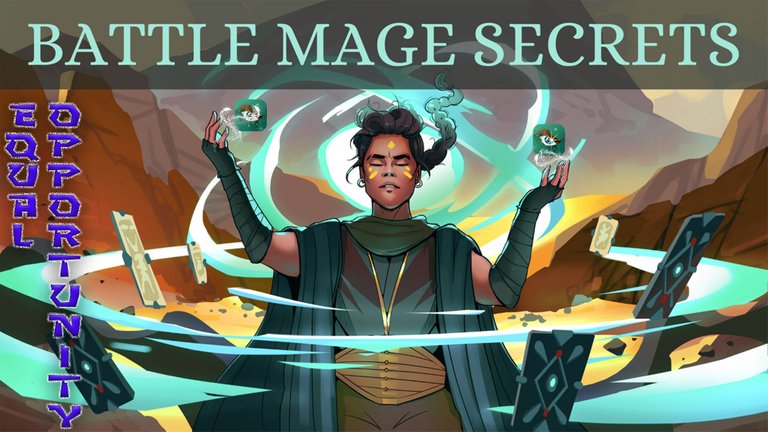 Hello Splinterfamily,
I am here to share my thoughts and information about the earthquake ruleset battle and about the team that I have used for ruleset.I hope this would atleast help for some new players and for those hasnt used this kind of team lineup.
The match took place on the IGN @Mustangboss which is my alternative account.
The format of the match is Ranked-Modern-Gold league.

BATTLE MAGE RULESET: Equal Opportunity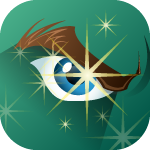 Description:
All units gain the Opportunity ability which allows them to attack the unit with the lowest health on the enemy team.
Battle Rules, Mana and active elements: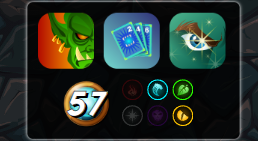 Rules: Up Close & Personal,Even Stevens and Equal Opportunity
Mana:57 and
Active elements: Water,Earth and Dragon

My Team:
Summoner :
Quix The Devious
Monster(s):
Djinn Chawla
Dimeonshark
Deeplurker
Coastal Sentry
Dhampir Infiltrator
Dumacke Orc
About my Team:
Djinn Chawla with thorns as tank,
Dimeonshark with enrage and trample and since it equal opportunity melee can attack from any position,
Deeplurker with Poison and opportunity by default,
Coastal Sentry with double strike,
Dhamphir Infiltrator with sneak and double strike,
Dumacke Orc with retaliate and Reduced damage to prevent sneak just in case.
About Battle:
Round 1: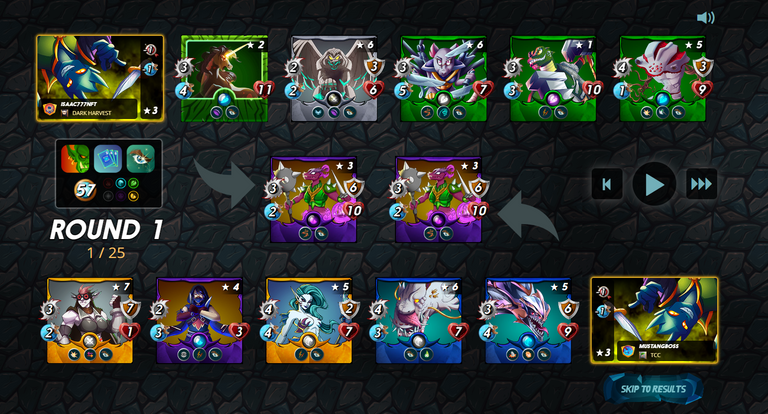 After all buffs and de buffs at round beginning all opponent monster target dumacke orc beacuse he has only 1 hp with the shield and the reduced damage and retalitate played an imporatant role.Followed by few mix attacks on either side.At end of first round there was one casuality on either sides.
Round 2: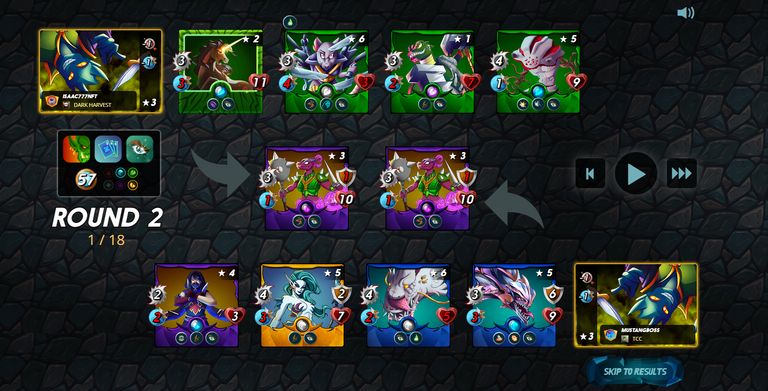 Second round with few double strikes and few return thorns attack which took out my Infiltrator and the poison that landed on Venari scout took him out and followed by his Grund goind down.
Round 3: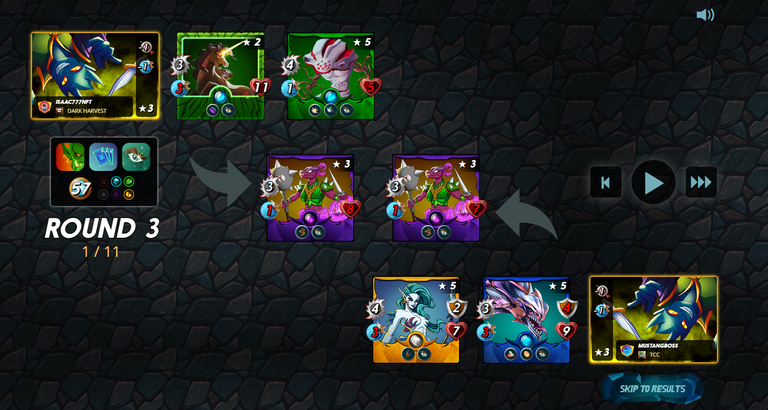 Dimeon shark and coastal sentry finally took out his reduced damage heavy shielded guy and gave a gateway to attack his mustang .
Round 4: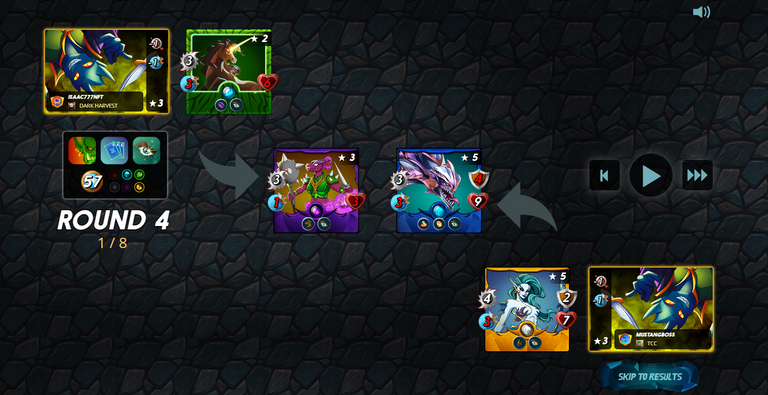 DimeonShark striking first with trampling over Unicorn Mustang and coastal sentry took the mustang with just single strike even before landing the second damage
Result: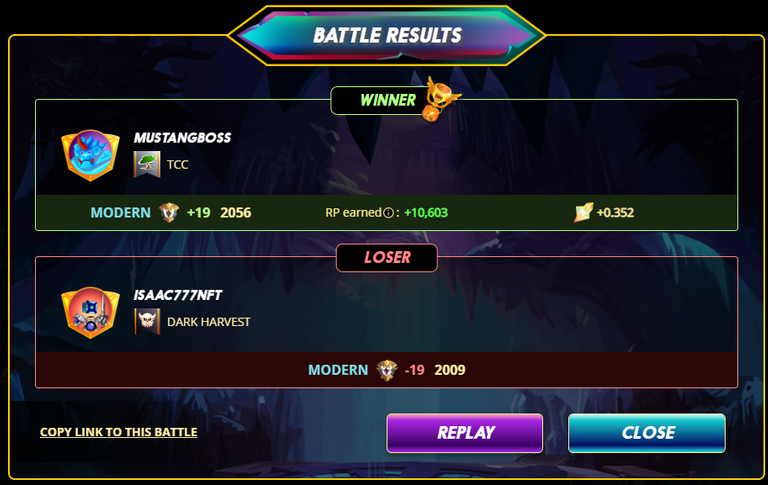 I got +19 Rating and +10603 Reward points towards my season and daily chest and +0.352 SPS
Battle Analysis and Tips:
Try to use Demoralizer monster to reduce melee attack on opponent team.I didnt have any even monster with Demoralizer.
Stick with few thorns or use Mylor to give 2 return damage to melee monster.
Use Reduce damage monster at back when its all melee monster battle to prevent much sneak damage.
Also if possible use double striker and retaliate with extra damage bonus.
Poison on melee monster will also help you out a lot.

Watch the Full battle Here

I will be streaming on Friday and Sunday (IST Time zone +5.30 UTC/GMT) in Splinterlandstv stream. You can find the schedule here and tune in for awesome content of Splinterlands.
Show some love by following on twitch Techy_004
https://www.twitch.tv/techy_004 and on youtube Techy004
https://www.youtube.com/c/techy004
And Again Post your IGN below and I will be doing a mini raffle on my Next week Friday's slot on Splinterlandstv stream.

I will be hosting few more giveaways on my peakd , twitch and youtube so stay tunned.

Thanks for reading my blog
---
---