Giving Away 5x Hero of Beyond on Splinterlands TV on 16 September,2022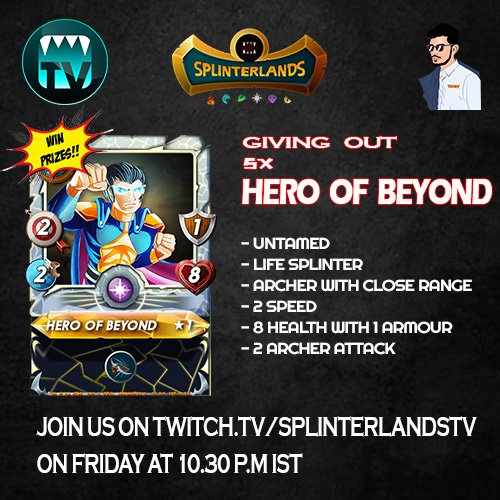 I am happy to be a part of https://www.twitch.tv/splinterlandstv . It was a great experience on Sharing knowledge, interacting with viewers, and witnessing the support of viewers. I didn't expect a huge help and support given by the splinterlands team and family. It was amazing on my first day. I was nervous because it was my first stream in Splinterlands TV. I will be improving my quality of conversation in upcoming streams. And thank you @apeofwallst @luthien12 @elephantium @nfoguides for you awesome gifts.
Special thanks to AGGROED from Splinterlands team for sponsoring Hero of Beyond to give out on my stream
Thank you @r0nd0n for assisting me in obtaining a streaming chance on Splinterlands TV and Thank you to all Splinterlands TV streamers !!!!
Unfortunately I ran out of time on my previous stream, yet no worries I will there every week Friday 10.30 p.m IST (Indian Standard Time)
How to win ?
Well its simple
Be active in chat on my stream in Splinterlands TV and thats how you going to win . 5 Lucky winner will be picked from live audience
Also, Support me on https://www.youtube.com/c/Techy004
Twitter https://twitter.com/Subash_Techy
If you have any suggestions or thoughts feel free to comment below
Thank you !!!!
---
---