WOW!! What-A-Week! | My Hive Goals 2022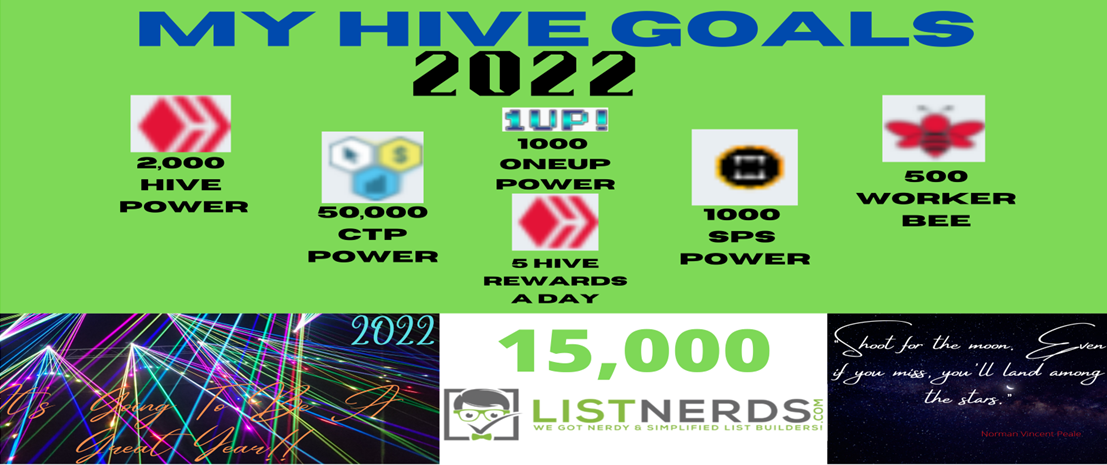 Made in Canva
WOW! What a week!
Just about everything is up, completed another goal and as usual, ListNerds continues to blow things up.
Let's take a look at this week .......
2000 Hive Power
Hive Power has shown a little increase in earnings, I hope I can keep that up.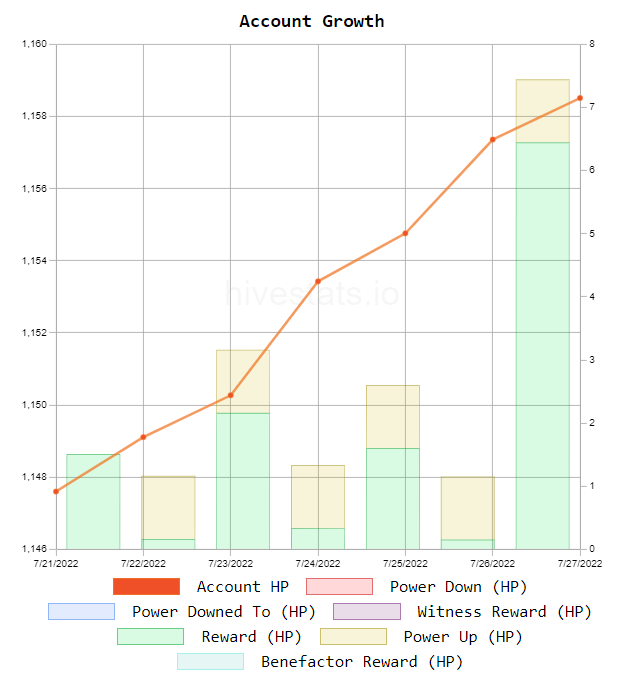 Last week I made a small mathematical era in the chart numbers and forgot to add the totals. So this week as I got my results I was like 'that can't be right' a 29+ increase in one week, Not likely.
Although it is possible, I knew that couldn't be so it made me go back and look at things. I'm glad I found the era cause that would have thrown my numbers all off.
I usually have about a 10+ HP increase but this week was double, so exciting!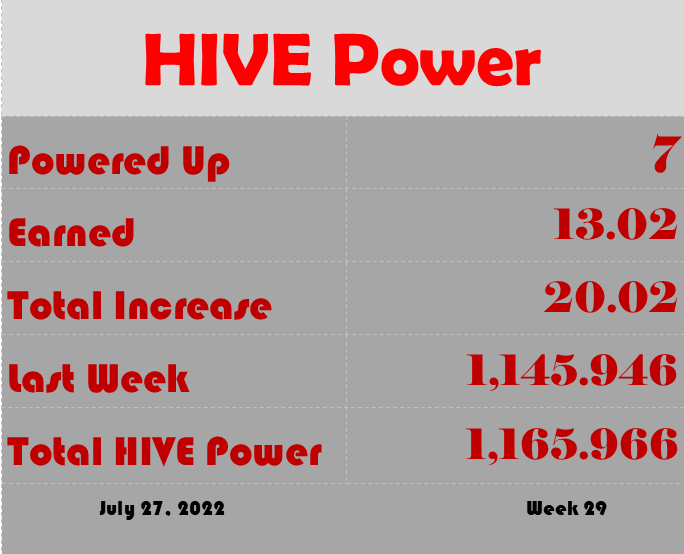 5 Hive Rewards A Day
Here I actually had a day where I earned 6+ Hive in one day, afew more of these each week would be nice.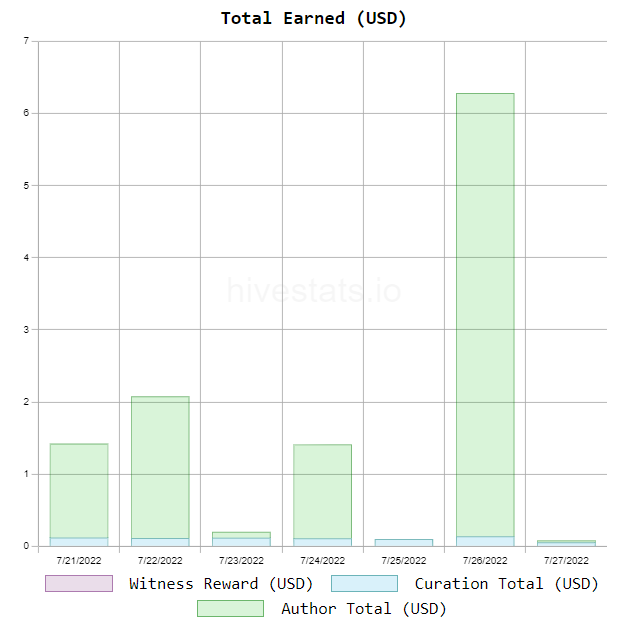 50,000 CTP Power
Still growing at a nice steady pace, not much change here or with 1Up.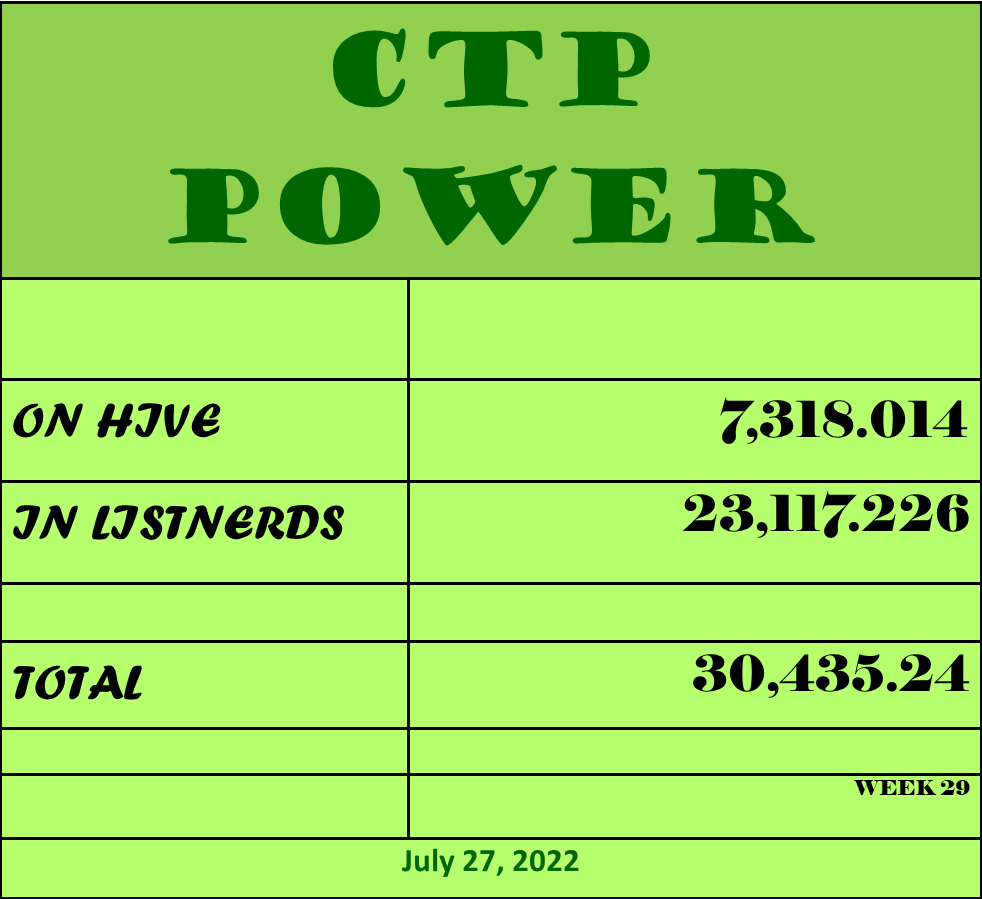 1000 OneUp

Splinterlands
This week is where total happiness came in for me. LOOK AT THAT SPS!! And now thata the airdrops are finished, I can start liquidating my Splinterlands assets. Have you seen the new Splinterlands SPS look? Have A look!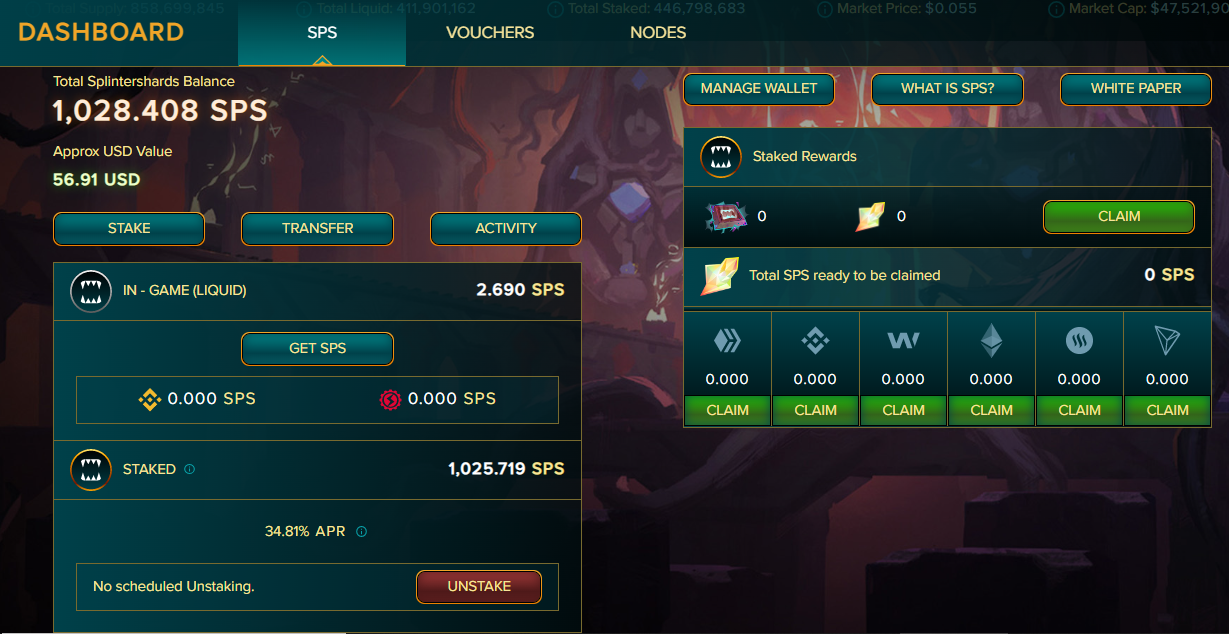 1000 SPS
I'm overjoyed that I was able to make this happen this week, Another goal made! 1000 SPS, YAY! I was able to purchase 250 SPS and boost my total to reach my goal. No more airdrops but there is still the interest, so I'll see where it'll end up!

10,000 SPT
Haven't quite reached my goal but the year isn't over yet. I did earn 275+ SPT and if I can just follow my plan I should be able to keep that up & reach my goal in afew weeks.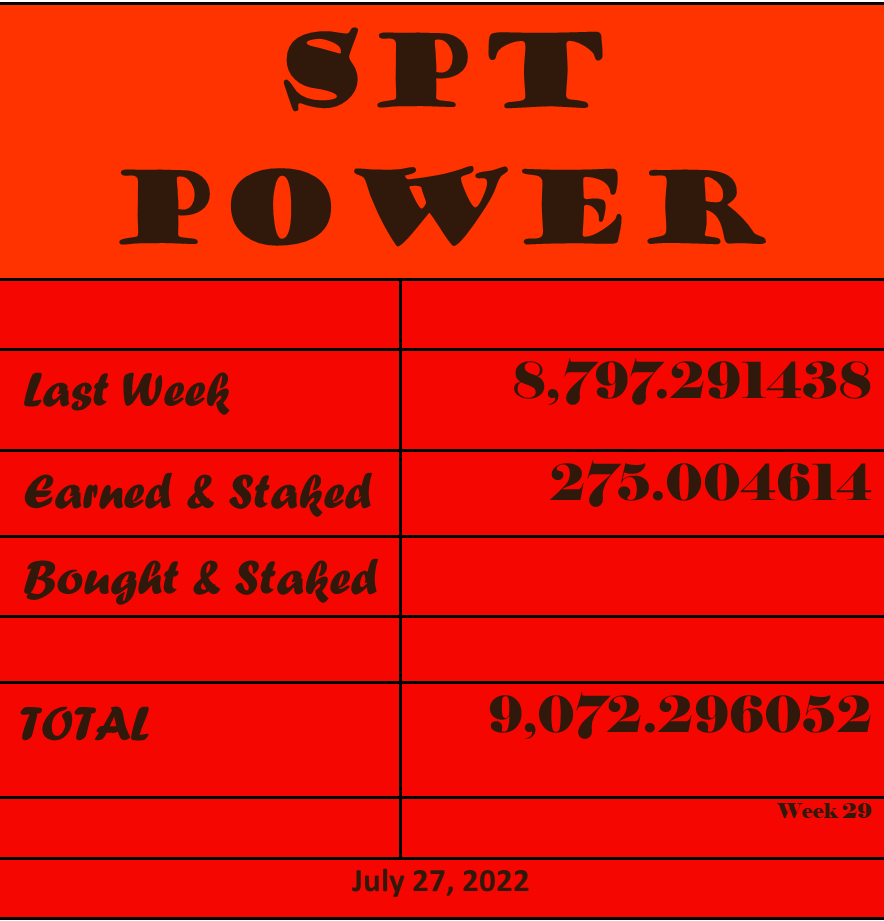 500 WORKERBEE
This is always the tough one for me cause I have to buy these & there's no other way to get them. However, I was able to get my usual 5 this week bringing my total to 192.89038.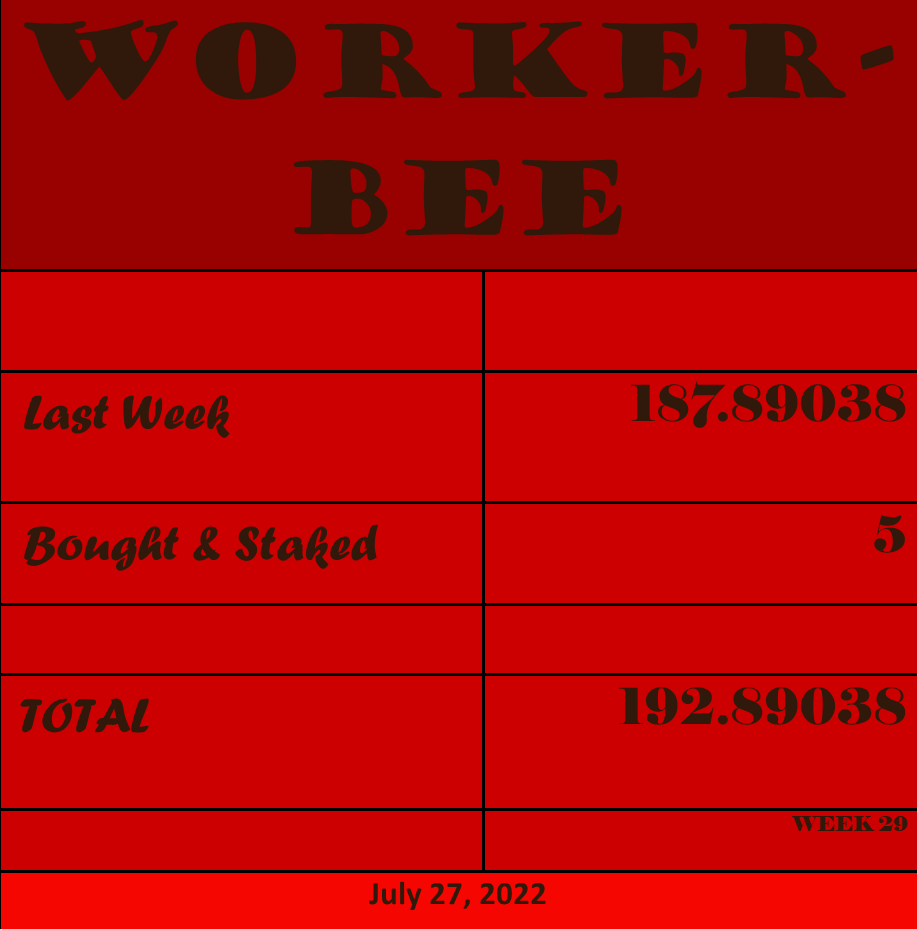 15000 Listnerds
WOW! 2904.041 ListNerds earned in one week! Raising my unstake to 500 LN's Doesn't even affect my earnings, they seem to increase still every week. Actually Everyday I notice my daily rewards are more & even more with every email, Totally awesome!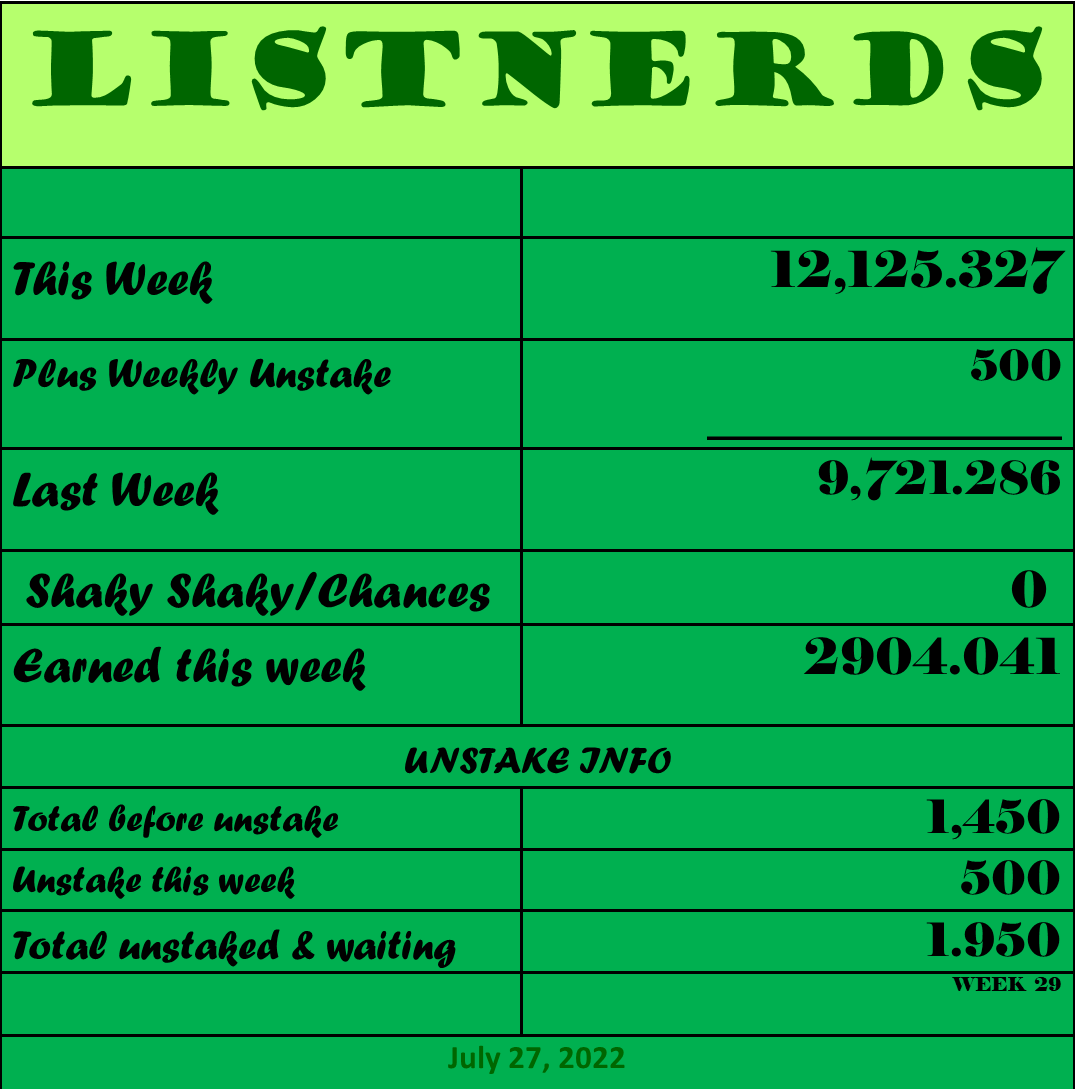 Thanks for going on this journey with me!!
See Ya next week!!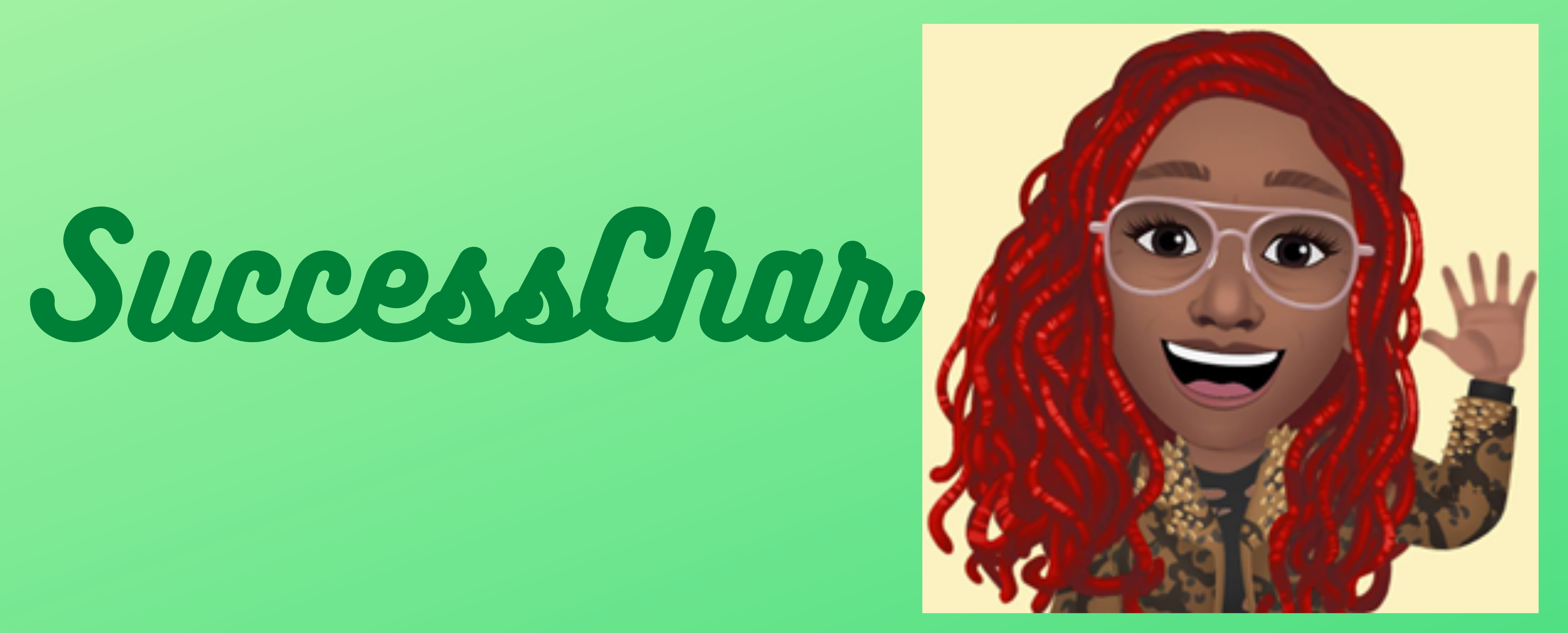 If you like to earn #CTP/#listnerds tokens click the link below the picture and get started today!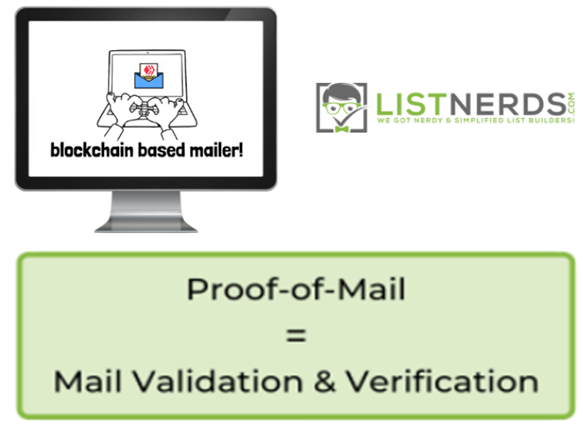 ListNerds- Click Here!

---
---