#14 Magician Shrivoom - Splinterlands Social Media Challenge + new Card Idea (ENG/ DE)
Hello dear Aliens, Splinterlanders and lovely Hive community,
I hope you are all doing great.
Today I will join in the Splinterlands social media challenge with a new card idea and to support the mushrooms characters 😅.
On Twitter I am @CatSurrealworld
On Pinterest I am: @catsurrealworld
On Instagram I am: @Cat.Surrealworld
Because it's important for the splinterlands social media challenge, the post will be shared on those social channels as well.
But back to my character selection. I decided to draw a special magic, psy mushroom Lord today. My inspiration was the Hindu God Shiva. I heard that the followers of this god love to smoke weed to feel one with the highest level and lord Shiva. Because of this psychedelic effect I thought thats a funny and nice mushroom character for splinterlands. A natural medicine man 🙃 or a shroomy enlighten warrior with toxic illusions which drive the enemy in the dimensions of madness. He will turn your perspective upside-down that you believe you are out of time and space.
Hallo liebe Aliens, Splinterlanders und liebe Hive-Gemeinde,

ich hoffe, es geht euch allen gut.

Heute werde ich mich mit einer neuen Kartenidee an der Splinterlands Social Media Challenge beteiligen und die Pilzcharaktere unterstützen 😅.

Auf Twitter bin ich @CatSurrealworld.
Auf Pinterest bin ich: @catsurrealworld
Auf Instagram bin ich: @Cat.Surrealworld

Da es für die Social-Media-Challenge wichtig ist, wird mein Challenge Beitrag auch auf diesen Social Seiten und Kanälen geteilt.

Aber zurück zu meiner Charakterauswahl. Ich habe mich entschieden, heute einen besonderen magischen Pilzgott zu zeichnen. Meine Inspiration war der Hindu-Gott Shiva. Ich habe gehört, dass die Anhänger dieses Gottes es lieben, Gras zu rauchen, um sich eins mit der höchsten Ebene und Lord Shiva zu fühlen. Wegen dieser psychedelischen Wirkung dachte ich, das wäre ein lustiger und schöner Pilzcharakter für Splinterlands. Ein antiker und naturorientierter Medizinmann 🙃 oder ein spiritueller, pilziger Krieger der mit giftigen Illusionen, die den Feind in die Dimensionen des Wahnsinns treiben, betäuben kann. Er wird deine Perspektive auf den Kopf stellen, dass du glaubst, du wärst außerhalb von Zeit und Raum.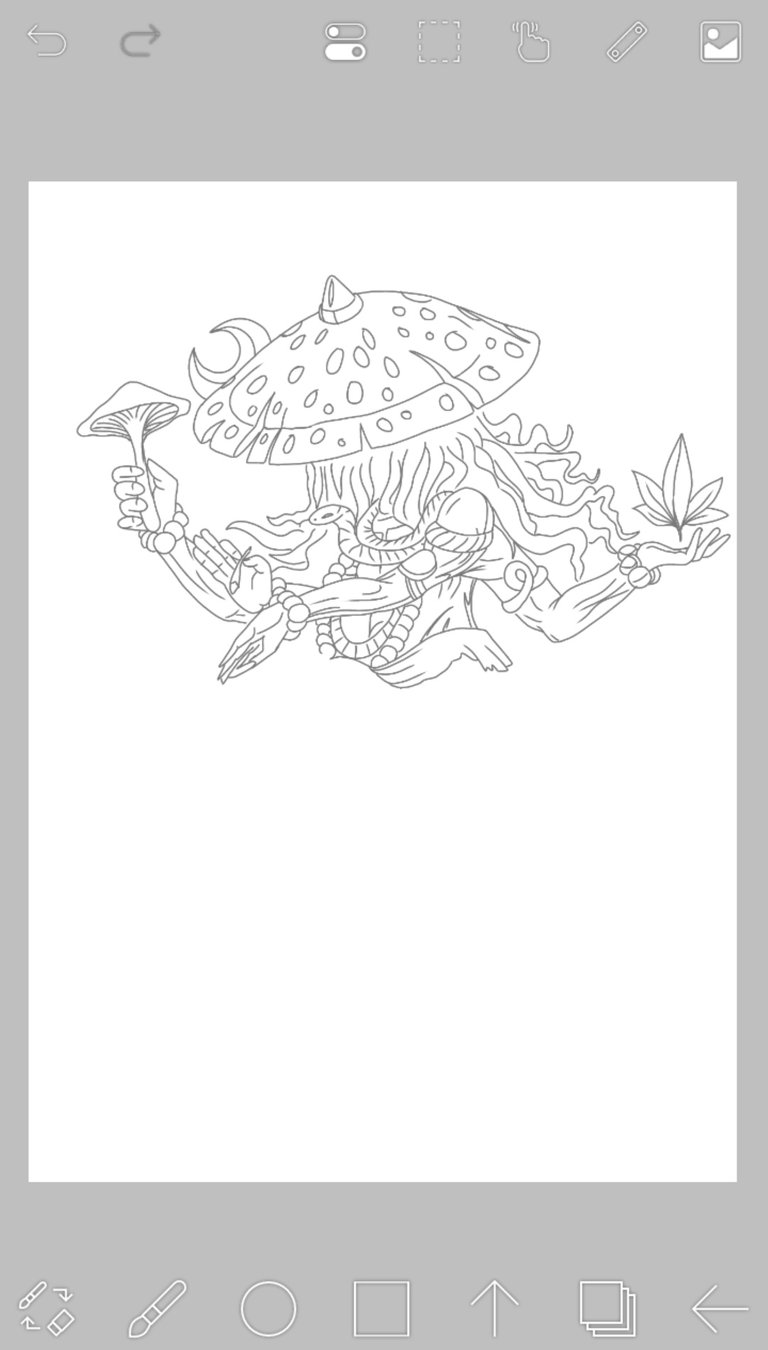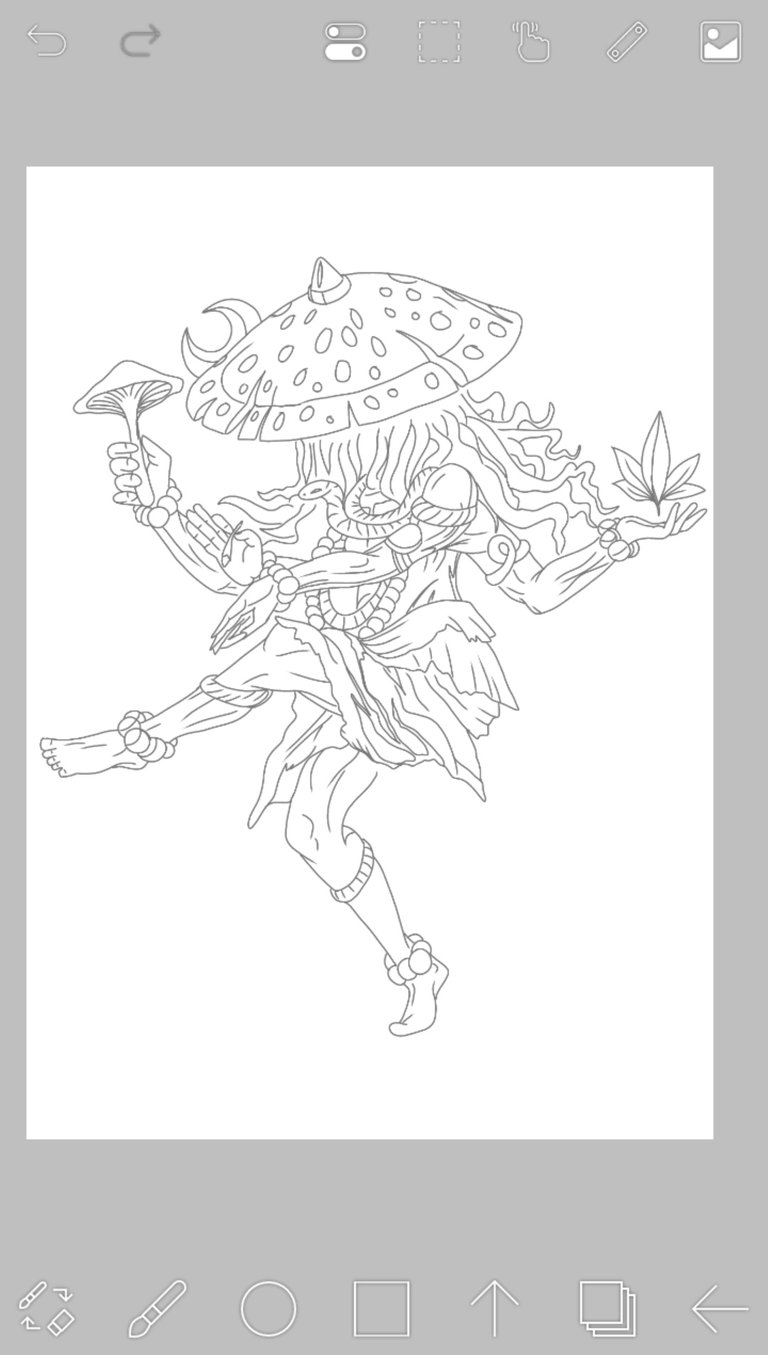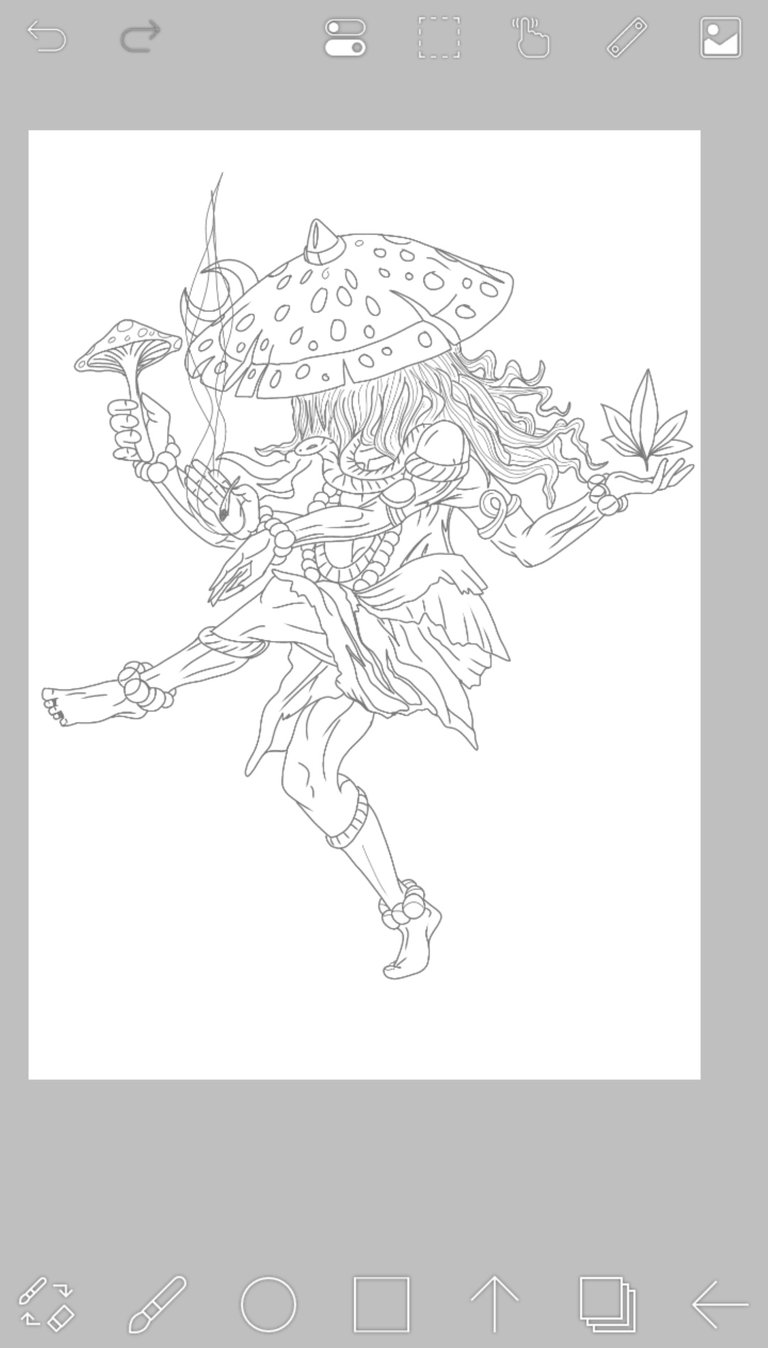 First day I just created the sketch. I wanted a clean and clear one, thats why I made a break the first day and continued the next one the coloring.
Am ersten Tag zeichnete ich nur die Skizze fertig. Das alleine nahm schon genug Zeit in Anspruch. Jedoch wollte ich diese sauber und so klar wie möglich machen. Das ausmalen machte ich dann am folge Tag.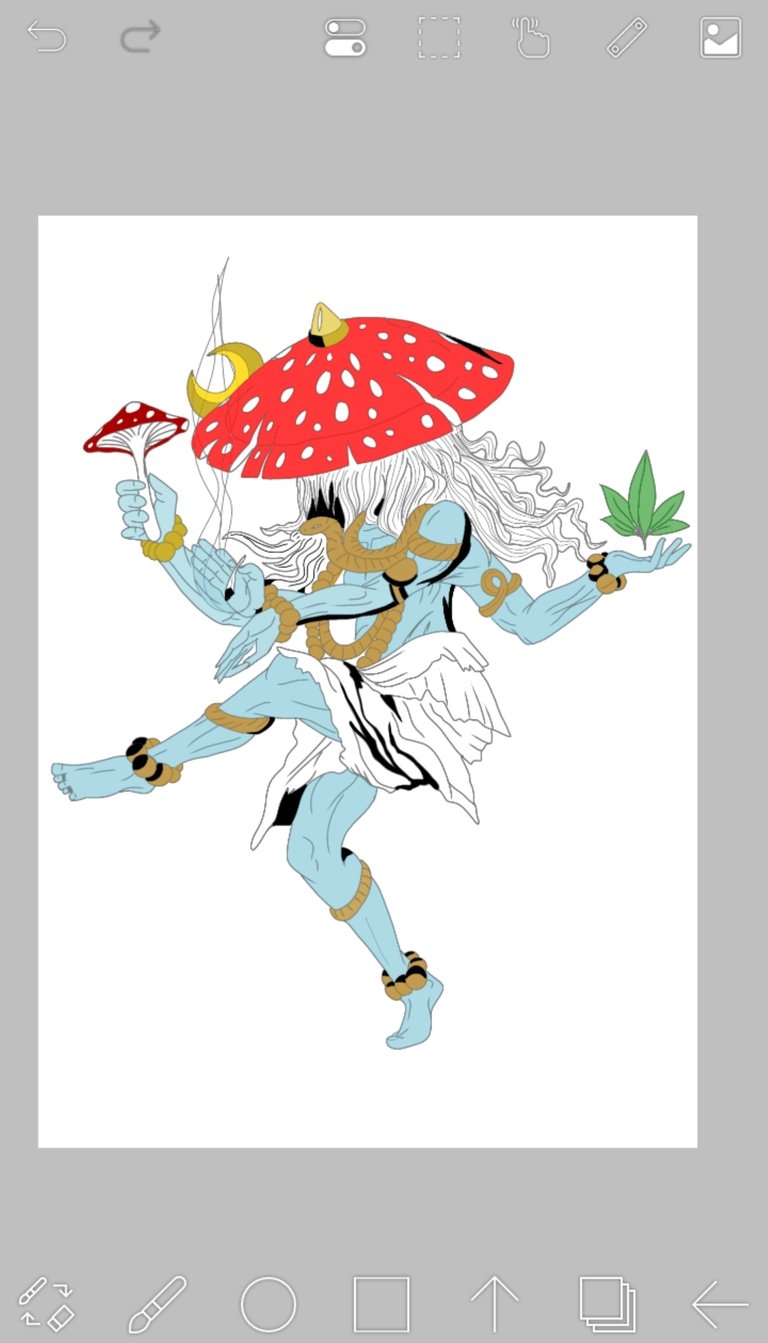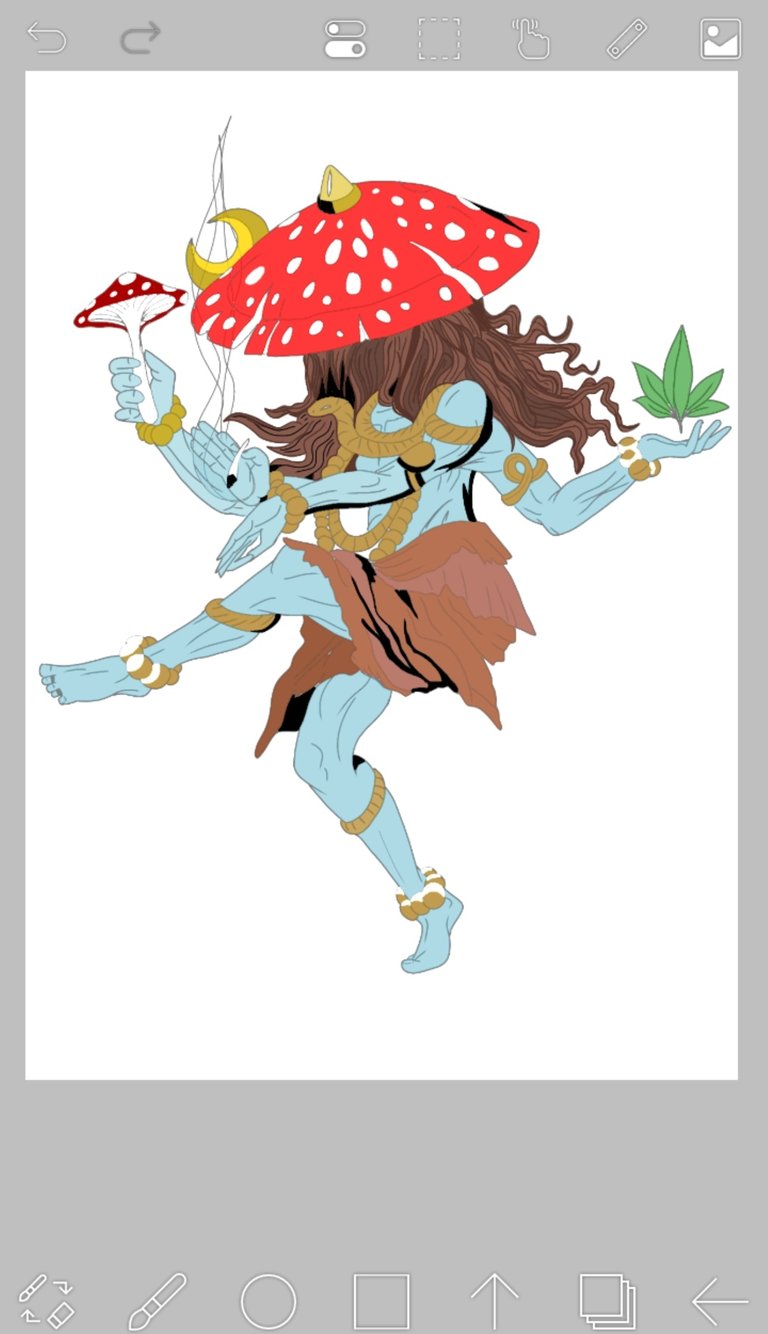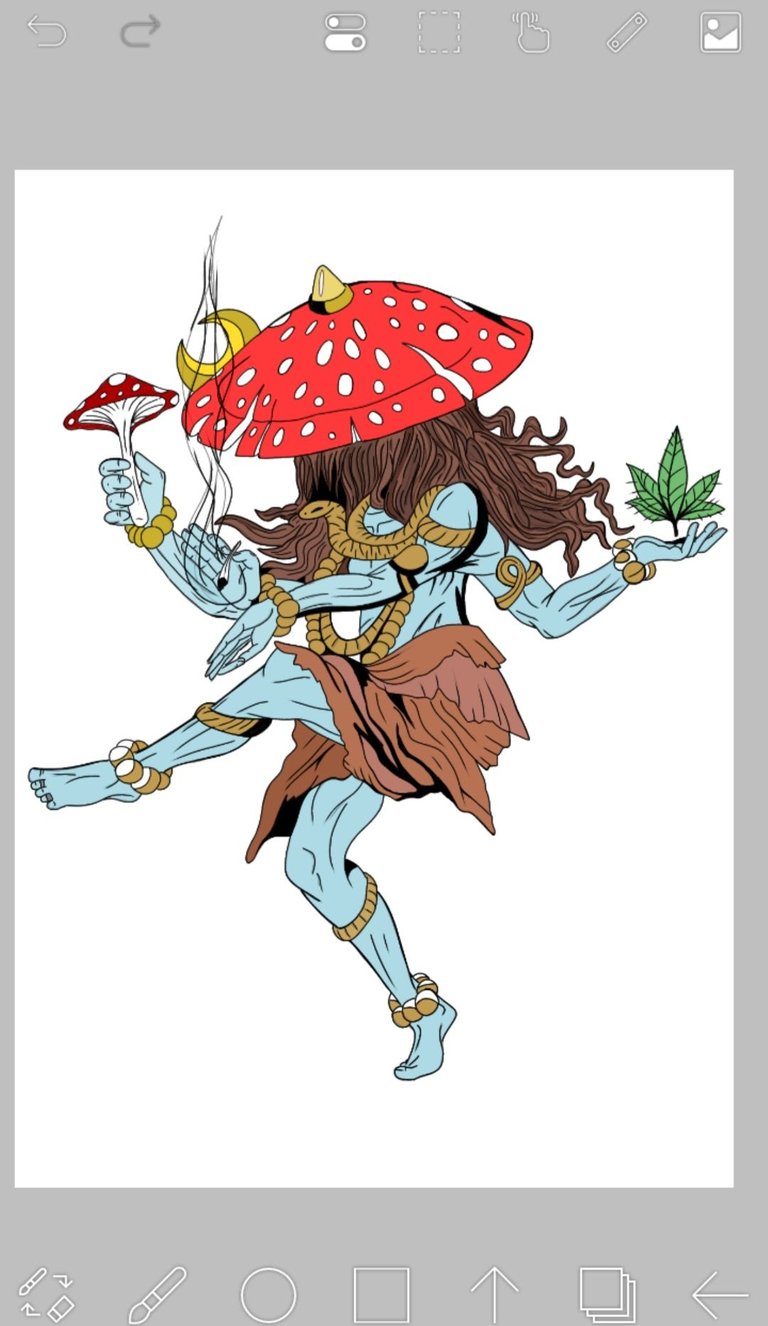 So, colors are chosen so far, lets make it more detailed and fine.
so, die allgemeinen Farben hatte ich nun ausgewählt. Nun alles etwas genauer und feiner zeichnen.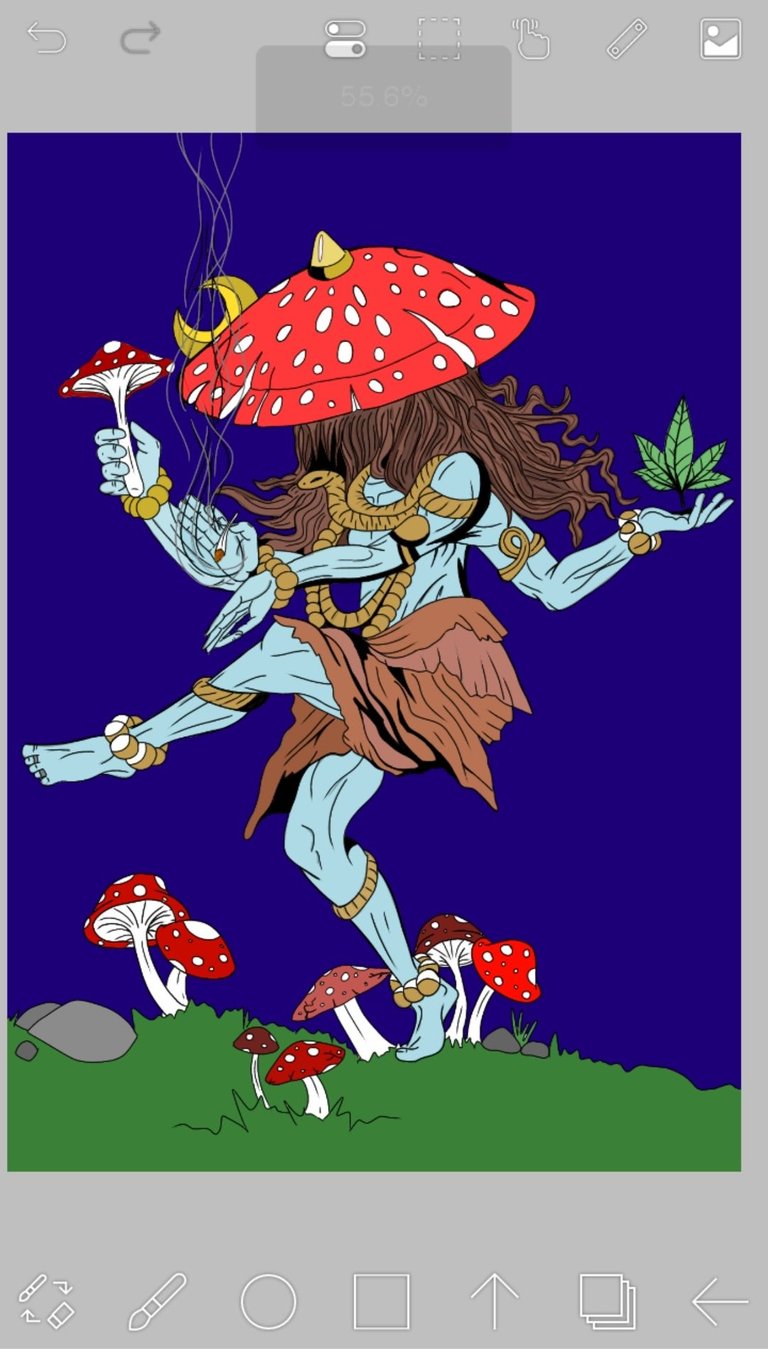 Surely... Background color has to be...
logisch, die Hintergrundfarbe darf nicht fehlen...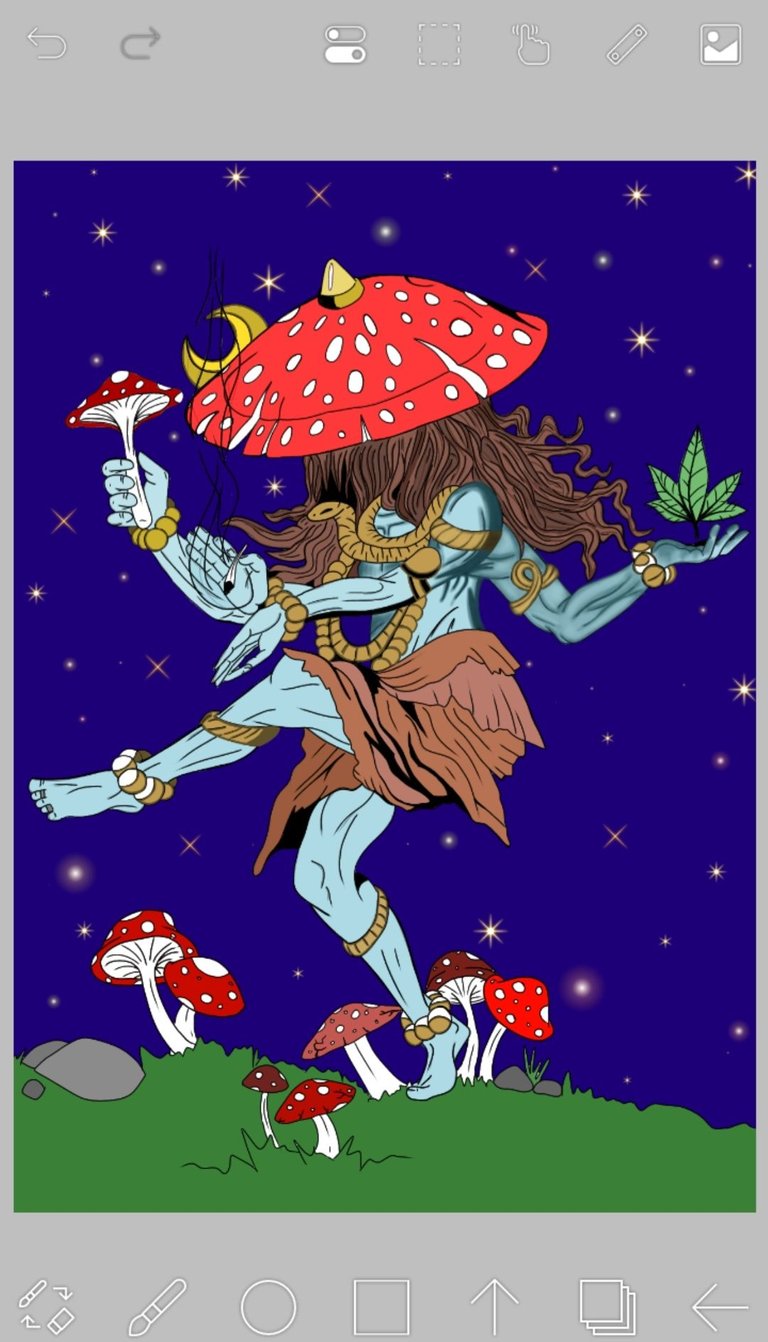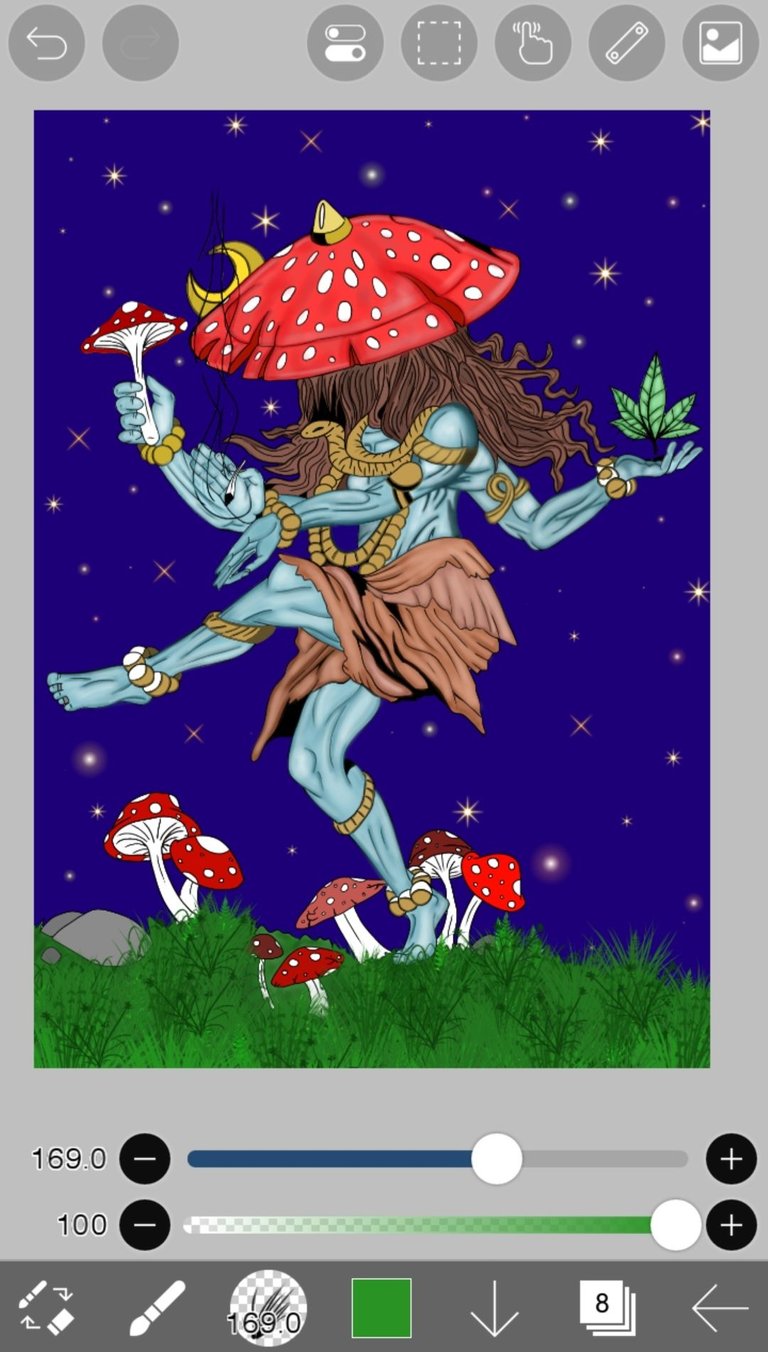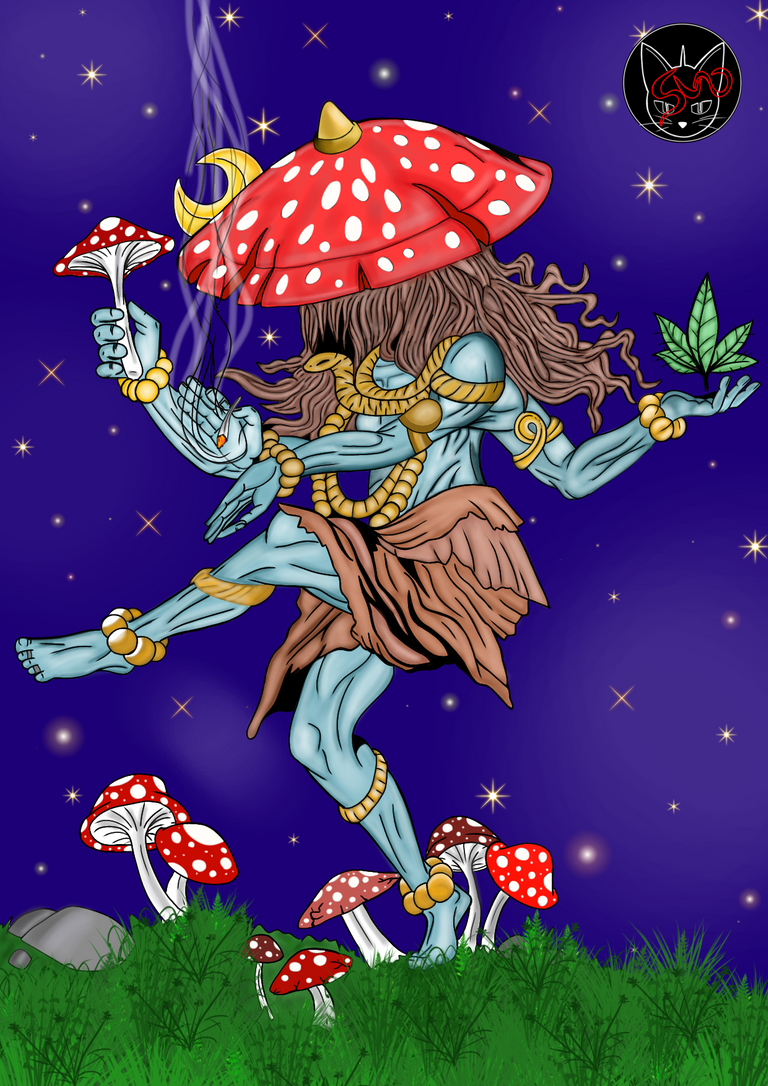 Second day, I stopped here. Tooks long again. On this day I already thought I am finished... But wait... Next day I had another Idea to add so I continued...
am zweiten Tag beendete ich die Session hier, hat schon einige Stunden bis dato gedauert, so dass ich dachte ich wäre nun fertig. Aber warte ab, am nächsten Tag hatte ich noch eine Idee, so dass ich noch nicht ganz fertig war...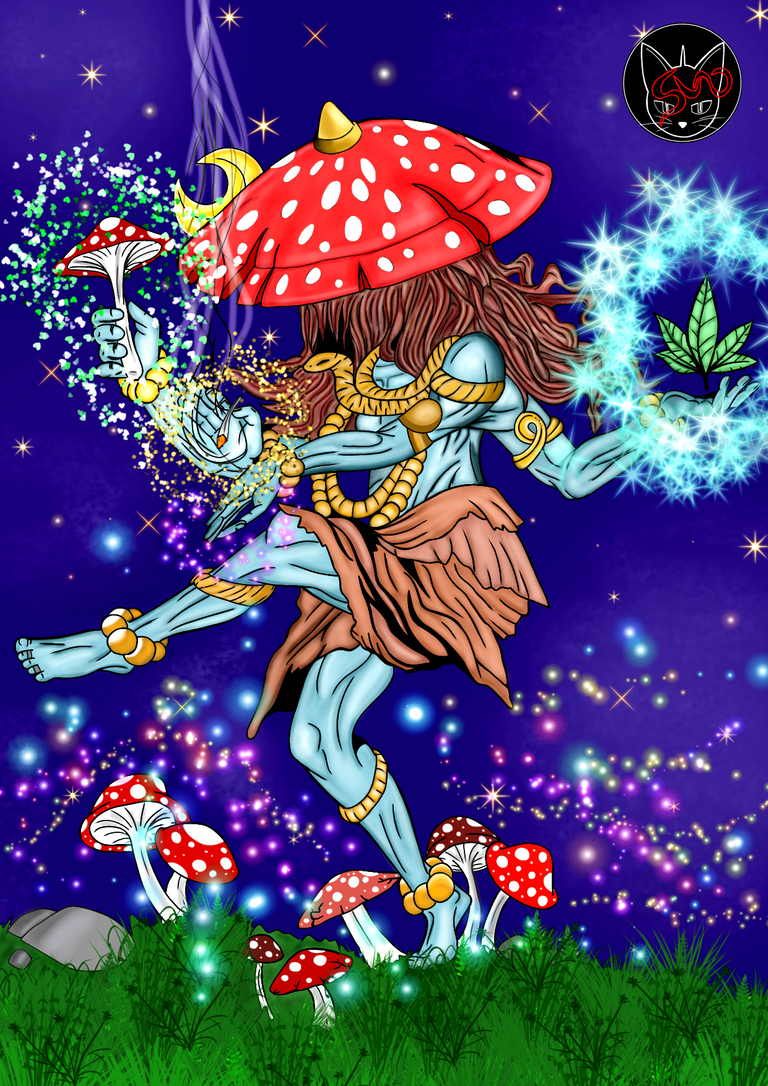 The image was not magical and psychedelic enough, that's why I tried to make it more trippy and spacy with some glowing effects around the hands and the fungis on the ground. Now the special skills of my character is better visible.
das Bild war mir noch nicht psychedelisch genug, deshalb hatte ich mich nochmal rangesetzt und einige leuchtende und trippige Effekte dazu gefügt. Nun sind die speziellen Fähigkeiten meines Charakters auch besser sichtbar.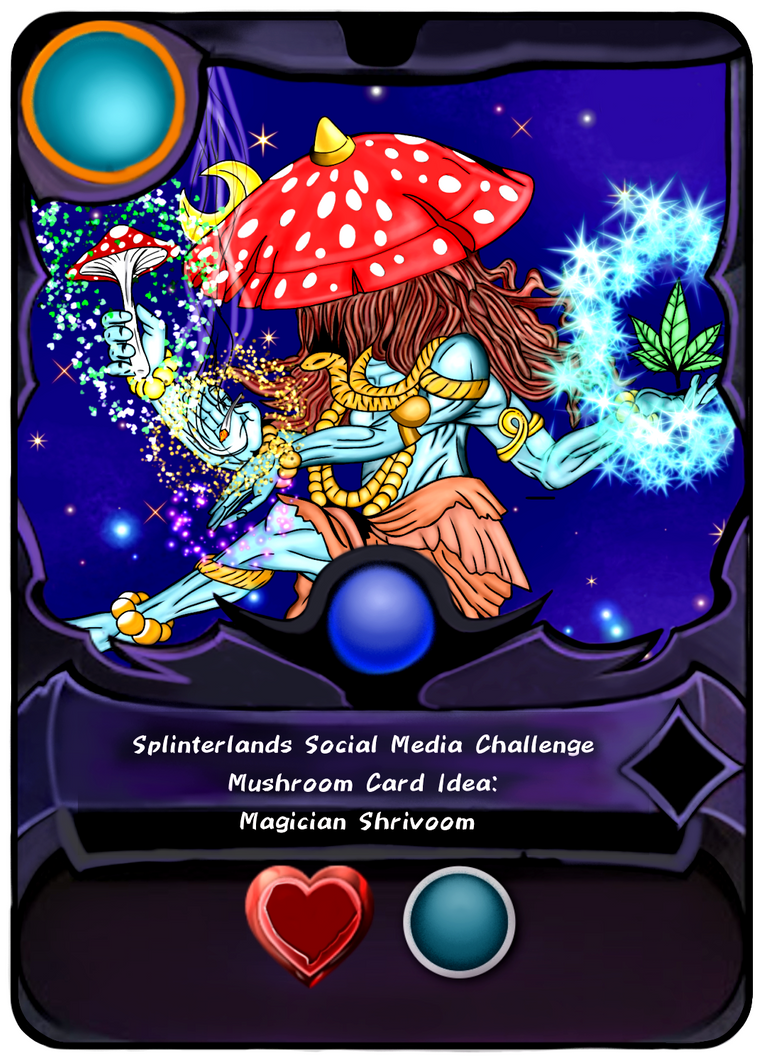 Last but not least I had the idea to draw also the card frame feom splinterlands card style, to present my card idea better.
zum Abschluss kam mir noch die Idee, einen Karten Rahmen zu zeichnen, um die Karten Idee auch passend zu präsentieren.
Check out the challenge post here:
allgemeine Infos/ general info:
digitale Zeichnung/ digital drawing
erstellt auf meinem Huawei Matepad 10.4/ created on my Huawei Matepad 10.4
verwendete Anwendung war die Applikation "Ibispaint X" / the App I used was "Ibispaint X"
Dauer der Fertigstellung ~ 10 Stunden 55 Minuten/ duration of completion ~ 10 hours 55 minutes
last words
To translate 1-1 my german native I used deepl.com. After I edited and corrected some parts because deepl.com couldn't translate all slang words perfectly. Just wanted to make this clear too.
I'm looking forward to read your opinion and have a nice week everyone. See you soon.
Ich bin auf eure Meinung gespannt und eine schöne Woche allen noch. Ich lese euch ganz bald wieder. Bis dahin, Baba.
Your / Eure
Cat(harina)
@surrealworld
---
---