#15 Possessed Puppet - Splinterlands Social Media Challenge (ENG/ DE)
Hello dear 👽 community,
I can see again... Ok, just a bit better bit better than nothing right? Today I was at the hospital to check my eyes. Never had that before, that's why I was scared. My eyes were swollen the last 3 days soooo much. I got a bit panicked.. Anyway, today the doc gave me special eye drops and a night creme. So it should be fine on Monday and I should be healthy again in a week. Maybe it was from my summer flu a rest which manifested now like that... Who knows. I cant remember that someone close to me had that, thats normally the way how to get it.
So now, that I can see better without pain what do you think I have done?
Yes, in my case drawing... 😅 I started yesterday bit had to stop because of pain after 2 hours. Today I finished it.
For today's splinterlands social media challenge, I chose the crazy mad doll.
I redesigned her kitchen knife a bit by drawing the knife on the end of a stick with a ball. On top of that I drew the usual social media logos, which were scratched bloody.... Yep, the doll threw a tantrum.
She had a bad day, you know.... Lol.
This is my post, which I share on my social media.
On Twitter I am @CatSurrealworld
On Pinterest I am: @catsurrealworld
On Instagram I am: @Cat.Surrealworld
Hallo liebe 👽 Gemeinde,
ich kann wieder sehen... Ok, nur ein bisschen besser, aber besser als nichts, oder? Heute war ich im Krankenhaus, um meine Augen untersuchen zu lassen. Das hatte ich noch nie, deshalb hatte ich auch Angst. Meine Augen waren die letzten 3 Tage soooo stark geschwollen. Ich bekam ein bisschen Panik... Wie auch immer, heute hat mir der Arzt spezielle Augentropfen und eine Nachtcreme gegeben. Also sollte es am Montag wieder gut sein und ich sollte in einer Woche wieder gesund sein. Vielleicht war es von meiner Sommergrippe ein Rest, der sich jetzt so manifestiert hat... Wer weiß. Ich kann mich nicht erinnern, dass jemand in meiner Nähe das hatte, das ist normalerweise die Art, wie man es bekommt.
Also, jetzt, wo ich besser sehen kann, ohne Schmerzen, was denkt ihr, habe ich getan?
Ja, in meinem Fall gleich mal zeichnen... 😅 Nun, ich habe sogar schon gestern angefangen, doch musste nqch ca. 2 Stunden aufhören, da die Bindehautentzündung zu schmerzhaft wurde. Dafür konnte ich meine Zeichnung heute fertig machen.
Zur heutigen splinterlands Social Media Challenge habe ich die irre Puppe gewählt.

Ich gestaltete ihr Küchenmesser etwas um, indem ich das Messer am Ende eines Stabs zeichnete. Dazu malte ich noch die üblichen Social Media Logos, welche blutig zerkratzt wurden... Jaja, die Puppe hat einen Wutanfall bekommen.

Dieses ist mein Beitrag, welchen ich auf meinem Social media teile.

Auf Twitter bin ich @CatSurrealworld
Auf Pinterest bin ich: @catsurrealworld
Auf Instagram bin ich: @Cat.Surrealworld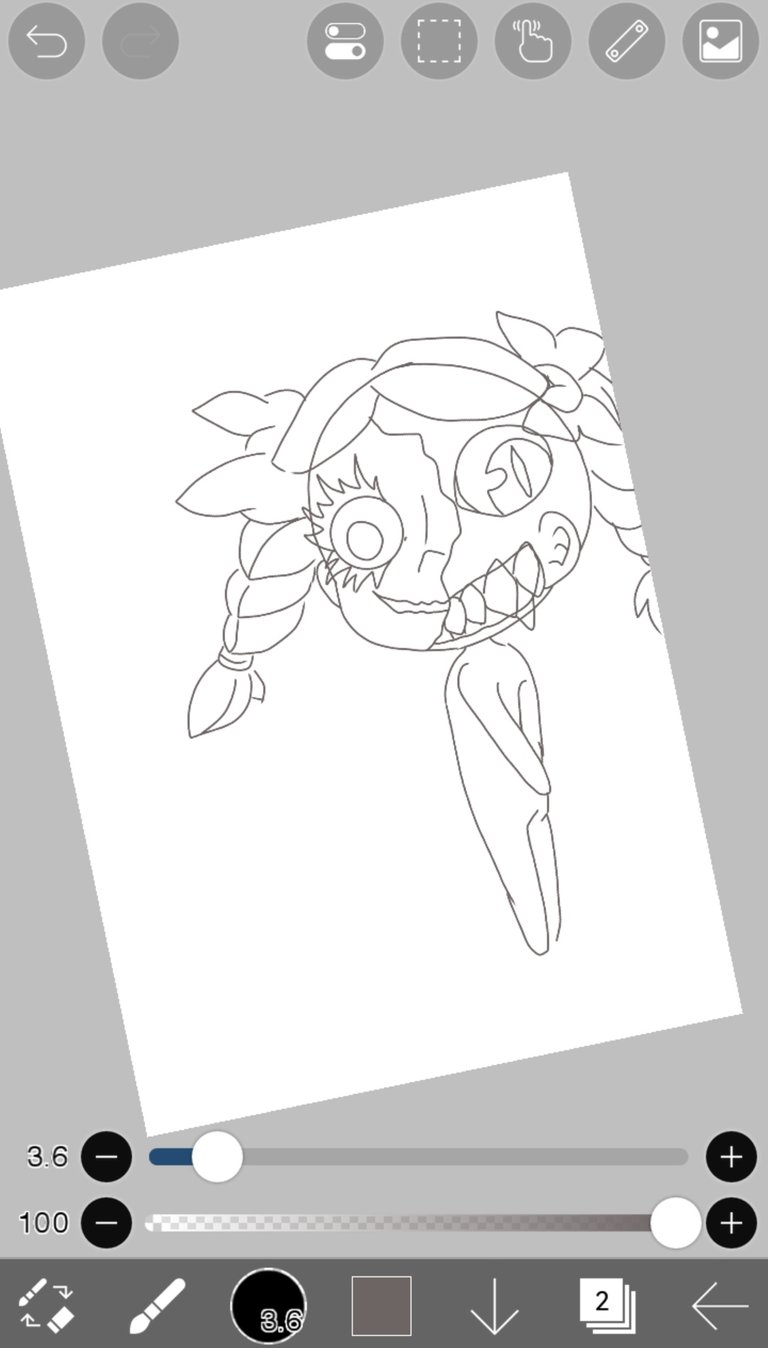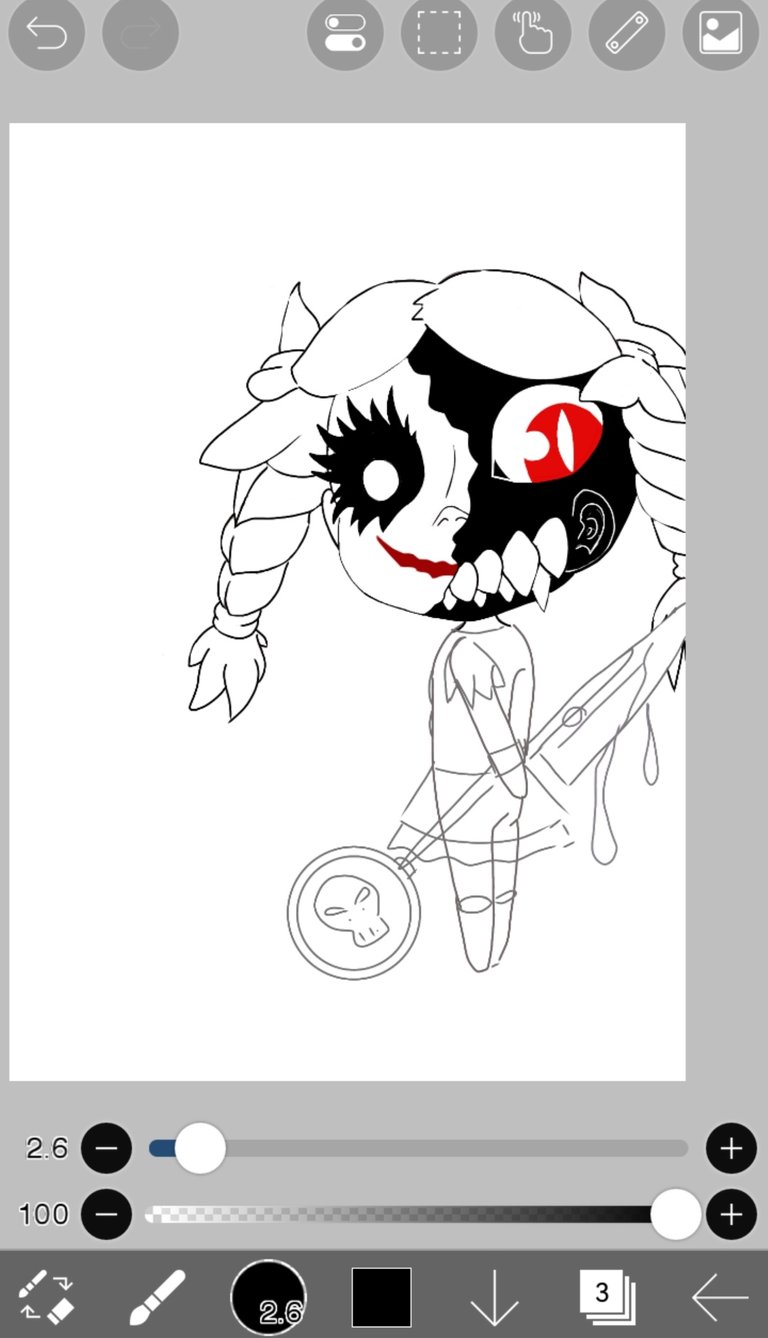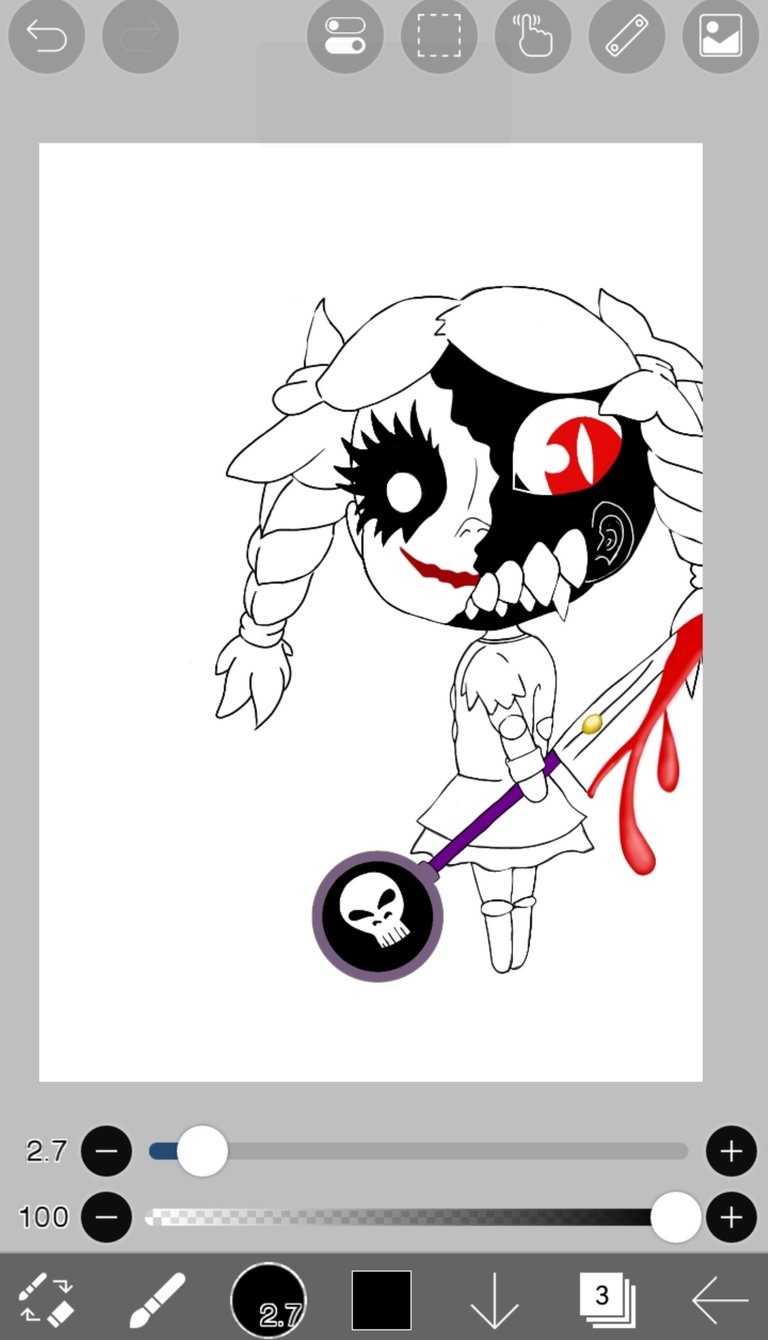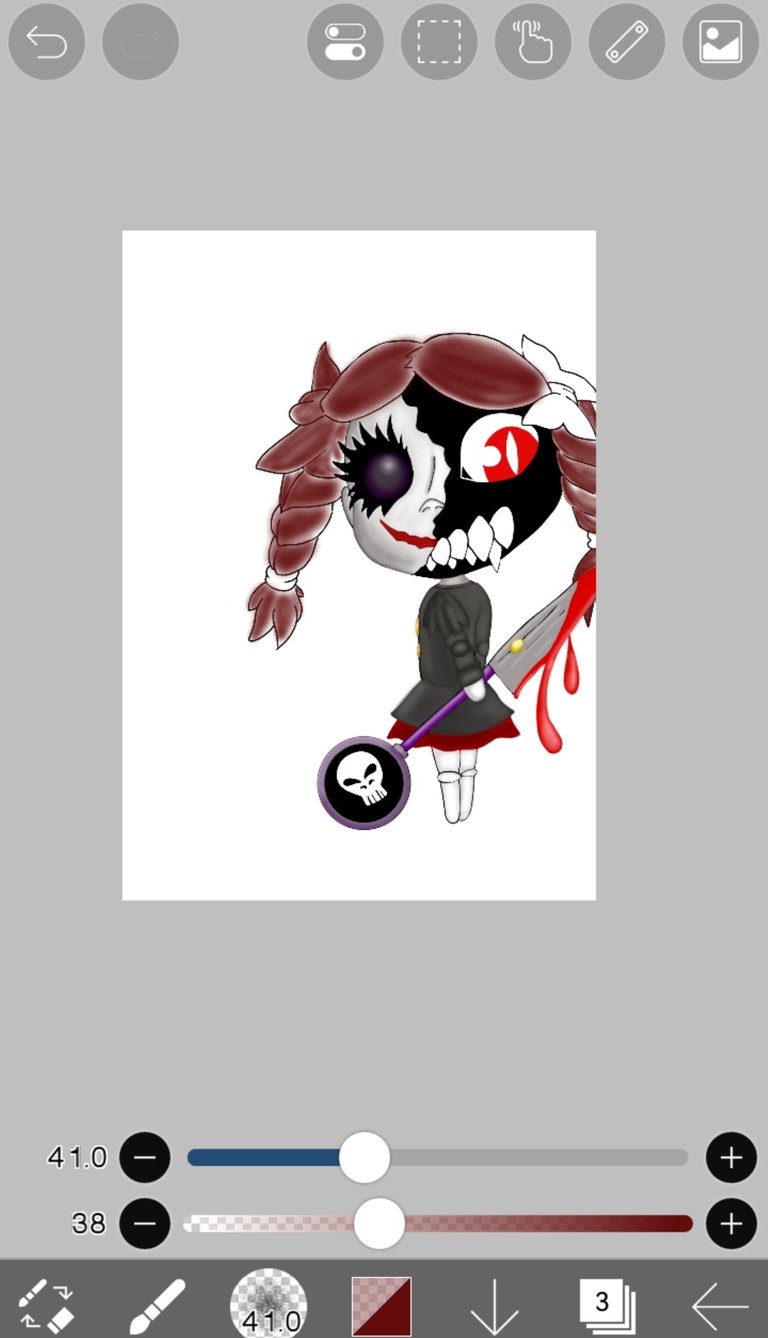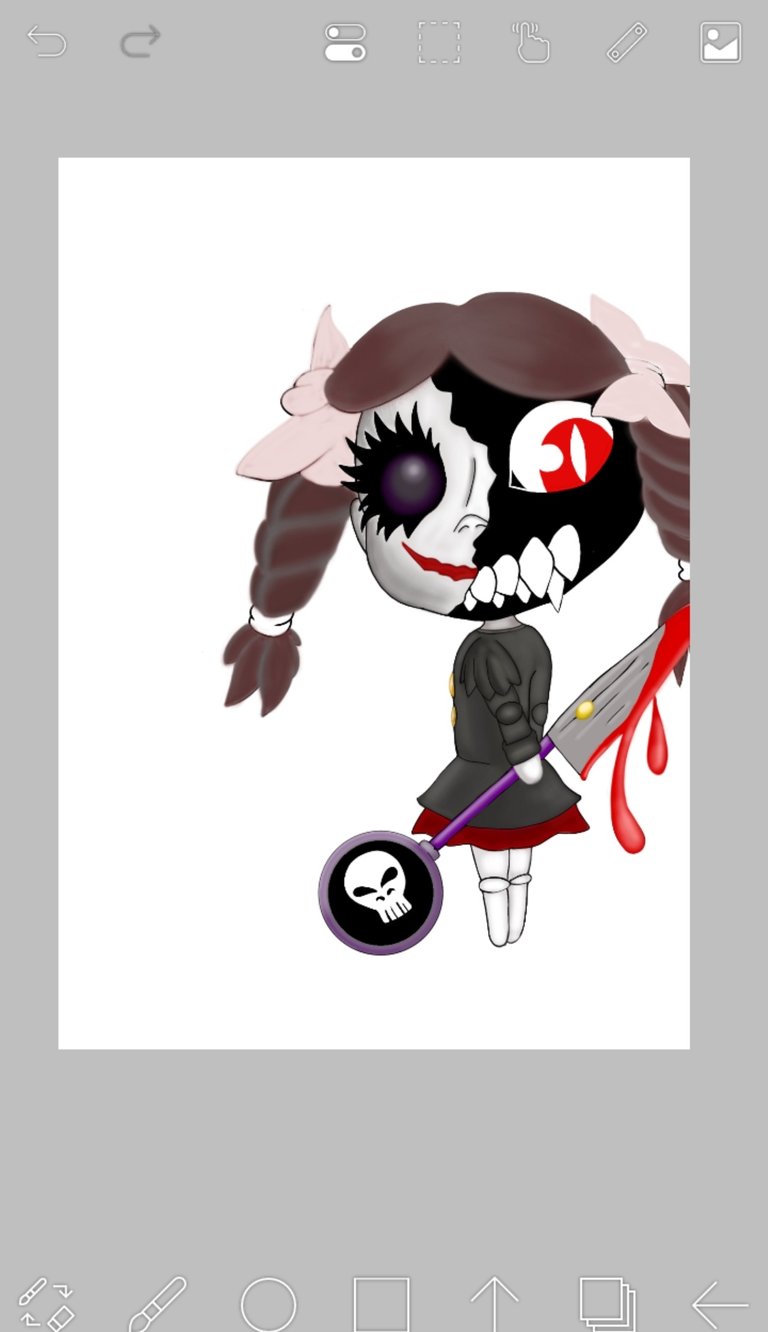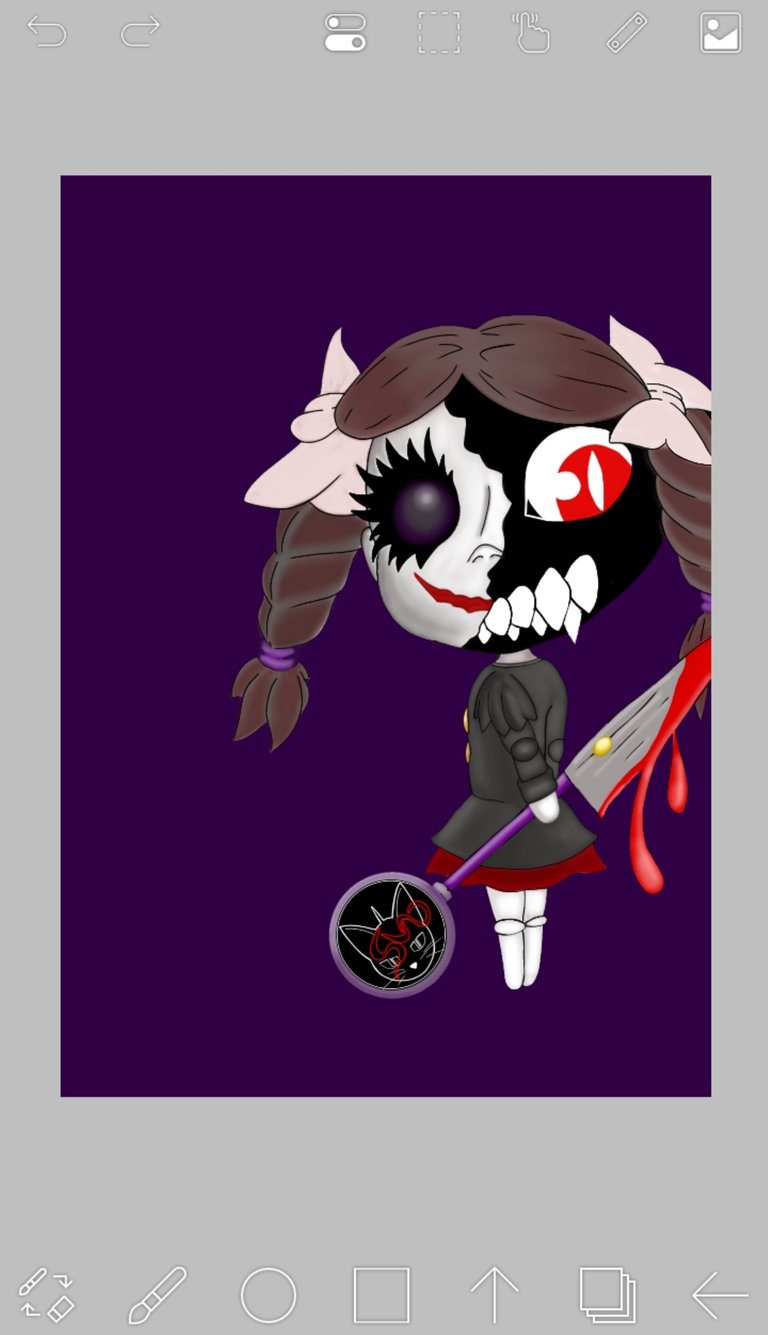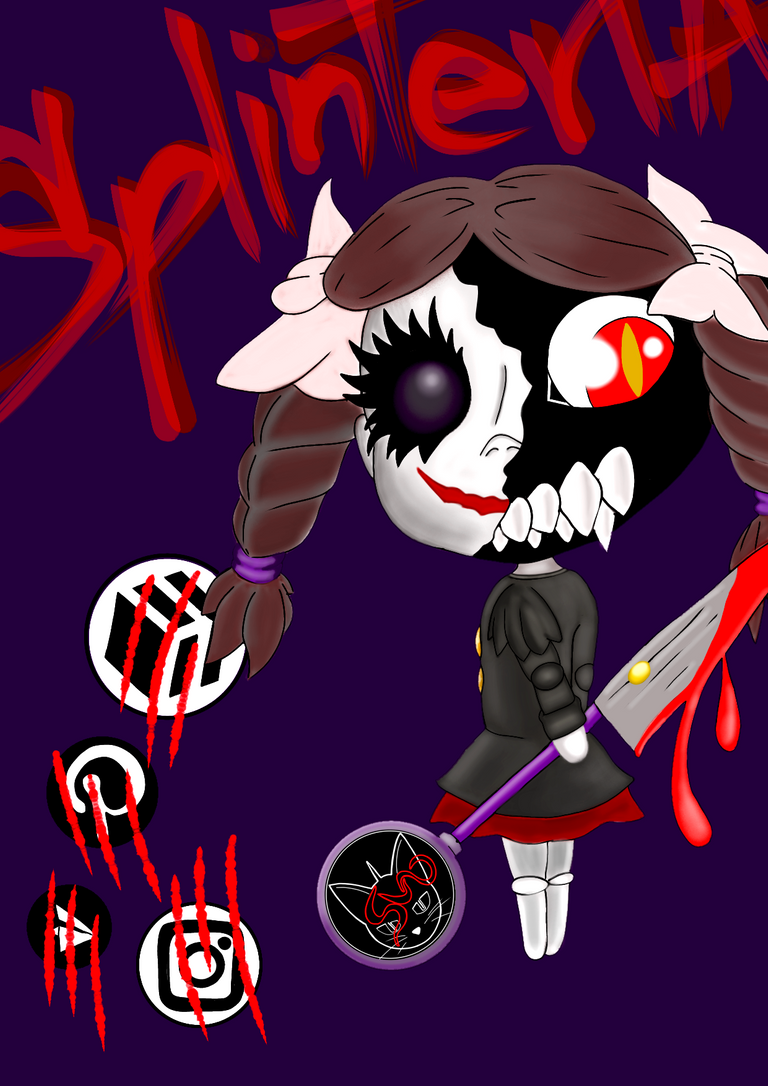 original image: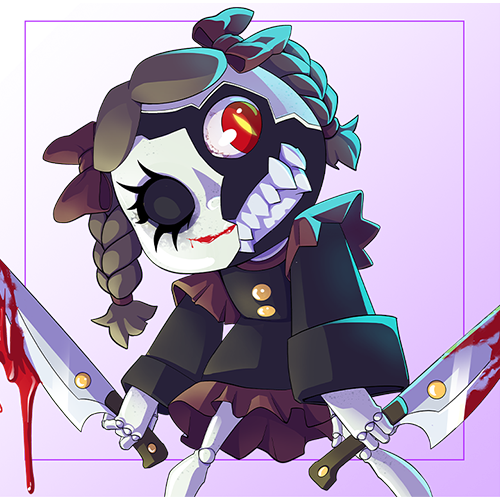 Source of the reference image/ Quelle des Referenzbildes:
Check out the challenge post here:
allgemeine Infos/ general info:
digitale Zeichnung/ digital drawing
erstellt auf meinem Huawei Matepad 10.4/ created on my Huawei Matepad 10.4
verwendete Anwendung war die Applikation "Ibispaint X" / the App I used was "Ibispaint X"
Dauer der Fertigstellung ~ 7 Stunden 55 Minuten/ duration of completion ~ 7 hours 55 minutes
last words
To translate 1-1 my german native I used deepl.com. After I edited and corrected some parts because deepl.com couldn't translate all slang words perfectly. Just wanted to make this clear too.
I'm looking forward to read your opinion and have a nice week everyone. See you soon.
Ich bin auf eure Meinung gespannt und eine schöne Woche allen noch. Ich lese euch ganz bald wieder. Bis dahin, Baba.
Your / Eure
Cat(harina)
@surrealworld
---
---