Haunted Spirit — Amazing Monster - Best Match of My SL Journey (First Post)
---
I started playing Splintersland about 2 weeks ago, and oh boy what a journey it has been! I got to SILVER 2 with my Stater Cards. I didn't think about money, and that is why I got real fun.
First of all, I would like to thank those who helped me to understand the basics of the game, and supported me. And can't thank @bdcommunity enough for the continous support.
Today I am going to share the most favorite battle of all time. The center of the attention of this battle is Haunted Spirit
Death: Haunted Spirit
It has a hitpoint of 7. It is my go-to card for death. I put it in the first row. Very few tankers in level 1 have 2 speed I guess. It has the healing ability. It can heal itself. Which is great for a first row/initial monster. It cost 5 Mana, which is actually pretty good.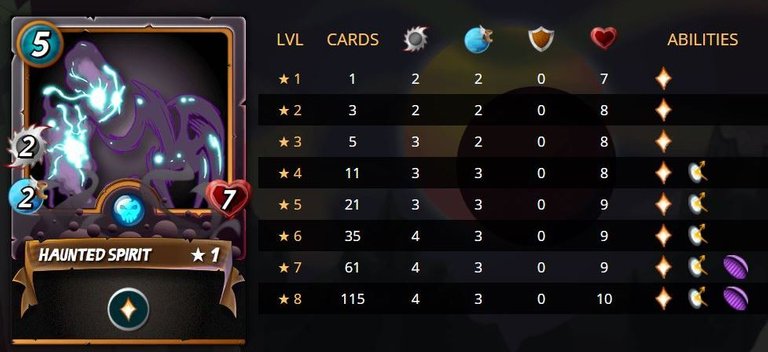 Most Interesting Match I Faced: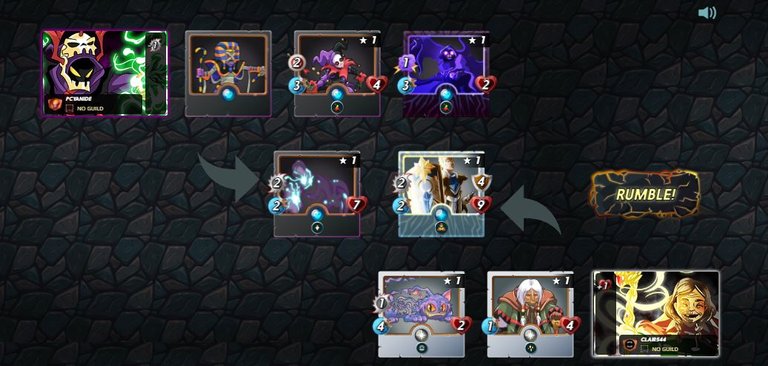 Click on the image to view the battle.
This battle lasted for 25 rounds. It was very close.
My Summoner: Zintar Moralis
My Splinters: Haunted Spirit, Priest, Twisted Jester, Death Elemental
Opponent's Summoner: Mother Khala
Opponent's Splinters: Shield Bearer, Divine Healer, Feral Knight
If you see the battle from the video I shared or the link I gave you will see how amagingly the Haunted Spirit regained its health each round and kept fighting. I was sure that I will loose the game, and I was waiting it to be over. You know like "just put me out of misery!"
BUT NO! The game kept going and going! It was fatigue which caused opponent's Divine Healer to die along with rest of the monsters. I was not familiar with fatigue before this match! How the turntables!
If you have any interesting battles to share please let me see them in the comments. I am a novice, I would love to learn.
What is Splintersland?
Splinterlans is a blockchain-based, collectible card game. You can play and earn money through it. Yes, Money! You heard it right! Actually, you will earn in-game rewards which are crypto, and you can cash it.
One of the major sources of earning money/reward is winning a ranked battle.
The fun thing is the cards here are generated by non-fungible token (NFT) technology. So each card is unique. All cards are limited in numbers, it has a certain value. There are other unique items as well like potions, dice, lands, and customized skins. You can delegate, gift, or sell them for money or crypto.
Splinterlands is growing fast. It is one of the best NFT-Based games if not the best. And it will keep getting better. It will rock the market again after the Chaos Legion launches, IMO.
Splinterlands Summoners Spellbook
If you want to earn money in Splintersland, you will have to buy Summoners Spellbook for 10 USD. You can make the money within 2 weeks (Or even within a day or two). Use my referral link here, I will support you with DEC and all my knowledge. I will instantly delegate you with a card of my choice. I will also guide you through the journey to get back the money you invested to buy the spellbook.
Here is the link: https://splinterlands.com?ref=pcyanide
My IGN is @pcyanide
How To Earn Money In Splinterlands?
Those you have played/play the game always get this question when you tell a friend about earning money in Splinterlands. Well, you may already know multiple ways to earn in Splinterlands. I am giving brief pointers about the ways. If you want to learn more about these, follow this link :
— RANKED BATTLE REWARDS
— DAILY QUEST REWARDS
— SEASON REWARDS
— SPS AIRDROP
— STAKED SPS REWARDS
— TOURNAMENT REWARDS
— TOURNAMENT'S SIDE PRIZES
— GUILDS
— CARDS TRADE
— CARDS RENTAL
— BLOGGING
— CURATION
— CRYPTO TRADE
— NFT TRADE
— RAFFLES
— GIVEAWAYS
— SOCIAL MEDIA
— SPLINTERGAMES
— DELEGATED ACCOUNTS
— COACHING
— BOTS
— AFFILIATE / REFERRAL PROGRAM
— FAUCET
Wrap Up
I am just a novice, who is playing for 2 weeks now! I am still learning. The game is fun and interesting and ever-changing. I don't know how things will become after chaos legion, and I have no idea about higher leagues. I just shared and interesting match from my short and eventful journey with you. Hope you will realize that if a beginner like me can do good, you can do well too!
NB: ALL IMAGES ARE FROM SPLINTERLANDS GAME AND OFFICIAL SITE
---
▶️ 3Speak
---
---