Crypto games to Dapps for building the Hub of Engagement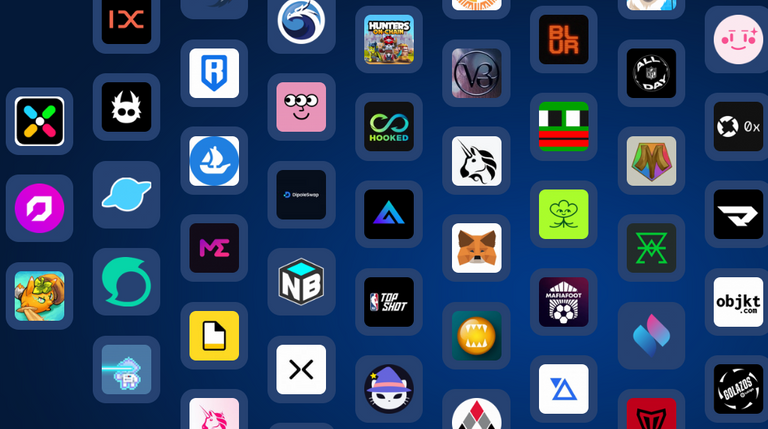 source
The rise of cryptocurrencies has brought about so many opportunities for the online gaming sector with tons of crypto games that are becoming increasingly popular in recent years. These games allow players to use cryptocurrencies as a means of payment to buy game assets in the form of NFTs that can offer unique gameplay experiences that traditional online games can't. NFTs-based these crypto games are online games that can be investments and different types of cryptocurrencies can be earned through gameplay. Unlike traditional online games, which typically require credit card payments or in-game purchases using virtual currencies, crypto games allow players to use cryptocurrencies like Bitcoin and Ethereum to buy and sell in-game assets. This provides a level of security and anonymity for players, as well as a new level of excitement and engagement. Different games in different blockchains have different tokens for payment and game economy to create earning opportunities. Most of cases, these games are play-to-earn mechanisms.
The current pumps in BTC are the beginning of the next phase of evolution in crypto games that are going to experience a significant pump in the coming years. With more and more players turning to these games as a new form of entertainment source and the turbulent traditional economy will attract more people to enter into the crypto space. The unique experience offered by these crypto games, which includes using cryptocurrencies, blockchain technology, and decentralized gaming platforms, has attracted a new wave of gamers looking for something different. One of the main drivers of the pump of crypto games is the potential for financial gain. Many crypto games offer in-game assets that can be bought and sold for real-world cryptocurrencies, providing players with a potential return on investment. This has attracted a new wave of players who are interested in not only playing the games but also investing in the assets. Another factor driving the pump of crypto games is the technology behind these games. Many crypto games use blockchain technology and smart contracts to create a decentralized gaming environment that is secure, transparent, and fair. This provides players with a new level of trust in the games they play, as well as a sense of ownership and control over their in-game assets. And in this case, Splinterlands is one of the most trusted games in the space which I used to play, and believe in its success in the future.
Also, the in-game token price of Splinterlands has started increasing recently with the announcement of their biggest upcoming phase with the LAND EXPANSION. According to the dappradar, the game is still at the top for a long period of time. And, If you want to be a proud member of the Splinterlands community and enjoy the magical world of hundreds of monsters and strategies for your battle where you will have the opportunities of amazing battles with some extraordinary monsters with amazing abilities which will uplift your online gaming experience to a new level. You can enter into the Splinterverse through this link sign up to join splinterlands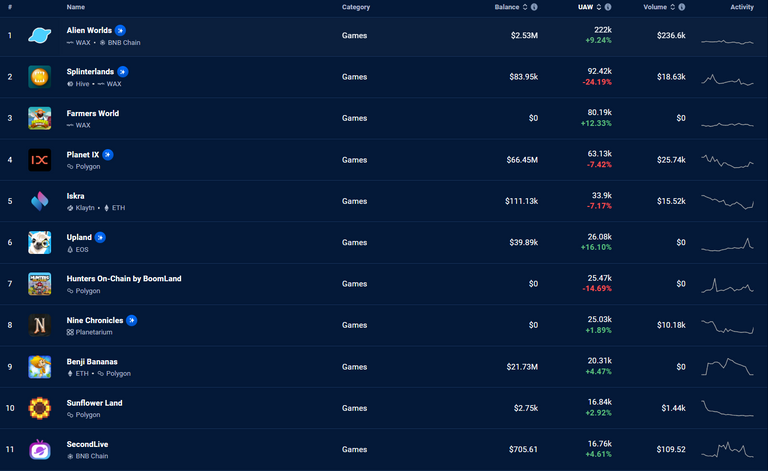 source
Besides my favorite Splinterlands, some of the most popular crypto games and dapps such as Axie Infinity is a blockchain-based game that allows players to collect and battle creatures called Axies. Players can earn in-game tokens that can be traded on cryptocurrency exchanges or dapps, Decentraland is a virtual reality platform that allows users to create, experience, and monetize content and applications in a virtual world, Gods Unchained is a trading card game that uses blockchain technology to create a decentralized and transparent gaming environment. Players can buy and sell cards using Ethereum coin, Cryptokitties is a game that allows players to collect and breed virtual cats. The game uses blockchain technology to create a unique and verifiable digital asset. All of these games are also in-built Dapps which facilitates several benefits to its users.
Splinterlands is also in the op Dapp lists according to the dappradar which is a clear sign to have an enormously bright future of the game. Decentralized applications, or dapps, are a type of application that runs on a blockchain network. These applications offer a new level of security, transparency, and decentralization compared to traditional applications. Unlike traditional applications that are typically run on centralized servers, crypto dapps are run on a decentralized network of computers, providing a higher level of security and transparency. And in this sense, Splinterlands has already introduced numerous crypto games, and their company is offering so many financial opportunities for the investors also that making it an important dapps in the sector.
These crypto dapps can be used for a variety of purposes, including financial services, gaming, social networking, and more. These applications often have their own cryptocurrencies, which can be used as a means of payment within the dapp ecosystem. These dapps offer a lot of benefits to their users such as Security, as these dapps are more secure than traditional applications because they are run on a decentralized network. This makes it difficult for hackers to attack the network, as there is no central point of failure, Transparency, they are transparent because they operate on a public blockchain network that can be explored by anyone anytime. This means that all transactions on the network are visible to everyone, providing a new level of trust and accountability, and the Decentralization as being decentralized, they are not controlled by any single entity or organization. This provides a new level of freedom and control to users who can interact with the dapp ecosystem without having to go through centralized permission or approval.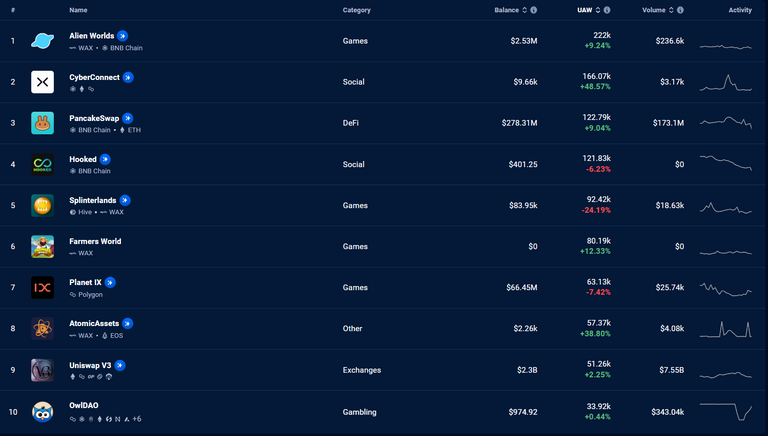 source
And I love the overall idea about such evolutionary concepts in the blockchain gaming sectors, as these crypto games are also offering many dapps services to maintain the continuous developments in the space. The technological advancement with the web3.0 will bring more positivity in the space with more engagement of the new people under the blockchain which will make the current projects shine brighter in the future.
What are your thoughts about my points if you think some are missing here or some need to be revised or on which point I am wrong, please feel free to leave a comment which will help the community to know these together. Thank you so much for your time and attention in reading my post! Enjoy your every day in the best way you can. I will catch you at the next one!
Have a nice day!
---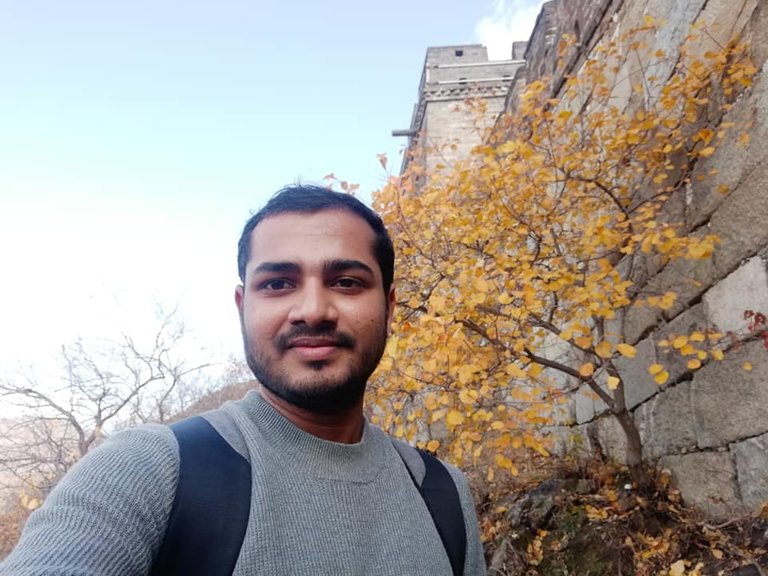 MD AL MAHADI HASAN Welcome to Mahadi's small corner in Hive Community from Bangladesh. He is a Ph.D. student who is working at a research Institute in China. He has visited many destinations near Beijing, climbs up the great wall and mountains, tries new and exotic dishes here, tried skiing and many other events, and explored his country and want to explore the rest of the world in the future. As a crypto enthusiast, he has the hobby to learn about Blockchains, Cryptos, and their fascinating applications in the real world. He loves learning new things and tries to enjoy his life to the full. If you like his content, don't forget to upvote and leave a comment to show some love for him as a learner in the blogging sphere. You can also reblog his post if you want to. Also, don't forget to follow him to be updated with his latest posts about his life and thoughts on a regular basis including daily life and some Blockchain games such as Splinterlands.
---
---
---
---