How to OPTIMIZE your REWARDS in Splinterlands: a comprehensive discussion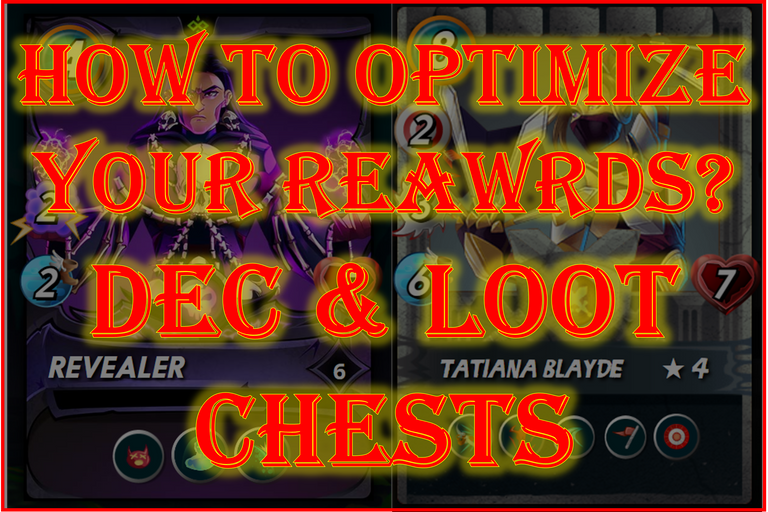 Hello everyone, hope you are doing well and enjoying the Splinterlands with the new reward system. In my last post, I have discussed the concerning issues with the new reward system which I have experienced.
Today I am going to discuss how I have positively overcome the issues to grab more rewards from the new rewarding system!
Which things make you less rewarded?
Let's start with the most common question how you can be rewarded less in terms of loot chests from the Seasonal loot chests and the loot chests from the Daily Focus? I am discussing these in the following perspectives.
If you are going to grab all the 30 loot chests on the very first day, you will lose your energy capture rate (ECR) significantly. The more loot chests you earned you need more focus points but your decreasing ECR will make it very difficult. And consequently the next day you cant get a good number of loot chests from the daily focus. The best solution is to try to earn below 15/20 loot chest a day and let the ECR increase and never let it down below 60%.

The second important thing is to use your own or rented cards for the R-shares points as the starter cards will drop the rewards significantly. It will decrease your DEC reward, SEASON POINTS, and the DAILY FOCUS POINTS. And all of these will significantly decrease your overall rewards from the revised reward system.

The third affecting factor in the new reward system is the decreasing winning ratio! We often ignore our winning ratio in the game addiction which is very crucial for any play-to-earn games, especially the NFT-based blockchain games. And for Splinterlands, decreasing the winning ratio will destroy your rewards in two ways:
It will decrease the number of your trophies by pulling you down to the lower league which will significantly decrease your R-shares. As the R-shares are proportional to the cubic of rating points! So you should be very careful with your winning ratio.

The second thing which should be concerned about the winning ratio is that the ECR will be decreasing around 1% per battle whether you win or lose the battle. So it will also affect your overall R-shares from every battle that is directly affecting your DEC earning, and the loot chests number from Season Points or Daily Focus Points.
These are the most important things that are affecting the rewards significantly. Now I am going to discuss how you can solve all of these issues in the most effective ways. Remember, there is no shortcut to success but your constant effort and some strategies can make you more efficient in earning more rewards in any game like Splinterlands. So, my strategies may have some drawbacks, if you find any better way to address these issues, please let me know in the comment section. I will also investigate those and will give my feedbacks in my future posts.
Strategies for reward optimization
Here are my strategies to tackle all of these issues effectively. According to my playing experience, I am sharing the following strategies to get optimized rewards from the current reward systems in this extreme competitive situation.
You don't need 30 loot chests every day which will be devastating for your lifestyle and maybe after 2 days, your ECR will be around 10%! So play a decent number of games every day. Only on the weekend, you can try to reach up to 50/40 ECR if you have enough time or you can take a longer break to recover your ECR to a decent percentage (more than 85%).

Renting the most important cards or high-level summoner can be a good solution to the replacement of the starter cards. And now the renting of the starter cards are not so high, it is quite cheap. But if your renting cost is more than you earned can be a loss project in terms of your rewards and the time you spend for rewards. So try to make everything balanced here. You are not a robot!

Don't rent too much CP to climb higher levels, it will make your next season more difficult with the increased requirement of R-shares. The higher league's loot chest will need more points to earn and it will be very difficult for you to afford the tons of renting costs throughout the season. So try to climb up according to your own CP collection.

Increasing the winning ratio at low cost is an ongoing challenge for all the Splinterlands players. From this perspective, I can give multiple tips to increase your winning ratio, especially for those who can't afford all of the desks to be maxed out. My tips are as follows:
Try to max out one dragon summoner and one or two of your other team according to your existing monster level at first. Then focus on upgrading your monsters, remember that you need only one rented summoner at a higher level but if you want to rent many high-level monsters, that will cost you a lot.
So, it is important to upgrade your monsters as much as possible to make a stronger deck. Because nowadays the battles are very competitive, and without a stronger deck it is impossible to maintain a good winning ratio.
Rent the max level summoner everyday according to your Daily focus so that you can win more battles with the more Daily focus points and this will also increase your season points.
Never put your 100% focus on the daily focus, it will kill your capture rate and your winning rate. Try to focus on winning and that will increase your season focus to get more loot chests in EOS rewards.

Try to rent some best cards which is a meta in the battle if you can afford them according to your daily focus to increase your winning ratio. But Don't rent too much at end of the season to climb higher leagues which is far away from your own deck level.

Always try to learn as many as strategies about the rulesets and reform your team according to the rulesets and never use a single monster without a reason, try to choose the best appropriate card at the best position.

And also prepare your team according to the enemy's last 5 battle chains which will give you an excellent idea of how to choose your monsters. Don't ignore these, try to figure out which cards are the meta in your enemy team and how to beat that monster. Keep in mind all the players play with their best team for maximum time.
I hope these suggestions will help you in your gaming life. If you think, I need to revise or mistakes in these strategies, please let me know ion the comments. I have tried to express my strategies according to my own experiences as a new player, not like a superstar in the Splinterverse!
---
And, If you want to be a proud member of the Splinterlands community and enjoy the magical world of hundreds of monsters and strategies for your battle where you will have the opportunities of amazing battles with some extraordinary monsters with amazing abilities which will uplift your online gaming experience to a new level. You can enter into the Splinterverse through this link sign up to join splinterlands

Thank you so much for your time and attention.
I will catch you at the next.
All the images are prepared by me from the Splinterlands resources.
---
---