Blood, Bone and Sleep Deprivation
One of my "weird hobbies" of late is finding things that look like teeth that can use for Splinterlands posts, with one of my favorites being toilet paper dispensers. This one today even has a tongue.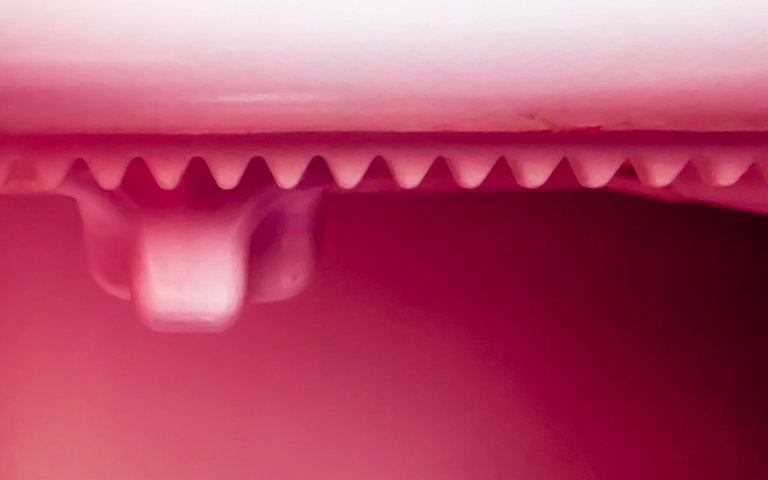 Well, this is going to be an interesting season playing it seems - So far, I rested for a few days and then have been playing a fair bit the last two days and - I am exactly where I started. Brilliant. I am only playing in Gold 1 and it is extremely difficult, even though I managed to finish in Diamond 1 last season.
While everyone is playing better and learning fast with the new Chaos Legion cards, I don't seem to be able to keep focused, even though I don't really have as much work on at the moment, since I am taking a few extra new year days away, before I start the new position. I don't know what it is, but since it is almost 3 in the morning, perhaps it is a lack of sleep.
Sleeping isn't the problem, it is the amount I want to be awake that causes the issue, which is something I have had since I was young. Even when there was nothing going on, I didn't want to miss out on potentially something happening, and this has carried all the way through to adulthood, for better or worse. But, I haven't really had any issues with "FOMO" in regards to investing, until I started buying into Splinterlands assets.
I think a great deal of this is driven by the company I keep online, as they tend to be "pretty bullish" on SL and are getting in ever deeper. While I can't keep up with them, it is hard not to get involved and once that happens, edge a little further and then further into the world of Splinterlands NFTs - especially since I think that they are going to get a lot of attention in the next 12 months.
@khaleelkazi and Co were talking about "Web 3 Summer" pushing the price of HIVE well up, which I can see happening, but I think that the lead into this is going to be through the gaming industry, as it is such a low bar (not necessarily financially) for many people to get involved. Once in and starting to understand the industry a bit, those gamer/ investors will start looking to connect with others and then realize that there are not only already communities, but they are fractals of games, with different tokens and economic models to play all over the internet.
Pretty soo, this all becomes a self-perpetuating prophecy, where attention is going to be ramped up by multiple sources that will essentially "hijack the airwaves" to drive the public narrative to the point that it just can't be ignored, no matter how tight you squeeze your eyelids shot, put your hands over your ears and repeat, "la lal lalala I'm not listening..."
It is funny to think back to when I was much younger and people gaming would argue with their parents who told them they were wasting their time, that there are people earning real money at tournaments. The thing is though, considering how many gamers there are in the world, the percentage of earners is incredibly small, with the vast majority being payers only.
However, this is changing and Web 3 is going to drive the "play-to-earn" narrative very hard and gamers are no longer spotty teen boys, they are also upper management in businesses, entrepreneurs and cover almost the entire age demographic. It is this "maturing" of players that is what is driving the gaming industry now, because they have the money to spend. Not only that, most have less children, so more disposable income and time available for paid entertainment.
But, it isn't just entertainment now, it is also a literal investment and it isn't only into experience, it also returns real income. In a world of salary to inflation gaps widening and the ramping up of side-hustles and gig work, it is only natural that the "dip in the fence" is where people are going to jump over and start getting involved. And, it really doesn't take much.
Just think, so far about 14 million PS5s have been sold, which is worth over 7 billion dollars for the console alone, not to mention all the games and extras, including subscriptions that are needed on top. The estimate is that there are currently 2.7 billion gamers in the world, so if 1/3rd of them decided to put in 100 dollars a year into games they can actually earn on, it would be around 100 billion alone. Now, once they start putting 100 in, it soon becomes 200, then 300 and a couple years down the track, it is a trillion dollar industry, with most of those 2.7 billion putting something into P2E gaming.
That is all coming into crypto just on games - but, that is not where the money flows are going to settle, is it? Entire industries are going to be built around this and, we are already familiar with the social platforms for interpersonal interaction - but now we will be able to do it to earn, to pay, to reward and to support and invest into the goods, services and experiences in our lives, that we actually want to use.
So, I guess I will have to live sleep deprived for another few years at least, just in case something happens, because I don't want to miss out on witnessing, participating and benefiting from what is to come.
Do you?
Taraz
[ Gen1: Hive ]
Posted Using LeoFinance Beta
---
---