Cleaning content by earning incentive

Back when I started on this blockchain, there were pretty much two core ways to earn, content creation and content curation. In many ways, this hasn't changed, but what is considered "content" has. Hive is a content delivery blockchain, meaning that while like all blockchains it records transactions, the transactions can be leveraged to carry information that can be used in multiple ways.
However, back in the day it was all about posting, commenting, voting, transferring and the general goal was to increase the transactions by onboarding users to do more of this, which still continues today. But, it was always intended to be a general content delivery platform that could use the transactions for far more than the blogging side of content, though the visible content got most of the attention.
This created a problem on the platform because there was a high incentive to earn HIVE, but not many ways to do it, but those ways were nearly all on the blogging side of things. This mean there was a high amount of trash content as well as poor voting behavior as people were looking to maximize their earnings. So, people from all over the world became bloggers, whether they had something to say or not, whether they had skills to say it, or not, whether they were able to create interest in their content or not, whether they were original or not.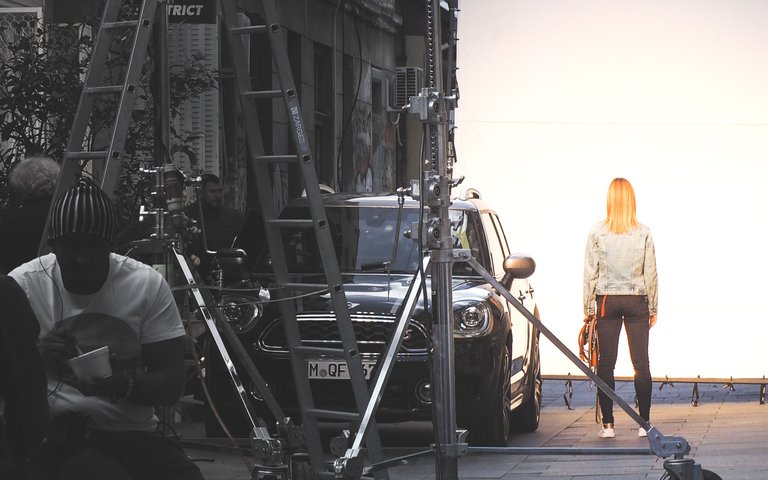 Obviously, this wasn't going to work cleanly, because while over time a lot of people who did deserve rewards for their posts got rewarded, a lot of trash content got rewarded too and even if it didn't, there was high incentive to try and earn through posting and commenting. But as said, there are other ways to increase transactions than just have more users blog.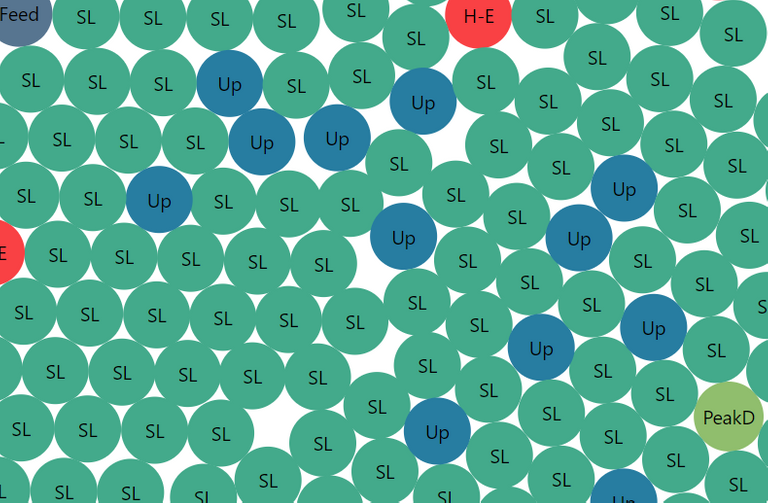 This is from the Hive is Beautiful which is put together by @HiveTrending of the the @pizza.witness team and it represents the contents of individual blocks that are being generated every three seconds. "SL" is Splinterlands - "Up" is an upvote. Go and watch for a minute or two, as it is quite relaxing.
Anyway and as you can see, there are a lot of Splinterlands transactions, which is fantastic to see, but noone of these are "visible" on the interaces, meaning, these aren't posts or votes, they are transaction made by the game on the Hive blockchain, like this: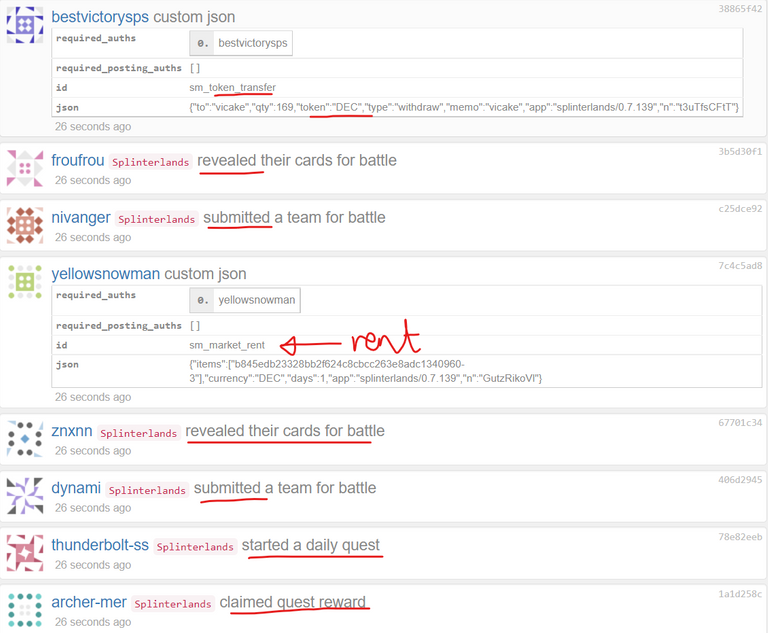 https://hiveblocks.com/
This is a snapshot of the chain transactions a few moments ago and all of them are Splinterlands related, but none of them appear on any interface directly as a post, vote, comment etc.
This is content too.
Now, while not everyone will remember, but when Splinterlands started and people were posting about it constantly there was a fair amount of grumbling and complaining about the trash content it was - I was complaining too to some degree. People were auto posting every round they played, they were posting about every pack they opened, they were constantly adding visisble content to the blockchain that really served no purpose and brought no value - because they were incentivized to do so.
Back then, Splinterlands wasn't as lucrative as it is now, which meant that players weren't earning that much through it. This meant that it was worth it for the majority of players to try to maximize their gains by posting about it on the blog side of the chain. Not only this, the people who were not bloggers, were still adding content, because the incentive to earn in other ways wasn't very high. The low-quality content being churned out by some parts of the community was immense at one point, which is natural, because there was a pretty decent chance it would earn something that was significant at the local life level.
But, this has changed and while there are still plenty of people trying to earn through low-value and plagiarised content, there is far more chance that the same person will earn more through playing Splinterlands. Because people always work on incentive, this means that a lot of the people who were once blogging poorly, are now playing, possibly very well. A lot of the people who were posting for reward (rather than like) on Hive earlier and are now earning far more on Splinterlands, aren't posting at all.
Incentives have cleaned up the content.
At least to some degree, those who want to earn but don't like or aren't suited to blogging, can. Those who aren't willing to buy enough HIVE to curate and earn instead, can earn through playing. This leaves the blogging side of the blockchain with less transactions, but higher quality content.
This was always part of the plan for the blockchain, a space where different kinds of communities can leverage the infrastructure to serve their individual needs. Some people think communities are based on topics, but this is not the case, they are based on applications too. As I have said for years, in the future it is possible for people to be using the Hive blockchain and not even know it, because the community they are part of uses the infrastructure, but has its own interfaces. This has been the reality for people entering Splinterlands from other chains for a while - *they don't necessarily know about Hive, yet daily, they are putting their interactions into transactions on the Hive blockchain as they play, buy, sell and rent their assets.
This adds value to Hive as what it is designed to be - not a blogging platform, a content delivery platform. The amount of transactions can go up a lot from here and will as more people enter into Splinterlands. But, it can go far further than this, as more communities start to do similar, which is to use the infrastructure of Hive, the security, the speed, the scalability and the free transactions to build their applications and attract their userbase.
Applications not only bring in new users and add more potential to use, invest and earn, they also allow for more distinction between applications and types of content. Rather than becoming a trash pile that has to be sorted through to find some decent to read, most of the written trash content has been turned into Splinterlands transactions. People have been able to buy a starter pack and earn some DEC, and still adding value to HIVE through usage and transaction mass.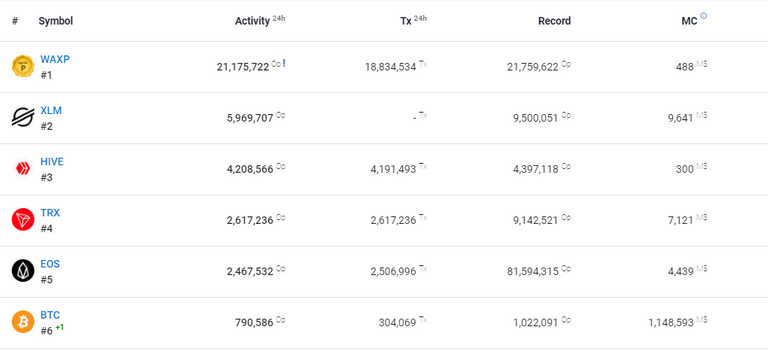 In the last 24 hours, Hive is third on the transactions list, WAXP leads by a mile and the record by EOS is way out there, but was set back in 2017 if I remember correctly. I don't know anything about XLM, But Splinterlands connects with three of the top four blockchains by transactions. I also don't know where Steem lays, as it has been removed from this chart based on that centralized chain being a dumpster fire.
Hive is killing it and that is predominantly thanks to Splinterlands transactions - however there is a lot of room for Hive to grow further, so hopefully, there will be more applications to come that are going to use the increasingly scalable and easy to build on infrastructure to create new communities on the Hive blockchain. Free transactions, heaps of people, interfaces that can be leveraged and new ones fired up in hours, second-layer tokenization, first layer stability, account security, integrated wallets, dedicated staked investors, a mass of developers, hundreds of thousands of users, third-party suppliers, and a userbase that in general is comfortable earning in many different ways on blockchains.
The value of the assets that Hive is currently managing is far larger than the market capitalization of the HIVE token. How much? I have no idea, but it must be well over a billion, even though the infrastructure layer (Hive) is around 300M. In the future, I hope that Hive continues to increase in value, but I hope it is driven by the value of what assets utilize it. Next year, Splinterlands assets could clear a billion and there might be a few other applications that are adding value, attracting more users and potentially starting to expand into mainstream. Hive could have tens of billions riding on it in a few years, making the infrastructure highly valuable, but everything built on it worth far more.
We often focus on what we see and from a blogging perspective, we see a lot of crap. But, as pathways to earn change, the incentive to find one that suits the person, rather than the person having to do what they are not good at, increases. Why blog if one sucks at writing? A lot of Splinterlands players barely post now, because they feel they aren't missing out on value. This leaves more space for the people who do like to earn form writing, because they are good at it.
You are reading Hive content now - but everything in those transactions is content too, it is just not necessarily the type that you can engage with, comment upon, vote on, or even understand, unless you see it from a different perspective. This is the forming of a rich and diverse economy of content, where earning is not only available to those who can make themselves visible, but also by those who can add value in other ways, while still interacting on Hive.
There is always going to be crap content on Hive, just as there is everywhere. However, if someone is only adding crap content in order to earn, there are more effective ways and those ways won't disrupt the experience of others.
In my opinion, Hive is getting more awesome by the day and it is only a matter of time until the rest of the world catches on.
Taraz
[ Gen1: Hive ]
Posted Using LeoFinance Beta
---
---