It's the end of SPS as we know it
It's the end of an era.
After a year of an initial big up and then lots of down with the entire market, the Splinterlands SPS airdrop has officially drawn to a close. leaving a taste in the mouth for more - but all good things must come to an end. And for me, the final tally sits at 409K SPS staked in-game.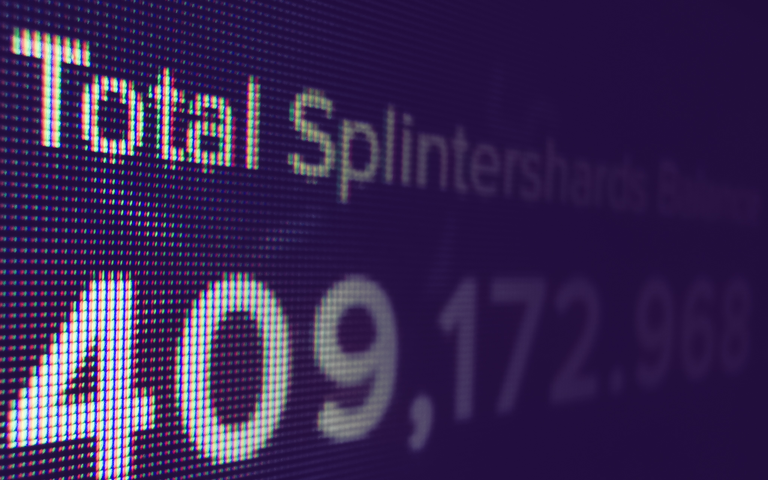 Though, that definitely hasn't all come through the drop, as I have been buying what I can from the markets when I can and just today, added another 40K odd to push it over the next hundred kilo mark...
500K sounds much nicer though!
Yet, it is unlikely to get there now, even though it is going to keep creeping up as the staked SPS earns more SPS with the current APR including the value of the vouchers being around 35%. So "technically" it is possible that I could come close to earning the 90K needed in the next 8 months or so, if selling all of the vouchers for SPS at the current price and SPS staying at the current price too. However, I don't expect it to do that, because Rift Watchers is being released.
Rift watchers is like Weight Watchers, but instead of calorie controlled meals delivered to the door, it is packs of blockchain controlled playing cards.
And, this should "trim the fat" of the supply of vouchers and plenty of SPS in the process, as the packs are going to likely have a presale component with a "Doctor Blight-esque" Promo card on offer using vouchers and, each pack will cost the equivalent of $5 worth of SPS.
With "only" 3 million packs on offer and there being airdropped summoners, I imagine they aren't going to be sticking around for long, as if you remember, the first 3 million Chaos Legion packs sold through in a few hours.
At current SPS price, each Riftwatcher pack will soak up around 92 SPS, meaning that if nothing happens with price, it will take 278 million SPS out of the supply - which is almost exactly one full third of the current SPS supply.
This means that someone would have to fork out 92,000 SPS for the privilege of 1000 packs, which is 5000 cards. However, this is a very large set too, with 43 different cards available.
Breakdown of the cards included in the Rift Watcher set
Total # of Cards: 43
#of Commons: 12
#of Rares: 12
#of Epics: 12 (6 Airdropped Summoners | 6 Monsters)
#of Legendaries: 6
#of Promos: 1
Normally regulars (using CL as the model) take:
Commons take 400 cards to max = 4800 BCX total
Rares take 115 to max = 1 380 BCX total
Epics take 46 = 552 BCX total
Legendaries = 66
So, not including the promo card, that is 6798 cards to have a full set of regulars, meaning that under perfect drop conditions, the bare minimum number of packs needed for a max deck is 1360 packs -but the chances of getting all cards needed and no extras is, pretty much impossible. This also means that under perfect drop conditions, a total of only 2,200 full decks can be built for Rift Watchers. And still under that perfect scenario of the drop, it is almost 7000 dollars worth of SPS, no matter what the value of SPS is.
The other wrinkle I didn't calculate in there is that 6 of those Epics are the summoners, and they are going to be airdropped based on some mechanism, but if it is like what it is now, they are going to be in very short supply.
Is that good, or bad?
Obviously, for those who are able to invest a lot, they are going to have some very scarce cards in their possession, but hopefully whatever the airdrop factors are, they factor in something like SPS staked, not just RW card packs purchased, to reward hodlers.
And speaking of Rift Watcher Summoners: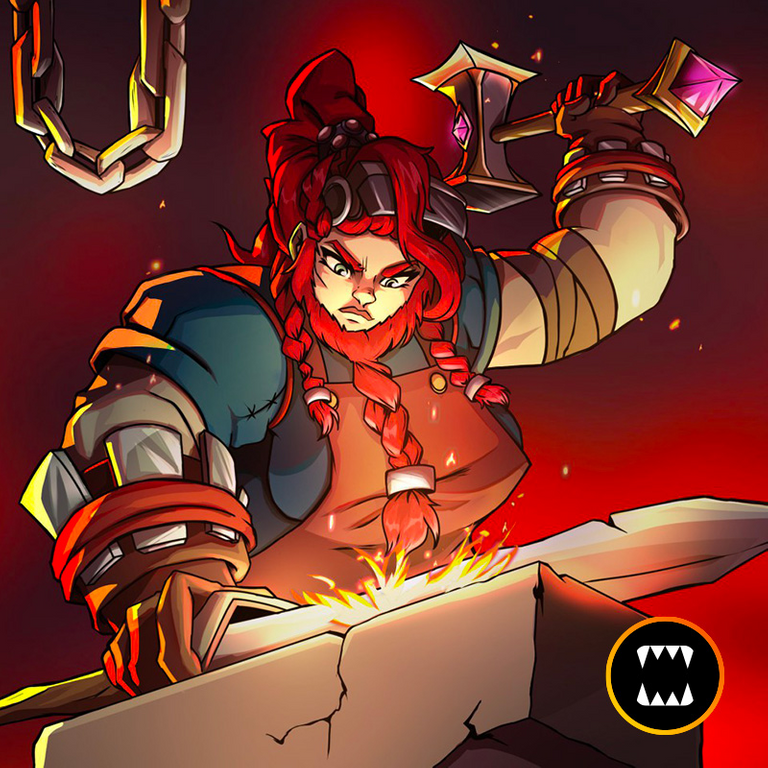 Isn't it fantastic to see @crimsonclad get her own card?! And it is perfect!
Fire and Metal! 🤘
It has been a few years since I have seen her, but hey, I dig the beard.
(Note: I have no idea who the card is based on and Crim knows I love her.)
But, while 3 million packs seems a lot, especially chasing Chaos Legion which is still in print and has almost 6 million cards remaining, I do expect them to go fast. And, if what @yabapmatt was saying about the future of SPS is anything to go by, a lot of people aren't going to want to lessen their holdings significantly to buy RW packs, so they may look to the exchanges instead. Even if SPS doubles to 10 cents before the sale though, it is still going to soak up 150,000,000 SPS and at 20 cents, it will be 75,000,000.
However, the higher the price goes, the cheaper it gets in relative SPS terms and this favors the early investors and the dip buyers, so the faster it sells. Even at 20 cents, 1000 packs will cost 25,000 SPS or, 5000 dollars, and that is nowhere near enough for a full deck.
It is certainly going to be an interesting release and it is going to change the game meta lot, especially in the higher leagues, as maxes of these cards are not necessarily going to be all that common, spreading out the chances of meeting them in battle and which configurations are met, highly variable. This throws a bit of a spanner in the works for the current crop of bots for sure, but also for the human players, as more variables means a higher degree of dynamic possibilities to choose from and, play against.
September release date,
Bring it on.
Whatever happens, it looks like the game is going to enter a new phase of growth that is going to change the Splinterlands ecosystem again, as this will all lead into the Validator Nodes for governance and then, the release of Land to bring in new capabilities for asset holders, as well as ways for owners to affect the game mechanics themselves.
Are you looking forward to it?
Taraz
[ Gen1: Hive ]
---
---