Less Rumble, More Tumble?
There are changes coming to the Splinterlands gameplay in a little over a week from now, where there is no longer going to be the ECR limitations and degrading reward impact the lower it is and instead, there will be a token system, where "100%" will be 50 tokens and the tokens will recharge at 1 per hour, so there will effectively be 24 games playable in a day.
However, it would also be possible to purchase up to an additional 50m so there would be a max of 100 games playable in a day, but the next day, there would be a max of 74 games playable, as the rest wouldn't have recharged yet. But, that takes purchasing, and it is 500 DEC per energy token for Champions league (where I play), which means it is (at internal market rates), 25 dollars a day for 50 tokens. That is a lot, so I won't be doing that.
On some days, I play much more than 24 rounds and my ECR is almost constantly hovering around the 50% mark, being careful not to go under that. Because of this, I am not (was not) keen on this new system, because while it takes top players a a few hundred games to get to the top of the leaderboard, it takes me many hundreds to get in to Champions at all.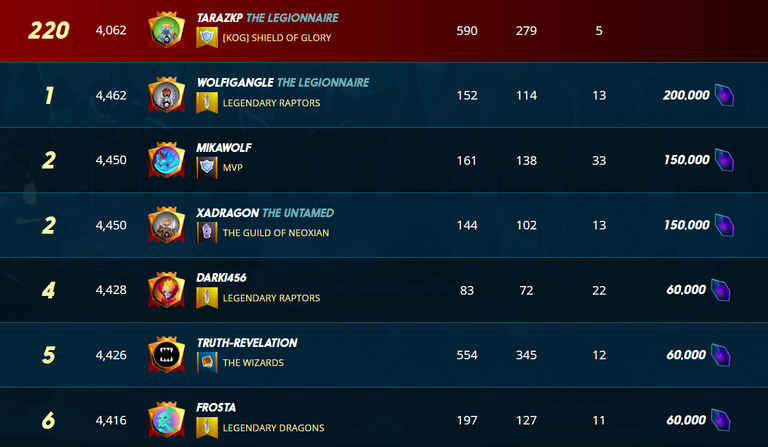 I look like a motherfucking bot.
We are 13 days into the season with 2 left, which means that I am averaging 45 rounds a day, and as you can see, my win rate is not so great. This means that based on the new system, I am very unlikely to ever get into Champions Leagues again, unless I am willing to pay a very large amount in order to do so. Which I am not.
One thing that was mentioned through comments was having additional daily tokens based on SPS holdings. I think this might be something that gives some utility to hold SPS at least, even if it isn't much.
What this means though, is that my transaction rate is going to essentially half, as rather than trying to power through inch by inch into Champions, I will just not play once my tokens run out for the day. Maybe this is a good thing for me personally, as it means I will have a lot more time on my hands - so I guess I can write more :)
However, it also means that I am unlikely to rent extra cards to supplement my deck unless very cheap, because I won't get enough use from them, since I am unlikely to get into the upper leagues. It isn't just about earnings for me, I also actually like playing. Am I the only one in this category?
Might be.
Seems people are surprised that there are still human players in the ranked play. But, while this is meant to help stop the bot problems, I think that is more at the lower end leagues, because the bots at the top are fine with a full deck and 24 rounds a day. They have been well under that for a long time already, so not sure if it is going to change much at the top of the league tables much in Champions. I could be wrong however.
I am wrong occasionally.
But, if this reduces the botting on Splinterlands, what does it mean for the card markets? This is going to make it even more interesting come the release of the next set, because Untamed and Dice will be "retired" to Wild only, so there will be even less usage for them. Is LAND going to soak up enough cards, or is the ass going to drop out of the market completely?
This is from a beautiful little site that visualizes Hive transactions: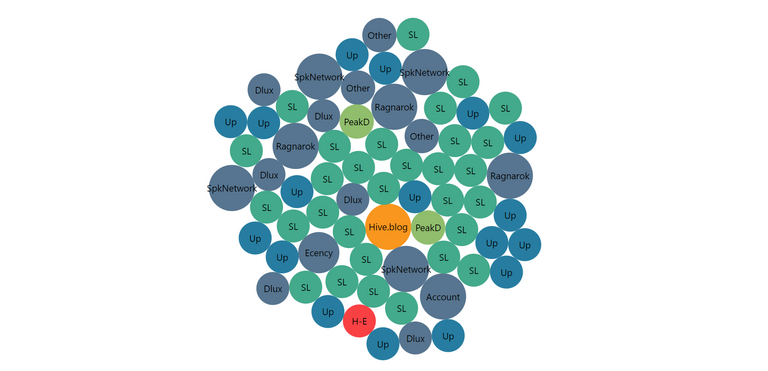 Another transaction:

This is interesting because not too long ago, 95% of the transactions were Splinterlands, but it seems that the transaction rate is coming down and other things are creeping in. There are even several in that image from Dlux and Ragnarok. Is this an issue?
I don't know.
It used to be that blockchains would brag about how many transactions they were having on their chain, however, perhaps things are changing and perhaps should. Rather than quantity of transactions, there should also be quality of transaction, as since resources are being used, the value of the transaction matters. Useless transactions needn't be recorded. And, because resources are being used, developers have to also think about scalability and efficiency, which have always been problems on blockchains.
Ultimately though, for Splinterlands or any game to be mainstream successful, it requires a large amount of players who are willing to spend to play. At the moment, many of the players spending, are those who have bought in early and are using the various taps from their large holdings to finance more holdings - even though they are using bots to do everything for them. This is an internal loop, but for subsequent releases to really be successful, new money has to come in, new players, new guilds and perhaps, new bots.
With the prevalence and constant improvement in automation, bots aren't going anywhere in gaming, so they have to be part of the ecosystem. However, they can't actually be the major part of the ecosystem, because if no one is actually playing the game and only farming through bots, the game ultimately has no value. This is the same for Hive in general, where if all the content is AI generated and no one is reading, ultimately it will not garner any attention from investors, only farmers, with a product no one wants to consume or buy at market.
I don't know what it is all going to lead to, yet I still think this uncertainty has more certainty in it than much of the traditional economy at the moment at least. The only thing certain in the economy now is, it is going to crash eventually and unless an owner of physical value like property or investments into generators like companies, most people are going to be in financial pain - Believing it is normal.
It is going to be interesting to see where the Splinterlands economy moves in the next year, but I think that they shouldn't necessarily release a new card set yet, instead letting some scarcity set in and bringing some utility to what is already out there. See what Land does at least. I mean, Riftwatchers is a good set and still has only sold less than a million packs so far, with two million left. Will they sell now, thinking that the next set is planned for release in a few months?
Whichever way it goes, I have enough skin in the game that if it goes very well, I will be extremely happy and if it doesn't, it is going to hurt a lot. The way it should be with investments of potential value, right? Is the upside still there? We'll see.
But it is less likely we will meet on the battlefield.
Taraz
[ Gen1: Hive ]
---
---