Little Monsters
Aren't insects the stuff of nightmares up close and personal? Magnified, a simple little fly suddenly becomes a beast that would scare the bejeebus out of anyone if it was slightly larger. Just imagine having that sucker crawling around under your bed - a monster worthy of scaring children.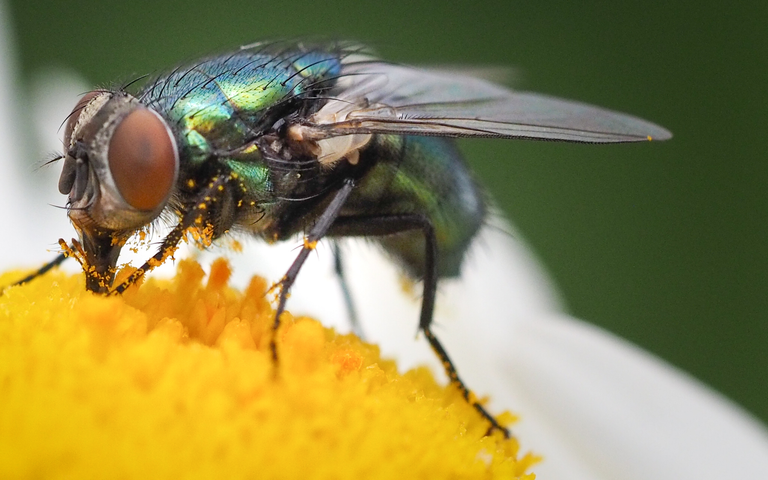 Speaking of scares - So far this season I have made it into Champion League several times and have been knocked out of each. Tonight I spent far too long clawing my way back there and I scraped in by the skin of my teeth on a big win that collected me 60 points to leave me sitting on the bare minimum of 3700. There are three days left in the season, so I will give it a break for 24 hours and see if I want to make a push for my first appearance in C2 - I would love to get up there.

Speaking of, there will be some changes in the reward structure of the game, which while this doesn't actually affect my playing much as I don't play for rewards, they should have a net positive effect on the player experience, with the biggest change that may affect most actual players is, the chance to get CHAOS LEGION Booster Packs as quest and EOS rewards.

Depanding on how much a person plays and at what level, this might be a nice little bonus from the silver leagues up from time to time, and I will be looking forward to people getting a pack and then getting extremely lucky and finding a Gold Foil Legendary inside on top. A huge part of the gamification model is through the lottery effect where people are more engaged by the chance to win big, than from the slower and lower grind, even if there is far more certainty.
Even I who doesn't play for reward, still like to finish a quest (when I can) or get to the EOS rewards and open up those loot bokes to see what is inside. Generally, I don't have a lot of luck with opens of any kind, but I recognize the slight change in my heart rate in the hope of something decent.
However, one of the biggest changes that might not effect that many people other than those at the top who play manually, will be the masking of the opponent name until both players have submitted their teams. This is done to remove bot advantage over human, but I believe it will actually have quite a large effect on the way people in the top league who face the same opponents often play.
The reason is that when facing someone enough, it is possible to predict what they are going to play under various rulesets, kind of like how sporting teams watch game-day tapes to do research on the teams they'll face. Once this change is brought to bear, the strategy will be to put the best team forward somewhat blind to what the other person might play.
It is going to be interesting to see if this affects the outcomes at the top, because what it means is that people's "best foot forward team" will likely start being met by more random configurations, trying to counteract the best foot. It will also be interesting to see if this has any effect over time on the bots at the top levels too, as if people change their strategies, will the bots have to react and change theirs?
The other announced change was for Beta card holder benefits, as each beta card played will provide a 5% DEC boost to battle win rewards. Out of curiosity, I checked how many Beta cards I own and discovered that I hold one. Well, held one. I "doubled" my holdings and bought a MAX L10 Goblin Sorcerer because it looked cheap in comparison to the L9.
Maybe it was a silly move, but I got this ugly little fellow for $499. However, I play earth a lot and having a relatively fast, powerful and low Mana sneak card with magic, must be worth something for some rounds.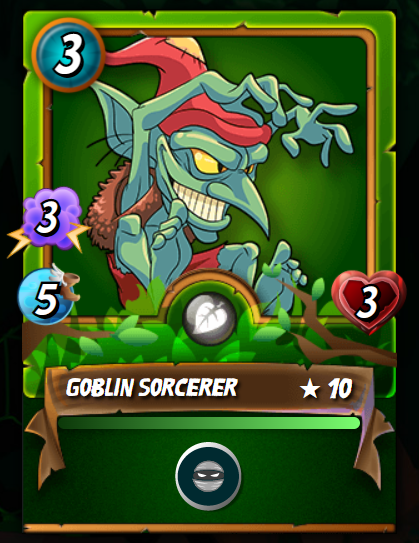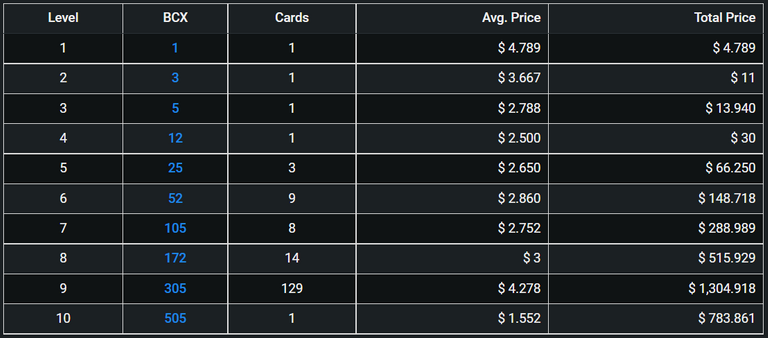 The MAX price is now $783 and the L9 is $1,304 - I don't know who is going to buy that! I paid less than for the L8 even. Should I flip it?
Anyway, I haven't done a Splinterlands post for a little while and with all that has been keeping me busy this week, I thought it would be a nice change of pace to freshen the palate. One thing is for sure though, with the amount of value I have sunk into this game, I really hope it is going to do well and there will be more reward than just the value of the loot boxes to come :)
Will I play another round and risk falling back to Diamond again?
Perhaps tomorrow...
Taraz
[ Gen1: Hive ]
---
---