Recharging the Random
I have been trying to do my daily quest in the Gold II League - it is bloody hard!
I am getting slaughtered.
Which is a bad thing for me, but not a bad thing overall, as it shows how competitive the new Chaos Legion cards have made the game and I think this is on several levels. Because while the cards have allowed people to up their league and they are quite powerful cards, the cost of rentals have gone down significantly, making it far cheaper for people to get decent cards. I still have an aversion to renting too many, but I think I am going to have to change that!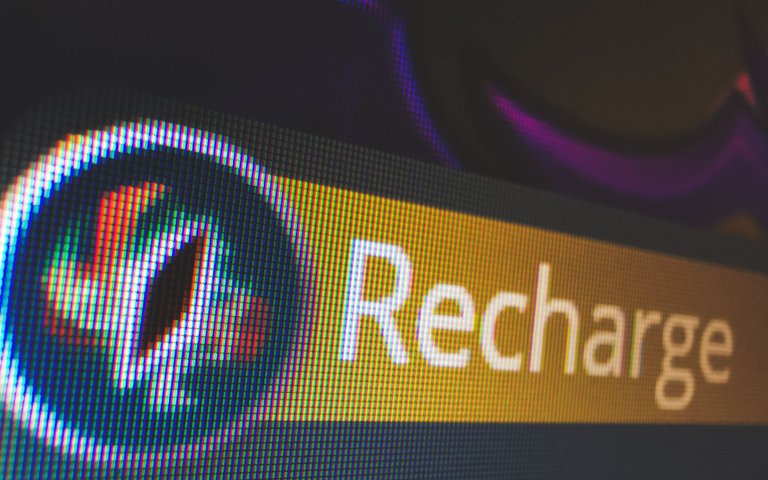 But, that is not what this post is going to be about - it is "kind of" more fun than that, but still about Splinterlands.
A lot of the new cards are powerful, but they are also quite quirky, with some being incredibly hard to use well. But, as I was randomly playing and was forced into a "fire" only round which is the deck just behind water for me that is the lamest, I decided to throw in a curve ball.
This was my "Googly" for those who have a bit of cricketing experience behind you - (looking at you @azircon)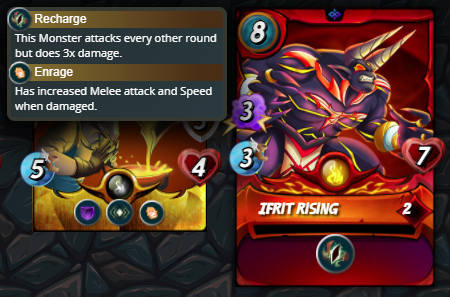 Your line up is weak Taraz!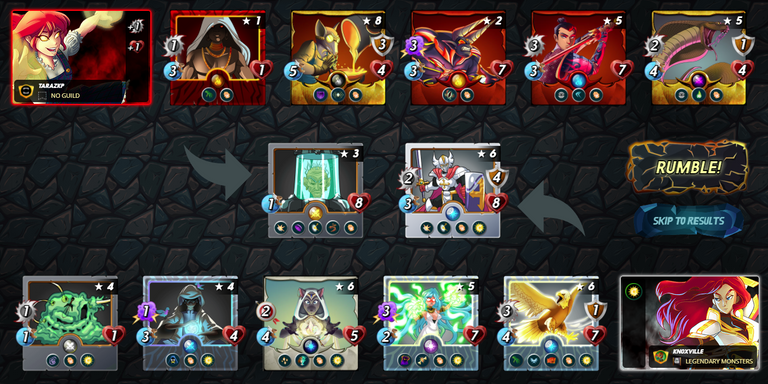 Yes, it is a shockingly bad line up and makes very little sense, other than it has sneak attack and fortunately, there wasn't much of a rear defense. Yes, I also have Lord A in there which took a lot of damage in the first round, but softened them up by removing four of the divine shields offered by Lorna and then took out a magic card in the backline and the eagle's shield before succumbing.
But the real star of the show in this match was Ifrit Rising with its *Recharge buff - which means it only attacks every second round, but does triple damage. Keep that sucker alive and under normal circumstances, it will deliver a +9 attack with magic, so it has a chance to get under shields, which it did to take out the Silvershield Paladin tank in one fell swoop in the second round. Without that gone, I would have struggled and lost.
You can watch the round here.
It played a second pivotal role when it took out the Luminous Eagle with another single shot, leaving room for the Lunakari Mistress to fall to my two sneak cards.
Now - this is not a good line up, but what is good about these new cards is that there is far more *unpredicatbility in them, which I think is by design, as while they are hard to play, it means they are also far harder to design a bot defense against.
For instance, another current favorite of mine from Chaos Legion is Chaos Dragon, a card that attacks with Magic, Scattershot and Blast. These three in combination can decimate a backline if LUCKY! Because unlike the other backline attack cards that attack a particular position or health, you never know where this terrorist card is going to strike and if by chance it is in the right spot, I have taken out the main card and the two either side of it in one attack, getting under shields again. 14 Mana is expensive, but it is fun and supremely satisfying when it works!

Another "wildcard" ability is deathblow, which I haven't successfully seen in action yet. Deathblow does double damage if it is attacking the last-standing monster on the enemy team - something like a Kron.

Probably the hardest to use and most useless dragon card is the Zyvax Vuul card, but if it *does happen to get a swing in, it will do 12 damage (I think) and with a +1 on the weapon from a summoner, it could go to 16 in one shot and, it can fire from the first position. Wouldn't that be satisfying to win a game with?
These new abilities bring in a randomization to the game that makes it at least at times, less clinical as to who will win, as it is far more a "roll of the dice" with these cards. I think that will mean that the bot players won't use them much if at all, but at times, even a far better player can take a surprise loss because of one of these "Hail Mary" monsters that come in like a 50 yard pass deep to the end zone, or a three from the backcourt to beat the buzzer in the dying seconds. It is going to be frustrating to lose against, but a lot of fun in terms of random results.
Does anyone reading this has some examples to show where they have used some of these buffs to great effect?
Add a link in the comment section and score a larger vote!
It is good to learn from each other.
I like a "bit of quirk" in my gameplay, rather than the entirely spreadsheeted and calculated mathematical approach. I think it is because I am a "run-n-gunner FPS player at heart and like to lone wolf with very little predictability, making it very hard to defend - as long as I was fast enough, it worked out. I no longer am.
So, while it is getting much harder for experienced players in the gold and diamond leagues now that more people have powerful cards, more chance has been brought into the game with some of these attributes, which should spice things up a bit at the top end too, as the defaults that people have start not to work as well and they have to pivot to throw a few spanners into the works also.
I don't know if the new cards were designed to cause more randomized disruption in order to reduce bot effectivity, but I am guessing that once people get more accustomed to them, it is going to bring in more variation to the results that while they might seem slight, could start to shift the positions a bit and open up some cracks in the gameplay of those who have been slicing through others with surgical precision.
Who doesn't love a bit of random?
Taraz
[ Gen1: Hive ]
---
---